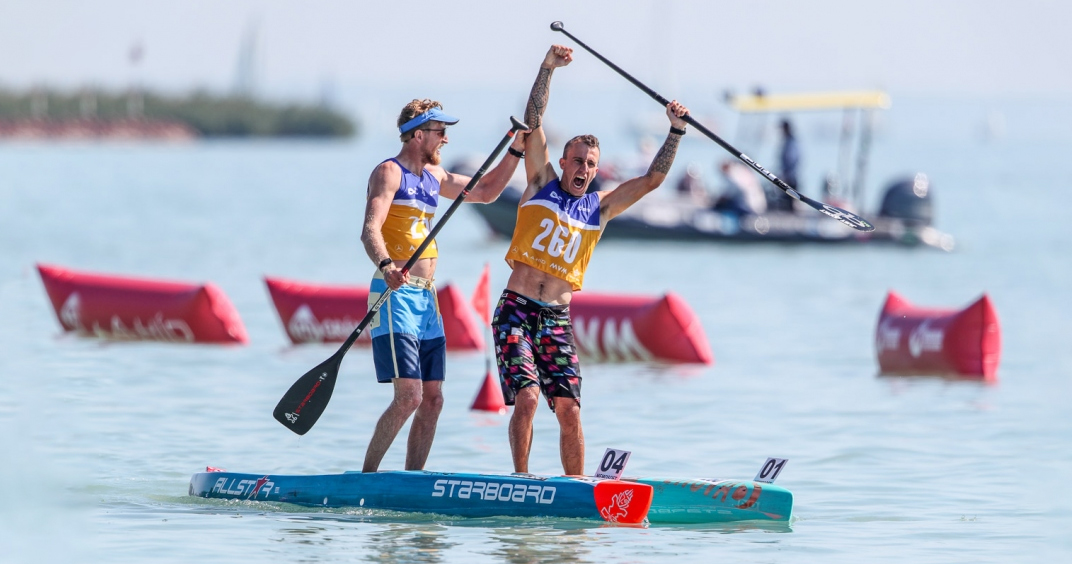 January 1, 2022
by Christopher Parker (@wheresbossman)
2x WORLD CHAMP NOÏC GARIOUD JOINS TEAM STARBOARD
One of the world's best paddlers has signed with the world's biggest race team. In a New Year's Day post, New Caledonian wunderkind Noïc Garioud announced he was departing Sunova after five years to join mighty Team Starboard. The move opens up an exciting new chapter for the 2x ICF world champ and marks an aggressive acquisition by Starboard to ensure they remain the undisputed #1 team.
Noïc has always shown world-beating promise — from winning the most-competitive downwind race of all time at the Gorge as a 16-year-old to destroying the pre-pandemic field at the 12 Towers — but 2021 was a breakout season even by his own elite standards. I ranked him as the second-best paddler in the world last year behind his fellow New Caledonian Titouan Puyo, though if you only looked at the World Championship results he was the clear leader: Noïc picked up two golds and a silver at the ICF Worlds in Hungary last September.
Most impressively (and most worrying for his rivals), Noic was the performer of the Championship despite his pet event – the downwinder – not being on the menu. He's gone from a scrawny kid who just loved chasing bumps to a strong all-rounder who will now start as one of the hot favourites at any flat water race in the world.
Still a teenager (he'll be 20 in April), Noïc has a long career ahead if he remains hungry. I sent him a msg on Facebook and asked where that motivation comes from after you've reached the top at such a young age.
"That's a good question… As soon as I got back to New Cal, I started celebrating those world titles with friends and family. Christmas and New Year didn't help either. Let's say I took a good month off…
"So now I have to get back to work but I have motivation by the shovelful. First I want to get back in top shape – I lost 4kg of muscle and don't feel right in my own body 😂 And second, I signed with a new brand and want to show them what I'm capable of. Finally, I'm not gonna give up my crown as best sprinter in the world so easily!"
Starboard is a big change after Sunova. From boutique brand to industry powerhouse, Noïc joins a crowded lineup of superstars. Starboard has been the biggest and best-performing race team every season since 2014, but in 2021 they didn't have one of their guys ranked top two in the world for the first time in a decade. If you can't beat 'em, sign 'em.
Noïc will now paddle the same boards as the man he relegated to silver in both the 200m sprint and 1km course race at the Worlds, paddler-of-the-decade Connor Baxter, along with the pre-pandemic king Michael Booth (who's presumably quite hungry to regain his world number one status this season). Throw in the ever-dangerous Daniel Hasulyo (third behind Titou and Noic at the marathon in Hungary) and suddenly Starboard has four of the top five or six guys in the world. They also have Fiona Wylde and Espe Barreras — the top two women in the world last season.
Some would argue that too many top paddlers on the one team isn't healthy for the sport; I would argue that without Starboard there wouldn't be a sport. The Bangkok-based brand, founded and still run by an incredibly generous, borderline-eccentric Norwegian windsurfer whose famously-intense desire to win is matched only by his passion for the environment – has provided dozens of paddlers with the opportunity to compete professionally, and while Noic was very grateful for his time at Sunova ("Thanks for the last five years in your company, the great friendships made, great moments, great memories" he posted on Insta) I presume he'll have more opportunity than ever to compete in season 2022. And that's a positive for both Noic and the sport.
He sounds excited to join his friends (and rivals) on the blue boards — apart from the obvious financial support, I asked what his motivation was for joining Starboard.
"I have been racing with SUNOVA since the beginning, I did leave some great things. After my victories at the Worlds I got the opportunity to join a bigger team with a lot of team riders that are good friends of mine, and I thought it was the good time to go for new adventures…"
Starboard won't have it all their own way in 2022 though — funnily enough, the guys standing in their way of total world domination are all former team riders. Titou, Bruno and Lincoln – the top three paddlers not on a Sprint or All-Star (with apologies to Danny Ching) – all began their careers at Starboard. Titou in particular will be hard to beat. He was in career-best form last season and you'd be brave to bet against him in 2022.
While they've never been on the same team, Noïc and Titou are closer than most teammates. The population of New Caledonia is just 271,000 yet it's produced the current best two paddlers in the world. Throw in Clement Colmas and and you've got three paddling anomalies from an island with a population less than 1% that of California — "Les Cagous" swept the podium at the mainland French Nationals not once but twice. So what's the secret?
"Must be something in the water," he jokes about the South Pacific paradise, "But seriously, the New Caledonian surf league did help a lot by creating a 'territorial training center' that gathered the best stand up paddlers to train together. We were 6 or 7 guys training hard and having fun together. I was with Titou, Clement, Ben Riviere, David Anewy, Ben "The Wolf", Maxime Defazio."
Noïc, also known as "Chicken" – an affectionate term coined by his father who mentioned it once on Facebook where it was immediately adopted by the paddling fraternity – is hungry to defend his two titles this year: The ICF Worlds in Gdynia were at the top of his 2022 hit-list when I asked which events he was most excited about.
"Haha if I don't say the ICF Worlds I would be lying! But I'm also really interested in all the Euro Tour races and to see my good old friends in Europe — god knows we have a really good time over there… I'm also really curious to see what the APP is planning this year."
(I also jokingly asked when he was stepping up from 200 metres to 200 kilometres but he politely deferred on the 11 Cities for this year — "Maybe one day in the future.")
He's not even old enough to drink in the U.S. but he's already a double world champion. Noïc Garioud is the most promising paddler in the world, and now with the might of Team Starboard behind him anything is possible.
Season 2022 just got even more interesting.