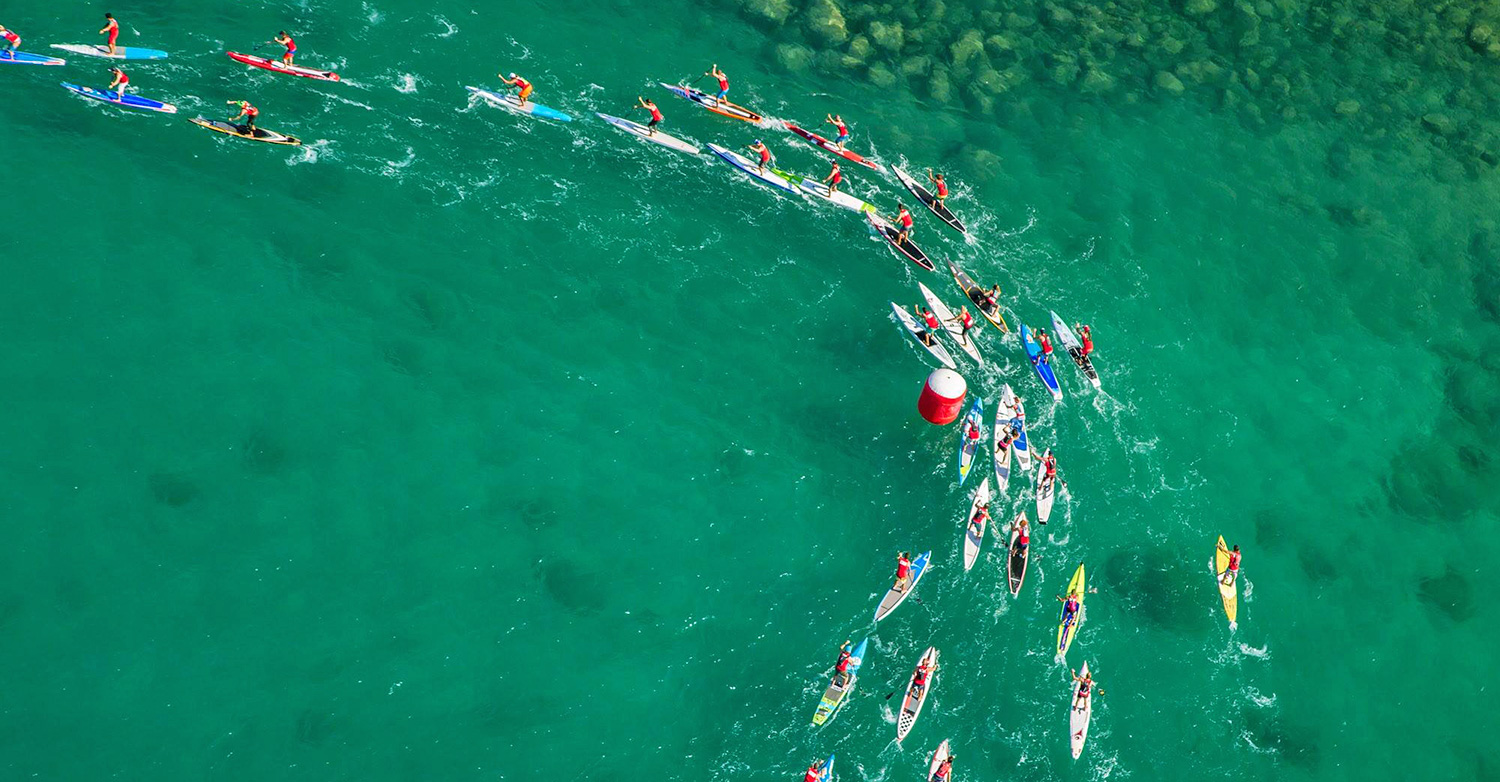 December 25, 2021
by Christopher Parker (@wheresbossman)
The 2022 Euro Tour lineup has been revealed and can you almost feel the summer? Can you taste it?
Grab your sunscreen and load up on the sangria — we're headed back to Europe in the summer of '22.
The classic Euro Tour, arguably the most successful race series in our sport's history, has announced its lineup for next season and by golly it looks good.
The 2022 Tour features 14 races starting in May and stretching right through til November. The big focus, and what I like to call the "European Summer of SUP" will be a seven-week stretch of back-to-back events from the end of May through July that includes a great double-header in Spain featuring one of my personal favourites.
The Euro Tour has never been about the racing for me though. Sure, those live streams were fun, and seeing who cracks the podium and who simply cracks over a month or two in Europe has produced a splendid series of storylines on SUP Racer over the seasons. But I think the Tour has always been more of a European summer adventure with a bit of paddling thrown in. And like a banger of a ballad being belted out by an ageing diva at Eurovision, I think we can all agree it just feels good.
Don't get me wrong, the racing is certainly entertaining and always competitive. Connor, Sonni, Titou, Olivia, Boothy, Fiona. History. And that will only intensify in 2022. The Aussies can travel again, the Eastern Europeans have learnt to SUP, the Spanish groms are all grown up and the French are in career-best form. It's a potent mix of passion, potential and paddling pride.
So what are the highlights expected to be?
The only €10k event of the series ("six-star" in Tour parlance) is the established World SUP Festival in Costa Blanca, Spain. The race starts on a tiny island just off the coast that was formerly held by pirates and for one weekend in early June is taken over by paddlers. This race can be a smooth downwinder back to the mainland or an epic slog through an unforgiving ocean. Either way it's been dominated the Frenchies and Aussies who drink salt water for breakfast and that probably won't change next season as Australia embraces covid and learns to spread its wings again.
Costa Blanca goes back-to-back with one of my personal favourites not just in Europe but in the world of paddling. The Port Adriano SUP Race on the Spanish (née Balaeric) island of Mallorca is special for reasons too many to list but let's try. For one, Port Adriano returns to the Euro Tour after a seven-year absence.
Port Adriano never actually went away – it's been running as a great local race every year – but it returns to the Tour for the first time since 2015. It was actually part of the inaugural season as well — a founding member of the first ever "Euro Tour" that we cobbled together in 2014 (that was an unofficial Tour that existed only on SUP Racer; we didn't officially organise the Euro Tour until 2015 when Belar famously started driving his van loaded with race boards around the continent). Symbolically, Port Adriano was actually the first race of that first ever Tour, meaning it's technically the oldest Euro Tour event.
The other great thing about Mallorca, apart from the beauty of the island with its stunningly-rugged coastline of cliffs, caves and cute little taverns filled of classic cuisine (and apart from the absurdity of its party towns but we won't mention the frightening perils of Friday night in Magaluf) is the fact it's home to the most incredible little paddle club in the world.
The Mar Balear SUP Club that calls Port Adriano home (and hosts this race) has already produced half a dozen world titles despite the average age being just 16 years. At the recent ICF Worlds in Hungary the Mallorcan groms didn't just dominate they were in a league of their own, claiming 6x gold, 4x silver and 4x bronze medals across the six junior races. The Port Adriano girls swept the podium not once but twice. Led by internationanl athlete Laura Quetglas and mythical coach "Manolo," these kids have come to define the generational progress of our sport and for that we should all take notice.
The Port Adriano race is also damn good fun — it follows a massive "figure-eight" ocean loop around two rocky islets before finishing where it started in a port that's home to many majestic megayachts worth slightly more than my annual live stream budget.
Speaking of live streams, there's even a chance SUP Racer will return to Europe for this double-header in late May/early June. We wouldn't be in France so the baguette mic would be out but perhaps a bottle of that fine Spanish cider will suffice? It will sure taste good and isn't that what it's all about.
Spain is the most prolific Euro Tour country with three events (the third being in the Canary Islands) but Europe is a big place and there's a good mix of culture with the 14 races spanning 11 countries for 2022.
There are exotic stops in Croatia (for the GoT fans), Montenegro (which I heard good things about this year) and Egypt (Europe's really had a growth spurt lately). Throw in a few of the European classics such as the small but beloved Sieravuori SUP Masters in Finland (now in its 10th year) held on the world's cutest little lake among those tall pine, spruce and birch trees – oh I can smell them now – and featuring not one but three lakeside skinny-dipping saunas.
I'm also curious about the stop in Berlin and I hear Bari is worth a look. Russia is there too because let's not forget the sport is moving East and by East I mean we're not an ocean sport any more. Culture shift in full swing and purists be damned this is called progress.
There are a few oddities though, and if I had to critique the '22 Tour I'd ask why there's nothing in France in the summer given that country's status as European paddling powerhouse and producer of fine wine. There's been a high turnover of events on the Tour in recent years and the big French weekends are now gone (as is the Basque Country double-header) but on the flipside that opens up new locations and one can say that's a positive and a chance for new adventures.
(There is a race in France but way out in November, though it's an interesting one — the Gorges de l'Ardèche Marathon is a 24k downriver race through a spectacular part of Europe. It attracts over a thousand paddlers across canoes, kayaks, rafts and these days an increasing field of stand up paddlers. TotalSUP has a good summary of the event.)
Unfortunately there's also a big break in the Tour in August that probably would have been better as a big break in September given how ridiculously crowded September already is.
The Euro Tour events in Russia, Montenegro and Croatia — all interesting-sounding stops — will now go head-to-head with the European Championships in Denmark ("The Euros" as I like to call them), the major ICF World Championships in Poland (it'll be the biggest event of the season for sure) and the famous SUP11 City Tour in Holland (the Tour de France on water). Choices will have to be made by some paddlers but too much choice is generally considered better than too little in a sport the size of ours.
With that in mind here's the official lineup for the 2022 Euro Tour. They're also on Instagram.
1. ITALY – Bigeye SUP Race Bari (14-15 May)
2. SPAIN – Port Adriano SUP Race (28-29 May)
3. SPAIN – World SUP Festival Costa Blanca (4-5 June)
4. PORTUGAL – Madeira Island SUP Challenge (11-12 June)
5. SPAIN – Gran Canaria PRO 22 Beach Race (18-19 June)
6. BELGIUM – Namur SUP Race (25 June)
7. GERMANY – Berlin SUP Race (2-3 July)
8. FINLAND – 10th Annual Sieravuori SUP Masters (8-9 July)
9. GERMANY – Nordhausen SUP Race (9-10 July)
10. RUSSIA – Zavidovo SUP challenge (3-4 September)
11. MONTENEGRO – Lustica Bay SUP Race (10-11 September)
12. HUNGARY – Supetar Grand Slam Race (17-18 September)
13. FRANCE – Marathon International des Gorges de l'Ardèche (12 Nov)
14. EGYPT – Egypt SUP Championships (19-20 November)