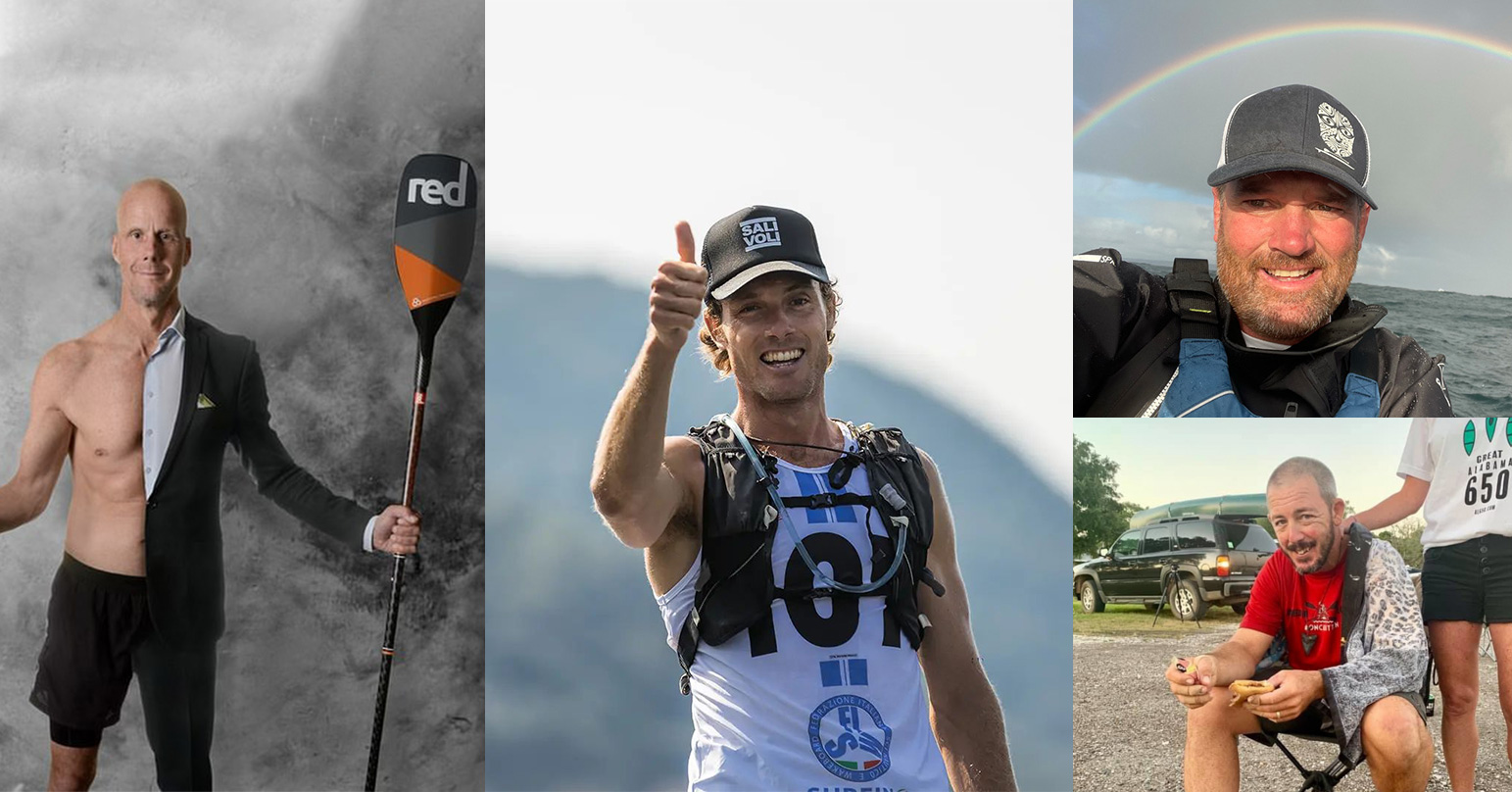 December 1, 2022
by Christopher Parker (@wheresbossman)
Who will be the last paddler left standing in Sarasota this weekend? Meet some of the contenders in the craziest race of the year
Last Paddler Standing is the craziest race of the year. It's part paddling, part strategy and total mindf**k. It's also the most interesting new race format I've seen in a long time.
The idea is simple enough: you paddle 3.3 miles (5.3km) around a flat water canoe/kayak lake in Sarasota, Florida. If you finish within an hour you get to start the next lap. And the next, and the next, and the next until you're literally the last paddler left standing. With predicted finishing times of 2-3 days, you will almost certainly have to paddle all day, all night, all day and all night again if you want to be crowned champion of this Kafkaesque odyssey.
Thirty paddlers have signed on for the inaugural Last Paddler including a few heavyweights from the ultra-marathon world, and while the format means virtually anyone can win if they're mentally tough enough, I've gone through and picked a few names I'm confident will still be standing at the end of the weekend.
The "race" begins 9am Saturday Florida time, and because we don't like sleeping either, SUP Racer is going to (attempt to) live stream the entire race. That would be silly enough to begin with, but the fact I'm doing this remotely from Australia adds a few more layers of complexity. Fortunately we've got SUP OG Kristin Thomas commentating from the start/finish line and hopefully carrying the weight of this experiment. We'll (hopefully) have on-screen graphics so you can tune in any time over the weekend and see exactly where the race is at (lap counter, which paddlers are still standing, that kind of thing). We're calling it Last Commentator Standing.
The event organiser is predicting "about 60 hours" for the winner, meaning this race might not finish until Monday night. For some context, the event Last Paddler was inspired by – an ultra running race known as Big's Backyard Ultra – lasted over 100 hours this year…
---
Göran Gustavsson, Sweden
Göran has been eyeing off Last Paddler ever since it was announced back in January. This guy was made for Last Paddler: Göran can paddle like a metronome for days on end, never losing his rhythm. One of the most decorated finishers at the iconic SUP11-City Tour, Göran is considered paddling royalty in Friesland after completing the non-stop and five-day 11 City Tour back to back. An extraordinary feat that very few have pulled off.
The Swede got our attention again a few months ago by announcing he was walking away from a career in banking to focus entirely on ultra-marathon paddling, making Göran perhaps the first full-time ultra athlete. He also did a lazy little paddle down the Yukon back in June where he was very competitive, finishing third despite being on an inflatable.
I asked Göran WHY?! he signed up for Last Paddler and all he said was "Thought it looked like a fun thing to do," adding that Last Paddler seemed a good compliment to the equally-intense but very different ultras he's done this year, Yukon and the 11 Cities.
The big question around Last Paddler Standing is how long the paddlers can stay awake, and Göran tells me his goal is to "Reach 48 hours and then take it from there." When asked where the love of these ultra marathon races comes from, he suggested it's because they're "More than a race… The whole atmosphere, the crew and support, the other competitors, everyone has a great time."
Göran has been chronicling his Last Paddler journey on Instagram – well worth a follow.
If there was one "favourite" for this weekend's challenge, I'd put the weight on Göran's shoulders. Though he's got some stiff competition…
---
Paolo Marconi, Italy
Frequent followers of SUP Racer will immediately recognise this name. Paolo, along with his partner Susak Molinero, have been mainstays of the Euro Tour since the early days, often hitting the podiums and always sharing their good vibes. If this was a regular SUP race I'd put my money on Paolo any day of the week, but the beauty of Last Paddler is that speed isn't a priority.
Fortunately for our Italian friends, Paolo is no slouch in the ultra events having completed the 11 City Tour alongside several running ultra marathons. He even did his own little version of Last Paddler during covid, paddling 8km every hour on the hour for 8 hours straight. He'll need to go a lot further than that in Sarasota, but I'm pretty sure we'll see Paolo still standing on Sunday evening.
One thing in Paolo's favour could be the "tie-breaker" rule that kicks in after 48 hours, which extends the laps from 3.33 miles to approximately 5 miles to force a result (hey, the event permit ain't forever). If he's still standing at that point, Paolo's odds will get even better as I doubt any of the other contenders can match his pace.
I had a quick chat with the humble Italian during his stopover en route to Florida this week…
On why he joined this crazy race:
"I signed up to Last Paddler because I was curious about the format. I tried something similar 1 year ago in the ocean and it was a cool experience. I want to get deeper in the ultras and Last Paddler is the right opportunity."
On his goals for such an unpredictable event:
"My goal is to be the Last Paddler Standing. I have no clue of how many laps it will take and I never paddled for such a long time. What I know is that if we get to 48 hours and have to complete the longer laps, we will have to paddle faster and I am ready for this."
On training:
"I didn't put too many kilometres or stress on the body for this race. I trained well for my last Euro Tour race and then made some specific tests to see what it takes to do Last Paddler Standing. I have been paddling at an elite level for over 10 years and I trust my technique, my nutrition and the amount of kilometres that I paddled in my career.
On his new love affair with the ultras
"I enjoy ultras because they make you grow as an athlete and as a person as well. It's like having an inner journey that takes you to discover many aspects of your body and your mind. And then I really love to paddle, so I like to do it as much as I can and ultras are the perfect opportunity."
---
Brendon Prince, UK
Famous for setting the record of paddling around the UK – aka The Long Paddle – Brendon Prince is arguably the best-prepared for the challenge of Last Paddler Standing. The man spent four and a half months paddling for charity — a few days in Florida should be a mere warmup for this guy.
That solo effort, which was made into a documentary titled 'Circumnavigate', will put the Brit in good stead because Last Paddler is also a solo affair — drafting is not allowed.
Brendon was even spotted practicing his power naps during training recently. Now in most sports that'd get you a stern lecture from your coach but when you're prepping for Last Paddler it's an excellent tactic.
The sleep element is the wildcard in Last Paddler Standing. Just about anyone can do 3.3 miles in an hour, but nobody can stay awake forever. If you want to win, you'll almost certainly need to sneak in some power naps along the way. Only problem is, you have to start each lap at the top of the hour, so even if you push hard and finish the loop in 40 minutes to score a "luxury" 20 minute break (most lap times will probably be closer 50 minutes as athletes attempt to conserve energy), you're never going to sleep more than 15 minutes before having to get back on your board. You've also got to eat, drink and stretch as much as you can. If you average five minutes of shuteye per lap during the graveyard shift you'd probably be happy.
---
Bobby Johnson, USA
This guy is the true dark horse in the field. Bobby Johnson isn't a familiar name in the SUP world but he might just be the most accomplished ultra paddler in the event. During his extensive career in marathon canoe and kayak, Bobby has completed several of the world's longest paddle races. That resumé includes winning the infamous Alabama 650 twice. The AL650 is probably the toughest race in the world: There are no limits on how how much (or how little) sleep you have to take, which makes it good preparation for Last Paddler.
How well can his talents in a kayak translate onto a SUP? Tune in on the live stream and find out, because I think we'll be talking a lot about Bobby Johnson over the weekend.
I believe Bobby is a Florida native as well, which means he could be fighting for the home team against the trio from across the Atlantic.
---
Beyond the four contenders are 26 other competitors who will all fancy their chances. Hopefully they don't have to work on Monday.
Some of the names that jump out include Tracy Cullinane, a veteran of Chattajack, the 11 Cities and the Monster and Sea 24 hour paddle; Carolina's John Batson, a regular on the Chattajack podium; Patrick Broemmel the "Hobo Squad" leader, board shaper and all-round SUP OG; Florida local Zach Rounsaville, another well-respected OG in Brent Ackland, and plenty of others who will probably still be standing on the second day.
Women make up less than 20% of the field but I'm hoping at least one of them is in the final group, because I believe Last Paddler is the most gender-neutral race format in the sport. So do the organisers: There are no divisions; man or woman, the winner is the winner.
Who's going to be the last paddler left standing in Sarasota? We'll find out on the weekend (or Monday… or Tuesday…)
Watch Last Paddler Standing LIVE on SUP Racer from 9am Saturday Floriday time (don't worry if you miss the start, this is probably going to be a 48 hour live stream lol)
---
2022 Last Paddler Standing start list:
Adam Nussen
John Knippers
Larry Hill
Patrick Broemmel
Tracy Cullinane
Frank Dreiling
Zach Rounsaville
David Harper
Goran Gustavsson
Eric Bednorz
Bobby Johnson
Brandon Grundy
Alexis Somoano
Brent Ackland
Denise Forner
Michael Carson
Brendon Prince
Tony Peters
Heidi Kemler-Stapula
Paolo Marconi
Kevin Woodin
Joshua Lanphear
John Batson
Bryant Ransom
Bernardo Isacovici
Josette Lata
Aleksey Synkov
Anton Synkov
Garrett Mccoy
Brian Richardson