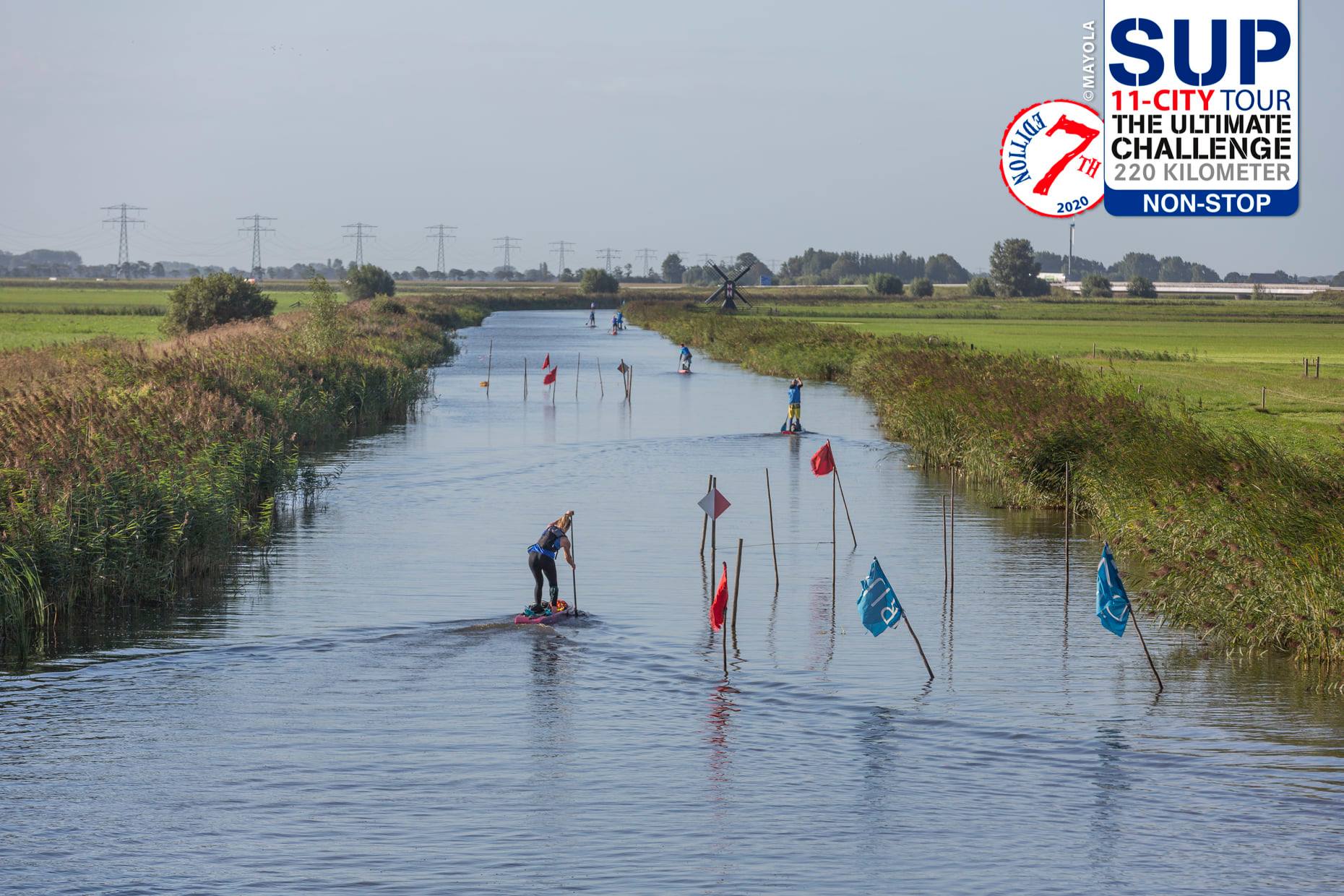 September 7, 2020
by Christopher Parker (@wheresbossman)
This photo pretty much sums up the Non-Stop 11 Cities
This photo pretty much sums up the "Non-Stop" SUP11-City Tour: A long, flat and rather lonely journey through Dutch countryside that some describe as beautiful, others as boring (I sit firmly with the former). But what everyone can agree upon is that it's an epic paddle requiring extreme mental strength to master.
There's no drafting in the non-stop. However, with a distance of just over 200km and finishing times between 24 and 36 hours, there is certainly plenty of time to think. These ultra events are far more of a mental challenge than a physical one — your mind is often screaming at you to quit long before your body starts to falter.
Rather fittingly, this image was captured by Mayola Dijksman — the long-time lead photographer of the 11 City Tour. Like everyone at this event, Mayola volunteers and often stays up all night capturing and editing the media to give competitors a glossy souvenir of their achievement. It also gives fans around the world a visual insight into this epic adventure (and perhaps a shot of inspiration to participate next year).
At the bottom of the frame is Emma Reijmerink, an 11 Cities veteran who completed the non-stop event in an incredibly nail-biting time of 35 hours, 59 minutes and 26 seconds. The official cut-off is 36 hours. Emma paddled completely unsupported for a day and a half — no food stops or water refills — and was the sole woman in the solo division. Her performance is rather symbolic, because this whole event was started by a sole woman who paddled solo around the entire course before SUP was even really a sport.
Anne-Marie Reichmann laid the foundation for the SUP11-City Tour in 2008 when she became the first person to stand up paddle the traditional route of the "Elfstedentocht" ("11 city tour") — an ice-skating race that's been held along this course intermittently since 1909.
Anne-Marie organised the first official SUP race a year later, inviting luminaries of the sport from as far as Hawaii to compete in the chilly autumn of Friesland (Connor Baxter and Bart de Zwart were among the pioneering class of 2009). Eleven years on, with the event now in its 12th edition, the determination of one woman to paddle the long way around her local province has spawned thousands of adventures and even more stories as scores of competitors descend on this quaint Dutch province every September.
The 11 Cities isn't the most exciting race in the world, but it's definitely one of the "richest" — when you measure the value of an event by the experiences and memories it produces, there are few on the same level.
Over the past few days, 19 paddlers added their stories to the history books of the 11 Cities. That included Niek van der Linde, who won his third non-stop title in a time of 25 hours, 13 minutes. But everyone who simply finished deserves the "elfstedentocht cross" that gets hung around their neck.
This was the 7th edition of the Non-Stop 11 Cities — the 12th edition of the "normal" version (the five-day stage race) begins on Wednesday. But before then, take a look at Anne-Marie's recap of this year's non-stop odyssey and see the finishing times for every one of the paddlers who completed this year's quest.
In a year when so much has been unknown, one thing is for sure: There will be plenty more stories produced in the fields of Friesland this week.
READ MORE: "Non-Stop" recap by Anne-Marie on the 11 Cities blog
SEE MORE: Follow the SUP11-City Tour on Facebook and Insta for hundreds more photos