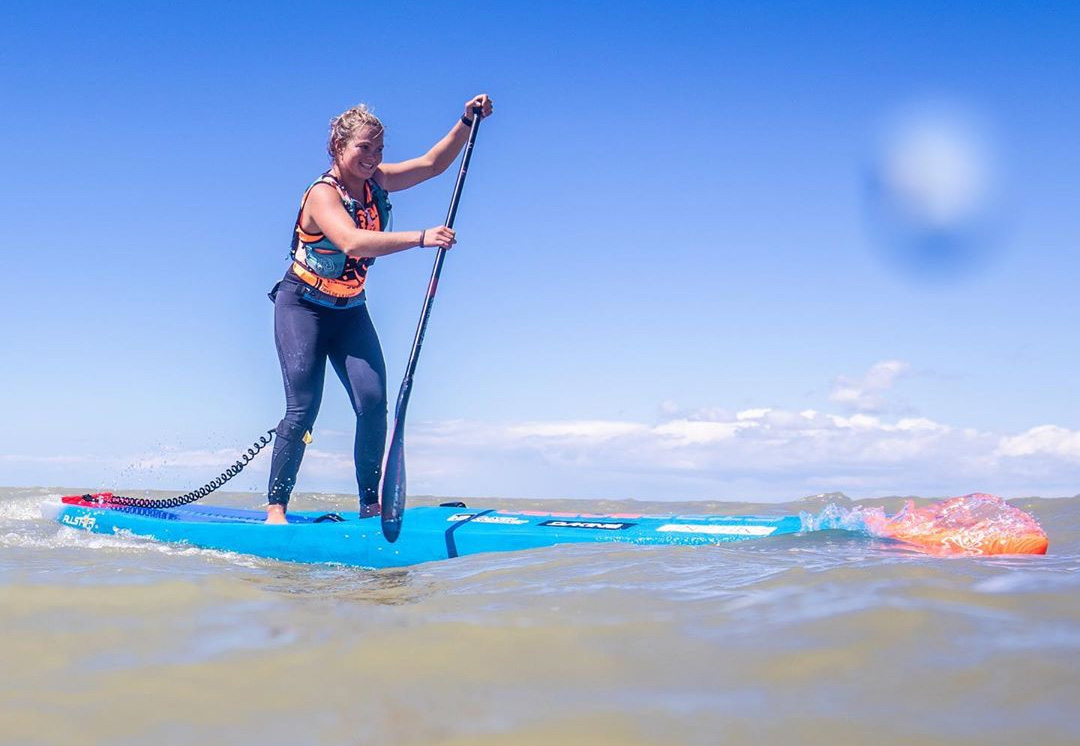 May 11, 2019
by Christopher Parker (@wheresbossman)
Titouan Puyo and Fiona Wylde won the French downwinder in Vendée
Titouan Puyo and Fiona Wylde have surfed their way to victory in week 3 of the EuroTour, claiming the Vendée Gliss Event on France's west coast.
Titou out-surfed fellow Frenchman Arthur Arutkin and week 2 winner Michael Booth to even the score with the Aussie powerhouse at one European win apiece.
Meanwhile, Hood River hero Fiona Wylde felt right at home in the bumps, coasting clear to defeat Sunova's Amandine Chazot and Maui wunderkind Annie Reickert en route to her second French win in seven days.
Others to impress include Titou's NSP team mate Ty Judson and Team Sunova's Boris Jinvresse. Frenchwoman Olivia Piana has some work to do if she's going to defend her EuroTour title, only managing fourth after finishing third last weekend.
Conditions looked pretty good for a downwinder after a unique ocean start (competitors were dropped off the coast by boat). Just like last year, the finish was an infamous beach run up the low-tide flats of Saint-Jean-de-Monts beach.
Eric Terrien almost took line honours on his foil after building a massive lead on his samurai sword. But conditions soured in the final few kilometres and he went from a bsolutely flying to crawling at a snail's pace (I think he was second or third over the line). Boothy and Titou were going stroke for stroke early, but Titou's mastery of light ocean bumps shone through in the end, while Arthur showed once again that he's a threat in all conditions.
The EuroTour continues on to Costa Blanca, Spain next weekend and the World SUP Festival, an event where I'll be jumping back behind the baguette microphone for live streaming duties.
1st: Titouan Puyo (FRA) NSP
2nd: Arthur Arutkin (FRA) Fanatic
3rd: Michael Booth (AUS) Starboard
4th: Ty Judson (AUS) NSP
5th: Boris Jinvresse (FRA) Sunova
6th: Enzo Bennett (TAH) 425
7th: Martin Letourneur (FRA)
8th: Bruno Hasulyo (HUN) Lightboard
9th: Bruno Capparella (ITA)
10th: Joseph Gueguen (FRA)
1st: Fiona Wylde (USA) Starboard
2nd: Amandine Chazot (FRA) Sunova
3rd: Annie Reickert (USA) NSP
4th: Olivia Piana (FRA) Rogue
5th: Yuka Sato (JPN) Sunova
6th: Caterina Stenta (ITA) RRD
7th: Fanny Tessier (FRA)
8th: Susak Molinero (ITA) RRD
9th: Petronella van Malsen (NED) Mistral
10th: Noelani Sach (GER) NSP