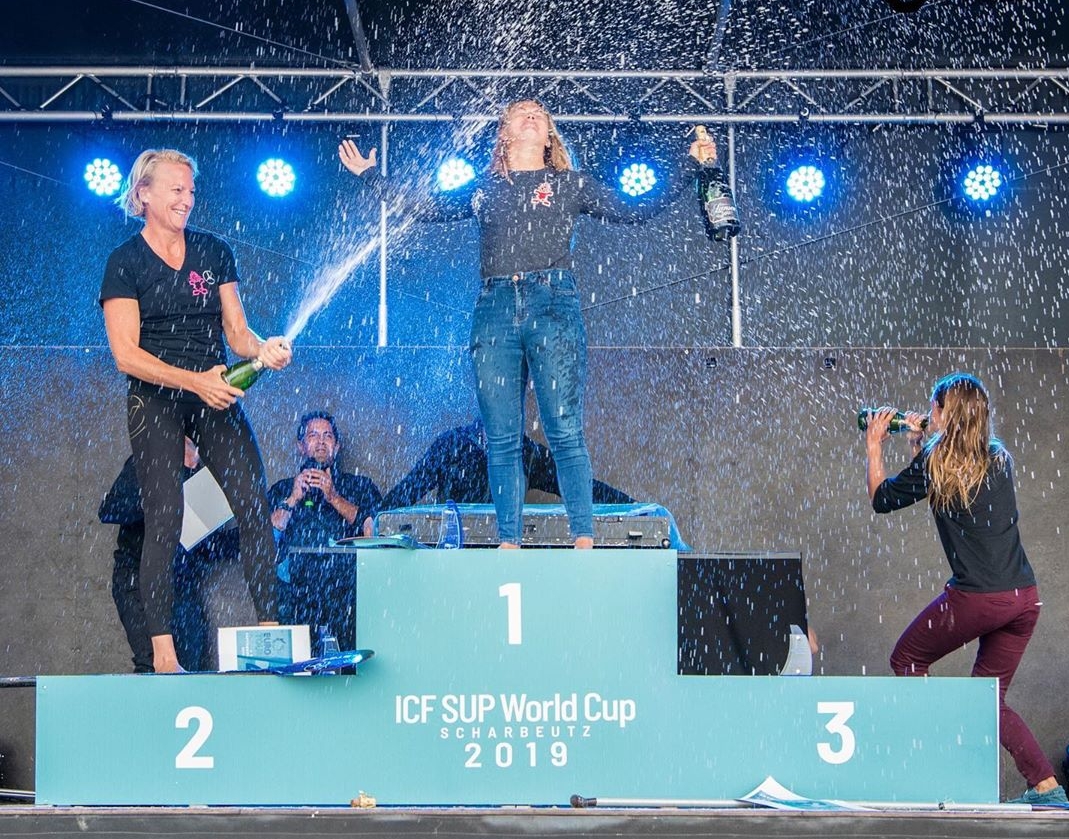 September 11, 2019
by Christopher Parker (@wheresbossman)
Jetset Superstars: Boothy, Fiona win the ICF SUP World Cup after landing in Germany same day
Boothy kept Vinni Martins, Bruno Hasulyo, Titouan Puyo and Arthur Arutkin at bay around the 7km course, while Fiona outlasted home-nation hero Sonni Honscheid and last year's SUP World Cup Queen, Olivia Piana. Spanish dark horse Espe Barreras finished fourth to continue her rise through the ranks.
The well-known SUP World Cup event in Scharbeutz on Germany's north coast took on a new title sponsor this year, with Mercedes exiting and the ICF (International Canoe Federation) joining the show. The winners were actually given free airfares to the ICF Worlds in Qingdao, China next month.
Though even more importantly, there's a container going from Scharbeutz straight to Qingdao full of race boards that will make the logistics of attending a world championship event in China ten times more manageable for athletes.
1st: Michael Booth 43:30:00
2nd: Vinnicius Martins 43:37:00
3rd: Bruno Hasulyo 44:05:00
4th: Titouan Puyo 44:17:00
5th: Arthur Arutkin 44:18:00
6th: Tom Auber 44:23:00
7th: Daniel Hasulyo 44:31:00
8th: Claudio Nika 44:33:00
9th: Leo Nika 44:35:00
10th: Ludovic Teulade 45:52:00
1st: Fiona Wylde 50:23:00
2nd: Sonni Honscheid 50:28:00
3rd: Olivia Piana 50:30:00
4th: Esperanza Barreras 50:47:00
5th: Susak Molinero 51:17:00
6th: Amandine Chazot 52:09:00
7th: Petronella van Malsen 52:20:00
8th: Kristyna Babiankova 53:00:00
9th: Siri Schubert 53:09:00
10th: Caterina Stenta 54:08:00
https://www.instagram.com/p/B2Kmxzah5t4/