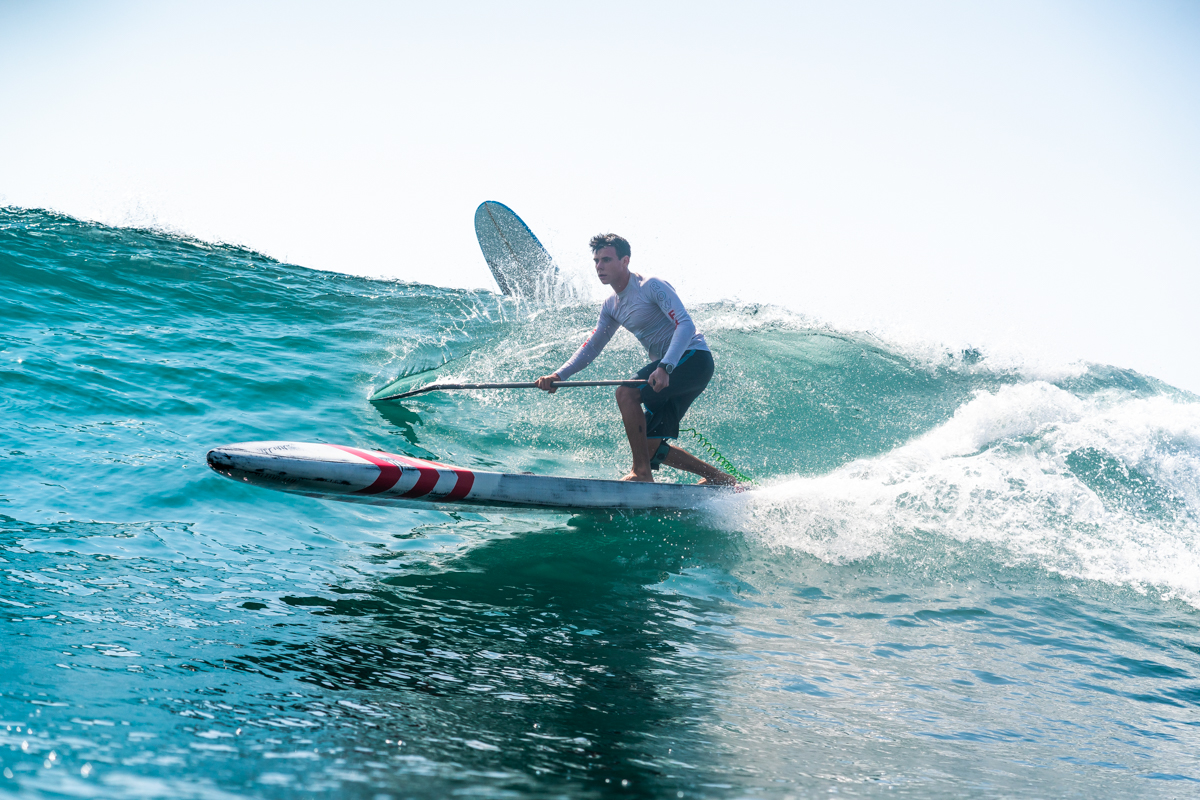 November 23, 2019
by Christopher Parker (@wheresbossman)
PREVIEW: Who to watch at the 2019 ISA Worlds in El Salvador
The International Surfing Association's annual world championship – the second World Championshps this year following the ICF's offering in China last month – is about to get underway in the emerging surf mecca of El Salvador, with 27 nations and about 15-20 big names set to compete alongside 100+ national reps that'll no doubt be surfing or racing with pride.
However, with this event only announced last-minute, the 2019 ISA Worlds are just as notable for who isn't there, with several top athletes and many of the usual ISA suspects missing from the lineup.
The 8th annual ISA World SUP and Paddleboard Championship starts tomorrow in what looks to be an amazing location, at least if you like waves. The host venue is El Sunzal on the coast of El Salvador about an hour from the small nation's capital, San Salvador, and what I've heard from the paddlers on the ground it's a pretty cool spot for a surf trip.
The event runs from the 24th Nov to the 1st of December, and I presume you'll be able to watch it live on the ISA's Facebook page. As always, the event will feature SUP surfing, course racing, distance racing and "sprints" (whose format is up in the air considering there's absolutely no flat water in El Sunzal) along with prone paddleboarding (yes, prone is still there). There will once again be junior racing, an excellent addition to last year's event and one of the wisest decisions the ISA has made in recent years.
[notdevice][/notdevice][device][/device]
As you're probably aware, the 2019 ISA SUP World Championships in El Salvador were (in)famously announced just six weeks ago, which left nations scrambling to organise logistics — the final lineup of teams reflects the difficultly many national federations have had in reaching Central America on such short notice.
Only six nations have been able (or willing) to send a full squad to El Sunzal: Argentina, France, Italy, Japan, Spain and the United States. Not even the host nation could produce a full team in time. The other 21 nations are a mix of everything from one-man-shows to "swiss cheese" squads.
But that's what you get when a sporting federation puts politics ahead of practicality.
Fortunately there are enough world-class competitors – Connor, Casper, Titou, Martin, Itzel, the Nikas, Vinni, Polar Bear, Arthur S, Zane, Polar Bear, Susak, Caterina, Laura, Amandine, Jade, Candice and quite a few more – that the racing will still be competitive and, with the waves of El Sunzal providing an x-factor, hopefully quite exciting as well.
(Again, you can presumably watch the live stream on the ISA's Facebook page next week — here's the full event schedule)
Spain and Italy in particular have sent squads that will see them punch above their weight and probably finish top four overall.
The Spanish team members I spoke with said they were bummed not to be competing against all of the top nations but were still very proud and fired up to fly the flag. Their team is led by their two international women – Laura Quetglas and Susak Molinero – who are joined by the ultimate dark horse, Espe Barreras (look out for her in the marathon). The Spanish men, Roman Frejo, Qique Hurtado and Pablo Ania, will all be solid top 10 contenders and could even snag a medal if things go their way, while their juniors, including Mallorcan wunderkind Duna Gordillo, are strong favourites for the podium.
I'm already giving Spain the award for "best team spirit" no matter what their final result on the overall leaderboard.
[notdevice][/notdevice][device][/device]
Italy features several well-known names including the Nika brothers and Caterina Stenta, all of whom will fancy their chances at a medal. Claudio will be particularly strong in the sprints after finishing runner-up to Connor at the ICF Worlds a month ago, though we don't yet know what the sprint format will be (I hear it's going to be a "really short course race" rather than a traditional 200m sprint). Watch for Laura dal Pont to challenge for a medal in the junior women's beach race.
Japan is also looking strong. They're missing their long-reigning number one, Kenny Kaneko (ironically the Japan national championships are happening this week — the ISA has a knack for clashing dates), but ICF junior champ Rai Taguchi is in El Sal and will start favourite* in the junior beach race (he's also a shot at a medal in the open race — this kid can paddle). The Japanese also have one of the top women's dark horses in the form of Rika Okuaki who I predict will turn some heads in both the distance and beach race events.
(* update: I forgot that Polar Bear from Denmark is in the boys' beach race, which alters the podium betting quite significantly. That race is actually shaping up to be one of the most exciting of the week…)
Apart from Japan, Spain and Italy, the other stand-out stand-up teams are clearly the United States, France and Brazil. See the "Teams" page on the official site for a full list of athletes.
Team USA are a strong chance at winning the teams title this year. They're missing a few first choice athletes (no Danny Ching, no Fiona, no April, no Seychelle), but if a few results go their way they could easily replicate their golden run from Mexico 2015 (the only time the Aussies have ever lost the teams title).
Along with its all-star surfing lineup, Team USA features Candice Appleby (though she has been battling injury), superstar junior Jade Howson and the G.O.A.T. Connor Baxter. Zane Schweitzer is even dusting off the race board, while Tyler Bashor will be a podium certainty in the junior race.
But my tip for the teams title is the mighty French.
It'll be close between the Americans and French (and Spain/Italy are outside chances), but I think "Les Bleu" is well-rounded enough that they'll be hard to beat. They're missing a few first-choice athletes, including reigning ISA gold medalist Olivia Piana, but their men are led by Titouan Puyo and Martin Vitry who could both easily claim gold, while Amandine Chazot will be hopeful of a couple of podiums in the women's events. Their surfers will all be in contention for the medals as well — which is where the teams title will probably be decided (the racing all takes place in the first half of the week followed by the surf contest over the final 3 or 4 days).
Brazil is also looking good – Vinni, Arthur and Jessika are all medal contenders – but they're probably out of contention due to their "swiss cheese" squad failing to fill every possible spot. The ISA uses a byzantine points system that is merciless on incomplete squads. It also strongly favours the prone paddlers, which is always an x-factor in the team standings and one of the reasons the Aussies were previously unbeatable (though Australia isn't really there this year due to the event's last minute nature).
Italy and Spain will be close on the points table but probably settle for a skirmish with the Japanese and Italians for third.
But the 2019 ISA Worlds is just as notable for who isn't there…
The Australians, for one, have sent a skeleton crew due to the last-minute nature and logistical nightmare of getting race boards to Central America. Australia's absence is hard to ignore given the Green & Gold's utter dominance of the ISA Worlds over the years.
Team Australia's spiritual leader and all-round legend, Shakira Westdorp, is in El Sal and will going for an incredible fourth-straight gold in the women's surfing, but the team is missing all of its international racing athletes and won't be anywhere near competitive on the team leaderboard. No Boothy, no Lincoln, no Jimmy, no Terrene or Angie or any other recognisable names in the racing divisions. And they have none of their prone superstars, either (Team Australia and its athletes, like many others, weren't particularly impressed with the ISA's last-minute decision to run this year's Worlds). The Aussies have won six of the seven teams titles at the ISA Worlds, so their general absence highlights how difficult it's been for teams to organise for El Salvador with just six weeks notice. Though on the flipside, at least it will throw the race for the teams title wide open…
Several other former medalists are also missing, including Olivia Piana who is in Tahiti for the Ironmana event, Daniel and Bruno Hasulyo (in Thailand for the 11 Islands race along with women's powerhouse Sonni Honscheid), Pan-Am gold medalist Lena Ribeiro (staying in Brazil for the Aloha Spirit Festival) and virtually all of the Aussies who are in Western Australia for Downwind Week — it wasn't just the late notice that hurt El Salvadar 2019, it was the fact the ISA chose dates that clashed with four other international events.
[notdevice][/notdevice][device][/device]
The ISA is still putting on a brave face as you'd expect. Their PR machine has been throwing around buzz words such as "world's best" with breathless wonder, while they've also thrown some not-so-subtle shade at the ICF ("The ISA Worlds are the undisputed World Championships," claims the latest ISA presser like a broken record). The ISA's flamboyant President, Fernando Aguerre, has also been in fine form, making the curious observation that "Under the ICF's leadership, SUP has seen explosive growth." Both parts of that sentence are probably up for debate…
But their chest-beating is quite understandable considering the ISA is as much a political organisation as a sporting one these days. The International Surfing Association is currently locked in an epic arm-wrestle with the International Canoe Federation (ICF) for the right to (maybe, possibly, theoretically) one day host stand up paddling in the Olympic Games, and it's all systems go on the propaganda front for both sides.
The ISA's last-minute dash to Central America – largely seen as a political move against the ICF – will inevitably be compared with the ICF's debut "world championship" in Qingdao, China last month. That event was, overall, very impressive. It also attracted 42 nations and 200+ athletes, which suddenly makes the ISA Worlds look like the less-established event despite the ISA starting their run way back in 2012.
Below: @conbax is looking for his third gold from three championships this year after he saluted at the Pan-Ams in Peru and ICF Worlds in China
[notdevice][/notdevice][device][/device]
However, the ISA isn't the only one playing "smoke & mirrors" — I know of three or four nations from the ICF's total of 42 that either didn't take their place on the start line in Qingdao or were comprised a single paddler entered for the sake of pumping up the numbers. But still, if we're talking stats then the ICF event – with its six months lead notice – certainly trumps the ISA's "surprise" championships this year, both in terms of numbers and level of elite competition. This sport seems to have a short memory though, so if the ISA can pull off a half-decent week in El Sal (and its racing is being organisd by SoCal supremo Anthony Vela, so it should be solid) it probably won't matter too much next year.
But paddletics aside, El Salvador looks like a hell of a nice location for a surf trip. World Championships? There will probably be an asterisk or two, but I'm sure this will be one of the most memorable ISA Worlds at the very least — the reports I've gotten from athletes on the ground is that the atmosphere (and the waves) are firing.
And at the end of the day, we want to hear less about court cases in Switzerland and more about what's happening on the water, right? So without further ado, here are a few semi-bold predictions. Tune in on the ISA live stream next week to see how close I got it.
2019 ISA Worlds – El Salvador
Boss Man's Bold Predictions
Note: There are plenty of dark horses every year at the ISA Worlds, which is one of the things I really like about this event, and I've no doubt missed a couple of familiar faces in the teams sheet (apologies). But I expect the dozen or so international athletes that are competing to take the bulk of the podium places. The other x-factor, apart from the fact it's very late in the year and all these guys and girls are tired from a long season, is the waves. I'm eager to see what sort of sprint racing format race director extraordinaire Anthony Vela comes up with, while the beach race (or "technical course race" as they so boringly insist on calling it) could throw up some real fireworks if the swell holds
Overall Teams Title predictions
1st: France
2nd: USA
3rd: Spain
4th: Italy
5th: Japan
6th: Brazil
7th: Argentina
Men's Beach Race predictions
Gold: Connor Baxter (USA)
Runner-up: Martin Vitry (FRA)
Bronze: Casper Steinfath (DEN)
Copper: Titouan Puyo (FRA)
One to watch: Itzel Delgado (PER)
Women's Beach Race predictions
Gold: Candice Appleby (USA)
Runner-up: Jade Howson (USA)
Bronze: Caterina Stenta (ITA)
One to watch: Rika Okuaki (JPN)
Girls' Beach Race predictions
Gold: Jade Howson (USA)
Runner-up: Duna Gordillo (ESP)
One to watch: Laura dal Pont (ITA)
Boys' Beach Race predictions
This could be one of the races of the week, with Rai, Polar Bear and Tyler all world-class and plenty of dark horses looking to snatch the final spot on the podium.
Gold: Rai Taguchi (JPN)
Silver: Christian "Polar Bear" Andersen (DEN) *I forgot his name when I posted this earlier
Bronze: Tyler Bashor (USA)
Curious to see his potential: Fernando Serra (ESP)
Men's Distance predictions
Gold: Titouan Puyo (FRA)
Runner-up: Vinni Martins (BRA)
Bronze: Connor Baxter (USA) *though Connor would be smart to sit this one out and focus on sprints/beach race like he did in China
Rising prospect: Qique Hurtdao (ESP)
Women's Distance predictions
*flip of the coin*
USA, France, Spain, Italy all in contention
Watch out for Candice, Laura, Jade, Rika and Caterina
Official dark horse: Espe Barreras (ESP)
Sprints
UPDATE: It sounds like the sprints are no longer "sprints" but rather a "really short course race." Instead of the usual 200m straight-line dash, it'll be a beach start, out around a buoy 100 metres off the beach, then back to the shore for a run up the sand and over the finish line. This really hurts the sprint specialists that train for their specialist format and will no doubt raise a few questions at the teams meeting today, but it's also an inevitable change: The ISA has never managed to run a "good" 200 metre event, which simply played into the hands of their rivals at the ICF. It's definitely not fair to change the format last-minute, but it was probably to be expected. Very curious to see how the new format plays out.
Because of the new format, the predictions below are largely irrelevant. The new course will really hurt the two gold medal favourites from Brazil, Arthur and Jessika, who are accustomed to 200m flat water courses. Look for Casper and Connor to capitalise in the men's race and Jade Howson to assume pole position in the women's.
Men's Sprints predictions
*depends largely on conditions/race format
Gold: Casper Steinfath (DEN)
Runner-up: Connor Baxter (USA)
Bronze: Claudio Nika (ITA)
Dark horse: Athur Santacreu (BRA) *he'll be gold medal favourite if they can find some flat water
One to watch: Rai Taguchi (JPN)
Women's Sprints predictions
*depends on conditions
Gold: Jessika de Souza (BRA) *just like her team mate, Arthur, she's damn fast but would much prefer a flat water controlled environment
Runner-up: Amandine Chazot (FRA)
Bronze: Susak Molinero (ESP)
Dark horse: Caterina Stenta (ITA)