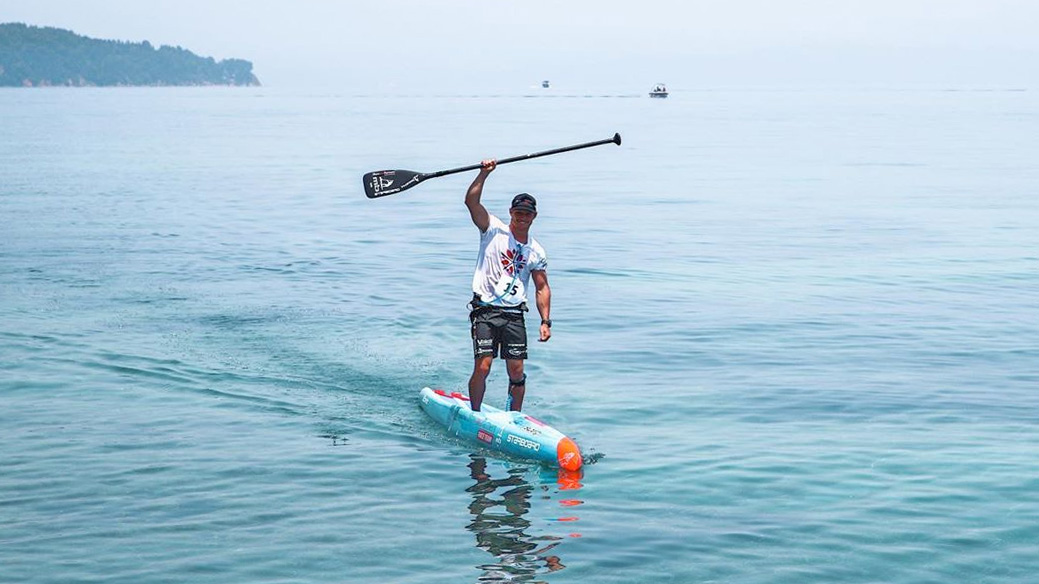 June 15, 2019
by Christopher Parker (@wheresbossman)
Team Starboard reigns supreme: Masterclass from Michael Booth, Fiona Wylde in the Greek Islands
Team Starboard super duo Michael Booth and Fiona Wylde have claimed this week's EuroTour race with emphatic victories against both a strong field and a draining hot sun in the Greek Islands.
Boothy claimed the 'Corfu Emerald Cup' to bounce back from his big mistake at last week's battle of Bilbao and put an exclamation mark on his status as the world's strongest paddler, while Fiona was a little too strong for Italian wildcard and rising star Caterina Stenta.
With conditions looking more like a Swiss lake than the Mediterranean sea, paddlers were greeted with a long, flat course and a merciless start time of midday. As the sun shone down from directly above, a field of about 70 took off on the first of 2x 7.5km laps up and down the eastern coast of Corfu island in what would become a battle of bodies, minds and water packs.
Boothy sprinted to the front early and set a cracking pace that quickly whittled the field down. Not content to merely set the tempo, the Australian powerhouse took a risk and broke away at the 1km mark of the race, rolling the dice and seeking to go it alone for the remaining 13km-14km despite the flat, hot, draining conditions (the race was advertised as 14km but was probably a touch over 15).
Although it was perhaps inevitable given the form he was showing today (that last-minute mistake in Bilbao definitely fired him up), a rogue boat wash gave Boothy his opportunity to break, though not in the manner you might expect. As a small bump rolled through the field on a 30-degree angle, some of the boys tried to run with it even though it took them slightly off course. The field scattered, and Boothy, quite smartly, used the moment of chaos to head on a more inside line away from the pack and instantly establish a lead of two board lengths.
https://www.instagram.com/p/ByvNRsLIgom/
Leo Nika and Vinni Martins had the unenviable task of trying to catch a sprinting Michael Booth, and though they tried hard it was all in vain. Within minutes, the VMG Blades team rider had extended his gap to about 50 metres. The race was virtually over at that point.
Fiona attempted to do something similar in the women's, pulling away from roommate Caterina and Frenchwoman Amandine Chazot – who'd been sticking with the lead duo early until an uncharacteristic fall sent her in for a quick swim (one she probably enjoyed given the heat).
By the midway marker, Fiona was out front by 100m and her lead would stay more or less the same over the second half of the course. Caterina, a professional windsurfer who's starting to lean more towards a SUP career, showed she's a name to watch by essentially holding pace with the Starboard superstar over the final 7-8km. But this was definitely Fiona's day.
The Oregon native, who will headline the big Gorge Paddle Challenge in two months' time, has become something of an ambassador for the sport both on and off the water. When she's not topping podiums and promoting the opportunities of diabetic athletes, she's taking over the reigns at the JET (Junior Elite Team) kids' training squad at home in Hood River, where she'll return in 10 days' time to teach the next generation how to paddle for a couple of hours in the Greek sun without passing out.
---
FULL REPLAY OF THE EUROTOUR LIVE STREAM

Embed not loading? Watch directly on Facebook
---
Back in the men's field it was all about who could snag second place. Bilbao hero Bruno Hasulyo looked good early on a borrowed board – his signature model was stolen through the week – but faltered late, eventually retiring due to (presumably) a combination of unfamiliar equipment and unfamiliar heat.
Leo Nika was always up near the front helping drive the peleton forward, which was a quick turnaround in form following a disastrous result in Bilbao where he finished outside the top 20. Enzo Bennett from Tahiti, who's enjoyed a cracking summer in Europe, was looking similarly determined to either catch Boothy or, more realistically, put himself in the best position to claim the second step on the podium. Arthur Arutkin had a couple of stints on the front as did Aussie Ty Judson.
But as Boothy paddled home to the finish line with a good 300-400 metre lead in what, by that point, had become a virtual clinic, the battle for the minor placings started ramping up and some big names started getting dropped.
Vinni Martins from Brazil was the first to go, cheeks puffing in the Saturday afternoon sun, while former world number one Connor Baxter looked similarly drained and faded to finish outside the top 10. Martin Vitry was the last to break, paddling home in no-man's-land for an 11th place finish, which meant a group of nine would contest the final order of the top 10 in the closing stages (Boothy had already crossed the line at this point).
Enzo engaged his sprint-to-the-line Tahitian power pace at the right time, holding his line and heading straight to the finish while Titouan Puyo – who'd had a quiet afternoon in the draft train by his lofty standards – surged up the inside but left his run a little too late.
In the end it was the Tahitian claiming runner-up ahead of a deserving Leo Nika in third, while Arthur stayed ahead of Titou and the unheralded Israeli athlete Liran Machlev, who held his nerve against the big guns to claim sixth place and secure what is surely the best result of his career.
Another great result came from Brazilian workhorse Eri Tenorio, who claimed 8th place for Team Flying Fish after a determined effort that saw him stick with the main pack as many more recognisable names were starting to fade. Finishing in between the two dark horses was Frenchman Tom Auber, with Ty Judson and Noic Garioud rounding out a very solid top 10.
It was an interesting race to watch up close – thanks to everyone who tuned in on the live stream – though it was probably a touch too long given the hot/flat conditions. The temperature was officially 32 degrees but on the water it felt closer to 40. I don't think anyone would have complained if they'd finished after the first lap; those who won their share of the €12K prize purse certainly earned it.
I'm sure there will be a few well-earned drinks at Billy's Taverna tonight, which has become the official meeting point on Corfu. But alas, not for SUP Racer: I'm already sitting at Munich airport waiting for a connection to Geneva, en route to Lake Annecy (home of the GlaGla Race) and the epic "Dragon World Championship" by Red Paddle Co. The lake is also hosting stage three of the Alpine Lakes Tour, so it's going to be a busy 48 hours. Follow @supracer on Instagram to go behind-the-scenes, and hit up The Euro Tour on Facebook later today/tomorrow for full results and plenty of shots from today's drainer.
Thanks to the organisers and the EuroTour crew for pulling off a fun day at the beach, and thank you to Quickblade Paddles and VMG Blades for making our European summer of SUP possible. We'll see you for another live stream next week on the Greek island of Crete before we jet off to Canada for the epic Yukon River Quest!
---
2019 CORFU EMERALD CUP
TOP 10 MEN
1st: Michael Booth (AUS) Starboard/VMG
2nd: Enzo Bennett (TAH) 425
3rd: Leo Nika (ITA) Starboard
4th: Arthur Arutkin (FRA) Fanatic/QB
5th: Titouan Puyo (FRA/NCL) NSP/QB
6th: Liran Machlev (ISR) Starboard
7th: Tom Auber (FRA) Fanatic/VMG
8th: Eri Tenorio (BRA) Flying Fish
9th: Ty Judson (AUS) NSP
10th: Noic "Chicken Garioud" (FRA/NCL) Sunova/QB/VMG
WOMEN'S PODIUM
1st: Fiona Wylde (USA) Starboard
2nd: Caterina Stenta (ITA) RRD
3rd: Amandine Chazot (FRA) Sunova/QB/VMG
---