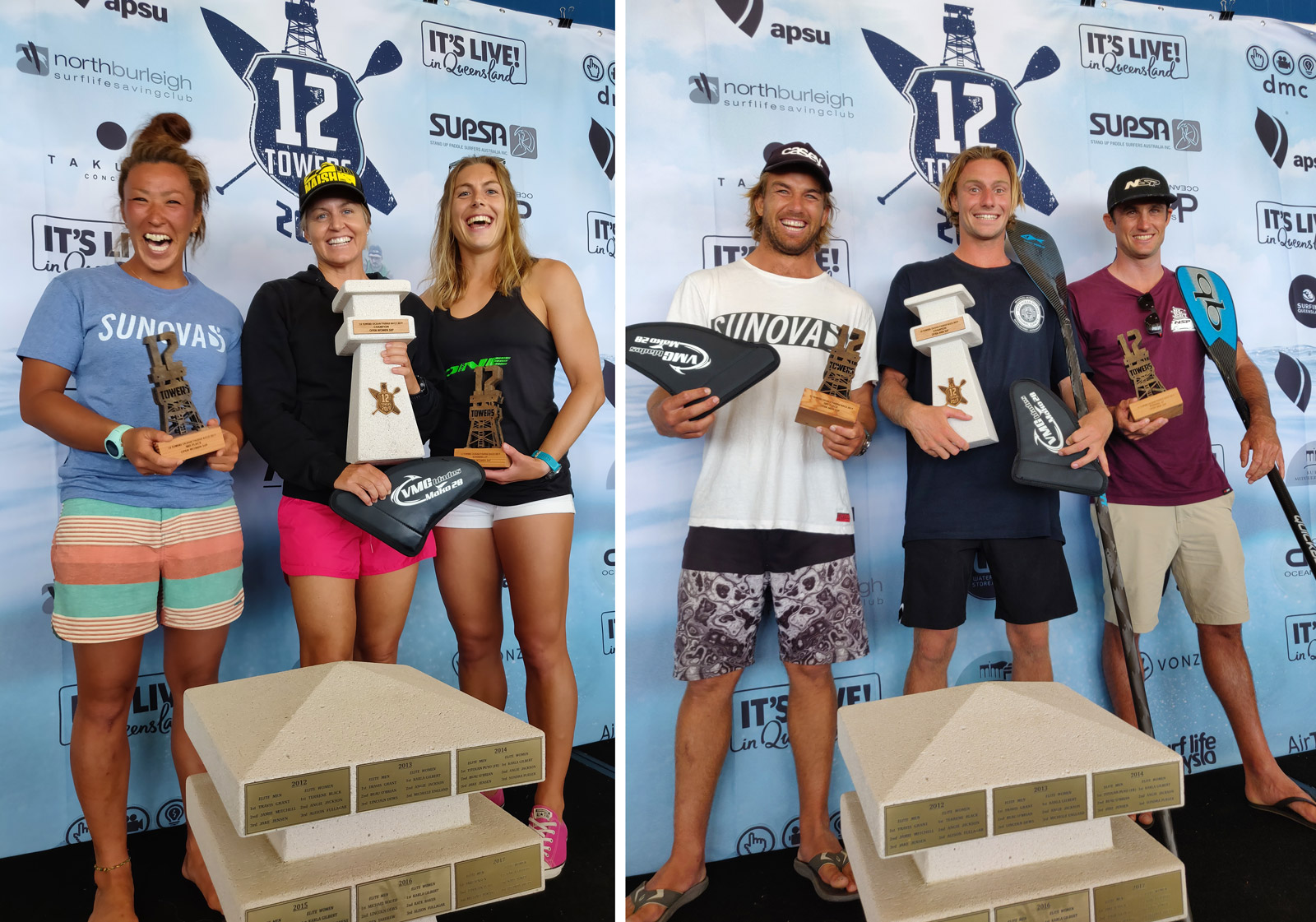 March 2, 2019
by Christopher Parker (@wheresbossman)
RESULTS: Karla Gilbert, Lincoln Dews have won the APSU "12 Towers" Ocean Race in Australia
In brief: Karla Gilbert has won her sixth 12 Towers title while Lincoln Dews cemented his world number one status by vanquishing a strong pre-season field on Australaia's Gold Coast today.
The iconic ocean race offered competitors a solid downwind run to make up for last year's "no-winder," with Lincoln proving too strong in the bumps for a field that included his two major sparring partners from last season, Michael Booth and Titouan Puyo.
Titou was looking smooth all day but could never quite close the gap on Lincoln, who virtually led from start to finish. The New Caledonian accepted the runner-up spot for the third year in a row, while ocean master James Casey finished fast to steal third place from Sunova teammate Noic Garioud.
Clement Colmas came home fifth to give New Caledonia three of the top five spots, while leading prospect Ty Judson was sixth for Team NSP.
World number two Michael Booth came home an uncharacteristic seventh after ultimately going with the wrong board (light winds in the morning – and lack of board options while on holidays – pushed Boothy towards choosing the Starboard Sprint instead of the Ace).
Karla, the former queen of Australia's ironwoman scene (lifeguard racing), cemented her status as one of the country's all-time great ocean athletes with yet another Tower victory. Runner-up Kate Baker was pretty damn impressive though – the Brit-turned-Aussie will probably win this race in the next couple of years – while defending champ Yuka Sato had to settle for third.
After the wind looking nervously-light this morning, the gusts kicked in right before an 11am start. We scored a really good run from the famed point break of Snapper Rocks north to Burleigh Heads.
It was fantastic to see nearly 250 entries for the 8th annual edition of this classic ocean race, an near-record level of participation for an Australian ocean race (that number included prones, skis and outriggers, though the majority were standing up).
I was also out there, and I was paddling my faithful 2010 Naish Glide – the same board I raced in the inaugural 12 Towers way back in 2012 – so I'll have a back-of-the-pack recap in the next day or two.
For now, here's a quick roundup of results via The Paddle League on Facebook.
FULL RESULTS: http://bit.ly/12-towers-2019
UPDATE: Full photo gallery on Facebook
TOP FINISHERS
Open Men
1st: Lincoln Dews (1:03:00)
2nd: Titouan Puyo (1:04:13)
3rd: James Casey (1:04:56)
4th: Noic Garioud (1:04:57)
5th: Clement Colmas (1:05:43)
6th: Ty Judson (1:06:16)
7th: Michael Booth (1:07:46)
8th: Tim Cyprien (1:08:28)
9th: Matt Nottage (1:11:10)
10th: Dave Kissane (1:12:05)
Open Women
1st: Karla Gilbert (1:23:47)
2nd: Kate Baker (1:25:33)
3rd: Yuka Sato (1:27:26)
4th: Keale Dorries (1:32:29)
5th: Alison Fullagar (1:37:26)
6th: Charlotte Spicer (1:38:44)
7th: Chloe Walkerdene (1:43:35)
8th: Vanessa Lyon (1:45:03)
9th: Zara Smith (1:46:28)
10th: Karen Masson (1:48:02)
Junior Girls
1st: Belah Ellis (1:49:39)
Junior Boys
1st: Noic Garioud (1:04:57)
2nd: Clement Colmas (1:05:43)
3rd: Sam McCullough (1:13:38)
40+ Women
1st: Karla Gilbert(1:23:47)
2nd: Charlott Spicer (1:38:44)
3rd: Vanessa Lyon (1:45:03)
40+ Men
1st: Kelly Margetts (1:12:22)
2nd: Paul Jones (1:17:25)
3rd: Eddie Uzan (1:19:07)
50+ Women
1st: Karen Masson (1:48:02)
2nd: Maria Williams (1:57:02)
3rd: Cheryl Willie (1:59:26)
50+ Men
1st: Dave Kissane (1:12:05)
2nd: George Spink (1:18:09)
3rd: Myles Blackwell (1:19:57)
55+ Men
1st: Tony Strang (1:28:48)
2nd: Lee Condell (1:30:22)
3rd: John Engel (1:35:59)
60+ Men
1st: John Gerlach (1:26:33)
2nd: Michael Stokes (1:44:45)
3rd: Greg Burton (1:47:42)