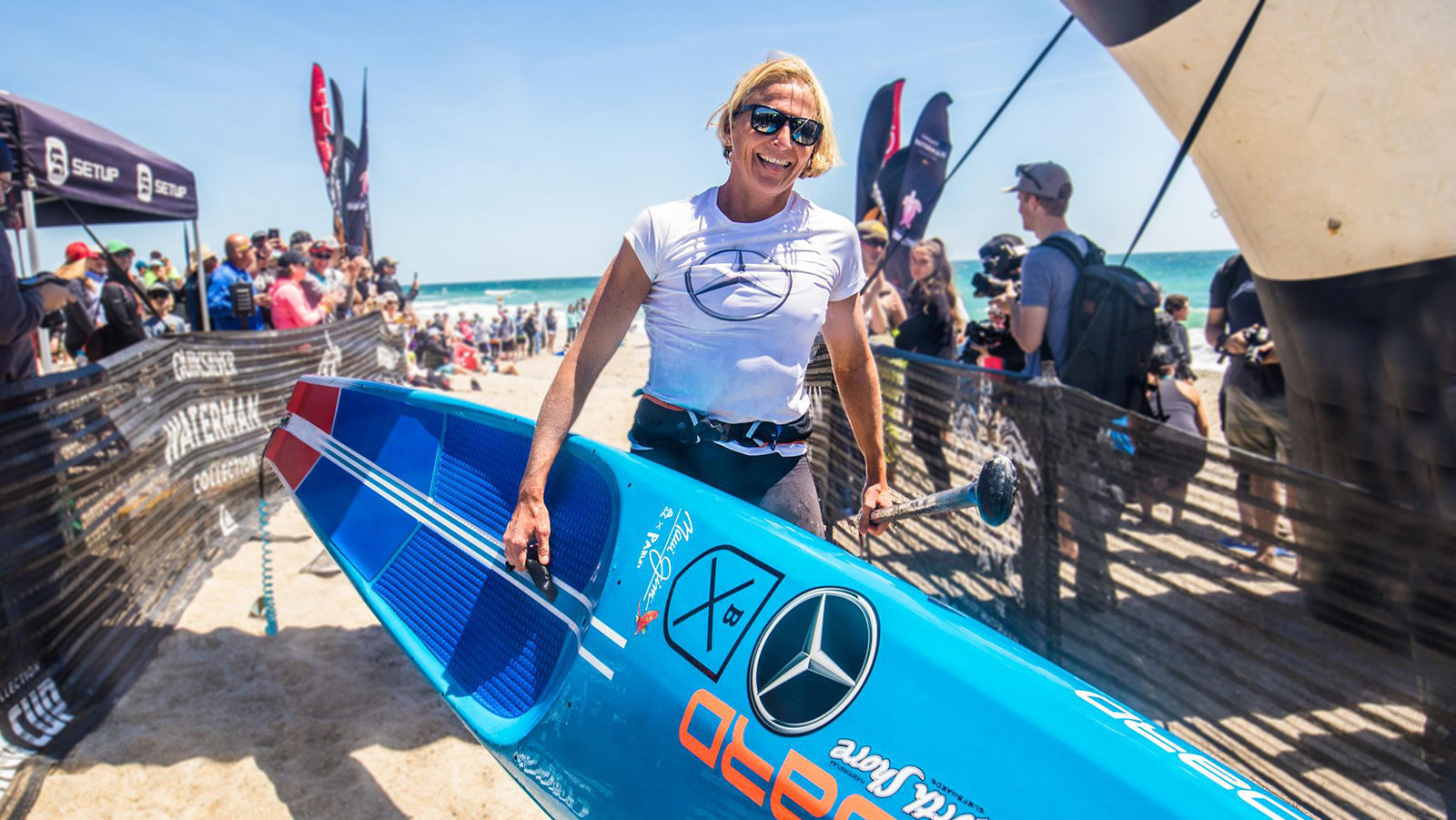 June 29, 2018
by Christopher Parker (@wheresbossman)
The Paddle League: History awaits Sonni Hönscheid in Scharbeutz.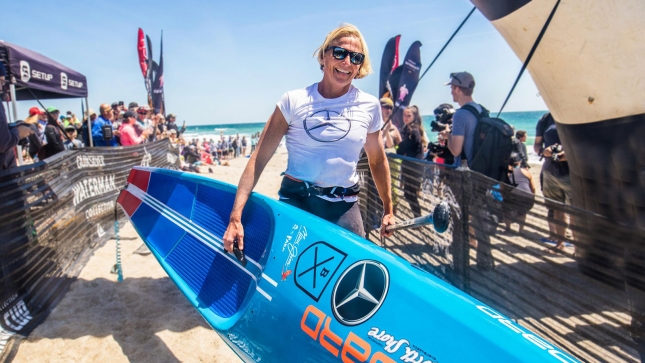 Watch the SUP World Cup LIVE on The Paddle League thanks to VMG Blades
The seemingly-unstoppable Sonni Hönscheid stands on the brink of history at home in Germany this weekend, with the Starboard Dream Team rider set to clinch The Paddle League World Title if she's victorious on Sunday afternoon.
After a barnstorming Season 2018 that's already included wins in Tahiti, Carolina, Hawaii, Japan and France, Sonni can close the door on the title race with a win at the Mercedes-Benz SUP World Cup in Scharbeutz.
After proving herself to be one of the strongest paddlers in the world over the past half a decade – a stretch that included three-straight Molokai titles – Sonni has hit an even higher gear in Season 2018 and looks virtually unstoppable for the inaugural Paddle League World title.
I say "virtually" because there's still one very strong woman in her way: Olivia Piana.
If Olivia wins on Sunday, which is a very real possibility given she beat Sonni in San Sebastian just 22 days ago, the title hunt continues on to The Gorge in August. But if Sonni (or anyone other than Olivia) wins on Sunday, the rest of the season is a battle for second spot on the world rankings.
The men's title race will remain competitive no matter what happens this weekend, with ratings leader Michael Booth in a commanding position but still looking over his shoulder at the likes of Lincoln Dews (who's been runner-up at the past two major events and is surely "dew" for a win).
Other big names battling in Germany this weekend include Connor Baxter, Mo Freitas, Marcus Hansen, Daniel and Bruno Hasulyo, Noic Garioud, Casper Steinfath, Martin Vitry, Ryan Funk, Georges Cronsteadt, Enzo Bennett, Kenny Kaneko, Josh Riccio and Leo Nika in the men's, while Fiona Wylde, Seychelle, Angie Jackson, Kate Baker, Yuka Sato, Noelani Sach, Annie Reickert and many more will join Olivia Piana in trying to gate-crash Sonni's party.
The Mercedes-Benz SUP World Cup is the 7th stop of The Paddle League World Tour and week 9 of the EuroTour.
The Paddle League World Title scenarios…
– If Sonni wins, she claims the 2018 World Title
– If Olivia wins, the battle stays alive until August
– If anyone else wins, Sonni claims the 2018 World Title
The Paddle League World Rankings
(maximum possible points: 500.00)
1st: Sonni Hönscheid (460.00 points) Germany/Starboard
2nd: Olivia Piana (340.00 points) France/425
3rd: Fiona Wylde (282.50 points) USA/Starboard
4th: Yuka Sato (270.00 points) Japan/Starboard
5th: Seychelle (257.50 points) USA/SIC
1st: Michael Booth (355.00 points) Australia/Starboard
2nd: Titouan Puyo (280.00 points) France/NSP
3rd: Lincoln Dews (264.00 points) Australia/DEEP
4th: Marcus Hansen (212.50) New Zealand/NSP
5th: Connor Baxter (208.00) USA/Starboard
See the full World Rankings leaderboard
SUP World Cup LIVE STREAM start times
The main event is 2pm SUNDAY and we'll be on air about 30 minutes before that. The show will be streaming on The Paddle League Facebook page.
1:30pm Sunday in Germany…
= 1:30am Sunday in Hawaii
= 1:30am Sunday in Tahiti
= 4:30am Sunday Pacific (California)
= 6:30am Sunday in Peru
= 7:30am Sunday Eastern (Maryland)
= 8:30am Sunday in Brazil
= 12:30pm Sunday in the UK
= 1:30pm Sunday in South Africa
= 1:30pm Sunday in France, Spain
= 2:30pm Sunday in Israel
= 6:30pm Sunday in Thailand
= 8:30pm Sunday in Japan
= 9:30pm Sunday in Australia
= 10:30pm Sunday in New Caledonia
= 11:30pm Sunday in New Zealand