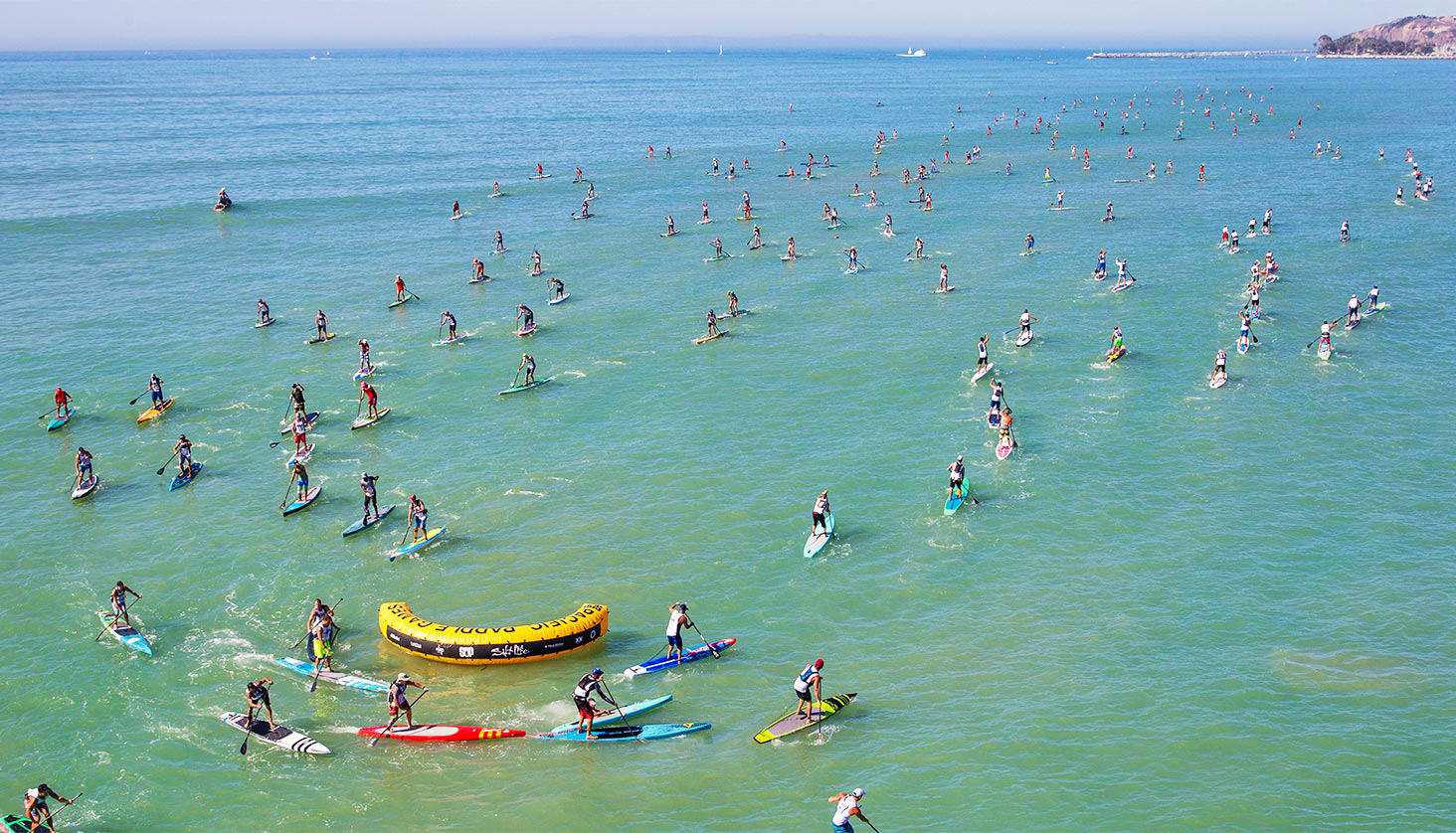 October 6, 2018
by Christopher Parker (@wheresbossman)
Pacific Paddle Games: LIVE RESULTS from the season-ending showdown in California
In brief: Here are the full results from this morning's distance race at the Pacific Paddle Games in California.
The big news is that Lincoln Dews has put himself in the box seat to win both the overall PPGs title and The Paddle League WORLD TITLE after pulling clear of arch-rival Michael Booth to claim this morning's 40-minute long-distance-sprint race. Boothy faded to finish 5th while Titou finished strong in second place ahead of Brazilian dark horse Guilherme dos Reis.
Fiona Wylde saluted in the women's after a tight bunch surfed their way to the finish line. Fiona caught a set wave on her own and surfed to the beach to set herself up for a maiden PPGs title tomorrow. 2015/2016 PPGs champ Candice Appleby was the runner-up ahead of Shae Foudy, while early race leader Seychelle had to settle for 4th place after missing the wave that Fiona surfed to victory.
Tahiti's Keoni Sulpice took out the boys' Pro Junior distance race, while local star Jade Howson claimed the girls' title.
More to come…
---
PRO MEN'S DISTANCE
| # | Athlete | Time | Nation | Team | Age |
| --- | --- | --- | --- | --- | --- |
| 1 | Lincoln Dews | 39:15.66 | Australia | DEEP/QB | 22 |
| 2 | Titouan Puyo | 39:28.06 | France | NSP/QB | 27 |
| 3 | Guilherme dos Reis | 39:29.08 | Brazil | - | 20 |
| 4 | Arthur Arutkin | 39:32.18 | France | Fanatic/QB | 21 |
| 5 | Michael Booth | 39:36.88 | Australia | Starboard | 27 |
| 6 | Georges Cronsteadt | 39:37.47 | Tahiti | 425 | 38 |
| 7 | Ty Judson | 39:44.10 | Australia | NSP | 18 |
| 8 | Daniel Hasulyo | 40:07.49 | Hungary | Starboard | 27 |
| 9 | Enzo Bennett | 40:09.89 | Tahiti | 425 | 21 |
| 10 | Danny Ching | 40:11.87 | USA | 404 | 35 |
| 11 | James Casey | 40:14.92 | Australia | Sunova | 27 |
| 12 | Casper Steinfath | 40:20.85 | Denmark | Naish/QB | 25 |
| 13 | Tom Auber | 40:21.54 | France | Fanatic | 19 |
| 14 | Bruno Hasulyo | 40:21.57 | Hungary | Starboard | 23 |
| 15 | Kenny Kaneko | 40:52.62 | Japan | JP | 30 |
| 16 | Itzel Delgado | 40:53.91 | Peru | Infinity/QB | 19 |
| 17 | Connor Baxter | 41:32.77 | Hawaii | Starboard | 24 |
| 18 | Tim Cyprien | 41:32.86 | Australia | Fanatic | 21 |
| 19 | Martin Vitry | 41:35.36 | France | SIC/QB | 19 |
| 20 | Ryan Funk | 41:37.83 | Hawaii | Starboard | 18 |
| 21 | Josh Riccio | 42:13.74 | USA | F-ONE | 29 |
| 22 | Trevor Tunnington | 42:13.90 | New Zealand | Starboard | 21 |
| 23 | Paolo Marconi | 42:16.35 | Italy | RRD/QB | 27 |
| 24 | Matt Nottage | 42:31.65 | Australia | Starboard | 23 |
| 25 | Mo Freitas | 42:34.54 | Hawaii | Rogue | 21 |
| 26 | Christian Andersen | 42:35.32 | Denmark | Fanatic | 17 |
| 27 | Kelly Margetts | 43:02.53 | Australia | Sunova/QB | 46 |
| 28 | Davide Ionico | 43:10.75 | Italy | Fanatic | 20 |
| 29 | Jay Wild | 43:49.19 | USA | - | 38 |
| 30 | Enrique Serra | 44:04.77 | Spain | - | 18 |
| 31 | Fernando Stalla | 44:25.47 | Mexico | Rogue | 31 |
| 32 | Romuald Mamadou | 44:25.54 | Guadeloupe | - | 41 |
| 33 | David Leao | 45:28.02 | Brazil | - | 17 |
| 34 | Edonays Caballero | 46:50.54 | Panama | - | 29 |
| 35 | Leonardo Rancich | 48:25.86 | - | - | 42 |
| 36 | Yann Lauletta | 49:12.54 | - | - | 24 |
| 37 | Ryan James | 50:22.54 | UK | - | 43 |
| 38 | Zach Rounsaville | 52:09.39 | USA | - | 28 |
| 39 | Tiago Campos | 52:18.27 | - | - | 34 |
---
PRO WOMEN'S DISTANCE
| # | Athlete | Time | Nation | Team | Age |
| --- | --- | --- | --- | --- | --- |
| 1 | Fiona Wylde | 46:58.46 | USA | Starboard | 21 |
| 2 | Candice Appleby | 47:09.60 | USA | Infinity/QB | 33 |
| 3 | Shae Foudy | 47:11.34 | USA | Infinity/QB | 19 |
| 4 | Seychelle | 47:27.11 | USA | SIC | 31 |
| 5 | April Zilg | 48:41.73 | USA | . | 32 |
| 6 | Terrene Black | 49:08.99 | Australia | ECS/QB | 35 |
| 7 | Yuka Sato | 49:10.71 | Japan | Starboard | 31 |
| 8 | Olivia Piana | 49:25.42 | France | Rogue | 27 |
| 9 | Lina Augaitis | 49:32.04 | Canada | Sunova | 37 |
| 10 | Sonni Honscheid | 50:14.64 | Germany | Starboard | 37 |
| 11 | Jordan Mercer | 50:50.75 | Australia | QB | 24 |
| 12 | Virginia Odetayo | 51:08.59 | . | . | 44 |
| 13 | Susak Molinero | 51:10.70 | Spain | RRD/QB | 30 |
| 14 | Melanie Lafenetre | 51:39.54 | France | Infinity | 18 |
| 15 | Caterina Stenta | 51:43.77 | italy | RRD | 30 |
| 16 | Stephanie Shideler | 52:32.66 | USA | Infinity | 43 |
| 17 | Erika Benitez | 52:39.78 | Mexico | Brawner | 18 |
| 18 | Emma Reijmerink | 53:17.50 | Netherlands | Fanatic | 30 |
| 19 | Jenn Lee | 53:28.43 | Hawaii | NSP | 37 |
| 20 | Lara Claydon | 54:39.72 | Hawaii | Rogue | 18 |
| 21 | Shannon Bell | 55:13.59 | Canada | Starboard | 44 |
| 22 | Vaimiti Maoni | 55:30.97 | Tahiti | . | 31 |
| 23 | Alejandra Brito | 55:32.74 | Mexico | 404 | 35 |
| 24 | Stevie Bodden | 56:47.10 | Panama | Starboard | 35 |
| 25 | Giannisa Vecco | 56:47.89 | Peru | Infinity | 39 |
| 26 | Chloe Walkerdene | 1:01:57 | Australia | Infinity | 21 |
| 27 | Adela Umannova | 1:17:45 | Czech | 425 | 28 |
| 28 | Ariel Amaral | 1:21:18 | . | . | 35 |
---
RAW RESULTS
– Pro Women's DISTANCE RACE
– Pro Men's DISTANCE RACE
– Boys Pro Junior DISTANCE RACE
– Girls Pro Junior DISTANCE RACE
– Open Divisions

---