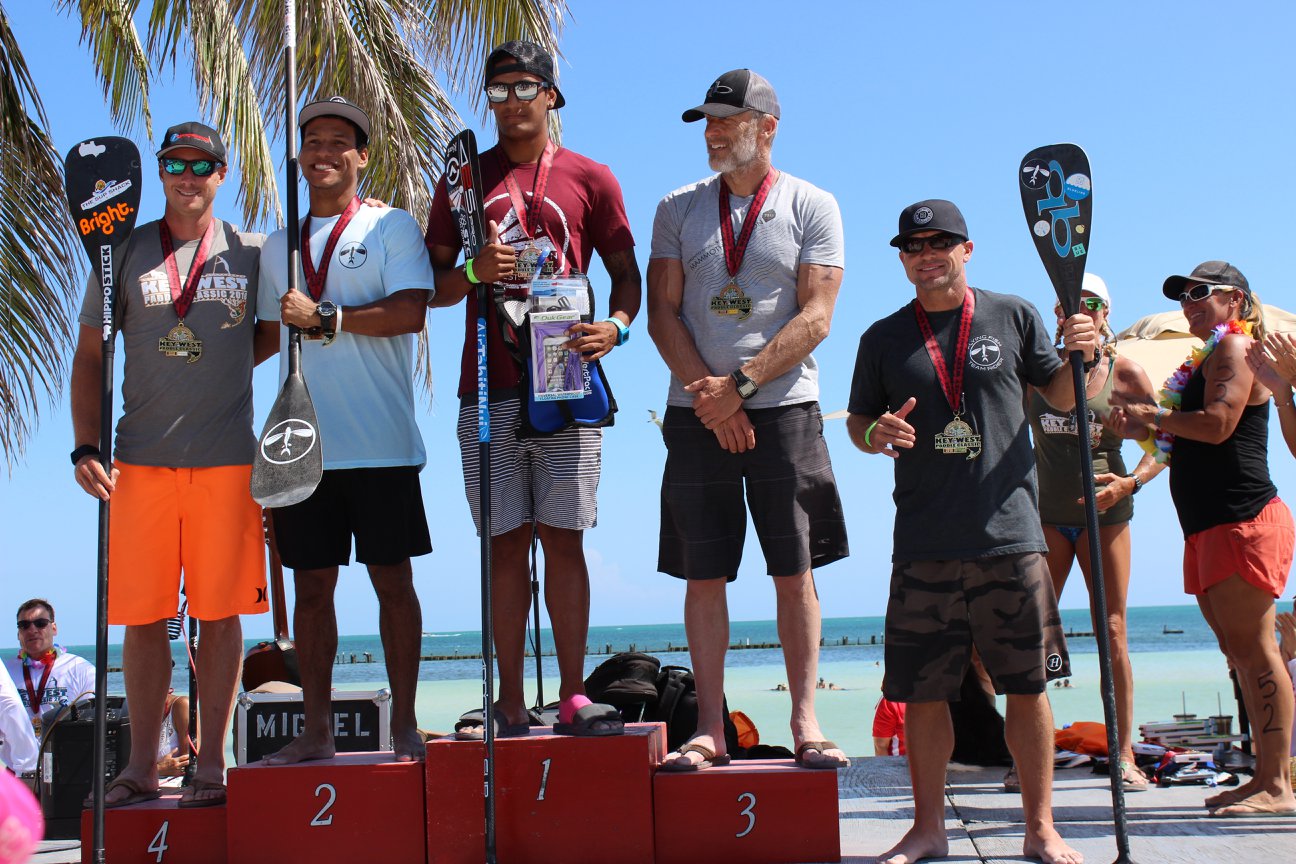 April 28, 2018
by Christopher Parker (@wheresbossman)
Enzo Bennett, Seychelle Claim the Key West Classic (Full Results)
In brief: Tahitian dark horse Enzo Bennett and East Coast America's #1 export Seychelle have claimed the Key West Classic in Florida this afternoon.
Seychelle outlasted Aussie powerhouse Terrene Black, while Enzo eclipsed Brazilian ultra dark horse Eri Tenorio and Key West veteran Larry Cain to claim the win in record time.
Full results below, and there's plenty more pics up on the official Key West Facebook.
---
| | | | | |
| --- | --- | --- | --- | --- |
| # | Athlete | Time | Points | Division |
| 1 | Seychelle | 2:20:20 | 30.00 | 30-39 |
| 2 | Terrene Black | 2:23:03 | 22.50 | 30-39 |
| 3 | Stephanie Shideler | 2:24:25 | 18.00 | 40-49 |
| 4 | Kimberly Barnes | 2:26:20 | 15.00 | 40-49 |
| 5 | Maddie Miller | 2:35:08 | 12.75 | U19 |
| 6 | Victoria Burgess | 2:39:44 | 10.50 | 30-39 |
| 7 | Cindy Gibson | 2:43:12 | 9.00 | 50-59 |
| 8 | Julie Allen | 3:10:45 | 7.50 | 30-39 |
| 9 | Josette Lata | 3:20:11 | 6.75 | 40-49 |
| 10 | Jennifer Whiteley | 3:42:40 | 6.00 | 40-49 |
| 11 | Alex Cotleur | 3:43:30 | 5.40 | 40-49 |
| 12 | Kyla Shoemaker | 3:54:37 | 4.80 | 30-39 |
| 13 | Amy Gage | 4:00:32 | 4.50 | 50-59 |
| 14 | Milena Kaszubska | 4:02:43 | 4.20 | 30-39 |
| 15 | Nancy Curran | 4:10:57 | 3.90 | 60+ |
| 16 | Laura Iossi | 4:38:58 | 3.60 | 40-49 |
| 17 | Colleen Mcintyre | 4:52:31 | 3.30 | 60+ |
| 18 | Kayla Maher | 4:54:52 | 3.00 | 30-39 |
| # | Athlete | Time | Points | Age |
| --- | --- | --- | --- | --- |
| 1 | Enzo Bennett | 2:04:20 | 30.00 | 20-29 |
| 2 | Eri Tenorio | 2:07:11 | 22.50 | 20-29 |
| 3 | Larry Cain | 2:07:26 | 18.00 | 50-59 |
| 4 | Garrett Fletcher | 2:08:43 | 15.00 | 20-29 |
| 5 | Steve Miller | 2:09:19 | 12.75 | 40-49 |
| 6 | Harry Maskell | 2:13:35 | 10.50 | U19 |
| 7 | Sam English | 2:14:32 | 9.00 | 20-29 |
| 8 | Tim Warner | 2:19:33 | 7.50 | 30-39 |
| 9 | Zach Rounsaville | 2:21:01 | 6.75 | 20-29 |
| 10 | Davide Cina | 2:21:59 | 6.00 | 20-29 |
| 11 | Travis Kindt | 2:26:13 | 5.40 | 20-29 |
| 12 | Steven Bernstein | 2:27:15 | 4.80 | 40-49 |
| 13 | Terry Smith | 2:28:00 | 4.50 | 40-49 |
| 14 | Jake Graham | 2:29:15 | 4.20 | 20-29 |
| 15 | Darrell Horton Ii | 2:29:35 | 3.90 | 40-49 |
| 16 | Deven Ellis | 2:29:40 | 3.60 | 20-29 |
| 17 | Tomas Pecinka | 2:30:54 | 3.30 | 20-29 |
| 18 | James Welch | 2:31:18 | 3.00 | 40-49 |
| 19 | Jim Terrell | 2:32:19 | 2.70 | 50-59 |
| 20 | Christian Goerloff | 2:32:53 | 2.40 | 40-49 |
| 21 | Stephen Chase | 2:37:59 | 2.25 | 40-49 |
| 22 | Gary Rothe | 2:38:22 | 2.10 | 50-59 |
| 23 | Scott Baste | 2:38:34 | 1.95 | 50-59 |
| 24 | Andy Malave | 2:43:42 | 1.80 | 40-49 |
| 25 | John Sekas | 2:44:56 | 1.65 | 50-59 |
| 26 | Henry Hidy | 2:45:14 | 1.56 | 50-59 |
| 27 | Robert Capwell | 2:46:12 | 1.47 | 50-59 |
| 28 | Rob Banasiak | 2:46:30 | 1.38 | 40-49 |
| 29 | Joshua Lanphear | 2:47:22 | 1.29 | 20-29 |
| 30 | Al Simmons | 2:47:33 | 1.20 | 60+ |
| 31 | Mario Kroeff | 2:48:39 | 1.14 | 40-49 |
| 32 | Mike Kenna | 2:52:51 | 1.08 | 40-49 |
| 33 | William Mussenden | 2:57:30 | 1.02 | 40-49 |
| 34 | Ed Pierce | 2:57:41 | 0.96 | 60+ |
| 35 | Ramsey Small | 2:58:10 | 0.90 | 40-49 |
| 36 | Will Vacha | 2:58:24 | 0.84 | 30-39 |
| 37 | Ryan Pena | 2:58:48 | 0.78 | 40-49 |
| 38 | David Dean | 3:00:06 | 0.72 | 60+ |
| 39 | Ed Gribben Jr | 3:01:22 | 0.66 | 40-49 |
| 40 | Glenn Davis | 3:08:03 | 0.60 | 50-59 |
| 41 | Rob Cotleur | 3:12:16 | 0.57 | 50-59 |
| 42 | Paul Smolchek | 3:12:29 | 0.54 | 40-49 |
| 43 | James Hugh | 3:12:34 | 0.51 | 40-49 |
| 44 | Michael Faulkner | 3:14:55 | 0.48 | 40-49 |
| 45 | Stephen Artusi | 3:18:27 | 0.45 | 40-49 |
| 46 | Mike Giambattista | 3:19:54 | 0.42 | 50-59 |
| 47 | Justin Giambattista | 3:19:55 | 0.39 | 20-29 |
| 48 | Gregory Lynch | 3:23:46 | 0.36 | 60+ |
| 49 | Joshua Kohn | 3:26:20 | 0.33 | 40-49 |
| 50 | Conrad Charles | 3:27:20 | 0.30 | 50-59 |
| 51 | Bill Horn | 3:27:26 | 0.00 | 50-59 |
| 52 | Peter Geary | 3:30:20 | 0.00 | 40-49 |
| 53 | Dan Lukens | 3:32:29 | 0.00 | 50-59 |
| 54 | Richard Rodriguez | 3:36:41 | 0.00 | 50-59 |
| 55 | Steve Alden | 3:37:37 | 0.00 | 50-59 |
| 56 | Randy Scott | 3:37:49 | 0.00 | 40-49 |
| 57 | Daniel Bonnin | 3:38:45 | 0.00 | 40-49 |
| 58 | Brian Pandiscio | 3:46:54 | 0.00 | 50-59 |
| 59 | Curtis Reynolds | 3:54:31 | 0.00 | 40-49 |
| 60 | Chris Maceachern | 3:56:23 | 0.00 | 50-59 |
| 61 | Brock Erickson | 4:02:31 | 0.00 | 50-59 |
| 62 | Russell Main | 4:03:22 | 0.00 | 20-29 |
| 63 | Ross Smith | 4:09:08 | 0.00 | 30-39 |
| 64 | Brett Mcmasters | 4:10:20 | 0.00 | 30-39 |
| 65 | Hugh Treadwell | 4:14:01 | 0.00 | 50-59 |
| 66 | Mark Pomeroy | 4:16:04 | 0.00 | 40-49 |
| 67 | Thomas Horton | 4:30:48 | 0.00 | 40-49 |
| 68 | Anthony Veltre | 4:33:24 | 0.00 | 40-49 |
| 69 | Richard Hatch | 4:54:26 | 0.00 | 50-59 |