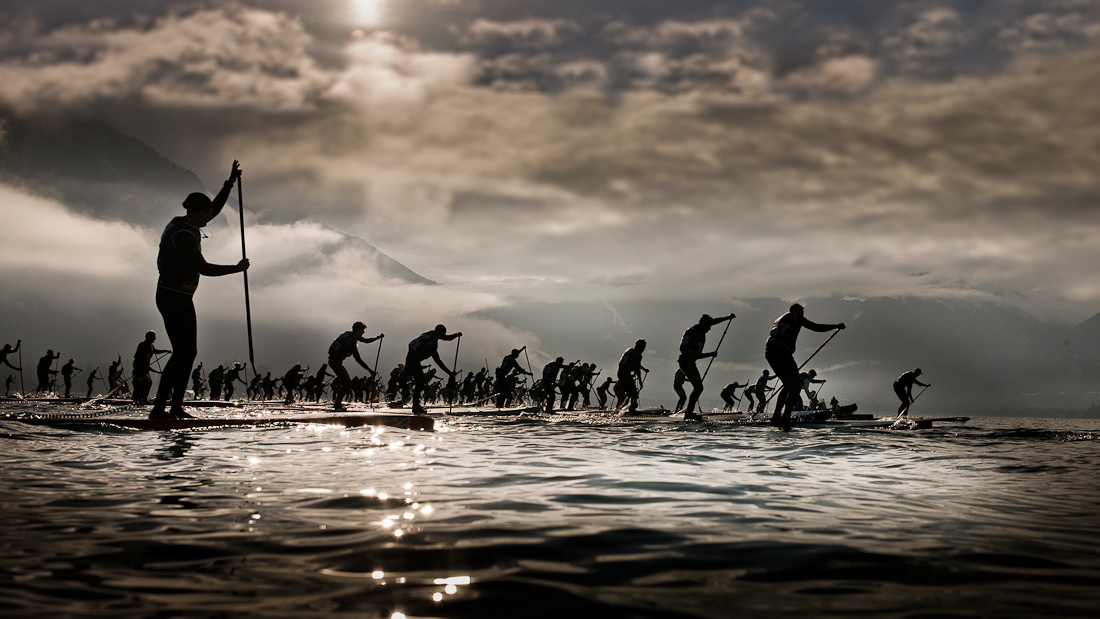 January 2, 2018
by Christopher Parker (@wheresbossman)
The First Big Race of Season 2018 – The "GlaGla Race" – Is Only Three Weeks Away
2018 is only hours old, but we're already getting set for the first big race of the season. And when I say big, I mean REALLY big.
One of my funnest adventures of 2017 was a last-minute trip to the French Alps to experience a truly unique stand up paddle race: The GlaGla Race. Held on the near-freezing waters of Lake Annecy and surrounded by tall, snow-capped peaks, the GlaGla Race is part-race/part-adventure, and this year that adventure is expected to attract more than 400 brave competitors.
The GlaGla Race is more than just a race, it's one of those massive, grassroots events where competitors simply paddle for the fun of it. I'd say 98% of participants are weekend warriors and first timers. There's no prize money–everyone just does this race for the challenge and spirit of adventure.
We'll have to wait and see just how many paddlers sign up, but if it's over 400 then the humble GlaGla Race will officially become one of the top five largest SUP races on the planet. That's quite an achievement considering Lake Annecy's water temperature is hovering just above freezing in January (and the air temperature is usually well below it). Though I guess it doesn't hurt that a dozen of the world's best ski resorts are within an hour's drive of the place (you'll come for the SUP, you'll stay for the skiing).
[notdevice][fbvideo link="https://www.facebook.com/supracerr/videos/1236182163132499/" width="645″ height="363″ onlyvideo="1″][/notdevice][device][fbvideo link="https://www.facebook.com/supracerr/videos/1236182163132499/" width="322″ height="181″ onlyvideo="1″][/device]
As part of the iconic Alpine Lakes Tour, the location of the GlaGla Race is absolutely magic. You're right smack bang in the middle of the Alps — "breathtaking" doesn't even begin to describe the scenery. So even though it's cold – really, really, really cold – it's definitely worth it. The event doesn't shy away from its cold-water setting, either, with the term "gla gla" apparently being the sound your teeth make when you're shivering cold (if your teeth are French, that is).
And while it's mainly for the open racers, there's always a few big names involved (Olivia Piana and Martin Letourneur won it last year). This year we'll be joined by one of the biggest names in the sport: Molokai hero Travis Grant, whose set to take on the French brigade in water temperatures I'm guessing he's definitely not used to (hope you packed some thick booties, Trav).
SUP Racer will be back at Lake Annecy (or Lac d'Annecy if you want to sound cultured) again next month, and this time we'll be streaming all the goodness of the GlaGla live on Facebook (alpine internet permitting).
Be sure to tune in: it's quite the spectacle (the drone footage from last year's mass start – see above – was some of the most-viewed racing we posted on SUP Racer all last year). The GlaGla will also be the first points race of "Season 2018", though you'll hear a lot more about all that next week.
Race day is Saturday January 20th, and if you want to join in the fun there's still a few spots left on the start line (hit the official site to register; entry fees are pretty damn cheap).
Add this one to your icy bucket list.
[notdevice][/notdevice][device][/device]