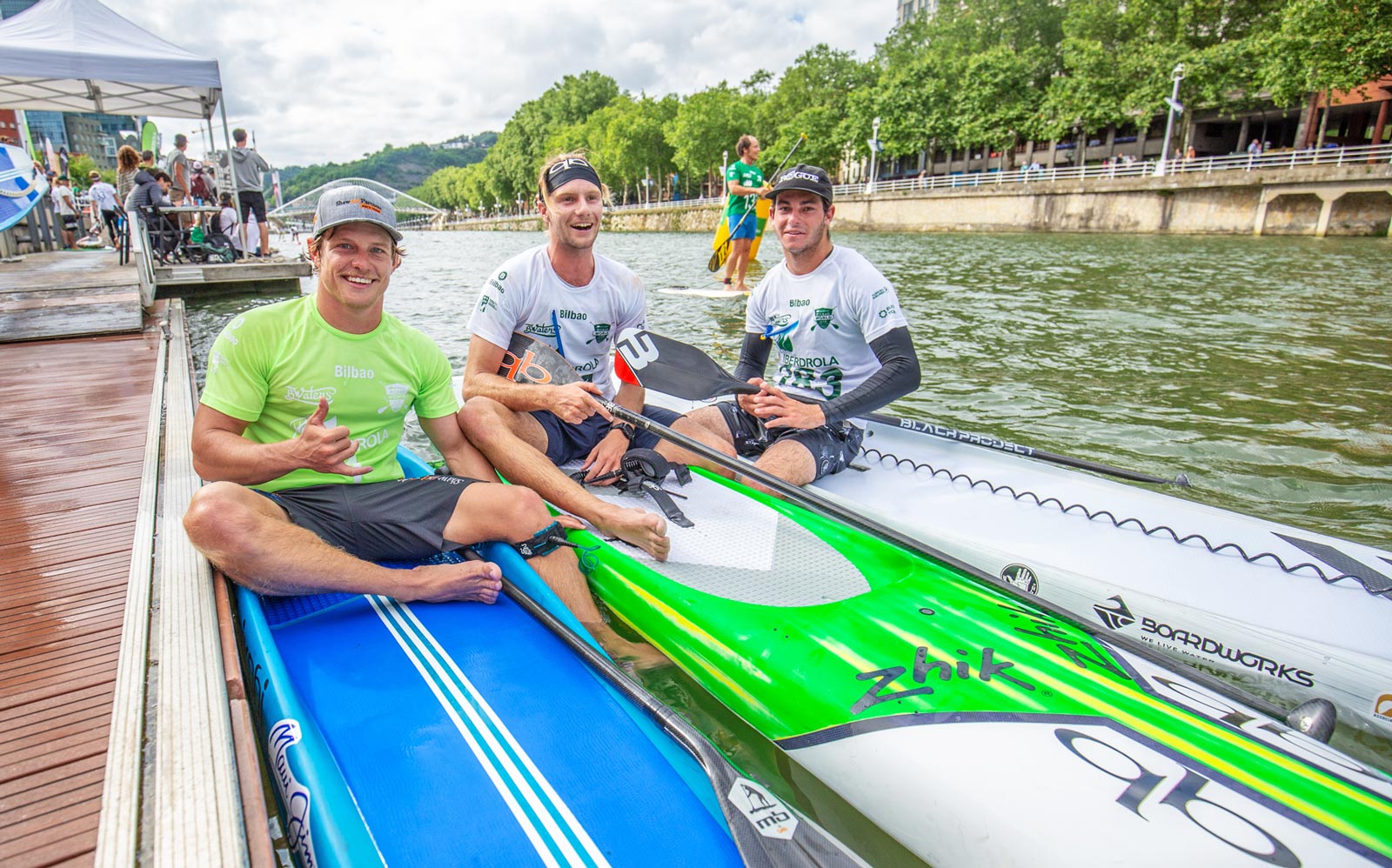 June 16, 2018
by Christopher Parker (@wheresbossman)
The Paddle League World Tour in Bilbao: Boothy holds off Lincoln; Olivia overpowers Seychelle (FULL RESULTS)
In brief: Michael Booth has flexed his muscles once again, breaking and then holding off an ultra-strong field of international talent to claim the fifth stop of The Paddle League World Tour and week 7 of the EuroTour here in the Basque city of Bilbao.
Boothy won the Iberdrola Bilbao SUP Challenge to cement his spot on top of the world rankings, however his compatriot Lincoln Dews gave the champ a fright with a lightning fast final two kilometres that saw him break away from the 11-man chase group and get within shouting distance of the powerhouse. But in the end Boothy's lead was simply too big, which made it a race for second that Linc deservingly won.
Mo Freitas was right behind Lincoln in third after making a great move at the final buoy 2k from home, while Titouan Puyo managed 4th as a big pack of big names surged to the line.
The women's finish was even more exciting as it was a race for first, not second, with Olivia Piana and Seychelle side-by-side for the final kilometre in an all-out drag race to the line. With 100 metres to go it was still anyone's race, but the Frenchwoman surged and relegated Seychelle to the runner-up position. Olivia's victory makes it two on the trot in Europe after saluting in San Sebastian seven days ago.
Fiona Wylde was strong in third not far off the leaders, while the smiling assassin from Japan, Yuka Sato, surged in the second half of the race to claim 4th. The under-rated Aussie/Brit Kate Baker rounded out the top five.
The race was billed as a flat water event, however it was anything but as the stone walls along Bilbao's inner-city river refracted every little bit of wash off the 200+ race boards and turned the course into a washing machine.
Great to see record registration at this event (272 in total), and thanks for everyone that tuned in live on Facebook.
We'll have full recap, results and photos up shortly, but in the meantime here's the live stream replay.
UPDATE: Full results down below; full photo gallery on Facebook
2018 Iberdrola Bilbao World SUP Challenge RESULTS
We apologise that not all times are available; we had some issues with the timing system. We'll try and get all positions updated in the coming days.
Elite Women
| # | Athlete | Time | Paddle League | EuroTour | Nation | Division |
| --- | --- | --- | --- | --- | --- | --- |
| 1 | Olivia Piana | 1:13:27 | 100.00 | 60.00 | France | Elite |
| 2 | Seychelle | 1:13:29 | 75.00 | 45.00 | USA | Elite |
| 3 | Fiona Wylde | 1:13:41 | 60.00 | 36.00 | USA | Elite |
| 4 | Yuka Sato  | 1:14:13 | 50.00 | 30.00 | Japan | Elite |
| 5 | Kate Baker | 1:14:40 | 42.50 | 25.50 | Australia | Elite |
| 6 | Laura Quetglas | 1:15:31 | 35.00 | 21.00 | Spain | Elite |
| 7 | Amandine Chazot | 1:16:00 | 30.00 | 18.00 | France | Elite |
| 8 | Angela Jackson  | 1:17:32 | 25.00 | 15.00 | Australia | Elite |
| 9 | Susak Molinero  | 1:18:12 | 22.50 | 13.50 | spain | Elite |
| 10 | Caterina Stenta | 1:18:48 | 20.00 | 12.00 | Italy | Elite |
| 11 | Petronella van Malsen | | 18.00 | 10.80 | Netherlands | Elite |
| 12 | Fanny Tessier | | 16.00 | 9.60 | France | Elite |
| 13 | Duna Gordillo | | 15.00 | 9.00 | Spain | Junior |
| 14 | Noelani Sach | | 14.00 | 8.40 | Germany | Elite |
| 15 | Susanne Lier | | 13.00 | 7.80 | Germany | Elite |
| 16 | Stephanie Shideler | | 12.00 | 7.20 | USA | Elite |
| 17 | Angela Fernandes | | 11.00 | 6.60 | Portugal | Elite |
| 18 | Nicoline Rasmussen | | 10.00 | 6.00 | Denmark | Elite |
| 19 | Giannisa Vecco | | 9.00 | 5.40 | Peru | Elite |
| 20 | Marta Abrucedo | | 8.00 | 4.80 | Spain | Elite |
| 21 | Sheila Sirvent | | 7.50 | 4.50 | Spain | Junior |
| 22 | Verity Thomas | | 7.00 | 4.20 | Jersey | Elite |
| 23 | Silvia Canudas | | 6.50 | 3.90 | Spain | Elite |
| 24 | Marina Loayza | | 6.00 | 3.60 | Spain | Junior |
| 25 | Sandrine Berthe | | 5.50 | 3.30 | France | Elite |
| 26 | Victoria Ryzhova | | 5.20 | 3.12 | spain | Elite |
| 27 | Robin Allix | | 4.90 | 2.94 | Jersey | Elite |
| 28 | Chloe Blampied | | 4.60 | 2.76 | Jersey | Elite |
| 29 | Midori Sango | | 4.30 | 2.58 | Spain | Elite |
| DNF | Cyara Palenzuela | | 0.50 | 0.30 | Spain | Junior |
Elite Men
| # | Athlete | Time | Paddle League | EuroTour | Nation | Division |
| --- | --- | --- | --- | --- | --- | --- |
| 1 | Michael Booth | 1:01:17 | 100.00 | 60.00 | Australia | Elite |
| 2 | Lincoln Dews | 1:01:50 | 75.00 | 45.00 | Australia | Elite |
| 3 | Mo Freitas | 1:01:52 | 60.00 | 36.00 | Hawaii | Elite |
| 4 | Titouan Puyo | 1:01:54 | 50.00 | 30.00 | France | Elite |
| 5 | Daniel Hasulyo | 1:01:55 | 42.50 | 25.50 | Hungary | Elite |
| 6 | Noic Garioud | 1:01:56 | 35.00 | 21.00 | New Cal | Junior |
| 7 | Martin Vitry | 1:01:56 | 30.00 | 18.00 | France | Elite |
| 8 | Bruno Hasulyo | 1:01:58 | 25.00 | 15.00 | Hungary | Elite |
| 9 | Arthur Arutkin | 1:02:00 | 22.50 | 13.50 | France | Elite |
| 10 | Tom Auber  | 1:02:05 | 20.00 | 12.00 | France | Elite |
| 11 | Enzo Bennett | 1:02:10 | 18.00 | 10.80 | Tahiti | Elite |
| 12 | Connor Baxter | 1:02:31 | 16.00 | 9.60 | USA | Elite |
| 13 | Leonard Nika | 1:03:48 | 15.00 | 9.00 | Italy | Elite |
| 14 | Guillherme dos Reis | 1:03:49 | 14.00 | 8.40 | Brazil | Elite |
| 15 | Ty Judson | 1:03:50 | 13.00 | 7.80 | Australia | Elite |
| 16 | Federico Esposito | 1:03:54 | 12.00 | 7.20 | Italy | Elite |
| 17 | Itzel Delgado | 1:03:59 | 11.00 | 6.60 | Peru | Elite |
| 18 | Georges Cronsteadt | 1:04:06 | 10.00 | 6.00 | Tahiti | Elite |
| 19 | Martino Rogai | 1:04:15 | 9.00 | 5.40 | Italy | Elite |
| 20 | Yanis Maire | | 8.00 | 4.80 | France | Elite |
| 21 | Paolo Marconi | | 7.50 | 4.50 | Italy | Elite |
| 22 | Claudio Nika | | 7.00 | 4.20 | Italy | Elite |
| 23 | Rafael Sirvent | | 6.50 | 3.90 | Spain | Elite |
| 24 | Jeremy Teulade | | 6.00 | 3.60 | France | Elite |
| 25 | Enrique Hurtado Serra | | 5.50 | 3.30 | Spain | Junior |
| 26 | Miquel Ferrer | | 5.20 | 3.12 | Spain | Elite |
| 27 | Filipe Meira | | 4.90 | 2.94 | Portugal | Elite |
| 28 | Aaron Sanchez Quetglas | | 4.60 | 2.76 | Spain | Junior |
| 29 | Kjell de Bruyn | | 4.30 | 2.58 | Belgium | Elite |
| 30 | James van Drunen  | | 4.00 | 2.40 | Spain | Elite |
| 31 | Ludovic Teulade | | 3.80 | 2.28 | France | Elite |
| 32 | Boris Jinvresse | | 3.60 | 2.16 | France | Elite |
| 33 | Nathan Cross | | 3.40 | 2.04 | Australia | Elite |
| 34 | Paul-Conrad Delaere | | 3.20 | 1.92 | France | Elite |
| 35 | Normen Weber | | 3.00 | 1.80 | Germany | Elite |
| 36 | Paul Ganse  | | 2.80 | 1.68 | Germany | Elite |
| 37 | Olivier Darrieumerlou | | 2.60 | 1.56 | France | Elite |
| 38 | Paul Jackson | | 2.40 | 1.44 | Australia | Elite |
| 39 | Steven Bredow | | 2.20 | 1.32 | Germany | Elite |
| 40 | Dode Florent | | 2.00 | 1.20 | France | Elite |
| 41 | Peter Weidert | | 1.90 | 1.14 | Germany | Elite |
| 42 | Tomas Sanchez | | 1.80 | 1.08 | Spain | Elite |
| 43 | Pablo Ania Barrachina | | 1.70 | 1.02 | Spain | Elite |
| 44 | Samuel Carbillet | | 1.60 | 0.96 | France | Elite |
| 45 | Riccardo Rossi | | 1.50 | 0.90 | Italy | Elite |
| 46 | Landa Txema | | 1.40 | 0.84 | Spain | Elite |
| 47 | Salva Mora | | 1.30 | 0.78 | Spain | Elite |
| 48 | David Lion | | 1.20 | 0.72 | France | Elite |
| 49 | Renato Queiros | | 1.10 | 0.66 | Portugal | Elite |
| 50 | Manuel Hoyuela Rojas | | 1.00 | 0.60 | Spain | Junior |
| 51 | Ricardo Haverschmidt | | 0.50 | 0.30 | Netherlands | Elite |
| 52 | Rui Ramos | | 0.50 | 0.30 | Portugal | Elite |
| 53 | Roman Frejo | | 0.50 | 0.30 | Spain | Elite |
| 54 | Jurgi Zulaika | | 0.50 | 0.30 | Spain | Elite |
| 55 | Tommaso Pampinella | | 0.50 | 0.30 | Italy | Elite |
| 56 | Tomas Grosud | | 0.50 | 0.30 | Netherlands | Elite |
| 57 | Manuel Simoncelli | | 0.50 | 0.30 | Spain | Elite |
| 58 | Sergi Nadal | | 0.50 | 0.30 | Spain | Elite |
| 59 | Nando Gomez Martinez | | 0.50 | 0.30 | Spain | Junior |
| 60 | Tomas Lelovits | | 0.50 | 0.30 | Finland | Elite |
| 61 | Asier Aristizabal Cruz | | 0.50 | 0.30 | Spain | Elite |
| 62 | Kiko Vega Suarez | | 0.50 | 0.30 | Spain | Elite |
| 63 | Oscar Barrachina Pradas | | 0.50 | 0.30 | Spain | Elite |
| 64 | Pepe Alvarez | | 0.50 | 0.30 | Spain | Elite |
| 65 | Aure Medina Amorrortu | | 0.50 | 0.30 | Spain | Elite |
| 66 | Isaac Hernandez Ubassy | | 0.50 | 0.30 | Spain | Elite |
| 67 | Dave White | | 0.50 | 0.30 | Australia | Elite |
| 68 | Dani Espinosa | | 0.50 | 0.30 | Spain | Elite |
| 69 | Alvaro Hermida | | 0.50 | 0.30 | Spain | Elite |
| 70 | Paulo Miguel Caldeira | | 0.50 | 0.30 | Spain | Elite |
| 71 | Oleksii Sidenko | | 0.50 | 0.30 | Ukraine | Elite |
| 72 | Christian Cervera Ramon  | | 0.50 | 0.30 | Spain | Elite |
| 73 | Fernando Gomez Sanchez | | 0.50 | 0.30 | Spain | Elite |
Open Race: Men
| # | Name | Nation |
| --- | --- | --- |
| 1 | Laura Laqueche | Spain |
| 2 | Loles Albiol Simon | Spain |
| 3 | Beatriz Canudas Pujol | Spain |
| 4 | Edurne Ibarrondo Mezo | Spain |
| 5 | Elena Alfaya Pereira | Spain |
| 6 | Montse Serra Senon | Spain |
| 7 | Gadea Ibarloza Arrizabalaga | Spain |
| 8 | Sarah Weidert | Germany |
| 9 | Ana Belen Valiente | Spain |
| 10 | Miren Hernandez Martin | Spain |
Open Race: Women
| # | Name | Nation |
| --- | --- | --- |
| 1 | Javier Aguera | Spain |
| 2 | Julen Juaristi Mena | Spain |
| 3 | Ander Unzueta | Spain |
| 4 | Omar Urdampilleta | Spain |
| 5 | Manuel Albiol Simo | Spain |
| 6 | Enrique Martinez | Spain |
| 7 | Aday Cabrera | Spain |
| 8 | Steve Trott | UK |
| 9 | Alvaro Rezola | Spain |
| 10 | Aitor Ganzabal | Spain |
| 11 | Lurta Nikolas | Spain |
| 12 | Toyo Herrero Gonzalez | Spain |
| 13 | Paco Vicente | Spain |
| 14 | Eduardo Jimenez | Spain |
| 15 | Chris Bates | Jersey |
| 16 | Alfonso Cecilia Jimenez | Spain |
| 17 | Aitor Eizagirre | Spain |
| 18 | Esteban Gil | Spain |
| 19 | Rudolf Leimann | Germany |
| 20 | Ramon Jimenez Requena | Spain |
| 21 | Luis Blazquez | Spain |
| 22 | Hugo Alvarez Tapia | Spain |
| 23 | Claudio Rubio Rodriguez | Spain |
| 24 | Joan Verdo Fuentes | Spain |
| 25 | Alejandro Botella Losta | Spain |
| 26 | Jesus Fernandez Chamorro | Spain |
| 27 | Imanol Aguirre | Spain |
| 28 | Ibon Galarraga | Spain |
| 29 | Jabi Ibaez | Spain |
| 30 | Jorge Mendez Amores | Spain |
| 31 | Mikel Uribasterra Imatz | Spain |
| 32 | Rafael Zulaika Ruiz | Spain |
| 33 | Luis Cabral | Spain |
| 34 | Xabi Herrera | Spain |
| 35 | Joseba Otxoa De Andres | Spain |
| 36 | Vixente Laqueche | Spain |
| 37 | Angel Luis Ania | Spain |
| 38 | Itxaki Unzueta | Spain |
| 39 | Jaime Cavero Gandarias | Spain |
| 40 | Rafael Ceniga Imaz | Spain |
| 41 | Pawel Smolnik | Spain |
| 42 | Alfonso Artola | Spain |
| 43 | Jose Angel Ursua | Spain |
| 44 | Borja Santos-Diaz Vazquez | Spain |
| 45 | Diego Pagadigorria | Spain |
| 46 | Ronan Le Duff | Spain |
| 47 | Jaime Lafita | Spain |
| 48 | Manuel Albiol Talon | Spain |
| 49 | Bosco Zubiaga | Spain |
| 50 | Ruban Rios Iglesias | Spain |
| 51 | Felipe Abaitua | Spain |
| 52 | Ismael Lopez Montero | Spain |
| 53 | Aitz Atxa Silvano | Spain |
| 54 | Inigo Zubiria | Spain |
| 55 | Juan Abaitua Zarza | Spain |
| 56 | Ander De La Fuente | Spain |
| 57 | Mario Echevarria Puyo | Spain |
| 58 | Alberto Romillo Sainz De La Maza | Spain |
| 59 | Borja Dopico | Spain |
| 60 | Jon Mariscal | Spain |
| 61 | Angel Alfredo Martinez | Spain |
| 62 | Alvaro Orellana | Spain |
| 63 | Ramon Zubiaga | Spain |
| 64 | Jose Benito Pereira | Spain |
| 65 | Roberto Marti­N Vizcaino | Spain |
| 66 | Pablo Villadangos Rio | Spain |
| 67 | Alvaro Villadangos Rio | Spain |
| 68 | Asier Iturraspe Eguia | Spain |
| 69 | Eduardo Merodio | Spain |
| 70 | Itzigo Alvarez Carrasco | Spain |