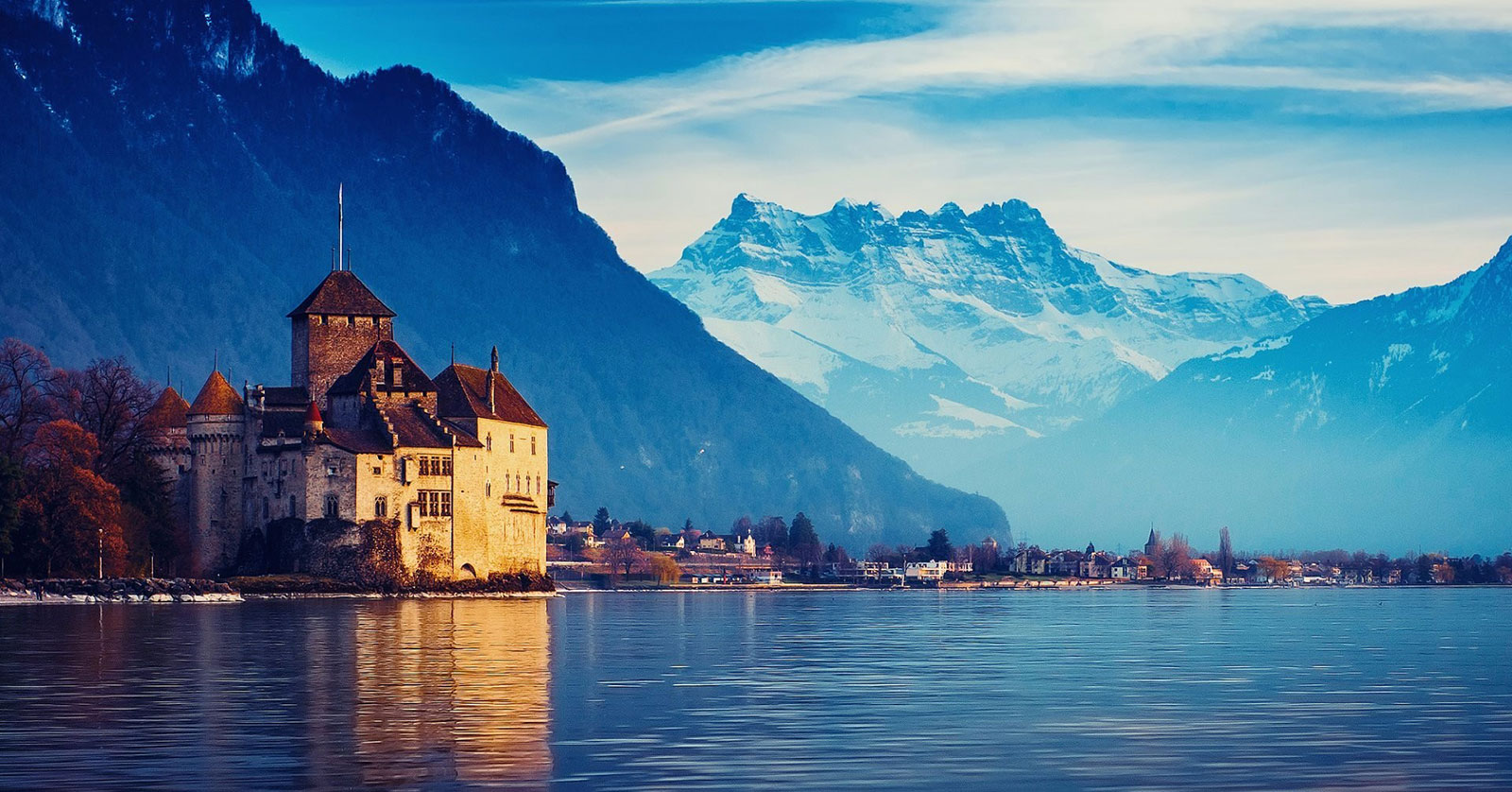 May 31, 2017
by Christopher Parker (@wheresbossman)
EuroTour Week 5: Let's Paddle Across Lake Geneva from Switzerland to France (aka the 'Thonon Race')
After two weeks of sunbathing by the French seaside, the EuroTour roadshow heads to the highlands for week 5, with the inaugural Thonon SUP Race offering up one of the most interesting experiences of the summer: the chance to paddle from one country to another via a beautiful, world-famous waterway.
Set on the southern side of Lake Geneva in the historic town of Thonon-les-Bains (just say: T'non), everything about this event sounds amazing. From the unique crossing to the iconic location to the surreal start line shuttle, Thonon is shaping up to be a real highlight of this year's Tour.
While Thonon is a three-day festival, the showcase event is Saturday afternoon: the 20km crossing from Switzerland back to France, where dozens of the world's best and Europe's finest, plus scores of paddlers that just want to enjoy the epic view at a more leisurely pace, will paddle from the Swiss city of Lausanne back to Thonon on the French side of the lake.
But if you can't make it to the scenic shores of le lac de Genève don't worry: SUP Racer will give you a front row seat to watch the action as it happens, with the next installment of our EuroTour Facebook Live series set to begin just before the starting horn blows at 12:30pm French time on Saturday June 3rd.
I chatted with event organiser Fred Bonnef who told me he was seduced by the beauty of Lake Geneva after completing the first crossing two years ago with a bunch of mates just for fun (you can see a video of that adventure down below). Fred and his events company have been working to create an official race between Switzerland and France ever since, so they jumped at the chance to join this year's EuroTour and showcase Thonon to the international paddling community (you may remember Fred as the French paddler/car crash survivor we profiled back in 2013).
From everything I've seen and heard so far, the organisation for this event sounds pretty fine-tuned. And while it's only the inaugural event – we can't expect it to be perfect – I'm excited to see how it all unfolds. In addition to the main event, the 20km crossing, there's also an open race, kids race, one of those super fun Red Paddle Co 'Dragon' showdowns, even daily SUP yoga sessions if that's your thing.
But while Thonon is clearly about much more than just the pros, I'm also pretty damn excited to see who wins this weekend's elite showdown. With no buoy turns, no waves and no real chance of getting unlucky, this is going to be a race for the pure powerhouse paddlers, and with five of the world's top six ranked guys on the start line, plus two dozen more that'll be confident of a top 10 finish, there's a deep, stacked field with no clear favourite.
Though it won't necessarily be a flat water grind: Lake Geneva (also known as lac Léman) is one of the largest bodies of water in Western Europe, meaning the 20km crossing could turn into an inland downwinder. That would spark either nerves or excitement in the paddlers, depending on whom you ask.
But even just getting to the start line of this race is going to be a cool experience, with organisers chartering a classic Alps lake boat to ferry competitors from France to Switzerland before they turn around and paddle back across (SUP Racer will be on board and I might even be able to do a little pre-race live stream to take you behind the scenes).

---
Top Talent on the Start Line in Thonon
The top men and women will be battling for a €20k prize purse (~$22,500) in Thonon this weekend, which is the largest of this year's Tour. And in a welcome departure from recent weeks, there's only one elite race this weekend (no more messy "overall results" to calculate), with the same 'one event/one race' format set in stone for the remainder of the Tour. If you win the race, you win the event. Simple.
The top-ranked guys standing on Saturday's start line will be Michael Booth, Connor Baxter, Titouan Puyo, Mo Freitas, Georges Cronsteadt, Leo Nika, Toby Cracknell, Vinni Martins, Bruno Hasulyo, Trevor Tunnington, and EuroTour debutante (slash name to watch) Marcus Hansen.
They'll be joined by virtually all of Europe's finest, with Paolo Marconi and his 'Italian Mafia' set to battle the deep-rolling entourage of French prospects in a fight not only for EuroTour and World Ranking points but also national pride and prestige.
I haven't seen the final start list, but names such as Tom Auber (SUP Racer's official new European dark horse selection), the Teulade brothers, Martin Vitry, Davide Ionico, Giordano Capparella, Martino Rogai, Gabi Bachelet, Boris Jinvresse and some of the youngsters such as Pau Ybarra and James van Drunen have all looked sharp in recent weeks.
There's been world-class paddlers competing in Europe for as long as I can remember, however we've never seen such an impressive depth of talent. In the old days, you could scrape into the top 10 at a big European race if you were lucky (hell even I finished 10th at the inaugural Lost Mills), but these days you're doing well if you can crack the top 30. Last weekend in Hossegor, we saw some well-known names finishing closer to 40th.
I'm expecting a similarly strong field to lineup on the weekend, so we should be in for a great battle on Saturday afternoon.
Thonon has been penciled in as a 4-star event on the Season 2017 international race calendar, and my rough calculations suggest it'll score about 42% on the men's Race Index (we lose Arthur, Slater and Giorgio but pickup Georges and Marcus). That puts the Thonon Race on par with the other EuroTour 'Prime' events such as St Maxime, Hossegor, the upcoming double in the Basque Country (Bilbao and San Sebastian) and the big one in Scharbeutz, Germany early next month.
The women's race will be an interesting battle as well, with Sonni Honscheid looking for a third-straight event win that would virtually lock in her third-straight EuroTour crown.
Sonni will have stiff competition from Frenchwoman Olivia Piana though, who upset the German powerhouse in the Beach Race component of the Hossegor Paddle Games and will fancy her chances of saluting again this weekend. Olivia has been going from strength to strength over the past 18 months and is now clearly on the top-tier of the sport.
(Candice Appleby and her Infinity Speed Freaks, who added so much flair to weeks 3 and 4 of the Tour, have unfortunately departed back to the States, however their international team mates Toby Cracknell and Itzel Delgado continue flying the pirate flag in Europe alongside Italy's Martino Rogai and French junior Melanie Lafenetre.)
Florida's endurance specialist Seychelle Hattingh will be confident of a podium spot in what is probably her strongest event of the Tour, while European dark horses Amandine Chazot (France), Susak Molinero (Spain), Laura Quetglas (if she recovers from her Hossegor injury), Petronella van Malsen (Netherlands) along with Kiwi Penelope Strickland all have the talent to crack the top 3 on their day.
So it's going to be a cracking race all round, and you can watch it all on our live stream just after lunch on Saturday.
See you in Thonon!
---
When to watch SUP Racer's Facebook Live stream
The main event here in Thonon, the 20km race across Lake Geneva from Switzerland back to France, is set to begin just after lunch on Saturday – 1pm Swiss/French time to be precise – and we plan to be on air about 15 minutes before that.
So head over to SUP Racer's Facebook page at about 12:45pm Saturday to catch the whole show (as always, the live stream will be direct through Facebook Live, not here on the site).
I'll do my best to give you a front row seat for this week's showdown, but keep in mind we're going to be out on the middle of a very big lake (i.e. the mobile internet may drop out). I think we should be OK considering we're near a city, but as always I make the disclaimer: "Don't expect ESPN."
12:45pm Saturday in France is…
12:45am Saturday morning (20 minutes past midnight Friday night) in Hawaii
3:45am Saturday morning in California (sorry!)
5:45am Saturday morning in Peru
6:45am Saturday morning in Florida
7:45am Saturday morning in Brazil
11:45am Saturday morning in the UK
12:45pm Saturday in South Africa
5:45pm Saturday evening in Thailand
7:45pm Saturday night in Tokyo
8:45pm Saturday night in Australia (East Coast)
10:45pm Saturday night in New Zealand
---
2017 Thonon SUP Race Schedule
Get all the latest updates and be the first to know about any possible changes by following: The Thonon SUP Race and The Euro Tour on Facebook.
Note to competitors: There's also a very detailed schedule on the official site (in English) with all the details you need to know.
FRIDAY
1pm board drop in Thonon*
4pm registration in Thonon
7pm race briefing in Thonon
* the boards are being transported by road to the start line on Friday night
SATURDAY
8am SUP yoga
9am meet for the boat to Switzerland
9:45am boat leaves Thonon-les-Bains, France
11am boat arrives in Lausanne, Switzerland
12pm SUP RACER'S LIVE STREAM BEGINS
12:30pm 20K RACE START
2:30pm-4pm (approximate) 20K race finish
6pm EuroTour After Party in Thonon
SUNDAY
8am SUP yoga
9:30am scenic walking tour
11:30am Thonon Red Dragon Race
3pm "King of Thonon" exhibition sprint race
6pm Awards ceremony
MONDAY
8am SUP yoga
9:30am Kids race
11:30am Thonon Pro-Am Fun Race
3pm Awards
And finally, here's a video from that crossing Fred and his mates did back in 2015, which became the motivation to create this whole event.