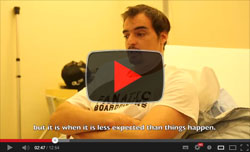 June 13, 2013
by Christopher Parker (@wheresbossman)
The Amazing, Near-Death Story Of Stand Up Paddler Fred Bonnef
Fred Bonnef is a pro SUP racer, SUP surfer and windsurfer (as well as founder of SUP-rider.com) from Europe; a true waterman and part of the Fanatic International team. Or at least he was, until last May when Fred had a 110km/h car crash that almost killed him.
In the video below you can hear Fred's amazing story and, hopefully, take something away from it all…
The crash wasn't Fred's fault; he was driving home from a SUP contest, doing the legal speed limit, when a truck, coming from the other direction, drove through the middle of the highway and smashed straight into him. His legs were pinned under his dashboard and it took rescuers three hours to get Fred out of his mangled car. Fred spent 10 days in a coma and was very close to death.
Kinda heavy.
But Fred survived and has since spent the past year in hospital and rehab, first trying to save his life, then his legs, and then finally learning how to live a normal life again.
I had the pleasure of meeting Fred this week in Hossegor, just up the road from the sports rehab facility he's been virtually living at recently. I got to see his injuries up close and, even after over 12 months, it still looks pretty hardcore. These are the kind of things we see on road safety ads and billboards, stopping for a second to take a look but never expecting to get up close and personal with it.
So watch the video below. I'll spare the overly emotional commentary and let you take away whatever you want from it. But no matter what impact this video has on you, one thing is obvious: Don't be a f#$cking idiot on the road. Stop and think.