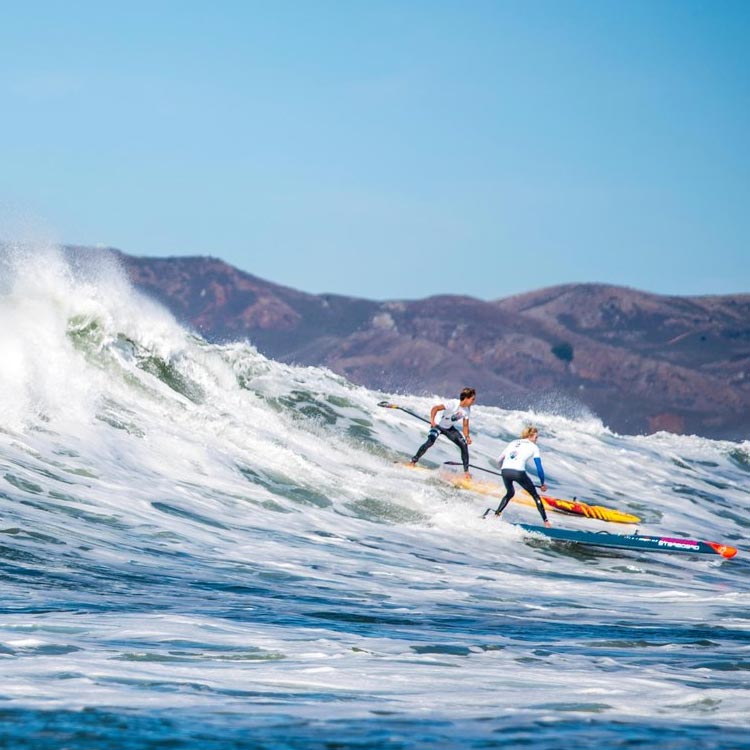 October 16, 2017
by Christopher Parker (@wheresbossman)
Red Bull's $50,000 'Heavy Water' surf race extravaganza has been "green lit" to run this Friday.
While the off-season unofficially began two weeks ago at the Pacific Paddle Games closing ceremony, let's face it: the SUP racing season never really ends. There are still a handful of significant events on the season schedule between now and xmas, and that includes the second-richest race of the year: Red Bull Heavy Water in San Francisco.
In a format befitting a company that single-handedly created the energy drink industry before going on to redefine extreme sports coverage, Red Bull Heavy Water will see paddlers race through the waves at San Fran's iconic Ocean Beach only when the surf hits 10ft.
To achieve this sporting spectacle, the event has a three week waiting period. But we won't have to wait that long: there's a solid swell heading for Northern California that's set to peak later this week, and organisers have called the race for Friday the 20th at 9am.
The current forecast @ Ocean Beach is predicting 9-14ft surf, which is solid to say the least. Combine that with the fact Ocean Beach is a pretty heavy break to begin with, and I wouldn't be surprised if we see a few broken boards on Friday (for contrast: Salt Creek was only about 4-6ft during that one epic year back in 2014).
The race starts in the water at Ocean Beach and goes in-and-out through the surf before heading north for a mini-marathon to the Golden Gate Bridge, with the winners crossing the line inside San Fran Bay close to where the big Battle of the Bay went down last month.
This combo of having to handle the solid surf (on a race board, no less) before doing a mini-endurance leg means only the toughest, fittest and most talented paddlers will have a shot at the cash.
And while many of the top ranked paddlers have already packed up their gear for the year (dear Red Bull: please put this event in September next year), a few of the big names have stuck around including Connor Baxter and Casper Steinfath, while we'll also get to see freshly minted movie star Kai Lenny in a race jersey for just the second time this year.
Those three favourites (and last year's Heavy Water podium-getters) will be joined by another 15-20 guys chasing the near-record prize purse of $50,000, including a record $20k for the winner alone.
The event hasn't been without a touch of controversy though, with many rightfully wondering why the "invite-only" event was reserved for men.
That point was highlighted by women's world number one Annabel Anderson, who called out the event on Instagram today for completely ignoring the many talented women that have surely done enough to earn a spot in these specialty events alongside the guys. I believe title sponsor Red Bull actually made the suggestion of including women, however race organisers wanted to keep last year's format in place for some reason.
But while the debate about gender equality in our sport is something we certainly need to have (gotta love Candice Appleby's suggestion in the comments for a women's-only alternative event lol), Red Bull Heavy Water is still shaping up to be an entertaining little spectacle.
The event will be livestreamed on RedBull.com from around 9am Friday morning.