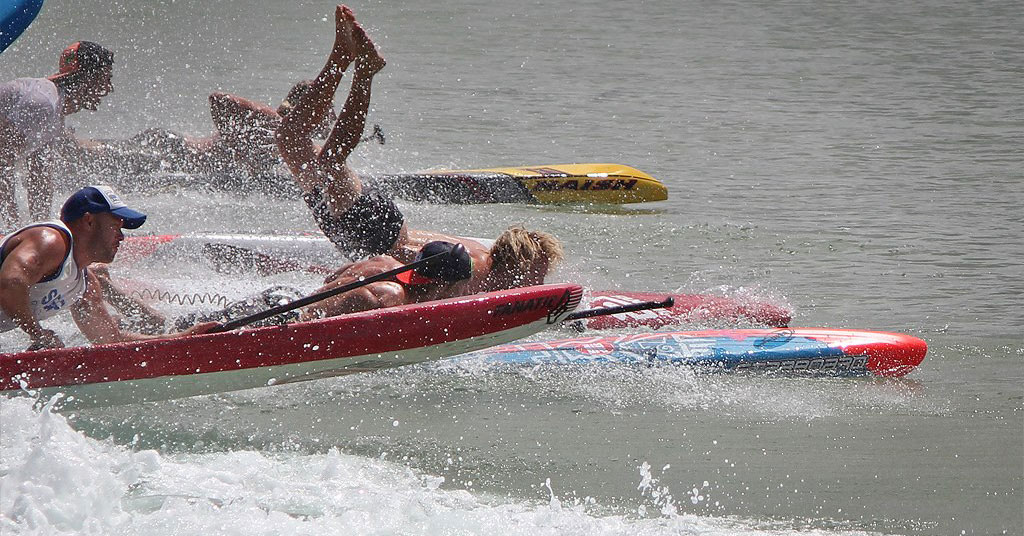 February 28, 2017
by Christopher Parker (@wheresbossman)
Preview & Predictions: Australia's Finest Set to Launch into a Big Weekend at Noosa
[notdevice]
[/notdevice]
[device]
[/device]

The Aussie summer of SUP continues this weekend at the 3-star Noosa Festival of Surfing, with a strong lineup of homegrown talent looking to defend their turf against a couple of international guns.
Following the success of the 6th Annual 12 Towers ocean race on the Gold Coast last weekend, when 190 paddlers scored an epic downwind run, the roadshow heads north to the Sunshine Coast, where a dozen top ranked athletes and scores of weekend warriors will battle it out in one of the most perfect SUP racing locations imaginable.
In terms of raw level of talent on the start line, Noosa will be the second most-competitive event in Australia all season long (behind the King of the Cut in West Oz).
There's been SUP racing at the Noosa Festival of Surfing for as long as I can remember (7 years now?) but this year the level of competition has definitely gone up a notch, at least on the men's side, with Noosa scoring 30% on the 'Season 2017' men's Race Index (it's a 2-star/20% women's event).
Saturday is the 14km long distance race while Sunday it's the showcase event, the BOP-style beach race in and out through the surf, which will be streamed live on the official Festival webcast — and we'll have it embedded here on SUP Racer on Sunday afternoon from 12:45pm local time.
[device] [/device]
https://www.instagram.com/p/BCpm3EQyspu/
Fresh off his victory at the 12 Towers and reinvigorated after switching teams in the off-season, Jake Jensen will start as one of the favourites. However Jake and everyone else will have to work very hard to match world number two and human machine Michael Booth in Saturday's distance race if they want a realistic shot at the overall win.
(Noosa follows the 'combined result' model, with the best performer from the distance race + beach race being crowned the overall event champ; 1 point for 1st, 2 for 2nd, 3 for 3rd in each race with lowest combined points winning; if there's a tie in points then combined times are the decider).
Other big Aussie names to watch include a who's who of the local racing scene: Kelly Margetts, Matt Nottage, Toby Cracknell, Lincoln Dews, Paul Jackson and Trevor Tunnington. All of these guys are podium contenders, which sets up an exciting clash but also makes my job of predicting the results rather difficult.
Kelly out-sprinted Jake to win day two of the Sydney SUP Festival a couple of weeks ago on his new Sunova board, but the veteran didn't race last weekend at the 12 Towers and neither did Toby, Linc and Nottage, so while it's still hard to gauge the early season form of the top Aussie boys, by Sunday afternoon we should have a pretty good idea who's firing right now.
The event isn't just about the pros though, with over 150 paddlers already registered (that's actually a very large number by Aussie standards).
I can't wait to see who's been training hardest in the off-season; Australia is home to more top ranked paddlers than any other nation, so the results this weekend will give us an indication of who the contenders are for international season ahead. The only local guys missing this weekend are Travis Grant, who now lives in Hawaii, James Casey, who's in the same place right now prepping for the APP Tour event on Maui next week, and Beau O'Brian.
But the Aussie boys won't just be battling each other, they're also up against a couple of lads from across the sea who'll be looking to spoil the green & gold party: Team NSP duo Titouan Puyo (New Caledonia) and Marcus Hansen (New Zealand).
Titou looked sharp during his runner-up performance last weekend, while Marcus is quickly firming as a top dark horse pick for 2017.
I think Titou will give Boothy the closest checking in the distance race — the New Caledonian is the defending Carolina Cup champ and went toe-to-toe with the Aussie in Fiji, so he knows how to grind out a top result in a long course race. However I just can't see anyone out-pacing the guy who won three of the biggest distance races in the world last year (Boothy won the Lost Mills, PPGs and the Worlds in 2016).
But with 10 of the top 50 ranked guys in the world on the start line (including 7 of the top 20), it's going to be very tight at the front of the field. The distance race could come down to a sprint back in through the surf over the final 500 metres.
[notdevice]
[/notdevice]
[device]
[/device]
Sunday's beach race is particularly tough to predict, with the small waves that roll down Noosa's iconic 'First Point' set to mix things up and create some excitement for the crowd (the great thing about racing at Noosa is that you're pretty much guaranteed a big crowd on the beach). Toby won that race 12 months ago after a sprint to the line with Boothy, though the world number two picked up the overall honours and will be favourite to hold onto his title this weekend.
The women's field is a lot smaller but still features a couple of big names. I expect it to be shootout between two of the long-time leaders of the Aussie racing scene, defending Noosa champ Karla Gilbert and Angie Jackson, though keep an eye on the always-improving Kate Baker to sneak onto the podium.
Karla wound back the clock to win her 5th straight 12 Towers title last weekend and knows Noosa very well not just from this event but from years of competing as a champion lifeguard racer (Karla was known as the Ironwoman Queen). Angie returns to the water after sitting out last weekend's race with illness, so it'll be interesting to see how these two long-time rivals stack up early in the season.
The Noosa Festival of Surfing is a week-long event that's been running for over a quarter century now. In addition to the SUP racing, the event also features SUP surfing, half a dozen different longboarding contests and perhaps the most-watched event of the entire week: Dog surfing (the crowds for that event are absolutely ridiculous – I think I'm in the wrong business).
For those who aren't too familiar with Australia, Noosa is a world famous beach town that's a favourite with longboarders, paddlers and Swedish backpackers. It's definitely a fun place for a paddle race, and with the strong lineup heading north as we speak, we should be in for a cracking weekend of competition.
---
[device] [/device]
PREDICTIONS
But enough rambling, you came here to see some predictions, right? This is a tough one to call considering it's so early in the season plus the x-factor of racing in the waves, but here goes…
Boss Man's Bold Predictions: Top 10 Overall
1st: Michael Booth (Starboard)
2nd: Titouan Puyo (NSP)
3rd: Jake Jensen (ONE)
4th: Kelly Margetts (Sunova)
5th: Toby Cracknell (Infinity)
6th: Marcus Hansen (NSP)
7th: Lincoln Dews (JM)
8th: Matt Nottage (Starboard)
9th: Trevor Tunnington (Starboard)
10th: Paul Jackson (ONE)
(…you see what I mean about this being a tough one to predict?)
Women's Overall Predictions
1st: Angie Jackson (ONE)
2nd: Karla Gilbert (Naish)
3rd: Kate Baker (ONE)
Check back on Sunday arvo to see how it all went down. I'll be on the beach Sunday either racing or flying the drone, but either way we'll have the live stream setup here on SUP Racer for you to watch from 12:50pm Queensland time.

Follow SUP Racer on Instagram for behind-the-scenes stories all weekend + Facebook for post-race updates direct from the beach.


Below: Defending Noosa champ Karla Gilbert will be looking to make it two wins in two weekends