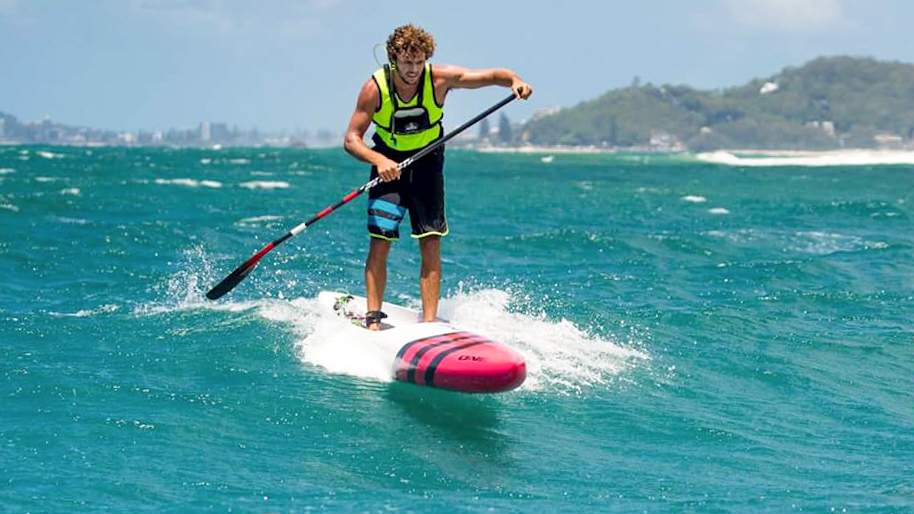 February 25, 2017
by Christopher Parker (@wheresbossman)
Full Results: Jake Jensen Defeats Titou, Boothy and Beau to Win The 12 Towers Ocean Race in Australia; Karla Gilbert Claims 5th Straight Title
[device] [/device]

[device] [/device]

Jake Jensen has taken out the 6th Annual 12 Towers Ocean Race this afternoon, defeating Titouan Puyo, Michael Booth and Beau O'Brian in firing downwind conditions on Australia's Gold Coast.
Paddling for the new 'ONE' race team, Jake stormed home to finish almost a minute clear of Titou (NSP), while Starboard teammates Boothy and Beau were locked in a near photo finish for third.
After sweeping West Oz Downwind Week back in December, Titou probably came into today's race as the favourite (or at least SUP Racer's prediction to win). But while the world number four paddled very well, Jake clearly had the local knowledge and determination to win, with the Gold Coaster surfing clear to finish the 14km course in just under an hour.
It was a dominant performance from Jake and a good sign for the international race season that's about to begin. Jakey boy had a bit of a shocker last year but has clearly bounced back after switching to ONE in the off-season. He'll be in action again next week (along with all of today's other top finishers) at the Noosa Festival of Surfing before heading off to Maui for the opening stop of the APP Tour.
Though the big surprise and one of the great stories of the day came from the unheralded Noic Garioud. The New Cal youngster finished ahead of several seasoned Aussie veterans, which in itself is a big achievement, but the crazy part: Noic is just 14 years old…
While Titou has long been flying the flag for his island nation, Noic's result highlights the strength of downwind paddling in New Caledonia; back in December, 15-year-old Clement Colmas was runner-up behind his compatriot at the King of the Cut.
[device] [/device]
https://www.instagram.com/p/BQ86U6uBIzQ/
[device] [/device]
Team ONE scored a 1-2 line honours finish today with their chief board designer (and highly under-rated paddler in his own right) Ben Tardrew crossing the line in between Jake and Titou on his unlimited. Ben's brother and Sunova board designer Marcus was 6th over the line in the battle of the 14 footers, finishing just ahead of his namesake from New Zealand Marcus Hansen (NSP) and Paul Jackson (ONE).
Former queen of the surf life saving race scene Karla Gilbert was too strong in the women's race with the Naish rider claiming her 5th straight 12 Towers title ahead of Kate Baker (ONE) and former Olympic sailor Belinda Stowell Brett.
Conditions were pretty much perfect out there today, with a howling southerly wind and 3ft swell setting up near endless runners along the course from the surfing meccas of Snapper Rocks in the south to Burleigh Heads in the north.
That was one of the funnest races I've ever done. Some of those glides just kept running and running…
With close to 200 paddlers on the start line (a record for this event and not far off being the biggest ever race in Australia) and beautiful sunny weather, it was a perfect day on the Gold Coast. Big thanks to Troy Pease and the organising crew for putting this event on six years running.

RESULTS: Men's Long Course | Women's Long Course | Short Course | Surf Ski | Prone

https://www.instagram.com/p/BQ63-fxllhR/
---
Men's Long Course Results
| # | Name | Time | Gap | Board | # | Division | # |
| --- | --- | --- | --- | --- | --- | --- | --- |
| 1 | Jake Jensen | 0:54:21 | - | 14' | 1 | 14' open | 1 |
| 2 | Ben Tardrew | 0:54:56 | 00:35 | unlim | 1 | unlimited | 1 |
| 3 | Titouan Puyo | 0:55:06 | 00:44 | 14' | 2 | 14' open | 2 |
| 4 | Michael Booth | 0:55:56 | 01:34 | 14' | 3 | 14' open | 3 |
| 5 | Beau O'Brian | 0:56:05 | 01:43 | 14' | 4 | 14' open | 4 |
| 6 | Noic Garioud | 0:56:40 | 02:19 | 14' | 5 | 14' junior | 1 |
| 7 | Macus Tardrew | 0:58:18 | 03:56 | 14' | 6 | 14' open | 5 |
| 8 | Marcus Hansen | 0:58:37 | 04:15 | 14' | 7 | 14' open | 6 |
| 9 | Paul Jackson | 0:58:53 | 04:32 | 14' | 8 | 14' open | 7 |
| 10 | Peter Dorries | 0:59:17 | 04:56 | 14' | 9 | 14' 50-54 | 1 |
| 11 | Trevor Tunnington | 0:59:54 | 05:33 | 14' | 10 | 14' open | 8 |
| 12 | Tim Cyprien | 0:59:59 | 05:38 | 14' | 11 | 14' open | 9 |
| 13 | Ollie Houghton | 1:00:54 | 06:33 | 14' | 12 | 14' open | 10 |
| 14 | Heath Meldrum | 1:01:13 | 06:52 | 14' | 13 | 14' open | 11 |
| 15 | Paul Jones | 1:01:28 | 07:07 | 14' | 14 | 14' 40-49 | 1 |
| 16 | Dyllan Constable | 1:02:28 | 08:07 | 14' | 15 | 14' open | 12 |
| 17 | Ty Judson | 1:02:47 | 08:26 | 14' | 16 | 14' junior | 2 |
| 18 | Olivier Garioud | 1:02:48 | 08:27 | 14' | 17 | 14' 40-49 | 2 |
| 19 | Steve Walker | 1:03:33 | 09:12 | 14' | 18 | 14' 40-49 | 3 |
| 20 | Mark Huxley | 1:03:35 | 09:14 | unlim | 2 | unlimited | 2 |
| 21 | Dale Chapman | 1:04:07 | 09:46 | unlim | 3 | unlimited | 3 |
| 22 | Anthony Clark | 1:04:16 | 09:54 | 14' | 19 | 14' open | 13 |
| 23 | Nico Schenk | 1:04:49 | 10:27 | 14' | 20 | 14' open | 14 |
| 24 | Wade Carberry | 1:05:22 | 11:01 | 14' | 21 | 14' open | 15 |
| 25 | Callan Dick | 1:05:32 | 11:11 | 14' | 22 | 14' open | 16 |
| 26 | Trent Robinson | 1:05:45 | 11:24 | 14' | 23 | 14' 40-49 | 4 |
| 27 | Bryn Lloyd | 1:05:50 | 11:29 | 14' | 24 | 14' junior | 3 |
| 28 | Nathan Cross | 1:05:56 | 11:34 | 14' | 25 | 14' open | 17 |
| 29 | Andrew Shield | 1:06:17 | 11:56 | unlim | 4 | unlimited | 4 |
| 30 | Cam Cole | 1:06:54 | 12:32 | 14' | 26 | 14' open | 18 |
| 31 | Rob Walton | 1:07:09 | 12:47 | unlim | 5 | unlimited | 5 |
| 32 | Steve Morely | 1:07:12 | 12:51 | 14' | 27 | 14' 40-49 | 5 |
| 33 | Jason Oliphant | 1:07:47 | 13:26 | unlim | 6 | unlimited | 6 |
| 34 | Christopher Parker | 1:08:25 | 14:04 | 14' | 28 | 14' open | 19 |
| 35 | Chris Clarke | 1:08:39 | 14:18 | 14' | 29 | 14' 40-49 | 6 |
| 36 | Lee Mclean | 1:08:56 | 14:35 | 14' | 30 | 14' open | 20 |
| 37 | Brendan Clark | 1:09:20 | 14:59 | 14' | 31 | 14' 40-49 | 7 |
| 38 | Mick Dibetta | 1:09:37 | 15:16 | 14' | 32 | 14' 50-54 | 2 |
| 39 | Wayne Johnstone | 1:09:53 | 15:31 | 14' | 33 | 14' 50-54 | 3 |
| 40 | Greg Beer | 1:10:28 | 16:07 | 14' | 34 | 14' 50-54 | 4 |
| 41 | Chad Islip | 1:10:37 | 16:16 | 14' | 35 | 14' 40-49 | 8 |
| 42 | Mark Rennie | 1:10:41 | 16:20 | 14' | 36 | 14' 40-49 | 9 |
| 43 | Dany Leclerc | 1:11:22 | 17:00 | 14' | 37 | 14' open | 21 |
| 44 | Cheyne Mitchell | 1:11:34 | 17:12 | 14' | 38 | 14' open | 22 |
| 45 | Paul Mackie | 1:11:38 | 17:17 | 14' | 39 | 14' 50-54 | 5 |
| 46 | Alain Teurquetil | 1:12:27 | 18:05 | 14' | 40 | 14' 50-54 | 6 |
| 47 | Jared Reed | 1:12:40 | 18:19 | 14' | 41 | 14' open | 23 |
| 48 | Kevin Johnson | 1:12:41 | 18:20 | 14' | 42 | 14' 55+ | 1 |
| 49 | Dave White | 1:12:51 | 18:29 | 14' | 43 | 14' 40-49 | 10 |
| 50 | Michael Abdilla | 1:13:34 | 19:12 | 14' | 44 | 14' 40-49 | 11 |
| 51 | Mark Waldeck | 1:13:43 | 19:21 | unlim | 7 | unlimited | 7 |
| 52 | Andy Fermo | 1:14:30 | 20:08 | 14' | 45 | 14' open | 24 |
| 53 | Mark Buchanan | 1:14:45 | 20:23 | 14' | 46 | 14' 40-49 | 12 |
| 54 | Alessio Voliani | 1:14:51 | 20:30 | 14' | 47 | 14' 40-49 | 13 |
| 55 | Shane Lynch | 1:14:56 | 20:34 | 14' | 48 | 14' 55+ | 2 |
| 56 | Bryan Peck | 1:15:11 | 20:49 | 14' | 49 | 14' open | 25 |
| 57 | Dave Faulkner | 1:15:40 | 21:18 | 14' | 50 | 14' 50-54 | 7 |
| 58 | Lance Milnes | 1:16:13 | 21:51 | 14' | 51 | 14' 40-49 | 14 |
| 59 | Peter Jackson | 1:16:17 | 21:55 | 14' | 52 | 14' 40-49 | 15 |
| 60 | Neil Pearson | 1:16:20 | 21:58 | 14' | 53 | 14' 50-54 | 8 |
| 61 | Jarrad Batza | 1:16:34 | 22:12 | 14' | 54 | 14' open | 26 |
| 62 | Peter Kelly | 1:16:46 | 22:24 | 14' | 55 | 14' open | 27 |
| 63 | Craig Wright | 1:16:50 | 22:28 | 14' | 56 | 14' 40-49 | 16 |
| 64 | Paul Shepherd | 1:17:25 | 23:04 | 14' | 57 | 14' 55+ | 3 |
| 65 | Mike Matthews | 1:18:26 | 24:04 | 14' | 58 | 14' 50-54 | 9 |
| 66 | Aritz Tena | 1:19:36 | 25:14 | 14' | 59 | 14' open | 28 |
| 67 | Simon Albery | 1:19:40 | 25:18 | 14' | 60 | 14' open | 29 |
| 68 | Michael Jenkins | 1:19:46 | 25:24 | 14' | 61 | 14' 55+ | 4 |
| 69 | John Townsend | 1:19:57 | 25:36 | 14' | 62 | 14' 55+ | 5 |
| 70 | Damian Henningsen | 1:21:01 | 26:40 | 14' | 63 | 14' 40-49 | 17 |
| 71 | Brett Swann | 1:21:36 | 27:14 | 14' | 64 | 14' 50-54 | 10 |
| 72 | Steve Richardson | 1:22:43 | 28:21 | 14' | 65 | 14' 40-49 | 18 |
| 73 | Rob Clapham | 1:22:48 | 28:26 | 14' | 66 | 14' open | 30 |
| 74 | Aaron Prior | 1:22:52 | 28:30 | 14' | 67 | 14' open | 31 |
| 75 | Peter Miller | 1:22:56 | 28:34 | 14' | 68 | 14' open | 32 |
| 76 | Andrew Bourke | 1:23:20 | 28:58 | 14' | 69 | 14' 40-49 | 19 |
| 77 | Robert Eyre | 1:26:43 | 32:21 | 14' | 70 | 14' 55+ | 6 |
| 78 | David Mitchell | 1:27:08 | 32:46 | 14' | 71 | 14' 40-49 | 20 |
| 79 | Bob Margetts | 1:27:40 | 33:18 | 14' | 72 | 14' 55+ | 7 |
| 80 | Paul Daniel | 1:27:43 | 33:21 | 14' | 73 | 14' 40-49 | 21 |
| 81 | Lawrence Kranen | 1:28:17 | 33:55 | 14' | 74 | 14' 40-49 | 22 |
| 82 | Greg Burton | 1:28:19 | 33:57 | 14' | 75 | 14' 55+ | 8 |
| 83 | Darron Brown | 1:28:22 | 34:00 | 14' | 76 | 14' 55+ | 9 |
| 84 | Sean Collins | 1:28:54 | 34:32 | 14' | 77 | 14' 40-49 | 23 |
| 85 | Duncan Corbett | 1:29:14 | 34:52 | 14' | 78 | 14' 55+ | 10 |
| 86 | Mitch Ashton | 1:30:45 | 36:23 | 14' | 79 | 14' open | 33 |
| 87 | Douglas Adams | 1:30:53 | 36:31 | 14' | 80 | 14' 55+ | 11 |
| 88 | Bruce Middleton | 1:31:16 | 36:55 | 14' | 81 | 14' 55+ | 12 |
| 89 | Dean Phillips | 1:31:32 | 37:11 | 14' | 82 | 14' open | 34 |
| 90 | Allan Shephard | 1:31:34 | 37:12 | 14' | 83 | 14' 40-49 | 24 |
| 91 | Paul Mitchell | 1:31:37 | 37:16 | 14' | 84 | 14' 55+ | 13 |
| 92 | Richard Mitchell | 1:31:59 | 37:38 | 14' | 85 | 14' 50-54 | 11 |
| 93 | Scott Collins | 1:32:01 | 37:40 | 14' | 86 | 14' 40-49 | 25 |
| 94 | Craig Sage | 1:32:28 | 38:06 | 14' | 87 | 14' 55+ | 14 |
| 95 | Darren Wilcock | 1:32:41 | 38:20 | 14' | 88 | 14' 50-54 | 12 |
| 96 | Nigel Milnes | 1:32:43 | 38:22 | 14' | 89 | 14' 55+ | 15 |
| 97 | David Patterson | 1:33:12 | 38:50 | 14' | 90 | 14' 50-54 | 13 |
| 98 | Joel Rogers | 1:37:02 | 42:41 | 14' | 91 | 14' open | 35 |
| 99 | Matt Batty | 1:37:08 | 42:47 | 14' | 92 | 14' open | 36 |
| 100 | Morgan Bennett | 1:37:34 | 43:13 | 14' | 93 | 14' 40-49 | 26 |
| 101 | Josh Carter | 1:39:18 | 44:57 | 14' | 94 | 14' open | 37 |
| 102 | Mark Smith | 1:41:41 | 47:20 | 14' | 95 | 14' 40-49 | 27 |
| 103 | Peter Parker | 1:44:50 | 50:29 | 14' | 96 | 14' 55+ | 16 |
| 104 | Anthony Johnston | 1:52:15 | 57:54 | 14' | 97 | 14' 50-54 | 14 |
---
Women's Long Course Results
| # | Name | Time | Board | Division | # | Gap |
| --- | --- | --- | --- | --- | --- | --- |
| 1 | Karla Gilbert | 1:06:07 | 14' | Open | 1 | 11:46 |
| 2 | Kate Baker | 1:07:53 | 14' | Open | 2 | 13:31 |
| 3 | Belinda Stowell Brett | 1:13:13 | 14' | Open | 3 | 18:52 |
| 4 | Keale Dorries | 1:17:14 | 14' | Open | 4 | 22:52 |
| 5 | Jean Ringrose | 1:18:29 | 14' | 40+ | 1 | 24:08 |
| 6 | Chloe Walkerdene | 1:23:32 | 14' | Open | 5 | 29:10 |
| 7 | Vanessa Caley | 1:23:53 | 14' | 40+ | 2 | 29:31 |
| 8 | Jenny Dibetta | 1:24:51 | 14' | 40+ | 3 | 30:29 |
| 9 | Sofie Simonsson | 1:26:47 | 14' | Open | 6 | 32:25 |
| 10 | Sharlene Cribb | 1:27:36 | 14' | 40+ | 4 | 33:14 |
| 11 | Vickie Frater | 1:29:44 | 14' | Open | 7 | 35:22 |
| 12 | Bek Christensen | 1:29:52 | 14' | Open | 8 | 35:30 |
| 13 | Di Tunnington | 1:32:38 | 14' | 40+ | 5 | 38:17 |
| 14 | Tracey Mouque | 1:37:27 | 14' | 40+ | 6 | 43:05 |
| 15 | Maria Williams | 1:39:09 | 14' | 40+ | 7 | 44:47 |
| 16 | Jennie O'neil | 1:39:40 | 14' | 40+ | 8 | 45:18 |
---
Short Course Results
| # | Name | Time | Division | # |
| --- | --- | --- | --- | --- |
| 1 | Simon Hunnybun | 0:33:25 | Men over 40 | 1 |
| 2 | Scott Carroll | 0:36:04 | Men over 40 | 2 |
| 3 | Jacob Henningsen | 0:37:58 | Men under 40 | 1 |
| 4 | Tristan Grossmann | 0:38:20 | Men under 40 | 2 |
| 5 | Peter Patch | 0:38:24 | Men over 40 | 3 |
| 6 | Allen Hume | 0:40:06 | Men over 40 | 4 |
| 7 | Savannah Fitzsimmons | 0:41:20 | Women under 40 | 1 |
| 8 | Belinda Ryan | 0:42:27 | Women under 40 | 2 |
| 9 | Juanita Maher | 0:43:46 | Women under 40 | 3 |
| 10 | Monica Krummenacher | 0:44:22 | Women over 40 | 1 |
| 11 | Bron Shephard | 0:45:01 | Women over 40 | 2 |
| 12 | Troy Fazakerley | 0:46:22 | Men over 40 | 5 |
| 13 | Sue Gollagher | 0:47:32 | Women over 40 | 3 |
| 14 | Kel Sanson | 0:47:47 | Men under 40 | 3 |
| 15 | Jodi Ritchie | 0:48:57 | Women under 40 | 4 |
| 16 | Scott Ritchie | 0:48:57 | Men over 40 | 6 |
| 17 | Craig Feenan | 0:49:30 | Men over 40 | 7 |
| 18 | Mandi Bailey | 0:53:03 | Women over 40 | 4 |
| 19 | William Wild | 0:53:06 | Men prone | 1 |
| 20 | Dann Bailey | 0:53:57 | Men over 40 | 8 |
| 21 | Ruth Goiny | 1:01:41 | Women over 40 | 5 |
| 22 | Roschelle Hawton | 1:02:47 | Women under 40 | 5 |
| 23 | Leon Dyson | 1:06:37 | Men over 40 | 9 |
---
Surf Ski Results
| # | Name | Time | Division | # |
| --- | --- | --- | --- | --- |
| 1 | Mackenzie Hynard | 0:46:34.8 | Open men | 1 |
| 2 | Ryan Paroz | 0:49:05.3 | Open men | 2 |
| 3 | Julian Norton-Smith | 0:49:47.2 | Open men | 3 |
| 4 | Craig Spender | 0:51:31.7 | Men 45+ | 1 |
| 5 | Adam Boyes | 0:52:04.9 | Open men | 4 |
| 6 | Wade Samin | 0:52:17.2 | Men 45+ | 2 |
| 7 | Warren Smith | 0:53:35.3 | Men 45+ | 3 |
| 8 | Stuart Anthony | 0:54:08.5 | Open men | 5 |
| 9 | Nick Perkins | 0:54:54.5 | Men 45+ | 4 |
| 10 | Stephen Connors | 0:55:09.3 | Open men | 6 |
| 11 | Tim Wingrove | 0:55:51.5 | Open men | 7 |
| 12 | Darren Pease | 0:56:48.4 | Men 45+ | 5 |
| 13 | Mark Kennedy | 0:57:54.0 | Men 45+ | 6 |
| 14 | Matthias Dorsch | 1:00:07.2 | Open men | 8 |
| 15 | Patrick Hegarty | 1:00:08.3 | Men 45+ | 7 |
| 16 | John Prince | 1:02:43.1 | Men 45+ | 8 |
| 17 | Ross McNally | 1:05:29.8 | Men 45+ | 9 |
| 18 | Pete Nelson | 1:09:28.4 | Men 45+ | 10 |
| 19 | Caylan Siddell | 1:10:10.3 | Open men | 9 |
| 20 | Russell White | 1:10:46.8 | Men 45+ | 11 |
| 21 | Brent Parkinson | 1:12:12.7 | Men 45+ | 12 |
| 22 | John Stewart | 1:13:29.9 | Men 45+ | 13 |
| 23 | Nick McConnell | 1:13:36.7 | Open men | 10 |
| 24 | Jae Colless | 1:13:54.0 | Open men | 11 |
---
Prone Results
| # | Name | Time | Division | # |
| --- | --- | --- | --- | --- |
| 1 | Daniel Shade | 1:01:31.5 | Unlimited | 1 |
| 2 | Lachie Lansdown | 1:04:10.3 | Stock | 1 |
| 3 | Scott Cowdrey | 1:05:40.9 | Stock | 2 |
| 4 | Sam Shergold | 1:09:32.0 | Stock | 3 |
| 5 | Callum Sutton | 1:12:18.9 | Stock | 4 |
| 6 | Jasmine Smith | 1:19:43.6 | Stock women | 1 |
| 7 | Jake Satherly | 1:21:11.3 | Stock | 5 |
| 8 | Harrison Wacker | 1:25:43.9 | Stock | 6 |
| 9 | Steven Roberts | 1:26:18.1 | Stock | 7 |
| 10 | Anthony King | 1:26:54.8 | Stock | 8 |
| 11 | Ben Porter | 1:30:02.5 | Stock | 9 |
| 12 | Carolyn Lansdown | 1:47:42.7 | Stock women | 2 |
---