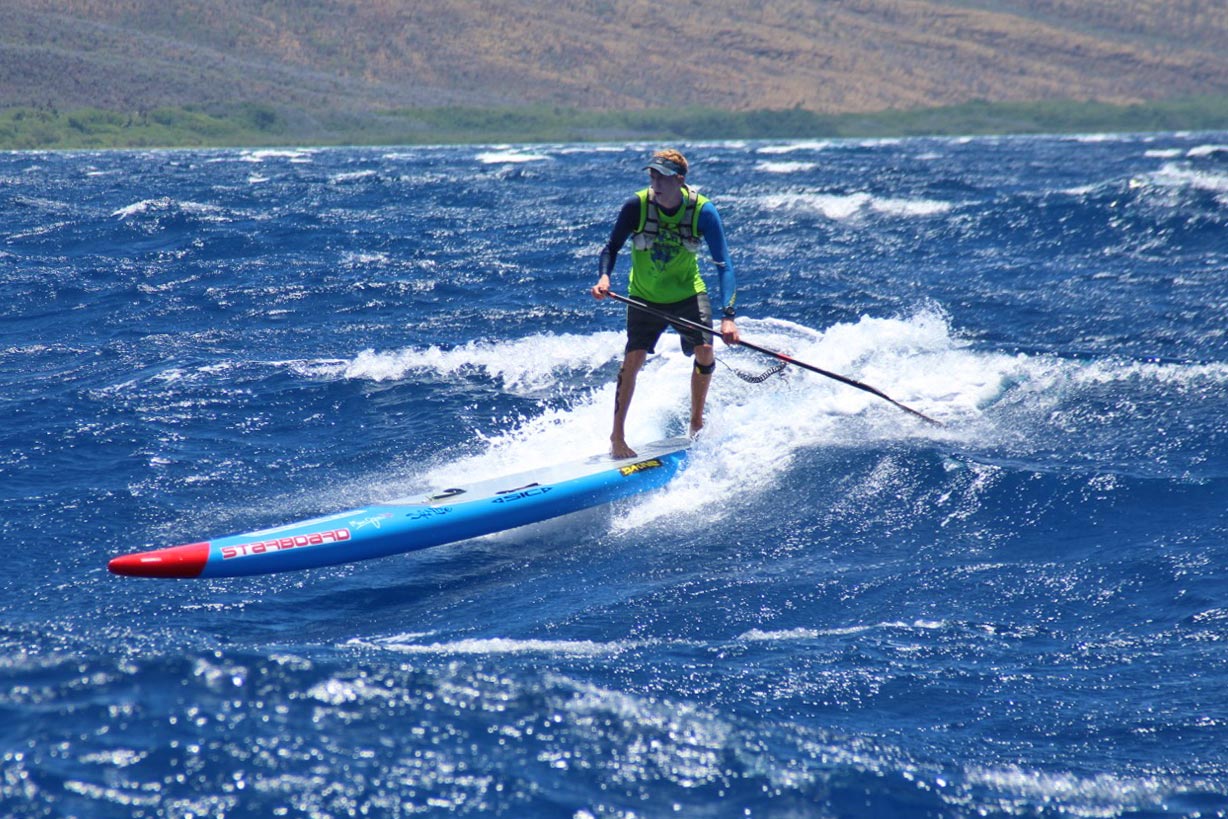 8 Straight: Connor Baxter Overpowers Travis Grant and James Casey to Win 'Maui 2 Molokai' Yet Again; Annabel Anderson Women's Champ
Connor Baxter has overpowered an Travis Grant and James 'Jimmy' Casey to narrowly claim an historic eighth-straight Maui2Molokai title this afternoon, setting a new record for longest winning streak in the sport and continuing his extraordinary run as the only guy to ever win this race.
The world number one got pushed further than ever before though, with an in-form Travis leading for about the first 23 miles of the 26 mile (42km) crossing forcing Connor to dig deep in order to keep his unbeaten run alive. Jimmy was also applying the pressure on Connor, and the world number seven was still within sight of the champ as they finally hit the finish line on the south side of Molokai after just over three hours of paddling.
Trav looked to be in great form today, establishing an early lead on his signature NSP unlimited and then mastering the open ocean conditions to maintain his advantage all the way through to the final few miles of the race, where a stunning upset seemed to be on the cards. But despite eventually settling for the second step on the podium, the Aussie turned-Oahu-local will no doubt carry a lot of confidence into the big Molokai-2-Oahu showdown later this month, a race he's much more focused on winning.
The result will also send Travis back to number three on the world rankings when we update the leaderboard on Sunday morning.
Below: Travis Grant enjoying the near-endless glides
[notdevice][/notdevice][device][/device]
But in the end it was Connor's day. Again. This was the 8th annual edition of Maui2Molokai, and this was the 8th time Connor has won the race. This colossal achievement, which stretches back to July 2010 when a skinny young teenager took down the early titans of Hawaiian ocean paddling to announce himself on the racing scene, establishes a new record winning streak for the sport of stand up paddling, with Connor finally eclipsing Andrea Moller's amazing seven-straight OluKai titles (2009-2015).
In the women's crossing, Annabel Anderson took out her maiden M2M title after outlasting the dominant force in Hawaiian ocean paddling over the past decade, Andrea, to cross the line almost five minutes clear in a time of 3 hours 53 minutes. New Zealand's Penelope Strickland was third ahead of defending champ Devin Blish.
Annabel reflected on her victory on Instagram this evening (see below), saying how she was "humbled" by the infamous Pailolo Channel.
The world number one is squarely focused on winning the uber-prestigious Molokai-2-Oahu title this year, which has been the one feather missing from her otherwise extensive cap. This result will surely give the Kiwi a lot of confidence as that showdown with three-time defending champ Sonni Hönscheid on July 30 approaches.
Sonni didn't race today but has enjoyed a big summer of top results in Europe, so it's very difficult but also very exciting to predict what will happen in the Ka'iwi Channel at the end of the month.
https://www.instagram.com/p/BWmQV5IBa40/
There was also a glimpse of the future of women's SUP racing in the battle for the women's M2M stock division title, where young guns Annie Reickert and Kali'a Alexiou had a great duel across the channel on their 14 footers. Annie eventually pulled away to win by almost 10 minutes, but both girls have shown once again why they're considered such bright prospects for the seasons ahead.
Today's tight result in the men's race sets up a mouth-watering clash at the grand daddy of ocean races, Molokai-2-Oahu, in two weeks' time. There, Connor will be going for his fourth title, while Trav, who's clearly in great shape despite a relatively light SUP racing season, will be chasing his third M2O crown. Jimmy will also be a strong favourite for the podium and a realistic shot at winning based on the form he's shown in Hawaii this year. All three contenders will be vying to unseat defending champ Kai Lenny, while other big names such as Titouan Puyo will also be in the mix
Conditions on the famous Maui 2 Molokai downwind run were firing once again this year as strong winds whipped up the signature tall bumps across the Pailolo Channel. The famous race course starts in the iconic Honolua Bay on the west side of Maui and heads straight across to the island of Molokai, tracking along that island's south side before finishing in Kaunakakai Harbor. With runners that seemingly never end, it's often described as the "best downwind run in the world."
But although today's conditions were excellent, they weren't all time, with Connor hitting the finish line about 13 minutes off his course record.
---
Here's a quick highlights reel thanks to Joann from 808photo.
[notdevice][fbvideo link="https://www.facebook.com/808photo.me/videos/1064060320394480/" width="645″ height="363″ onlyvideo="1″][/notdevice][device][fbvideo link="#" width="322″ height="181″ onlyvideo="1″][/device]

---
Outside the top three, the other big story was the performance of Bernd Roediger who won the stock division and was, quite remarkably, 4th overall against the unlimited boards. Bernd's result echoes his runner-up finish at the Gorge Paddle Challenge last year to confirm his status as one of the world's best downwind paddlers. To highlight just how strong his effort was, Bernd was 13 minutes ahead of long-time M2M stock division champ Josh Riccio.
Everyone I spoke to after the race said the same thing: Bernd's performance was unreal.
There was also a great duel between the Aussie veterans Marcus Tardrew, who designs the unique 'dugout' style unlimiteds for Sunova (which he, Jimmy and Annabel were all paddling this year), and ocean racing stalwart Dave Kissane, with the duo crossing the line just two minutes apart to finish 5th and 6th place respectively. The performance of the Aussies was a clear theme of this year's race, with team green & gold claiming four of the top six spots in the men's race.
Marcus could probably claim the title of "world's number one ocean racing dark horse" after his performances in Australia and Hawaii over the past couple of seasons. He'll also jump a mammoth 441 spots on the updated World Rankings leaderboard to #65.
Brazil's Vinnicius 'Vinni' Martins, a seemingly-permanent fixture in the Hawaiian ocean races, came home in 7th place ahead of Riccio and Kody Kerbox, while young Frenchman Alexandre Bicrel rounded out the top 10 and won the under 19 division; Alex was on a 14 footer NSP that he'd borrowed from none other than Travis Grant.
More photos and video on 808photo.me and the official M2M Facebook page; scroll down for the full results from one of the paddling world's grandest ocean races.
---
2017 Maui2Molokai Race: Men's Line Honours Results
| | | | | |
| --- | --- | --- | --- | --- |
| # | Athlet | Board | Time | Points |
| 1 | Connor Baxter | Unlimited | 3:09:00 | 40.00 |
| 2 | Travis Grant | Unlimited | 3:11:00 | 30.00 |
| 3 | James Casey | Unlimited | 3:13:18 | 24.00 |
| 4 | Bernd Roediger | 14' | 3:18:27 | 20.00 |
| 5 | Marcus Tardrew | Unlimited | 3:22:19 | 17.00 |
| 6 | Dave Kissane | Unlimited | 3:24:22 | 14.00 |
| 7 | Vinnicius Martins | Unlimited | 3:29:01 | 12.00 |
| 8 | Josh Riccio | 14' | 3:31:31 | 10.00 |
| 9 | Kody Kerbox | Unlimited | 3:41:12 | 9.00 |
| 10 | Alexandre Bicrel | 14' | 3:42:45 | 8.00 |
| 11 | Ty Judson | Unlimited | 3:44:50 | 7.20 |
| 12 | Phil Gregory | Unlimited | 3:50:47 | 6.40 |
| 13 | Ethan Koopmans | 14' | 3:57:14 | 6.00 |
| 14 | Kawika Kinimaka | Unlimited | 3:58:03 | 5.60 |
| 15 | Nico Schenk | Unlimited | 3:59:11 | 5.20 |
| 16 | Kosuke Matsuyama | Unlimited | 3:59:41 | 4.80 |
| 17 | Mark Huxley | Unlimited | 3:59:42 | 4.40 |
| 18 | Vincent Verhoeven | Unlimited | 4:09:03 | 4.00 |
| 19 | Bart de Zwart | Unlimited | 4:09:18 | 3.60 |
| 20 | Harrison Selby | Unlimited | 4:18:15 | 3.20 |
| 21 | Robert Stehlik | Unlimited | 4:23:15 | 3.00 |
| 22 | Rob Walton | Unlimited | 4:26:57 | 2.80 |
| 23 | Willis Casey | Unlimited | 4:29:57 | 2.60 |
| 24 | Tyler Jaggets | Unlimited | 4:31:11 | 2.40 |
| 25 | Garrit Barth | Unlimited | 4:33:00 | 2.20 |
| 26 | Rob Gittoes | Unlimited | 4:41:46 | 2.08 |
| 27 | Lincoln Sawyer | Unlimited | 4:42:48 | 1.96 |
| 28 | Alessio Voliani | Unlimited | 4:42:50 | 1.84 |
| 29 | Marcio Freire | Unlimited | 4:43:33 | 1.72 |
| 30 | Jorge Quintana | Unlimited | 4:45:33 | 1.60 |
| 31 | Peter Shepherd | Unlimited | 4:47:34 | 1.52 |
| 32 | Zoltan Bazso | Unlimited | 4:50:52 | 1.44 |
| 33 | Gregory Zasinets | Unlimited | 4:51:48 | 1.36 |
| 34 | Thomas Gallagher | Team | 4:52:05 | 0.00 |
| 35 | Bojan Bernard | Unlimited | 4:54:21 | 1.28 |
| 36 | Adam Quandt | Unlimited | 4:55:14 | 1.20 |
| 37 | Rodney Ellis | Unlimited | 4:55:22 | 1.12 |
| 38 | Paul Matthews | Unlimited | 4:56:56 | 1.04 |
| 39 | Paul Pokorski | Team | 5:02:07 | 0.00 |
| 40 | Jeffrey Oltman | Unlimited | 5:07:56 | 0.96 |
| 41 | Gareth Edwards | Unlimited | 5:12:53 | 0.88 |
| 42 | John Alexiou | Unlimited | 5:12:55 | 0.80 |
| 43 | John Kutner | Unlimited | 5:13:04 | 0.76 |
| 44 | Roray Kam | Unlimited | 5:17:37 | 0.72 |
| 45 | Terry Stevens | Unlimited | 5:18:22 | 0.68 |
| 46 | Sean Attebury | Unlimited | 5:23:30 | 0.64 |
| 47 | Blair Harrison | Unlimited | 5:28:07 | 0.60 |
---
2017 Maui2Molokai Race: Women's Line Honours Results
| | | | | |
| --- | --- | --- | --- | --- |
| # | Athlete | Board | Time | Points |
| 1 | Annabel Anderson | Unlimited | 3:53:27 | 30.00 |
| 2 | Andrea Moller | Unlimited | 3:58:16 | 22.50 |
| 3 | Penelope Strickland | Unlimited | 4:04:48 | 18.00 |
| 4 | Devin Blish | Unlimited | 4:07:41 | 15.00 |
| 5 | Annie Reickert | 14' | 4:25:03 | 12.75 |
| 6 | Kali'a Alexiou | 14' | 4:34:06 | 10.50 |
| 7 | Jennifer Lee | Unlimited | 4:44:13 | 9.00 |
| 8 | Victoria Burgess | 14' | 5:09:04 | 7.50 |
| 9 | Sharon Look | Unlimited | 5:17:42 | 6.75 |
| 10 | Kiyomi Sheppard | Unlimited | 5:26:11 | 6.00 |
| 11 | Joanne Hamilton-Vale | 14' | 5:36:01 | 5.40 |
---