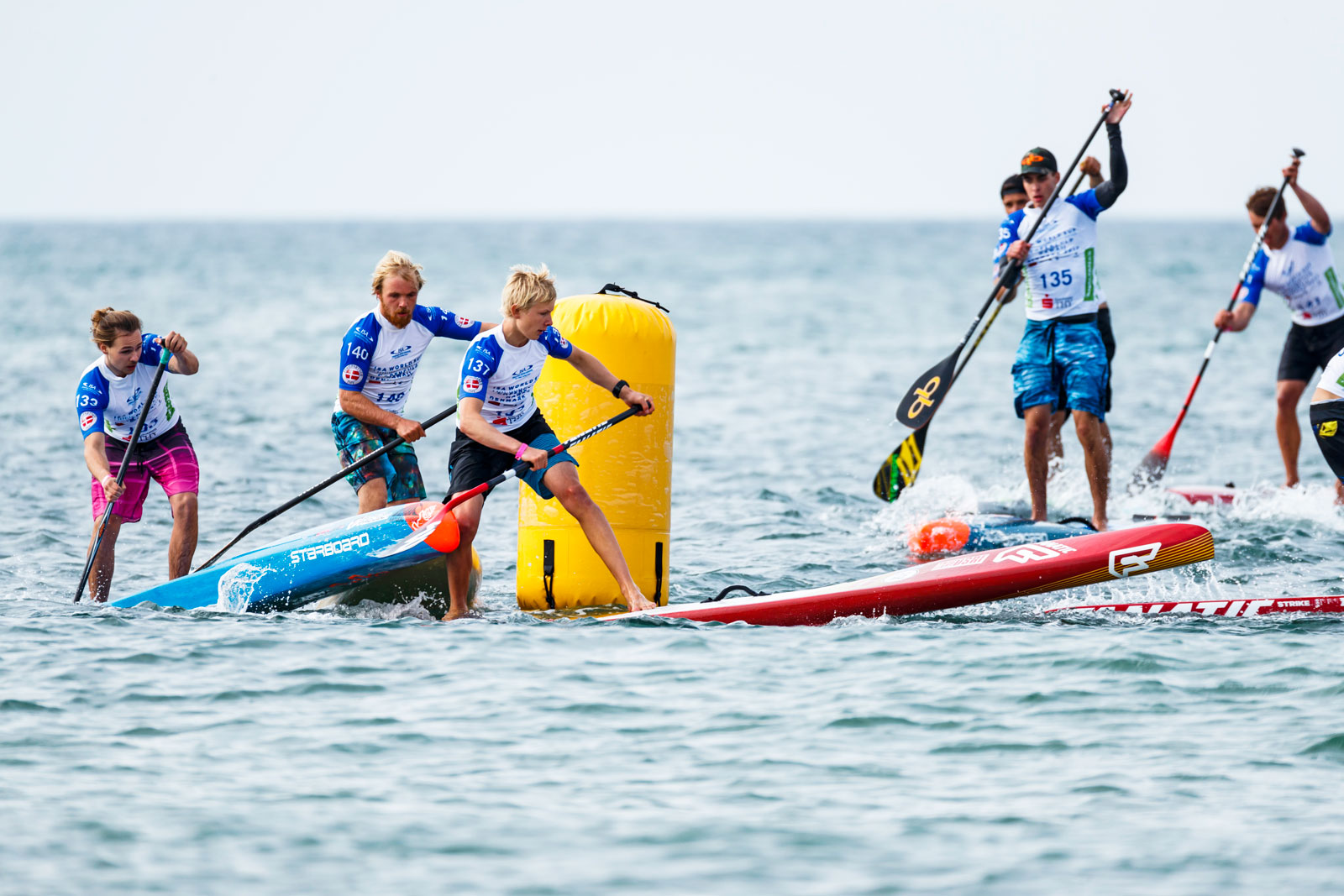 September 8, 2017
by Christopher Parker (@wheresbossman)
Boss Man's Bold Predictions (aka "Who's Going to Win Gold in Cold Hawaii on Saturday?")
It's time to hand out some more gold medals here at the ISA Worlds in Denmark, with the 'beach race' finals set for Saturday in what should be an absolutely cracking afternoon of racing as 30 men and 24 women prepare to whip their way around the technical course at Vorupør.
And you can watch the whole show LIVE right here from 12 noon local time.
But who's going to win gold in Cold Hawaii? It wouldn't be SUP Racer without a few bold (and not so bold) predictions, so we've tried to randomly guess accurately predict the exact finishing order of the top 15 men and top 12 women.
Yep, we're going to list the first 50% of the entire field in perfect order (what could possibly go wrong with that?).
Though first let's take a look at the conditions: It seems like we're in for overcast skies (possibly a spot of rain), light winds and very small (read: non-existent) waves, so unfortunately there should be very few variables in play during the race; or in other words: this is going to come down to paddling talent rather than any sort of luck (alas, we can expect very little carnage out there tomorrow).
Despite the overly-drawn-out nature of this course, I think the race will be a sprint to the first buoy, with the top half a dozen at the golden buoy setting themselves up for the four-medal podium; given the level of talent, it's going to be very hard to work your way back through the field without any help from wind or waves.
(Though actually, one part of the course where athletes can make some ground could be on the beach run transitions: the course here in Denmark utilises the old Battle of the Paddle-style chicane run 3x during the three and a half lap race, which I for one believe adds a lot of excitement to a regular paddling race.)
On the men's side, look for the sprint heroes such as Casper Steinfath, Lincoln Dews and Mo Freitas to burst off the line and lead out early. But honestly, you could throw a blanket over the top 8 or 9 guys — any of them could genuinely win it.
There are at least a dozen athletes that have a realistic shot at a medal, while another 8 or 9 will be confident of a top 10 finish. All of this means that just finishing top 20 will be a mighty achievement. Actually, just making the final, period, is a hell of an accomplishment: this is definitely the deepest and most competitive field we've ever seen at the ISA Worlds.
Side story: If Casper Steinfath can win another gold medal in home waters it would be an absolutely massive story in the media here in Denmark. The Viking's victory in the sprints last weekend was one of the biggest sports stories in the country, and if he can make it a double it would no doubt send the coverage of this event to the next level. It would also create a truly fairy tale finish for the guy who has quite literally been the face of this event. Casper is one of the undisputed kings of short course racing and will definitely start as a medal favourite tomorrow.
On the women's side: Can anyone stick with Annabel? I expect the world number one will have some close checking on the first lap, but as the race progresses I just don't see anyone holding her pace.
Annabel deserves clear favouritism, but don't count out the likes of Fiona and Olivia, while 15-year-old Jade Howson showed in the heats that she has the talent and skill to be a future world champion — probably too young for gold right now though (unless her beloved waves come into play).
Also keep an eye on the likes of Terrene, Yuka and Manca as genuine medal chances. Once again it's going to be a race to that first buoy: the first 30 seconds of this race will be critical (and intense).
Both the men's and women's races should be damn exciting to watch, so make sure you're tuning in to the live webcast (streaming here on supracer.com as well as isaworlds.com and Facebook Live) from 12 noon local time.
Until then, here are Boss Man's Bold Predictions for the beach race finals plus a closer look at the course itself. Scroll right down for the full athlete start list.
---
Saturday schedule: "Beach Race" finals
12:00pm Women's prone final
12:40pm Men's prone final
1:20pm Women's SUP final
2:00pm Men's SUP final
(Google: "What's the time in Denmark right now?")
---
---
Men's Beach Race Final: Boss Man's Bold Predictions
30-man final
Start time: 2:00pm Saturday
Watch the LIVE WEBCAST on supracer.com
1st: Lincoln Dews (Australia)
2nd: Casper Steinfath (Denmark)
3rd: Titouan Puyo (France)
4th: Mo Freitas (Hawaii)
5th: Connor Baxter (Hawaii)
6th: Arthur Arutkin (France)
7th: Bruno Hasulyo (Hungary)
8th: Giorgio Gomez (USA)
9th: James Casey (Australia)
10th: Ollie Houghton (New Zealand)
11th: Vinni Martins (Brazil)
12th: Leo Nika (Italy)
13th: Noa Hopper (USA)
14th: Itzel Delgado (Peru)
15th: Paolo Marconi (Italy)
Before I posted this article, I also asked Jim Terrell from Quickblade Paddles for his podium. It's almost identical to ours, which suggests the top four guys have a clear edge. It's going to be very hard to keep Connor out of the medals though, and like I said; there are at least a dozen guys that could realistically medal in this race tomorrow, so expect a firey and intense race.
Jim Terrell's Bold Predictions
1st: Casper Steinfath (Denmark)
2nd: Lincoln Dews (Australia)
3rd: Titouan Puyo (France)
4th: Mo Freitas (Hawaii)
---
Women's Beach Race Final: Boss Man's Bold Predictions
24-woman final
Start time: 1:20pm Saturday
Watch the LIVE WEBCAST on supracer.com
1st: Annabel Anderson (New Zealand)
2nd: Olivia Piana (France)
3rd: Fiona Wylde (USA)
4th: Jade Howson (USA)
5th: Terrene Black (Australia)
6th: Yuka Sato (Japan)
7th: Manca Notar (Slovenia)
8th: Annie Reickert (Hawaii)
9th: Penelope Strickland (New Zealand)
10th: Susak Molinero (Spain)
11th: Amandine Chazot (France)
12th: Laura Quetglas (Spain)
---
Men's Beach Race Final: Start List
Start time: 2:00pm Saturday
Watch the LIVE WEBCAST on supracer.com
| | | | |
| --- | --- | --- | --- |
| Athlete | Nation | Qualification | World Ranking |
| Bruno Hasulyo | Hungary | Heat 1 (1st) | 11 |
| Casper Steinfath | Denmark | Heat 1 (2nd) | 10 |
| Marcus Hansen | New Zealand | Heat 1 (3rd) | 25 |
| Arthur Arutkin | France | Heat 1 (4th) | 7 |
| Nikos Syrigos | Greece | Heat 1 (5th) | - |
| Connor Baxter | Hawaii | Heat 2 (1st) | 1 |
| Noa Hopper | USA | Heat 2 (2nd) | 47 |
| Paolo Marconi | Italy | Heat 2 (3rd) | 27 |
| Lincoln Dews | Australia | Heat 2 (4th) | 9 |
| Kenny Kaneko | Japan | Heat 2 (5th) | 28 |
| Daniel Hasulyo | Hungary | Heat 3 (1st) | 30 |
| Ollie Houghton | New Zealand | Heat 3 (2nd) | - |
| Titouan Puyo | France | Heat 3 (3rd) | 4 |
| Aaron Rowe | Jersey | Heat 3 (4th) | 85 |
| Christian Anersen | Denmark | Heat 3 (5th) | 88 |
| James Casey | Australia | Heat 4 (1st) | 6 |
| Leo Nika | Italy | Heat 4 (2nd) | 19 |
| Mo Freitas | Hawaii | Heat 4 (3rd) | 5 |
| Giorgio Gomez | USA | Heat 4 (4th) | 26 |
| Itzel Delgado | Peru | Heat 4 (5th) | 46 |
| Vinnicius Martins | Brazil | Repechage (1st) | 18 |
| Dylan Frick | South Africa | Repechage (2nd) | 52 |
| Ryohei Yoshida | Japan | Repechage (3rd) | 84 |
| Paul Lenfant | Poland | Repechage (4th) | - |
| Caio Vaz | Brazil | Repechage (5th) | - |
| Pau Ybarra | Spain | Repechage (6th) | 87 |
| Carlos Gomez | Ecuador | Repechage (7th) | - |
| Peter Bartl | Austria | Repechage (8th) | - |
| Jurgi Zulaika | Spain | Repechage (9th) | 74 |
| Damian Warner | England | Repechage (10th) | - |
---
Women's Beach Race Final: Start List
Start time: 1:20pm Saturday
Watch the LIVE WEBCAST on supracer.com
| | | | |
| --- | --- | --- | --- |
| Athlete | Nation | Qualification | World Ranking |
| Annabel Anderson | New Zealand | Heat 1 (1st) | 1 |
| Laura Quetglas | Spain | Heat 1 (2nd) | 17 |
| Nicoline Rasmussen | Denmark | Heat 1 (3rd) | - |
| Amandine Chazot | France | Heat 1 (4th) | 19 |
| Olivia Piana | France | Heat 2 (1st) | 6 |
| Penelope Strickland | New Zealand | Heat 2 (2nd) | 5 |
| Manca Notar | Slovenia | Heat 2 (3rd) | 31 |
| Susak Molinero | Spain | Heat 2 (4th) | 13 |
| Yuka Sato | Japan | Heat 3 (1st) | 20 |
| Jade Howson | USA | Heat 3 (2nd) | 15 |
| Annie Reickert | Hawaii | Heat 3 (3rd) | 9 |
| Maya Persson | Sweden | Heat 3 (4th) | - |
| Fiona Wylde | USA | Heat 4 (1st) | 2 |
| Terrene Black | Australia | Heat 4 (2nd) | 4 |
| Takayo Yokoyama | Japan | Heat 4 (3rd) | 25 |
| Lara Claydon | Hawaii | Heat 4 (4th) | 45 |
| Marie Buchanan | England | Repechage (1st) | 28 |
| Caterina Stenta | Italy | Repechage (2nd) | - |
| Genna Flinkman | Canada | Repechage (3rd) | 35 |
| Laura Bartl | Austria | Repechage (4th) | - |
| Aline Adisaka | Brazil | Repechage (5th) | - |
| Barbara Brazil | Brazil | Repechage (6th) | - |
| Paulina Herpel | Germany | Repechage (7th) | - |
| Juliana Gonzalez | Argentina | Repechage (8th) | - |
---