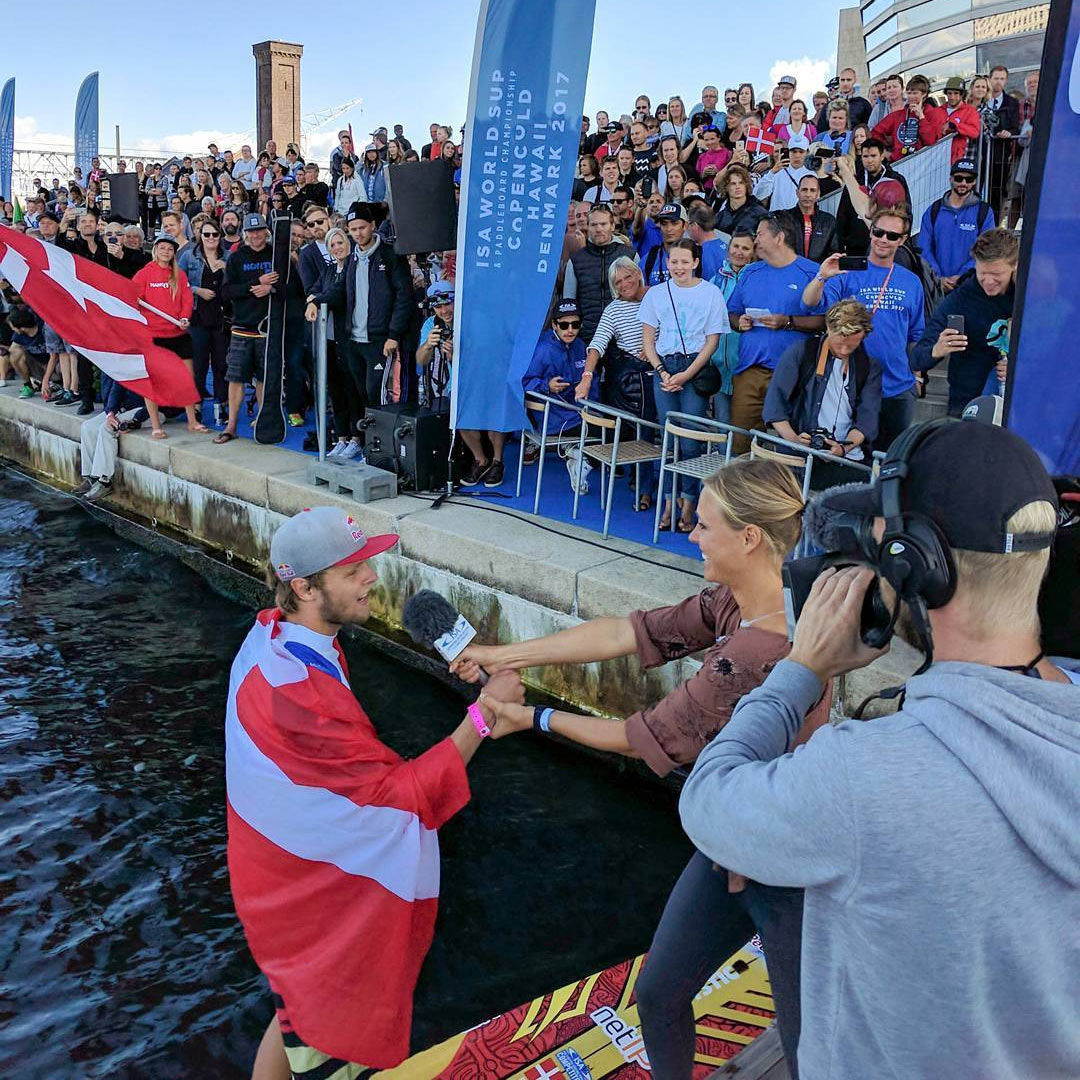 September 3, 2017
by Christopher Parker (@wheresbossman)
Host Nation Hero Casper Steinfath and Slovenian Pocket Rocket Manca Notar Win Sprint Gold on Day 3 in Denmark
https://www.instagram.com/p/BYmASY_FeM3/

Home nation hero Casper Steinfath has produced a fairytale finish to the Copenhagen leg of the 2017 ISA Worlds here in Denmark, storming home in the 200 metre sprint final to claim gold in front of a vocal home crowd.
Slovenia's Manca Notar was the women's champion after outlasting Frenchwoman Amandine Chazot and America's Jade Howson.
Check out the official site for more coverage including the full photo gallery.
---
Men's Sprint Results
| # | Athlete | Nation | ISA Points | World Rankings |
| --- | --- | --- | --- | --- |
| 1 | Casper Steinfath | Denmark | 1000 | 30.00 |
| 2 | Trevor Tunnington | New Zealand | 860 | 22.50 |
| 3 | Arthur Santacreu | Brazil | 730 | 18.00 |
| 4 | Lincoln Dews | Australia | 670 | 15.00 |
| 5 | Arthur Arutkin | France | 610 | 12.75 |
| 6 | Arvis Iljins | Latvia | 583 | 10.50 |
| 7 | Claudio Nika | Italy | 555 | 9.00 |
| 8 | Itzel Delgado | Peru | 528 | 7.50 |
| 9 | Connor Baxter | Hawaii | 500 | 6.75 |
| 9 | Peter Kosinski | Ireland | 500 | 6.75 |
| 9 | Daniel Hasulyo | Hungary | 500 | 6.75 |
| 9 | Andrey Kraitor | Russia | 500 | 6.75 |
| 13 | Slater Trout | USA | 450 | 4.50 |
| 13 | Paul Lenfant | Poland | 450 | 4.50 |
| 13 | Kenny Kaneko | Japan | 450 | 4.50 |
| 13 | Steven Bredos | Germany | 450 | 4.50 |
| 17 | Nikos Syrigos | Greece | 400 | 3.30 |
| 17 | Chris Couve | South Africa | 400 | 3.30 |
| 17 | Carlos Gomez | Ecuador | 400 | 3.30 |
| 17 | Andi Saurer | Switzerland | 400 | 3.30 |
| 21 | Amine Bouizgaren | Morocco | 380 | 2.25 |
| 21 | Francisco Hernandez | Venezuela | 380 | 2.25 |
| 21 | Antoine Meunier | Canada | 380 | 2.25 |
| 21 | Paul Mikkonen | Finland | 380 | 2.25 |
| 25 | Ricardo Haverschmidt | Netherlands | 360 | 1.65 |
| 25 | Christian Taucher | Austria | 360 | 1.65 |
| 25 | Jost Zakrajsek | Slovakia | 360 | 1.65 |
| 25 | Manuel Rodríguez | Mexico | 360 | 1.65 |
| 29 | Bryan Ng | Hong Kong | 340 | 1.29 |
| 29 | Erik Tehler | Sweden | 340 | 1.29 |
| 29 | Aaron Rowe | Channel Islands | 340 | 1.29 |
| 29 | Cristian Almonacid | Argentina | 340 | 1.29 |
| 33 | Tomáš Vaněček | Czech Republic | 320 | 1.02 |
| 33 | Mathias Hodges | Chile | 320 | 1.02 |
| 33 | Sekar Patchai | India | 320 | 1.02 |
---
Women's Sprint Results
| | | | | |
| --- | --- | --- | --- | --- |
| # | Athlete | Nation | ISA Points | World Rankings |
| 1 | Manca Notar | Slovenia | 1000 | 30.00 |
| 2 | Amaandine Chazot | France | 860 | 22.50 |
| 3 | Jade Howson | USA | 730 | 18.00 |
| 4 | Yuka Sato | Japan | 670 | 15.00 |
| 5 | Jacqueline le Court | South Africa | 610 | 12.75 |
| 6 | Aline Adisaka | Brazil | 583 | 10.50 |
| 7 | Annie Reickert | Hawaii | 555 | 9.00 |
| 8 | Genna Flinkman | Canada | 528 | 7.50 |
| 9 | Laura dal Pont | Italy | 500 | 6.75 |
| 9 | Annabel Anderson | New Zealand | 500 | 6.75 |
| 9 | Erika Benitez | Mexico | 500 | 6.75 |
| 9 | Belinda Stowell-Brett | Australia | 500 | 6.75 |
| 13 | Kerry Baker | Wales | 450 | 4.50 |
| 13 | Lidvina Champendal | Switzerland | 450 | 4.50 |
| 13 | Petronella van Malsen | Netherlands | 450 | 4.50 |
| 13 | Laura Bartl | Austria | 450 | 4.50 |
| 17 | Cathrine Korsgaard Yde | Denmark | 400 | 3.30 |
| 17 | Julija Mihailova | Latvia | 400 | 3.30 |
| 17 | Margareta Engström | Sweden | 400 | 3.30 |
| 17 | Natalia Zabaleta | Argentina | 400 | 3.30 |
| 21 | Sarah Gannon | Ireland | 380 | 2.25 |
| 21 | Elle Laakso | Finland | 380 | 2.25 |
| 21 | Verity Thomas | Channel Islands | 380 | 2.25 |
| 21 | Edimar Luque | Venezuela | 380 | 2.25 |
| 25 | Hannah Leni Krah | Germany | 360 | 1.65 |