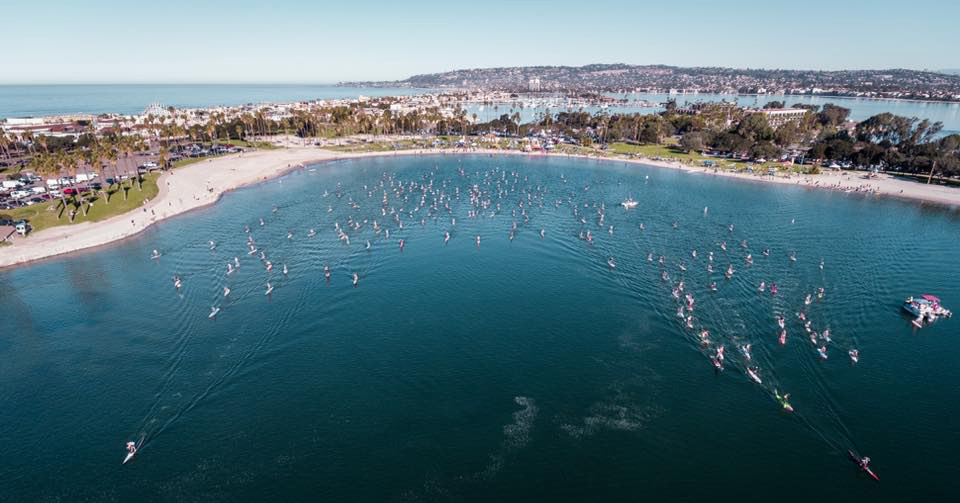 January 28, 2017
by Christopher Parker (@wheresbossman)
Full Results: Danny Ching, Jade Howson Win the Hanohano Race as 350+ Paddlers Take Over San Diego's Mission Bay
In brief: Danny Ching and Jade Howson have taken out the 2017 Hanohano Huki Ocean Challenge in San Diego's Mission Bay as almost 400 paddlers enjoyed a perfect sunny day in San Diego's Mission Bay.
While Chuck Glynn edged out Thomas Maximus in the unlimited fight for line honours, Mr. 404 won the battle of the 14 footers after leading home Chase Kosterlitz, the Brown Blurr Dave Boehne, and his young team mate Noa Hopper. Danny also won the 9 mile outrigger race by a comfortable margin.
In a sign of things to come, SoCal young gun Jade took out the women's race (after claiming her age division in the OC-1 9 miler) ahead of sparring partner and fellow champion of the future Kali'a Alexiou. Another prospect to watch, Tyler Bashor, took out the men's 12'6 division and finished top 10 amongst the 14 footers.
World number two Candice Appleby was up near the front of the field on a tandem board, with the 21st annual edition of the Hanohano showcasing an impressive seven different SUP board types (14, 12'6, unlimited, all rounder, tandem, quad, adaptive), which is quite possibly a world record and highlights the excellent grassroots/community atmosphere of this long-running event.
There were 377 entries in the 5 mile short course race across all disciplines (SUP, outrigger, prone, surf ski and kayak) of which 228 were on stand up paddle boards.
Full results below. Keep an eye on the official Facebook and OnIt Pro for more pics on Sunday. Oh and here's a really cool look at the race from above…
---
[notdevice][fbvideo link="https://www.facebook.com/Rowlbertos/videos/1208967829198365/" width="645″ height="363″ onlyvideo="1″][/notdevice][device][fbvideo link="https://www.facebook.com/Rowlbertos/videos/1208967829198365/" width="322″ height="181″ onlyvideo="1″][/device]
---
2017 Hanohano Huki Ocean Challenge Results
Top 5 Line Honours
1st: Chuck Glynn (0:48:21) *unlimited
2nd: Thomas Maximus (0:49:00) *unlimited
3rd: Candice Appleby/Jack Wygal (0:50:30) *tandem
4th: Danny Ching (0:50:33) *14′
5th: Chase Kosterlitz (0:50:36) *14′
Top 5 Men's 14′
1st: Danny Ching (0:50:33)
2nd: Chase Kosterlitz (0:50:36)
3rd: Dave Boehne (0:50:42)
4th: Noa Hopper (0:50:57)
5th: Greg Closier (0:51:15)
Top 5 Women's 12'6
1st: Jade Howson (0:58:55)
2nd: Kali'a Alexiou (1:00:21)
3rd: Kristy Morris (1:01:39)
4th: Genna Flinkman (1:02:30)
5th: Carter Graves (1:03:00)
Course: 5 miles
Conditions: Flat
Click "M/F" to switch between men's and women's results
Click "Board" or "Division" to show results from different classes and ages
Click "Time" to reset the results
| # | M/F | # | Name | Time | Board | # | Division | # |
| --- | --- | --- | --- | --- | --- | --- | --- | --- |
| 1 | M | 1 | Chuck Glynn | 0:48:21 | Unlimited | 1 | 19-39 | 1 |
| 2 | M | 2 | Thomas Maximus | 0:49:00 | Unlimited | 2 | 40+ | 1 |
| 3 | mix | 1 | Candice Appleby, Jack Wygal | 0:50:30 | Tandem | 1 | 19-39 | 1 |
| 4 | M | 3 | Danny Ching | 0:50:33 | 14' | 1 | 19-39 | 1 |
| 5 | M | 4 | Chase Kosterlitz | 0:50:36 | 14' | 2 | 19-39 | 2 |
| 6 | M | 5 | Dave Boehne | 0:50:42 | 14' | 3 | 40+ | 1 |
| 7 | M | 6 | Noa Hopper | 0:50:57 | 14' | 4 | U19 | 1 |
| 8 | M | 7 | Gregory Closier | 0:51:15 | 14' | 5 | 40+ | 2 |
| 9 | M | 8 | Scott Shoemaker | 0:51:24 | Unlimited | 3 | 50+ | 1 |
| 10 | M | 9 | Ryland Hart | 0:54:00 | 14' | 6 | U19 | 2 |
| 11 | M | 10 | Dan Shoemaker | 0:54:20 | Unlimited | 4 | 40+ | 2 |
| 12 | M | 11 | Jordan Mckee | 0:54:25 | Unlimited | 5 | 19-39 | 2 |
| 13 | M | 12 | Rodney Ellis | 0:54:49 | 14' | 7 | 40+ | 3 |
| 14 | M | 13 | Travis Cunningham | 0:55:10 | Unlimited | 6 | 19-39 | 3 |
| 15 | M | 14 | Tyler Bashor | 0:55:40 | 12'6 | 1 | U16 | 1 |
| 16 | M | 15 | Dale Marnati | 0:55:46 | 14' | 8 | 60+ | 1 |
| 17 | M | 16 | Zibi Wadzynski | 0:55:50 | 12'6 | 2 | 40+ | 1 |
| 18 | M | 17 | Ikaika Pidot | 0:55:50 | 12'6 | 3 | 19-39 | 1 |
| 19 | M | 18 | Eric Starnes | 0:55:52 | 14' | 9 | 50+ | 1 |
| 20 | M | 19 | Sean Pangelinan | 0:56:41 | 14' | 10 | 19-39 | 3 |
| 21 | M | 20 | Elijah Schoenig | 0:56:47 | 12'6 | 4 | U16 | 2 |
| 22 | M | 21 | Keaton Rose | 0:56:49 | 12'6 | 5 | U14 | 1 |
| 23 | M | 22 | Haakon Hoyer-Nielsen | 0:56:54 | 12'6 | 6 | U19 | 1 |
| 24 | M | 23 | Alex Mauer | 0:56:58 | 14' | 11 | 19-39 | 4 |
| 25 | M | 24 | David Meyler | 0:57:02 | 14' | 12 | 40+ | 4 |
| 26 | M | 25 | E.J. Johnson | 0:57:17 | 14' | 13 | 50+ | 2 |
| 27 | M | 26 | Brent Pascoe | 0:57:26 | 14' | 14 | 19-39 | 5 |
| 28 | M | 27 | Steve Chrapchynski | 0:57:31 | 14' | 15 | 40+ | 5 |
| 29 | M | 28 | Michael Kelley | 0:57:32 | 14' | 16 | 50+ | 3 |
| 30 | M | 29 | Paul Pianowski | 0:57:58 | 14' | 17 | 19-39 | 6 |
| 31 | M | 30 | Keagan Lamar | 0:58:00 | 12'6 | 7 | U14 | 2 |
| 32 | M | 31 | Justin Van Dyck | 0:58:10 | 12'6 | 8 | 40+ | 2 |
| 33 | M | 32 | Karl Treiberg | 0:58:20 | 14' | 18 | 50+ | 4 |
| 34 | M | 33 | Jeremiah Murphy | 0:58:22 | 14' | 19 | 40+ | 6 |
| 35 | M | 34 | John Acosta | 0:58:24 | 14' | 20 | 40+ | 7 |
| 36 | M | 35 | Vincent San Nicolas | 0:58:25 | 14' | 21 | 19-39 | 7 |
| 37 | M | 36 | John Troppmann | 0:58:40 | 14' | 22 | 60+ | 2 |
| 38 | F | 1 | Jade Howson | 0:58:55 | F12'6 | 1 | U14 | 1 |
| 39 | M | 37 | Alan Chalom | 0:59:19 | 14' | 23 | 50+ | 5 |
| 40 | M | 38 | Klarq Treiberg | 0:59:21 | 12'6 | 9 | 19-39 | 2 |
| 41 | M | 39 | Derek Turner | 0:59:26 | 14' | 24 | 50+ | 6 |
| 42 | M | 40 | Robert Howson | 0:59:37 | 12'6 | 10 | 50+ | 1 |
| 43 | M | 41 | Chris Hammond | 0:59:38 | 14' | 25 | 40+ | 8 |
| 44 | M | 42 | Chris Murphy | 0:59:43 | 14' | 26 | 19-39 | 8 |
| 45 | F | 2 | Kali'a Alexiou | 1:00:21 | F12'6 | 2 | U16 | 1 |
| 46 | M | 43 | Thomas Nilsen | 1:00:24 | 12'6 | 11 | U14 | 3 |
| 47 | M | 44 | Kurt Benson | 1:00:34 | 14' | 27 | 50+ | 7 |
| 48 | M | 45 | Jon Anderson | 1:00:43 | 14' | 28 | 50+ | 8 |
| 49 | M | 46 | Andew Mencinsky | 1:00:44 | 14' | 29 | 50+ | 9 |
| 50 | M | 47 | Sean Sullivan | 1:00:58 | 14' | 30 | 50+ | 10 |
| 51 | M | 48 | Carlos Perez | 1:01:03 | 14' | 31 | 19-39 | 9 |
| 52 | M | 49 | Michael Richards | 1:01:05 | 12'6 | 12 | 40+ | 3 |
| 53 | M | 50 | Greg Welch | 1:01:09 | 12'6 | 13 | 50+ | 2 |
| 54 | M | 51 | John Bland | 1:01:11 | 14' | 32 | 60+ | 3 |
| 55 | M | 52 | Tony Fajardo | 1:01:15 | 12'6 | 14 | 40+ | 4 |
| 56 | M | 53 | Ryan Ekedal | 1:01:21 | 14' | 33 | 40+ | 9 |
| 57 | M | 54 | Jim Baumann | 1:01:22 | 14' | 34 | 60+ | 4 |
| 58 | M | 55 | Zeke Rose | 1:01:24 | 12'6 | 15 | U14 | 4 |
| 59 | M | 56 | Bill Randoll | 1:01:29 | 12'6 | 16 | 60+ | 1 |
| 60 | M | 57 | Craig Callender | 1:01:34 | 14' | 35 | 40+ | 10 |
| 61 | F | 3 | Kristy Morris | 1:01:39 | F12'6 | 3 | 40+ | 1 |
| 62 | M | 58 | Rob Griffin | 1:01:48 | 14' | 36 | 40+ | 11 |
| 63 | M | 59 | Johnathan La Pointe | 1:02:17 | 12'6 | 17 | U16 | 3 |
| 64 | M | 60 | Brett Van Diest | 1:02:19 | 14' | 37 | 19-39 | 10 |
| 65 | M | 61 | Jason Meffe | 1:02:22 | 14' | 38 | 40+ | 12 |
| 66 | M | 62 | Matt Anton | 1:02:24 | 12'6 | 18 | 19-39 | 3 |
| 67 | F | 4 | Genna Flinkman | 1:02:30 | F12'6 | 4 | 19-39 | 1 |
| 68 | M | 63 | Matt Hartnett | 1:02:54 | 12'6 | 19 | 19-39 | 4 |
| 69 | F | 5 | Carter Graves | 1:03:00 | F12'6 | 5 | 19-39 | 2 |
| 70 | M | 64 | Danny Marron | 1:03:06 | 12'6 | 20 | 19-39 | 5 |
| 71 | M | 65 | John Gossett | 1:03:09 | 14' | 39 | 50+ | 11 |
| 72 | M | 66 | Mick Vollmer | 1:03:18 | 12'6 | 21 | 40+ | 5 |
| 73 | F | 6 | Sarah Messina | 1:03:24 | F12'6 | 6 | 19-39 | 3 |
| 74 | M | 67 | Matt Macarewich | 1:03:41 | Unlimited | 7 | 50+ | 2 |
| 75 | M | 68 | Burke Hammond | 1:03:44 | 12'6 | 22 | U14 | 5 |
| 76 | M | 69 | Dwayne Bora | 1:03:46 | 12'6 | 23 | 50+ | 3 |
| 77 | M | 70 | Mark Pighini | 1:03:53 | 14' | 40 | 50+ | 12 |
| 78 | M | 71 | Eric Thompson | 1:04:00 | 14' | 41 | 60+ | 5 |
| 79 | F | 7 | Jennie Sandvig | 1:04:02 | F12'6 | 7 | 19-39 | 4 |
| 80 | F | 8 | Suzy Strazzulla | 1:04:18 | F14' | 1 | 40+ | 1 |
| 81 | M | 72 | Micheal Stevens | 1:04:26 | 12'6 | 24 | 50+ | 4 |
| 82 | M | 73 | Garth Davis | 1:04:47 | 12'6 | 25 | 50+ | 5 |
| 83 | M | 74 | Michael Torsten Rasborn | 1:04:51 | 12'6 | 26 | 40+ | 6 |
| 84 | M | 75 | Rich D'souza | 1:04:56 | 14' | 42 | 50+ | 13 |
| 85 | M | 76 | Mark Winslow | 1:05:00 | 12'6 | 27 | 19-39 | 6 |
| 86 | M | 77 | Juerg Geser | 1:05:02 | 14' | 43 | 40+ | 13 |
| 87 | M | 78 | Sean Arnold | 1:05:23 | 14' | 44 | 50+ | 14 |
| 88 | M | 79 | Fernando Farres | 1:05:46 | 14' | 45 | 19-39 | 11 |
| 89 | F | 9 | Jennifer Polcer | 1:05:48 | F12'6 | 8 | 19-39 | 5 |
| 90 | M | 80 | Doug Emery | 1:05:49 | 14' | 46 | 50+ | 15 |
| 91 | F | 10 | Alejandra Brito | 1:06:01 | F12'6 | 9 | 19-39 | 6 |
| 92 | M | 81 | David Mitchimoto | 1:06:14 | 14' | 47 | 50+ | 16 |
| 93 | M | 82 | Lance Shaw | 1:06:18 | 14' | 48 | 50+ | 17 |
| 94 | M | 83 | David Daum | 1:06:27 | 14' | 49 | 60+ | 6 |
| 95 | M | 84 | Brett Simpson | 1:06:29 | 14' | 50 | 19-39 | 12 |
| 96 | F | 11 | Gretchen Benedetto | 1:06:32 | F12'6 | 10 | 60+ | 1 |
| 97 | M | 85 | Milo Hama | 1:06:34 | 14' | 51 | 60+ | 7 |
| 98 | M | 86 | Ryan Macnail | 1:06:35 | 14' | 52 | 19-39 | 13 |
| 99 | M | 87 | Ron Adelhelm | 1:06:35 | 14' | 53 | 50+ | 18 |
| 100 | M | 88 | Michael Melville | 1:06:39 | Unlimited | 8 | 60+ | 1 |
| 101 | M | 89 | Austin Cox | 1:06:42 | 12'6 | 28 | 19-39 | 7 |
| 102 | F | 12 | Maggie Adams | 1:06:46 | F12'6 | 11 | 50+ | 1 |
| 103 | F | 13 | Steffi Griffin | 1:06:51 | F12'6 | 12 | 40+ | 2 |
| 104 | M | 90 | Garrett Gossett | 1:06:54 | 12'6 | 29 | 19-39 | 8 |
| 105 | M | 91 | Michael Lester | 1:06:58 | 14' | 54 | 60+ | 8 |
| 106 | M | 92 | John Stallone | 1:07:27 | 14' | 55 | 50+ | 19 |
| 107 | M | 93 | Jim Brumm | 1:07:34 | 12'6 | 30 | 50+ | 6 |
| 108 | F | 14 | Mel Wygal | 1:07:36 | F12'6 | 13 | 40+ | 3 |
| 109 | M | 94 | Thomas Stephenson | 1:07:43 | 14' | 56 | 60+ | 9 |
| 110 | M | 95 | Rob Breault | 1:07:47 | 12'6 | 31 | 50+ | 7 |
| 111 | M | 96 | John Gates | 1:08:11 | 14' | 57 | 40+ | 14 |
| 112 | M | 97 | Jared Bonnot | 1:08:20 | 12'6 | 32 | 40+ | 7 |
| 113 | M | 98 | Harry Petersen | 1:08:44 | 14' | 58 | 60+ | 10 |
| 114 | mix | 2 | Todd Drake, Lucas Drake | 1:08:50 | Tandem | 2 | 40+ | 1 |
| 115 | mix | 1 | Rick Ranjo, Chelsea Wilder, Sean Cain, David Mallari | 1:08:54 | Quad | 1 | 19-39 | 1 |
| 116 | M | 99 | Scott Dahlquist | 1:09:24 | 12'6 | 33 | 50+ | 8 |
| 117 | M | 100 | Jeff Gossett | 1:09:30 | 14' | 59 | 50+ | 20 |
| 118 | M | 101 | Thomas Good | 1:09:38 | 14' | 60 | 50+ | 21 |
| 119 | F | 15 | Heidi Stone | 1:09:40 | F12'6 | 14 | 50+ | 2 |
| 120 | M | 102 | Wayne Limm | 1:09:57 | Unlimited | 9 | 60+ | 2 |
| 121 | M | 103 | Jose Gonzalez | 1:10:00 | 14' | 61 | 40+ | 15 |
| 122 | M | 104 | Ernie Villanueva | 1:10:08 | 14' | 62 | 50+ | 22 |
| 123 | F | 16 | Kathy Lynch | 1:10:10 | F12'6 | 15 | 50+ | 3 |
| 124 | M | 105 | Roy Thorne | 1:10:15 | 12'6 | 34 | 40+ | 8 |
| 125 | M | 106 | Cheer Critchlow | 1:10:27 | 14' | 63 | 60+ | 11 |
| 126 | M | 107 | Mark Geraghty | 1:10:35 | 14' | 64 | 60+ | 12 |
| 127 | M | 108 | Terry Kipper | 1:10:39 | 14' | 65 | 60+ | 13 |
| 128 | F | 17 | Jessica Davis | 1:10:45 | F12'6 | 16 | 19-39 | 7 |
| 129 | M | 109 | Craig Meader | 1:10:50 | 14' | 66 | 50+ | 23 |
| 130 | M | 110 | Patrick Higginson | 1:10:58 | 14' | 67 | 50+ | 24 |
| 131 | F | 18 | Mary Spicer | 1:10:59 | F14' | 2 | 50+ | 1 |
| 132 | M | 111 | Michael Skelly | 1:11:04 | 12'6 | 35 | 50+ | 9 |
| 133 | M | 112 | Scott Monge | 1:11:06 | 14' | 68 | 40+ | 16 |
| 134 | F | 19 | Shonna Litton Brown | 1:11:08 | F14' | 3 | 19-39 | 1 |
| 135 | M | 113 | Don Goss | 1:11:27 | 14' | 69 | 60+ | 14 |
| 136 | M | 114 | Richard Kenworthy | 1:11:30 | 12'6 | 36 | 60+ | 2 |
| 137 | M | 115 | Pete Pascual | 1:12:00 | 14' | 70 | 50+ | 25 |
| 138 | F | 20 | Teri Carlin | 1:12:07 | F12'6 | 17 | 40+ | 4 |
| 139 | F | 21 | Jeanne Trimm | 1:12:10 | F12'6 | 18 | 50+ | 4 |
| 140 | M | 116 | Chris Smith | 1:12:19 | Surfboard | 1 | 50+ | 1 |
| 141 | M | 117 | Manny Dominguez | 1:12:23 | 12'6 | 37 | 50+ | 10 |
| 142 | M | 118 | James Baluyut | 1:12:31 | 12'6 | 38 | 19-39 | 9 |
| 143 | M | 119 | David Hansch | 1:12:34 | Surfboard | 2 | 60+ | 1 |
| 144 | M | 120 | Joe Kudla | 1:12:44 | 12'6 | 39 | 19-39 | 10 |
| 145 | M | 121 | Danny Marucut | 1:12:50 | 14' | 71 | 40+ | 17 |
| 146 | M | 122 | Aaron Merris | 1:13:04 | 12'6 | 40 | 19-39 | 11 |
| 147 | M | 123 | Sasha Unruh | 1:13:19 | Surfboard | 3 | 40+ | 1 |
| 148 | F | 22 | Lisa Hazelton | 1:13:22 | F12'6 | 19 | 60+ | 2 |
| 149 | F | 23 | Jen Van Diest | 1:13:25 | F12'6 | 20 | 19-39 | 8 |
| 150 | M | 124 | David Quinones | 1:13:27 | 12'6 | 41 | 19-39 | 12 |
| 151 | M | 125 | Jon Concepcion | 1:13:30 | 12'6 | 42 | 40+ | 9 |
| 152 | M | 126 | Jon Tronowsky | 1:13:58 | 14' | 72 | 60+ | 15 |
| 153 | F | 24 | Kelly Hildebrand | 1:14:08 | F12'6 | 21 | 19-39 | 9 |
| 154 | M | 127 | Carl Arreola | 1:14:12 | 12'6 | 43 | 40+ | 10 |
| 155 | M | 128 | Christopher Davidson | 1:15:06 | 14' | 73 | 19-39 | 14 |
| 156 | M | 129 | Mike May | 1:15:22 | 14' | 74 | 60+ | 16 |
| 157 | F | 25 | Lisa Carulli | 1:15:36 | F12'6 | 22 | 50+ | 5 |
| 158 | M | 130 | Will Kay | 1:15:45 | 12'6 | 44 | 40+ | 11 |
| 159 | F | 26 | Arlene Wilske | 1:16:10 | F Surf | 1 | 50+ | 1 |
| 160 | F | 27 | Devina Horstmann | 1:16:17 | F12'6 | 23 | 40+ | 5 |
| 161 | F | 28 | Margaret Neiman | 1:16:31 | F12'6 | 24 | 60+ | 3 |
| 162 | M | 131 | Paul Gallo | 1:16:36 | 14' | 75 | 50+ | 26 |
| 163 | M | 132 | Rosendo Deynata | 1:16:37 | 14' | 76 | 40+ | 18 |
| 164 | F | 29 | Susan Garwood | 1:16:39 | F12'6 | 25 | 60+ | 4 |
| 165 | F | 30 | Helen Matthews | 1:16:53 | F12'6 | 26 | 40+ | 6 |
| 166 | F | 31 | Lilly Nava | 1:17:01 | F12'6 | 27 | 40+ | 7 |
| 167 | M | 133 | Jeff Bennett | 1:17:15 | 14' | 77 | 60+ | 17 |
| 168 | M | 134 | Ty Aweau | 1:17:18 | 12'6 | 45 | 40+ | 12 |
| 169 | mix | 2 | Kim Bolivar, Kathy Coryea, Scott Coryea, Bob Long | 1:17:20 | Quad | 2 | 19-39 | 2 |
| 170 | M | 135 | Charles Webb | 1:17:25 | Adaptive | 1 | 50+ | 1 |
| 171 | M | 136 | Tj Munks | 1:17:42 | 12'6 | 46 | U14 | 6 |
| 172 | M | 137 | Shad Eischen | 1:17:56 | 12'6 | 47 | 19-39 | 13 |
| 173 | M | 138 | Michael Liu | 1:18:00 | 12'6 | 48 | 19-39 | 14 |
| 174 | F | 32 | Sarah Eishen | 1:18:13 | F12'6 | 28 | 40+ | 8 |
| 175 | M | 139 | Fred Lindsey | 1:18:14 | 14' | 78 | 50+ | 27 |
| 176 | F | 33 | Lily Schryer Rindge | 1:18:41 | F12'6 | 29 | U14 | 2 |
| 177 | F | 34 | Morgein Eash | 1:18:59 | F12'6 | 30 | U14 | 3 |
| 178 | M | 140 | Bryant Della | 1:19:03 | 14' | 79 | 50+ | 28 |
| 179 | F | 35 | Veronica Wold | 1:19:22 | F12'6 | 31 | 50+ | 6 |
| 180 | M | 141 | Cody Angeles | 1:19:42 | Surfboard | 4 | 19-39 | 1 |
| 181 | F | 36 | Stefanie Maio | 1:19:46 | F14' | 4 | 40+ | 2 |
| 182 | F | 37 | Jamie Eubanks | 1:19:57 | F12'6 | 32 | 19-39 | 10 |
| 183 | M | 142 | Cary Tatro | 1:19:59 | 14' | 80 | 40+ | 19 |
| 184 | M | 143 | Bill Arsenault | 1:20:20 | 14' | 81 | 50+ | 29 |
| 185 | F | 38 | Judith Walaszczyk | 1:20:27 | F14' | 5 | 60+ | 1 |
| 186 | M | 144 | Mark Guthaus | 1:20:29 | 14' | 82 | 60+ | 18 |
| 187 | M | 145 | Peter Simpson | 1:20:32 | 12'6 | 49 | 60+ | 3 |
| 188 | F | 39 | Lisa Gable | 1:20:39 | F12'6 | 33 | 50+ | 7 |
| 189 | F | 40 | Karen Hoyt | 1:21:02 | F14' | 6 | 50+ | 2 |
| 190 | F | 41 | Sandy Rohrbach | 1:21:16 | F12'6 | 34 | 40+ | 9 |
| 191 | F | 42 | Jill Roesner | 1:21:18 | F12'6 | 35 | 50+ | 8 |
| 192 | M | 146 | Corey Carlin | 1:21:26 | 12'6 | 50 | 40+ | 13 |
| 193 | M | 147 | Chet Carney Ii | 1:21:33 | 14' | 83 | 60+ | 19 |
| 194 | M | 148 | John Nordin | 1:21:34 | 14' | 84 | 40+ | 20 |
| 195 | F | 43 | Sosy Markanian-robinson | 1:21:37 | F12'6 | 36 | 19-39 | 11 |
| 196 | M | 149 | Arvin Quiros | 1:22:48 | Surfboard | 5 | 40+ | 2 |
| 197 | M | 150 | Joe Nogra | 1:22:52 | Surfboard | 6 | 40+ | 3 |
| 198 | F | 44 | Norma Ramirez | 1:23:55 | F12'6 | 37 | 40+ | 10 |
| 199 | M | 151 | James Yanoschik | 1:24:08 | 12'6 | 51 | 60+ | 4 |
| 200 | M | 152 | Ken Baldwin | 1:24:15 | 12'6 | 52 | 50+ | 11 |
| 201 | F | 45 | Jessica Manos | 1:24:48 | F12'6 | 38 | 19-39 | 12 |
| 202 | F | 46 | Alexis Lujan | 1:25:09 | F12'6 | 39 | 40+ | 11 |
| 203 | F | 47 | Ethel Arreola | 1:25:11 | F12'6 | 40 | 40+ | 12 |
| 204 | F | 48 | Suzette Robinson | 1:25:16 | F12'6 | 41 | 19-39 | 13 |
| 205 | F | 49 | Tracy Buresh | 1:26:01 | F12'6 | 42 | 19-39 | 14 |
| 206 | F | 50 | Genevieve Kalt | 1:26:16 | F12'6 | 43 | 40+ | 13 |
| 207 | F | 51 | Michele Odell | 1:27:21 | F12'6 | 44 | 40+ | 14 |
| 208 | F | 52 | Brenda Yanoschik | 1:27:28 | F12'6 | 45 | 50+ | 9 |
| 209 | F | 53 | Sylvia Almaguer-miller | 1:28:14 | F Surf | 2 | 50+ | 2 |
| 210 | M | 153 | Nate Gabehart | 1:28:16 | Surfboard | 7 | 40+ | 5 |
| 211 | F | 54 | Havy Lanier | 1:28:19 | F12'6 | 46 | 19-39 | 15 |
| 212 | F | 55 | Dawn Emery | 1:29:24 | F14' | 7 | 50+ | 3 |
| 213 | M | 154 | Mark Meierhoefer | 1:30:08 | Surfboard | 8 | 40+ | 6 |
| 214 | M | 155 | Orlan Calcetas | 1:31:28 | 12'6 | 53 | 40+ | 14 |
| 215 | M | 156 | Tom Venditti | 1:32:14 | Surfboard | 9 | 50+ | 2 |
| 216 | M | 157 | Keith Fries | 1:32:51 | Surfboard | 10 | 40+ | 4 |
| 217 | F | 56 | Krista Capo | 1:34:17 | F12'6 | 47 | 40+ | 15 |
| 218 | F | 57 | Jennifer Capo | 1:34:18 | F12'6 | 48 | 40+ | 16 |
| 219 | F | 58 | Neda Iranpour | 1:34:42 | F12'6 | 49 | 19-39 | 16 |
| 220 | M | 158 | Christophe Chevallier | 1:35:46 | Surfboard | 11 | 50+ | 3 |
| 221 | F | 59 | Diane Guerena | 1:36:05 | F12'6 | 50 | 50+ | 10 |
| 222 | M | 159 | David Martin | 1:37:02 | 12'6 | 54 | 50+ | 12 |
| 223 | F | 60 | Soryn Preston | 1:38:23 | F12'6 | 51 | U14 | 4 |
| 224 | M | 160 | Oliver Calcetas | 1:40:32 | 14' | 85 | 40+ | 21 |
| 225 | F | 61 | Keli Arnold | 1:43:05 | F12'6 | 52 | 19-39 | 17 |
| 226 | F | 62 | Dianna Arcangeli | 1:43:26 | F12'6 | 53 | 40+ | 17 |
| 227 | F | 63 | Debra Arnold | 1:44:06 | F12'6 | 54 | 60+ | 5 |
| 228 | F | 64 | Delaney Valentine | 1:44:37 | F14' | 8 | 19-39 | 2 |
(raw results on
PaddleGuru
)