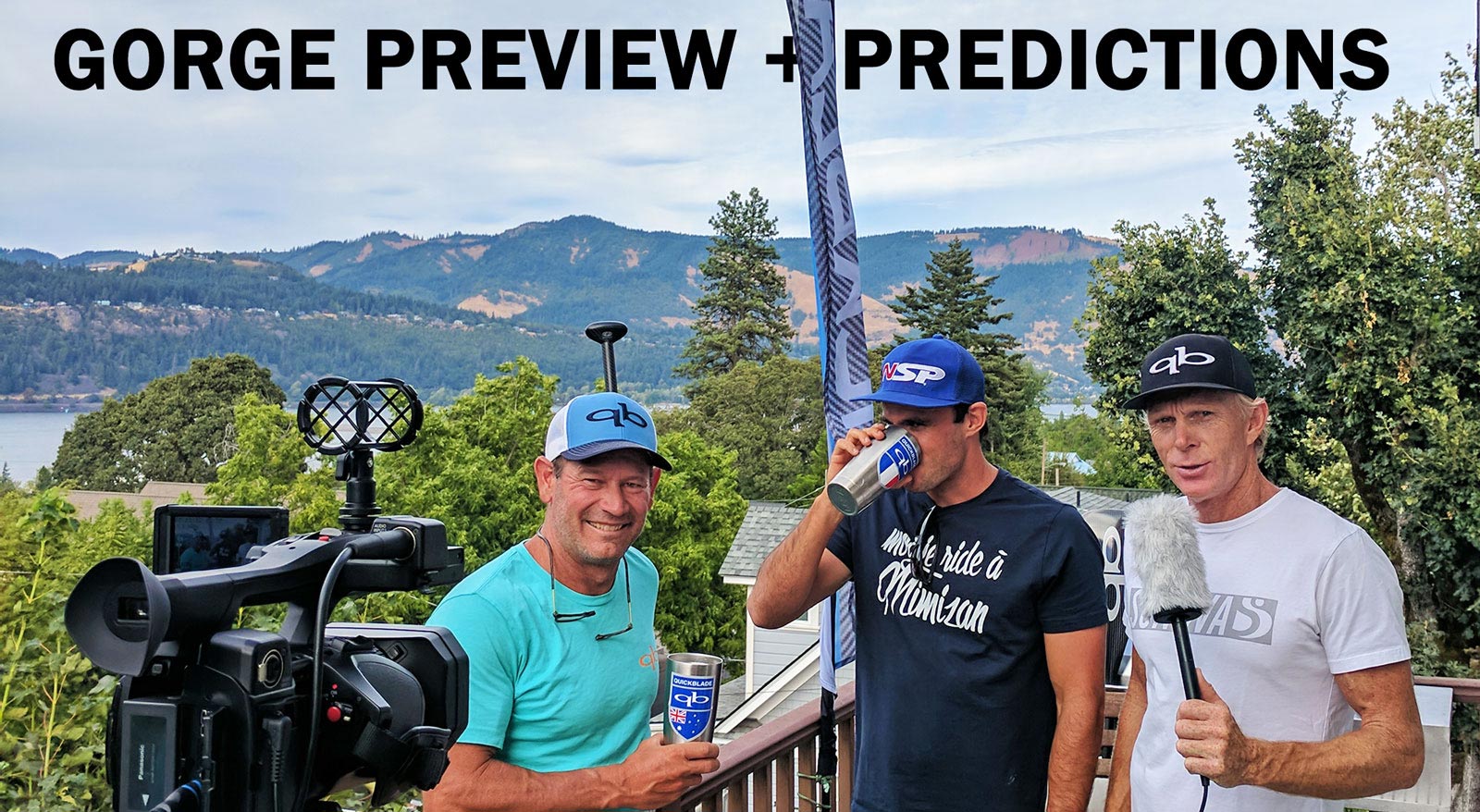 August 18, 2017
by Christopher Parker (@wheresbossman)
The Gorge: Preview & Predictions for the 7-Star Showdown in Hood River, Oregon
[notdevice][fbvideo link="https://www.facebook.com/supracerr/videos/1469036713180375/" width="645″ height="363″ onlyvideo="1″][/notdevice][device][fbvideo link="https://www.facebook.com/supracerr/videos/1469036713180375/" width="322″ height="181″ onlyvideo="1″][/device]
We're just one sleep away from the one of the biggest races of the year all time: the 2017 Naish Columbia Gorge Paddle Challenge.
If you tuned in to our preview show earlier today, you'll know just how stacked the field here in Hood River, Oregon is this weekend. But if you missed it, here's a quick primer ahead of the big dance.
And remember: We'll be streaming live on race day from 11:15am local time alongside the crew from Quickblade Paddles. Check out our weekend schedule (and timezone converter) and find out when to take your front row seat and tune in for the big show.
---
THIS IS A *REALLY* HARD RACE TO PREDICT…
Combine the record number of international athletes with the Gorge's famous downwind bumps and you've got the recipe for one thing: an unpredictable race.
Trying to pick the top 10 at this year's Naish Columbia Gorge Paddle Challenge is a bit of a lottery, and anyone that finishes top 20 in the men's race deserves a big medal.
So I'm not even going to pretend I know how the top five will look on Saturday afternoon, but one thing I'm sure of is that we're set for a cracking showdown.
Which all means you absolutely have to be tuning in to our Facebook Live stream at lunchtime Saturday. While our live stream won't be ESPN quality, it will give you a front row seat to one of the most epic showdowns of the season.
In the meantime, let's take a look at some 'bold predictions' to see who's in form and on fire ahead of the big event.
Though before we mention who's going to win, let's focus on a few of the emerging themes we've been seeing this week:
– There's about a dozen French paddlers here: France is out in force this season, and I wouldn't be surprised if they have 4 or 5 of the top 10 guys.
– …along with 8 or 9 Tahitians: The Tahitian Warriors – well known as the strongest paddling nation on the planet – have hit Hood River in big numbers. If these guys find their rhythm, they could beat anyone.
– In addition to about 20 Aussies who are proudly flying the green & gold flag: Australia always rolls deep, but there seems to be more Aussies here in Oregon this year than ever. Maybe it's the eclipse?
– The kids: There's a group of freakishly-talented from Tahiti, New Caledonia and France that have descended on the Gorge this year. Look out for some of these teenagers to take down a few big names tomorrow. I can see some 15- and 16-year olds (and one 13-year-old) that will take down some much more seasoned veterans.
– The dark horses: The thing I love about this event is how (relatively) easy it is for virtual unknowns to show up, blow up and establish an instant name for themselves. This year I expect the Tahitians and New Caledonians to fill that role quite nicely.
Ok so if you watched the preview show above, you would have heard me say just how stacked this field is. And I mean it. There are very few events where you can say "There are 20 legit contenders for the top five," but this year's Gorge race is one of them. There are a few clear favourites, but I thoroughly expect to see 6-8 guys separated by less than a minute as they battle for the final spot on the podium.
Saturday's Double Downiwnder is going to be a big one, but until then, here's a closer look at who's competing this weekend…
https://www.instagram.com/p/BX81r6sFR_d/
---
BIG NAMES COMPETING…
The established names…
Bernd Roediger (USA)
Connor Baxter (Hawaii)
Mo Freitas (Hawaii)
Travis Grant (Australia)
Titouan Puyo (New Caledonia)
Arthur Arutkin (France)
Matt Nottage (Australia)
Martin Letourneur (France)
James Casey (Australia)
Vinni Martins (Brazil)
Lincoln Dews (Australia)
Beau O'Brian (Australia)
Josh Riccio (USA)
Georges Cronsteadt (Tahiti)
Kelly Margetts (Australia)
Toby Cracknell (Australia)
Slater Trout (USA)
Kody Kerbox (Hawaii)
Giorgio Gomez (USA)
Noa Hopper (USA)
Paul Jackson (Australia)
Ryan Funk (USA)
Chase Kosterlitz (USA)
Dark horses:
Clement Colmas (New Caledonia)
Noic Garioud (New Caledonia)
Steeve Teihotaata (Tahiti)
Enzo Bennett (Tahiti)
Rete Ebb (Tahiti)
Tom Auber (France)
Itzel Delgado (Peru)
Tamarua Cowan (Tahiti)
Keoni Sulpice (Tahiti)
(Apologies to those I forgot)
Women's contenders
Annabel Anderson
Candice Appleby
Fiona Wylde
Penelope Strickland
Angie Jackson
Kali'a Alexiou
April Zilg
Seychelle Hattingh
Terrene Black
Jade Howson
Izzi Gomez
Shae Foudy
Annie Reickert
Jenn Lee
Erika Benitez
https://www.instagram.com/p/BX1_jfqB3-o/
---
BOSS MAN'S BOLD PREDICTIONS…
Ok enough rambling, it's time to put reputations on the line and pick the winners of Saturday's epic Double Downwinder. Here's how I see it falling into place, though keep in mind this is an insanely difficult race to predict. I would not be surprised if I get this 100% incorrect. Seriously: there are 20 guys that could finish top five.
MEN'S TOP 10
The Dark Horses: The Kids (Clement, Noic, Keoni, etc)
The Wildcards: The Tahitians (Steeve, Rete, Georges, Enzo, etc)
The Contenders: Team France (four or five Frenchmen will finish top 10)
1st: Bernd Roediger (Naish/USA)
2nd: Clement Colmas (Starboard/New Caledonia)
3rd: Connor Baxter (Starboard/Hawaii)
4th: Titouan Puyo (NSP/New Caledonia)
5th: Travis Grant (NSP/Australia)
6th: Matt Nottage (Starboard/Australia)
7th: Mo Freitas (Focus/Hawaii)
8th: Martin Letourneur (Hobie/France)
9th: Steeve Teihotaata (Mistral/Tahiti)
10th: Arthur Arutkin (Fanatic/France)
I think last year's runner up and local gun Bernd "Birdo" Roediger will have too much local knowledge, though the one to watch is 16-year-old Clement Colmas from New Caledonia who was runner-up at the 2016 King of the Cut downwinder in West Oz behind Titou. Clement is an absolute freak in the bumps, and the wunderkind has been setting some extraordinary times in the practice runs all week.
Others to watch, apart from the obvious big names, include Matt Nottage from Australia, Martin Letourneur from France and the rest of the French-speaking contingent from France/New Caledonia/Tahiti. I'm particularly excited to see what the Tahitian army can do.

WOMEN'S TOP 10
1st: Fiona Wylde
2nd: Hannah Hill
3rd: Angie Jackson
4th: Annabel Anderson
5th: Penelope Strickland
6th: Terrene Black
7th: Annie Reickert
8th: Kali'a Alexiou
9th: Jade Howson
10th: Candice Appleby
I don't want to jinx her, but I just can't see anyone getting anywhere near Fiona Wylde on Saturday. Too much experience and too much local knowledge: Fiona knows this run like the back of her hand.
The really interesting battle will probably happen in the minor placings, with the likes of Angie, Annabel, Terrene, Penelope and local young gun Hannah Hill all vying for a podium finish.
The Gorge always sees one of the strongest women's fields all season and this year is no exception, so expect an intense battle out on the Columbia River Gorge Saturday morning and afternoon…
---
…AND FINALLY: THE RACE DAY LIVE STREAM
Thanks to Quickblade Paddles, we'll be streaming the 2017 Naish Columbia Gorge Paddle Challenge LIVE on Facebook from start to finish.
Tune in from about 11:15am local time on Saturday to grab your front row seat.
Check out our weekend schedule (and timezone converter) to find out when to watch around the world.
And buckle up: this is going to be an epic showdown…