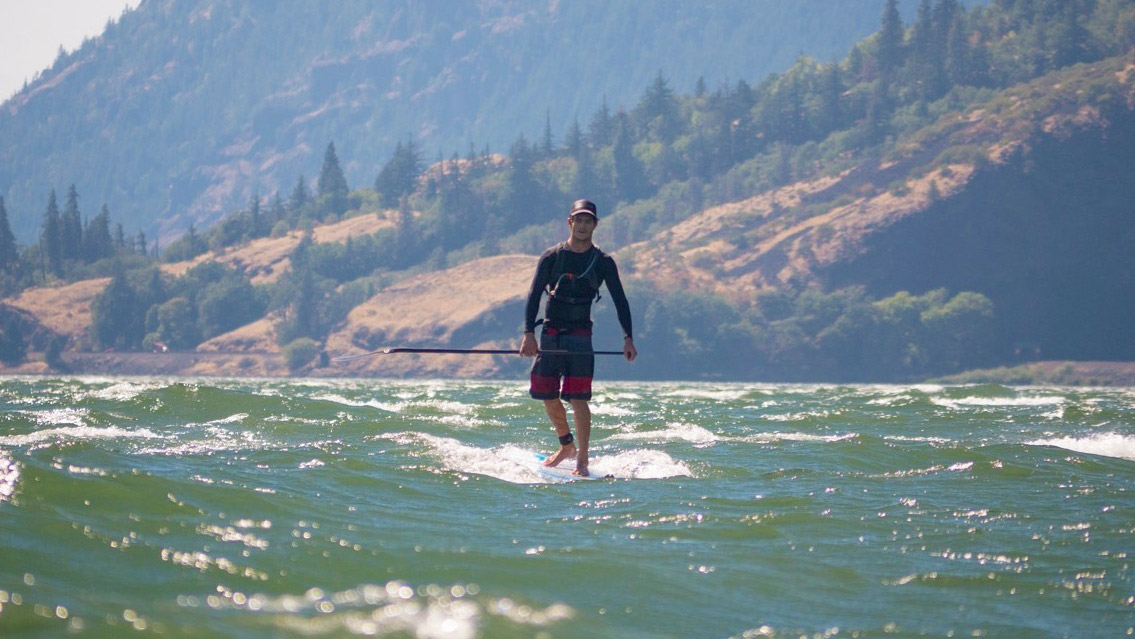 August 17, 2017
by Christopher Parker (@wheresbossman)
The Gorge: Get Set for One of the Biggest Races of the Year All Time
We're just hours away from one of the biggest and best events on the international racing calendar: the 2017 Naish Columbia Gorge Paddle Challenge in Hood River, Oregon.
With dozens of international athletes and hundreds of weekend warriors descending on this iconic downwind mecca, we're set for a massive weekend of racing in what will be an almighty celebration of our sport.
But don't worry if you can't make it to the Gorge, because we're giving you a front row seat with our signature Facebook Live streams on Saturday and Sunday.
Thanks to the crew from Quickblade Paddles, we'll be live streaming from The Gorge all weekend: the classic Double Downwinder is set for lunchtime Saturday, while on Sunday afternoon it'll be the 'Super Lap' Beach Race.
Also keep an eye out for our QB Preview Show at 5pm on Friday afternoon, where we'll sit down with Jim Terrell, Travis Grant and Kelly Margetts to take a closer look at this 7-star showdown (and throw out a few bold predictions while we're at it).
With the Gorge's trademark downwind conditions forecast to be firing, and with so many top ranked athletes on the start line, we're in for a cracking weekend of racing. So buckle up and get ready to follow the action as it happens.
https://www.instagram.com/p/BX7OyRllcNV/
---
WHEN TO WATCH
We'll be on air at about 11:15am Saturday morning for the Double Downwinder, and then we'll start rolling at 12:45pm Sunday for the Super Lap race.
The downwinder is the main event, and we'll try and bring you as much coverage of that as possible, but for logistical/internet connection issues (we're going to be on a boat in the middle of a very bumpy river), we're probably going to end up with a much smoother stream on Sunday's beach race (where we'll be shooting from land).
We're going to try out a couple of new things with this year's live stream setup, however I make the standard SUP Racer Facebook Live Disclaimer: DO expect a front row seat, but DO NOT expect ESPN quality…
We'll most likely have two separate broadcasts on Saturday, a two hour stream for the first Double Downwind run, and then another couple of hours for the second run after a 30-45 minute intermission. Sunday we should be able to run straight through on a ~3 hour stream.
As always, the live stream will be happening directly on our Facebook page, not here on the site.
---
FRIDAY: Quickblade Live Preview Show
5:00pm to 5:30pm
– We'll preview the big race with Quickblade's Jim Terrell and team riders Kelly Margetts and Travis Grant. We'll give you a preview of what's in store for the weekend, get some insights from the champion paddlers, and throw out a few predictions as well.
---
SATURDAY: Double Downwinder
Live Stream part 1/2
11:15am – 1:15pm
Double Downwinder first run
Live Stream part 2/2
2:00pm – 4:00pm
– Double Downwinder second run
11:15am Saturday in Oregon
= 8:15am in Hawaii
= 11:15am in California
= 2:15pm East Coast USA
= 3:15pm in Brazil
= 7:15pm in the UK
= 8:15pm in Central Europe (France/Spain/etc)
= 8:15pm in South Africa
= 1:15am Sunday in Thailand
= 3:15am Sunday in Japan
= 4:15am Sunday East Coast Australia
= 6:15am Sunday in New Zealand
---
SUNDAY: Super Lap Race
– approximately 3 hours broadcast
(there will be heats for elite men, straight up final for elite women; we'll try and stay on air continuously)
12:45pm Sunday in Oregon
= 9:45am in Hawaii
= 12:45pm in California
= 3:45pm East Coast USA
= 4:45pm in Brazil
= 8:45pm in the UK
= 9:45pm in Central Europe (France/Spain/etc)
= 9:45pm in South Africa
= 2:45am Monday in Thailand
= 4:45am Monday in Japan
= 5:45am Monday East Coast Australia
= 7:45am Monday in New Zealand
---
FULL WEEKEND SCHEDULE
SATURDAY AUGUST 19th
11:15am
– SUP Racer's Facebook Live Stream presented by Quickblade goes on air (part 1)
11:25am
– The exhibition SUP foil race begins
11:30am
– Women's Double Downwinder first run
12:00pm
– Men's Double Downwinder first run
1:15pm
– Live stream ends (part 1)
2:00pm
– SUP Racer's Facebook Live Stream presented by Quickblade goes on air (part 2)
2:00pm
– Women's Double Downwinder second run
2:30pm
– Men's Double Downwinder second run
4:00pm
– Live stream ends (part 2)
5:00pm
– Awards ceremony

SUNDAY AUGUST 20th
10:30am
– Groms Beach Race
(We'll try and setup some live coverage of the junior race!)
11:30am
– Women's Open Race
12:00pm
– Men's Open Race
12:45pm
– SUP Racer's Facebook Live stream presented by Quickblade goes on air
1:00pm
– Men's Super Lap heat 1
1:40pm
– Men's Super Lap heat 2
2:20pm
– Elite women's Super Lap final
3:00pm
– Elite men's Super Lap final
4:00pm (approximately)
– Live stream ends
5:30pm
– Awards ceremony