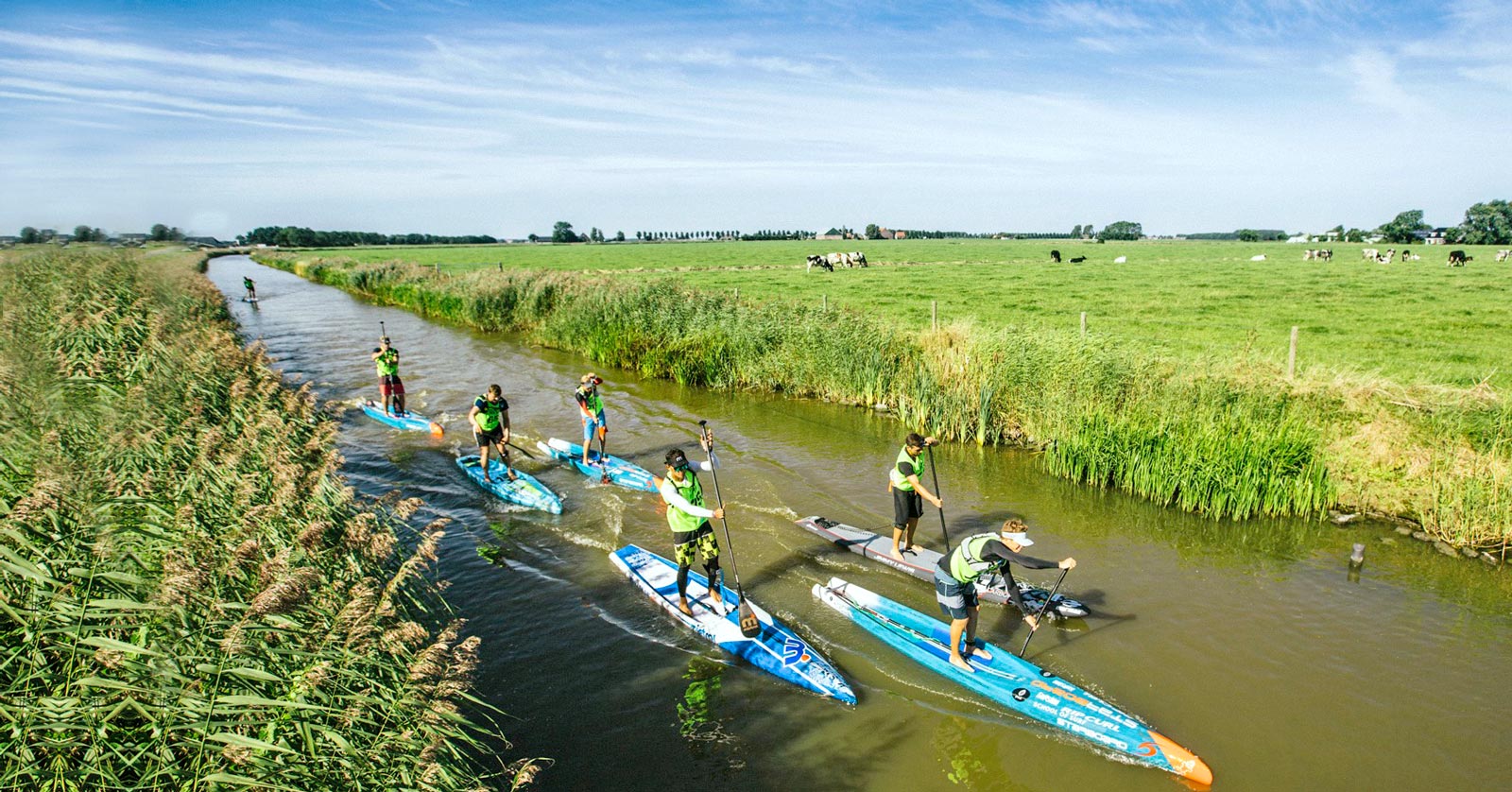 September 13, 2017
by Christopher Parker (@wheresbossman)
11 Cities Update: Non-Stoppers Complete 24 Hour Epic; Gnarly Winds Cancel First 5-Day Stage
Nine brave paddlers have survived gale force winds and extreme exhaustion to complete the epic, 200+ kilometre "Non-Stop" 11 City Tour around the Dutch province of Friesland this week, as finishing times ranged from 24 to 32 hours while several others were forced to abandon their quests.
Dutchman Niek van der Linde won in a remarkable time of 23 hours 59 minutes and 48 seconds, coming home almost an hour ahead of 11 Cities veteran and pre-race favourite Bart de Zwart, while Frenchman Olivier Darrieumerlou finished runner-up for the second time after completing his odyssey in 24 hours 14 minutes.
Former champion of the five-day race Janneke Smits was the sole woman to finish the non-stop challenge this year, crossing the line after 31 cold and grueling hours out on the water.
This year saw the biggest ever non-stop field as 15 solo paddlers and a couple of relay teams accepted the mind-boggling mission.
The journey wasn't a pure non-stop race after a thunderstorm forced paddlers off the water for two and a half hours in the middle of the night, however that break simply made the challenge even greater as paddlers were left stranded in the freezing night with enough time to get cold but not enough time to properly rest.
Highlighting how difficult the "race" was this year, the retirees included hardened 11 City Tour warrior and former non-stop champ Florent Dode, who abandoned his quest at 6am Tuesday morning due to extreme exhaustion.
There were plenty of other incredible stories to come out of the small but bold field of paddlers, including that of the legally-blind paddler Dean Dunbar who didn't finish but paddled further than most fully-sighted paddlers would ever dare.
Dean was being chaperoned by 11 Cities stalwart Joanne Hamilton-Vale; after Dean withdrew, Jo had the easy option of getting off the water and enjoying a good night's rest, but instead decided to jump in with one of the relay squads that was missing a team member and keep paddling through the cold night.
Another 11 Cities regular to complete the non-stop tour this year was Mike Kranenburg, who was standing on water for 31 hours in a mission dedicated to raising funds for cancer research. Incredibly, Mike has decided to back up his performance and do the non-stop paddle again this weekend, starting on Saturday morning and finishing around the same time as the five-day competitors on Sunday afternoon.
To get a better understanding of what it's like to race 24-32 hours in miserable weather, I spoke with Bart on Tuesday afternoon after his all-night odyssey. The king of endurance paddling summed up this year's non-stop race as the "hardest paddle I've ever done," telling me how he battled his own mind just to stay awake during one four hour stretch in the middle of the night; the combination of wind and rain would have made it a challenging experience even in the middle of the day.
Bart also told me an interesting story about stopping to check if his fin was broken around the 20 hour mark. After failing to push above 8km/h pace for a couple of hours, Bart was convinced something was wrong with his fin. Of course nothing was wrong, Bart was simply feeling the effects of paddling all night, as were all the other non-stoppers; "Deep down I knew nothing was wrong, but my mind was playing tricks with me and I had to check."
Sounds like a pretty crazy day (and night) on the water, so a big congratulations to all paddlers that dared to tackle this crazy mission, and well done to those who hung on and made it to the finish.
With the non-stop race complete, the focus now turns to the traditional five-stage 11 City Tour, where about 100 paddlers have signed on to race the same course as the non-stoppers but over a more merciful five-day stretch.
However, the five days has already been condensed into four, with near-hurricane force winds hammering the region today (Wednesday) when the first stage was set to already be on the water: with gusts of up to 55 knots, organisers chose safety first and called a lay day.
This is the first time in the event's nine-year history that a stage has been canceled, and this race has seen some pretty wild weather in the past, so that highlights just how extreme the conditions are right now.
As I write this, I'm sitting here at 11 Cities HQ in Leeuwarden looking out at some very big trees being blown sideways, so I think the decision to postpone the first stage was greeted with a sigh of relief from all competitors.
The race director has modified the remaining four days so that we still complete a loop around the province of Friesland: the first stage, now on Thursday, will see competitors paddle 50km from the traditional start/finish town of Leeuwarden to the second day's finish town of Workum via a new shortcut, which means we're essentially skipping stage 2 this year.
That pushes the first stage from its original 43km up to 50km, which is about the same distance as Molokai-2-Oahu. And while the gale force winds are expected to die down a little overnight, we're still looking at some pretty stiff sidewind and headwind for the opening day that will make it even more of a physical and mental challenge.
From Friday to Sunday, the ultra marathon course will run as usual, including the new individual time trials on the final stage for the elite division (though Thursday's time trial has been scrapped).
So the 11 City Tour becomes the 8 City Tour this year. But as always, this unique and very special race is going to be an almighty adventure and a hell of a lot of fun (or at least a "special kind of fun") for everyone involved. There really is no other event like the 11 Cities, and I can't wait to get out there on the water tomorrow (even if it is going to be wet and windy!).
With the wild weather hitting the Netherlands this week, we were very fortunate to get a few hours of sunny blue skies on Tuesday evening to complete the traditional "prologue" paddle through Leeuwarden, which is a chance for everyone to relax and have a bit of fun before the serious work begins. If you're quick, you can still catch our behind the scenes Instagram Stories on @wheresbossman and @supracer to see how the festivities went down.
At the pointy end of the field, the theme this year will be a battle between Starboard and Mistral, with the Hasulyo Brothers looking to repeat their 1-2 finish from 2016, and the Tahitian warriors Rete Ebb and Bruno Tauhiro leading the charge for Team Mistral.
While the Starboard duo will certainly start favourites, especially after their barnstorming efforts in Denmark last week, Mistral probably has the top two favourites for the women's in Dutchwoman Petronella van Malsen and Brazilian Lena Ribeiro.
Elsewhere in the field, there will be some fun and interesting battles in the "competition" division (aka the open race), where about 75 paddlers will be battling for personal milestones and mate-vs-mate bragging rights.
I'll be out there on the water with 2x SUP surfing world champ Caio Vaz and 11 City king Bart de Zwart, who decided to skip the elite division after draining himself in the non-stop race.
We'll have more updates on Thursday before/during and after the first stage, so make sure you're following us all on Instagram.
Also be sure to follow the official 11 City Tour Facebook page for regular updates, and check out the live GPS tracking map each day during to follow the leaders.
Follow the adventure on Instagram:
– @supracer
– @wheresbossman
– @caiogebaravaz
– @sup11citytour
---
2017 "Non-Stop" 11 City Tour Results
Course: Just over 200km (125 miles)
Conditions: Wet, windy and cold
Non-Stop Women
1st: Janneke Smits (31 hours 1 minute 20 seconds)
DNF: Diva Hatami
DNF: Joanne Hamilton-Vale (joined relay team)
Non-Stop Men
1st: Niek van der Linde (23:59:48)
2nd: Olivier Darrieumerlou (24:14:23)
3rd: Bart de Zwart (24:50:41)
4th: Yuval Botzer (24:53:12)
5th: Mike Kranenburg (31:01:20)
6th: Mthieu Leenaert (31:41:48)
7th: Alex de Saint (31:57:29)
8th: stephane Lerat (31:57:51)
DNF: Florent Dode
DNF: Dean Dunbar
DNF: Sebastiaan de Ranitz
DNF: Ganco Anit
Non-Stop Teams
1st: Team Non-stoppables (30:36:51)
2nd: Team Supskool (31:09:50)
---