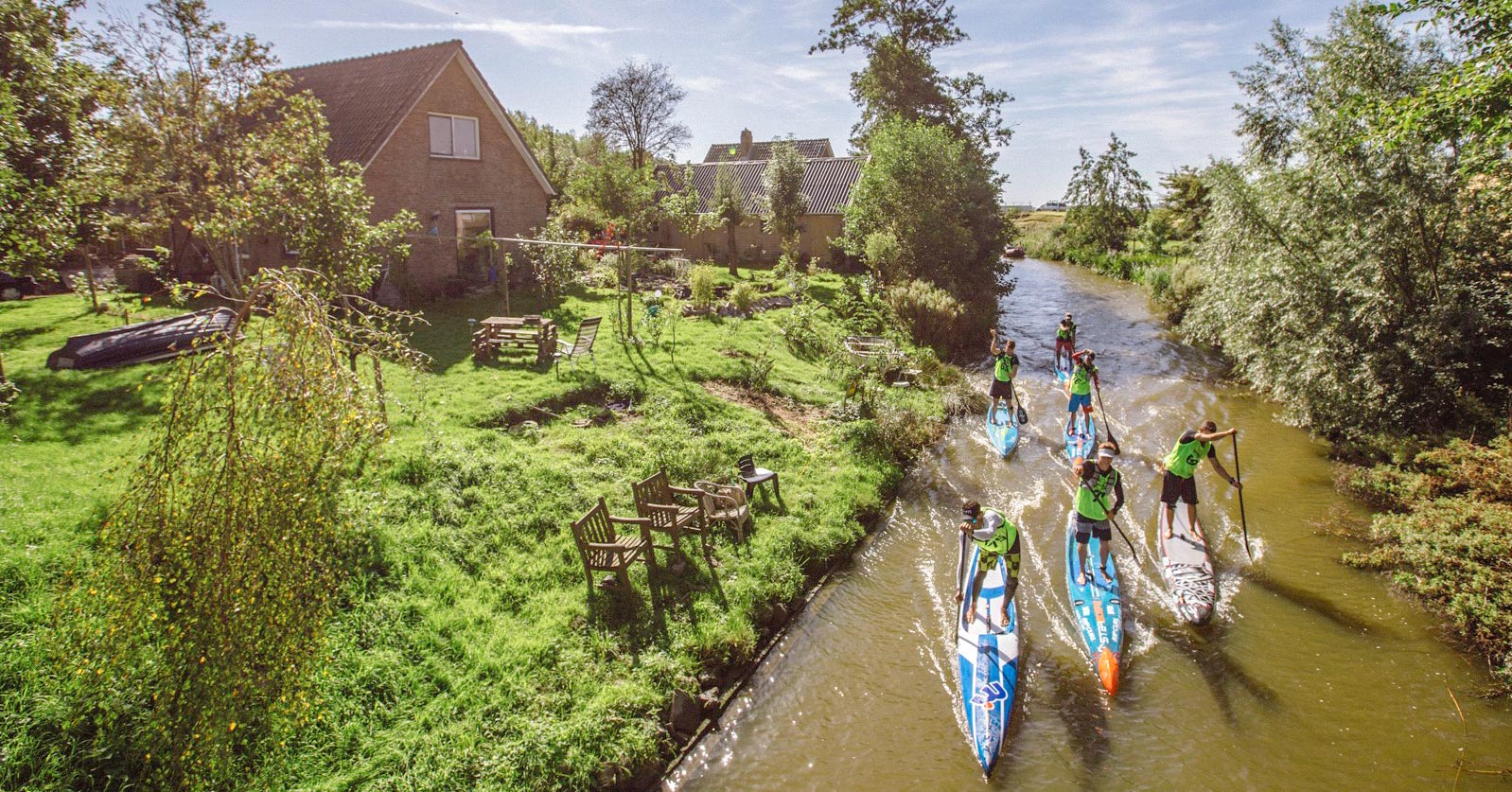 September 11, 2017
by Christopher Parker (@wheresbossman)
Next Stop… The Netherlands for the Epic "11 City Tour" Five Day Stage Race (UPDATED)
We're currently on the road from Denmark to the rural Dutch province of Friesland for one of the most epic and challenging events of the year: the five day, five stage, 200km SUP 11 City Tour.
To long-time readers of SUP Racer, the 11 Cities needs no introduction. It's one of the real classics on the calendar, offering bold competitors a challenge that is as much a mental test as it is a physical one.
Now in its 9th edition, that mental test gets even tougher this year with the introduction of individual time trials, which will cement this race's reputation as the "Tour de France of SUP."
Previously, each of the five stages had a simple "mass start" that produced a lot of draft trains and some fairly constant gaps on the time sheet. But this year, stages 2 and 5 will host time trials for the elite division that will surely shake things up on the overall leaderboard.
The first half of stage 2 will see elite competitors starting 30 seconds apart in reverse order from the stage 1 results (i.e. slowest goes first, fastest goes last). At the mandatory mid-way rest stop around the 23km mark, the elite crowd will regroup for a traditional mass-start in the second half of the stage.
No drafting is allowed during the time trial, which will expose those who were barely hanging on to the trains in the opening stage; expect much bigger time gaps than in previous years.
---
UPDATE #1:

Stage 1 on Wednesday has been canceled due to extreme weather, with a big storm forecast to whip up 50 knot winds. Considering the opening stage features the dreaded lake at the 40km mark that would be virtually impossible to cross in gale force side winds.

The 11 Cities has seen some pretty wild weather over the years, and I believe this is the first time a stage has ever been cancelled, so it must be one hell of a storm heading towards Friesland. Bit of a bummer, but of course safety comes first.

We'll find out on Tuesday whether the remaining four stages will run as scheduled, or if they'll be shortened due to weather (or lengthened to make up for the missing stage). Follow the official Facebook for more.

…

UPDATE #2:

Today (Wednesday) is a lay day due to the extreme winds hammering Friesland.

The first stage will be moved to Thursday, with the second stage being more or less skipped this year. The opening stage will finish in Workum (the original stage 2 finish town) instead of Sloten (the original stage 1 finish town), and we'll take a shortcut across Friesland to keep the first stage at around 50km.

So Friday to Sunday will run as normal, though the elite competitors will do an extra half a stage on Friday to make up for some of the lost distance. So for the elites this will be a four and a half-stage race, while for the rest of us it will be a four-stage race.

The competition begins at about 9:30am on Thursday from the traditional start/finish town in Leeuwarden.

Thursday's time trial has been canceled, but the individual time trial on the final stage will still run as planned (for the elite division only).

Follow @supracer and @wheresbossman for behind the scenes Insta Stories.
---
[notdevice][fbvideo link="https://www.facebook.com/supracerr/videos/1109778645772852/" width="645″ height="363″ onlyvideo="1″][/notdevice][device][fbvideo link="https://www.facebook.com/supracerr/videos/1109778645772852/" width="322″ height="181″ onlyvideo="1″][/device]
---
Just like the first stage, the third and fourth days will follow the standard mass-start format, however the final day sees the return of the no-drafting time trial. That fifth stage, which is a mercifully "short" 27km (the other four average closer to 50), will see the elite men and women once again starting at 30 second intervals based on overall standings, with the leader starting last just as they do in the time trials of the Tour de France and other 'Grand Tour' cycling races.
The "amateur" athletes (the 'competition' and 'tour' divisions) will experience the standard five day race without any time trials, after organisers decided it would be too difficult, logistically, to have all 100+ paddlers involved in this new format.
Nobody is quite sure how these time trials will impact the overall standings, or how it will change the vibe of the race, but I'm excited to see which strong athletes will make the most of it.
I also encouraged the organisers to add a time trial prologue on the eve of the race along with intermediate sprints during the middle of each stage where bonus seconds are on offer – just like they do in the Tour de France – but the logistics involved were considered too great, at least for this year. Those additional features are on the cards for next year's 10th anniversary event though, which is already shaping up to be a massive reunion for everyone that's ever done this race over the past decade.
So with the start less than 48 hours away (10am Wednesday), who's looking good for this year's title?
The hot favourite has to be defending champ Bruno Hasulyo, with the Hungarian looking on point en route to a gold medal in Copenhagen last week. He'll be joined by his brother and last year's runner-up Daniel Hasulyo, with the Starboard duo set to face off against Team Mistral in something of a grudge match.
Last year's race saw no love lost between the Starboard brothers and the Mistral crew, who were led by 2015 champ Steeve Teihotaata from Tahiti. The Hungarians cleverly embraced pro cycling-style tactics to team up on Steeve and force their advantage.
This year Mistral brought their boy some reinforcements that include fellow Tahitian warriors and Va'a superstars Rete Ebb and Bruno Tauhiro, along with the team's expansive European squad that features former runner-up Ryan James.
However in a twist, Steeve was a last minute withdrawal after his partner was expected to give birth to their first child early.
This will make one of the other boys Mistral's de facto team leader in charge of taking the fight up to the Hasulyos.
On the women's side, Mistral will be looking for Petronella van Malsen to go one better than she did 12 months ago. Two-time defending champ Seychelle Hattingh isn't returning, so the home nation hero Petronella will probably start favourite along with team mate Lena Ribeiro from Brazil.
But no matter what happens out front, the SUP 11 City Tour is certain to be an almighty adventure. For most competitors, this event is less a race and more of a psychological challenge. Just finishing is the goal of most participants, while all the way down the leaderboard you'll find great mini-battles for the final spots in the top 10, top 20, or just for bragging rights between mates.
It's an awesome race, and the atmosphere is unlike any other event.
I've signed up to do my third 11 Cities this year, and I've also dragged along 2x SUP surfing world champ Caio Vaz from Brazil, whom I convinced to join for a last minute adventure while we were up in Denmark at the ISA Worlds.
So follow @supracer, @caiogebaravaz and @wheresbossman for behind the scenes Instagram Stories all week, and hit the official Facebook and @sup11citytour for more coverage.
---
Non-Stop Heroes
And finally, spare a thought for those totally crazy brave paddlers that are doing the famous "Non-Stop Tour" this year.
Yep, a small, hardy bunch of paddlers are tackling the entire 200km course in one go. Led by defending non-stop champ Florent Dode from France, long-time 11 Cities king Bart de Zwart and former women's champ Janneke Smits, this group is expected to take anywhere between 24 and 36 hours to complete the course. Without stopping.
The 17 non-stop competitors started earlier this morning (Monday), and you can follow their adventure over on the live GPS tracking map as well as via regular updates on the 11 City Tour Facebook page.
Bart de Zwart will also attempt to become the first paddler to complete the non-stop/five day double, i.e. racing all 200km from Monday overnight to Tuesday, then starting the five day race with the rest of us on Wednesday. Extraordinary.
---
2017 SUP 11 City Tour schedule
Stage 1 (Wednesday Thursday): Leeuwarden to Sloten Workum (50km)
— moved from Wednesday to Thursday due to extreme wind; finish moved from Sloten to Workum so we can continue as normal on Friday
Stage 2: Sloten to Workum (45.5km)
— this stage will be skipped
Following three stages will run as normal from Friday to Sunday:
Stage 3: Workum to Franeker (41.3km)
Stage 4: Franeker to Dokkum (42.6km)
Stage 5: Dokkum to Leeuwarden (27.2km) *with time trial for the elite division
Check out the full schedule and course maps.
---