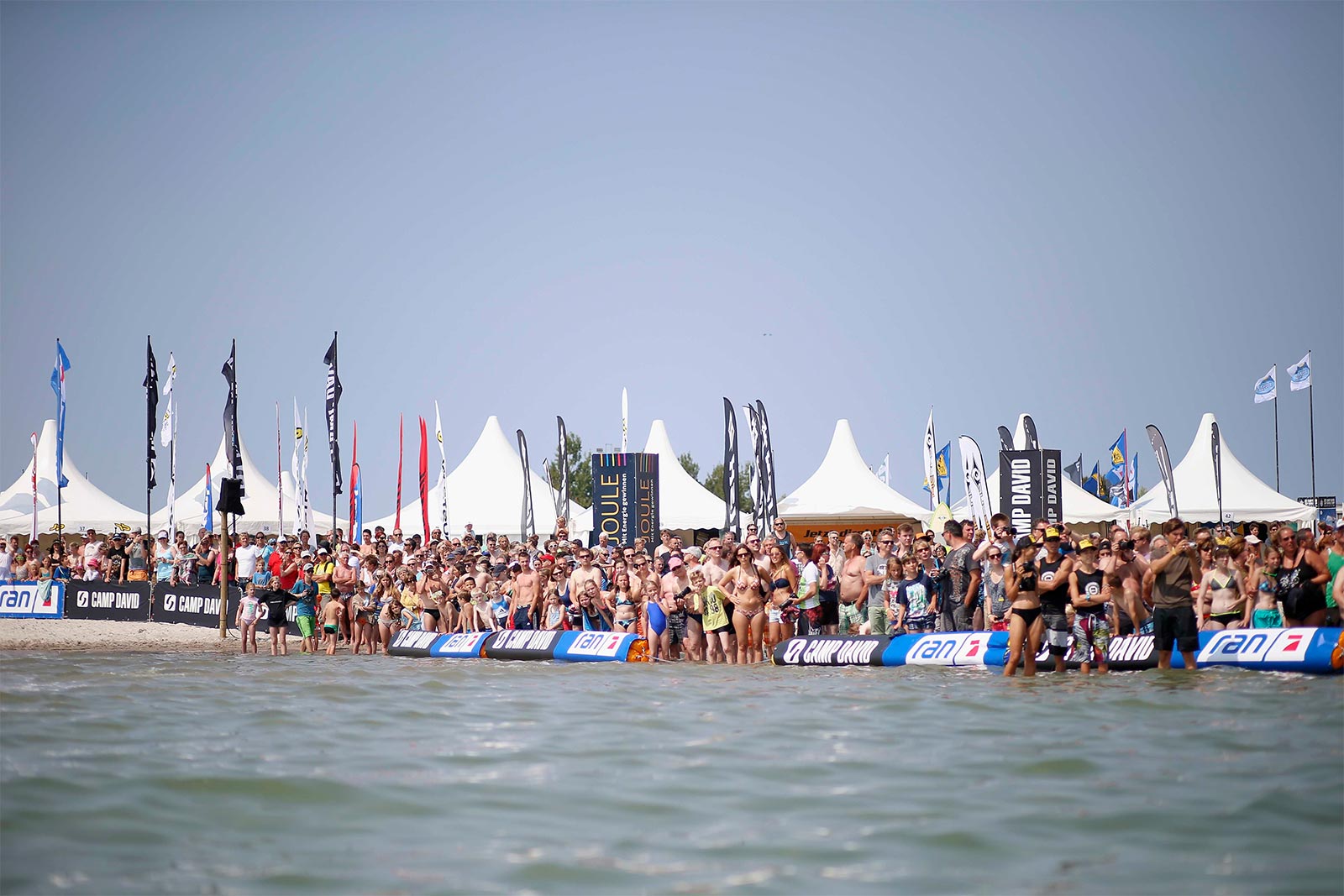 June 24, 2016
by Christopher Parker (@wheresbossman)
The Racing Never Ends in Europe: This Weekend It's the SUP World Cup in Germany and EuroTour in Belgium
After a great week of competition at the EuroSUP championship in Lacanau, it's straight into the next round over here in Europe, with the seemingly-endless European Summer of SUP continuing on to Germany and Belgium this weekend.
Up on the north coast of Germany we've got the Mercedes-Benz SUP World Cup, an iconic event that dates way back to 2009, and which will see many international names on the line including Connor Baxter, Michael Booth, Jake Jensen, Casper Steinfath, Sonni Hönscheid and Fiona Wylde. Meanwhile just over the border in Belgium we've got Namur's annual Happy Summer SUP Race, which is Week 8 of the EuroTour.
The main event in Namur is the 16km long distance race on Saturday afternoon, and will once again feature a collection of paddlers from across the Continent. Though one name missing will be Titouan Puyo, the 2015 'Happy Summer' champion, who won't be returning to defend his title because he's taking a well earned break this weekend.
Titou has just finished an amazing streak of six races in two weeks, starting with his successful French selection trials campaign, continuing on to his win at the EuroTour race in San Sebastian, before finishing this week with double gold at the Euros. It's been an amazing run for the world number three, with the NSP team rider now taking a few weeks off to prepare for the back half of the international season.
---
Germany's SUP World Cup was one of the original international races in Europe, starting in 2009 as the 'Jever SUP World Cup' in Hamburg. The event has changed location and taken a few seasons off over the years, but it's still one of the biggest battles in Euro land.
The event is being held at the resort town of Scharbeutz (an hour north of Hamburg) for the first time this year, and apart from the top ranked guys mentioned above, there will be plenty of other world class competitors from across Europe and around the worl, including Vinni Martins from Brazil and the Hasulyo Brothers from Hungary.
It should be a great showdown by the sea this weekend, and while it won't attract quite the same level of competition as Bilbao and the Lost Mills, with a few of the internationals having flown home already, the SUP World Cup can easily claim to be the richest race in Europe, with a massive $25,000 on offer. That purse comes via the title sponsorship deal with Mercedes-Benz, a three year agreement that represents a major coup for our sport.
The World Cup can also proudly claim to have a world class setup on the beach, with the local organisers, the ACT Agency, famous for creating massive events in windsurfing, kitesurfing, and now stand up paddling.
We've got Scharbeutz listed as a 3-star event, meaning it'll score at least 30% on the Race Index (it should exceed that on the men's side) and therefore give the World Rankings a solid nudge on Monday morning.
The 2016 SUP World Cup has also seen the move away from 12'6 towards 14 footers, continuing the trend in Europe towards one standard board class for all events, both amateur and elite, men and women alike. The event also acts as stop #2 on the 2016 World Series calendar, following the opening round in Japan last month where Casper edged out Connor, Boothy and Kai Lenny (who is competing in the massive Big Wave World Tour event in Mexico today and therefore won't be in Germany, and who will have a light race schedule in general this year).
It'll be entertaining to watch the Connor vs. Boothy battle continue, though Casper will be keen to extend his World Series winning streak. However the Danish Viking raced in two very draining events here in France this week, before hopping in the car for the marathon 17 hour drive between Lacanau and Scharbeutz, so it'll be interesting to see how well he pulls up.
On the women's side, Germany's own Sonni Hönscheid will surely start favourite, however I'm quite sure Fiona Wylde will have something to say about that, especially after her dominant performance at the EuroTour stop in Croatia last week.
I'm about to hop on a plane to Hamburg and will be on the beach at Scharbeutz this weekend, so check back for regular updates on Saturday and Sunday.
It's been a great summer of racing over here in Europe so far, and this weekend will surely be yet another highlight.