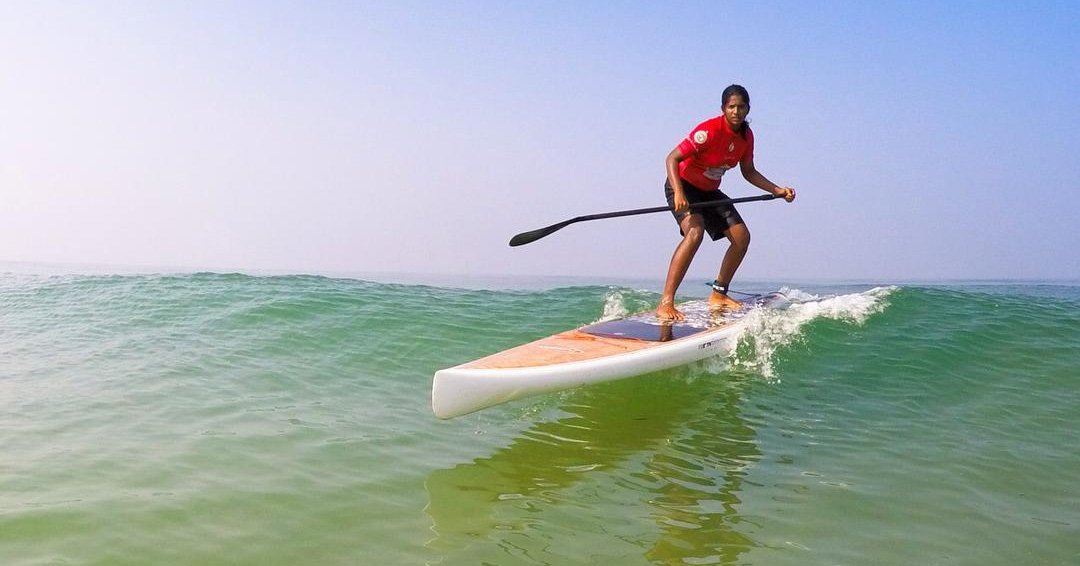 November 5, 2016
by Christopher Parker (@wheresbossman)
Team India Overcomes Big Obstacles to Make Its Debut at 'The Worlds' in Fiji
One of the things I love about the ISA Worlds is the athletes it attracts.
I'm not talking about the pros. Sure, they add excitement, but there are other races that feature far more of the world's best on the start line. I'm talking about the paddlers that represent the minnows. Those small, emerging paddling nations that don't add a lot of medals but contribute plenty of spirit and pride.
And one of the 'minnows' that'll be making its debut in Fiji next week is Team India, an unlikely but promising new addition to the international paddling community.
Featuring 16-year-old Tanvi Jagadish in the women's and Sekar Patchai in the men's events, the team will be one of the smallest but no doubt one of the proudest teams at the 2016 ISA SUP and Paddleboard World Championship. Tanvi and Sekar will each compete in both the surf race and marathon events in Fiji, where they'll go up against some of the biggest names in the sport in what will surely be an exciting, nerve-wracking and historic moment.
I chatted with 16-year-old Tanvi about the current state and future potential of stand up paddleboarding in India, as well as some of the unique obstacles she's had to overcome to not only make it to The Worlds in Fiji, but even just to be accepted as a surfer in her own country.
---
On the challenges of becoming a surfer growing up in a male-dominated society…
I had a lot of challenges to face from my society to become a surfer and stand up paddler. First of all, for a girl to become tanned and wear shorts while paddling was not at all okay within my society. But I faced this without arguing because I knew what I was doing was right. I seriously worked my priorities. My society used to think that surfing and stand up paddling was not a sport for girls.
But I never gave up.
I kept on training hard and now I am India's top female SUP competitor with 4x national titles. I would love to offer my thanks to Surfing Swami who introduced surfing in India and built India's first surf school Mantra surf club. Mantra Surf Club and surfing swami helped a lot with convincing my parents too.
[notdevice] [/notdevice]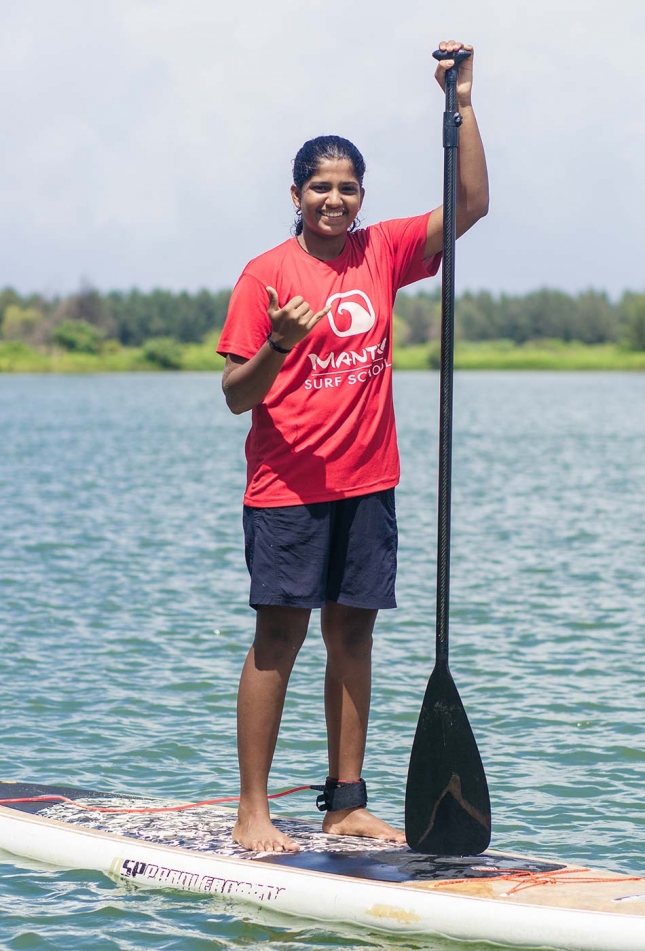 [notdevice] [/notdevice]
On her future paddling goals…
I want to compete internationally, encourage more girls to enter the sports of surfing and stand up paddling, and be one among the top female stand up paddlers in the world.
On her role models in the sport…
I had met April Zilg when I was small. I admire he a lot and she is my inspiration.
On the meaning of surfing…
Surfing and stand up paddling mean a lot for me. It has changed my life completely. And the connection with and surrendering to mother ocean is a great feeling for me.

https://www.instagram.com/p/BLqRQ5Gjhp5/

On the beginning of her surfing career…
I began surfing when I was around 14 years old. I had known about it for a long time, in fact I was introduced to surfing when I was only 8 years old but since my parents did not support me I couldn't start surfing then.
I was introduced to the Mantra Surf Club by my grandfather – I am extremely grateful to him for that. It was really hard to get into surfing being a girl. My family got worried about my tanned skin, society didn't approve of me wearing shorts or swim suits and getting into the ocean; surfing was never considered a sport for girls. But I didn't give up.
I would see how the members of Mantra Surf Club were riding those waves and I knew I had to do it. I knew I would love it. So, I strived hard to get into it. I had to fight with my family, I had to fight with society, but in the end I am happy to say that I made it. After 6 years I finally did start surfing and within two years I have found my passion and I am pursuing it against all odds.
It has taken a lot of effort from my side and from my trainers at Mantra Surf Club, who spent a lot of time training me and in both surfing and SUP and convincing my parents that this could actually work – that a girl could actually surf and it would be totally fine!

https://www.instagram.com/p/BKMfHH9DB1G/

I am also sure that there plenty of other girls out there who wish to follow their dreams but do not find the support and encouragement to do so. My dream is to support them, we have many girl surfers in our club now and they have all taken the sport very enthusiastically and have been the pioneers of young surf girls in India.
Since I started surfing, I participated in several national level events. The first competition I went to was in 2015 in Chennai. Since then I have trained hard and have achieved results that include:
1st @ 2015 SUP Nationals Covelong Point Surf Classic
1st @ 2016 SUP Nationals Manapad Classic surf and sail festival
1st @ 2016 SUP Nationals Indian Open of Surfing
3rd@ 2016 Surfing Nationals Indian Open of Surfing
Surfing and SUP are wonderful sports! We should really stop being judgmental about who can and cannot take part in them. If I had listened to my critics in the beginning, I would never have discovered what my passion in life is and would have had to be content just dreaming about surfing instead.
I hope such prejudice will stop and more girls will be able to get into surfing!
---
Tanvi and her team mate Sekar will be competing at the 2016 ISA World SUP and Paddleboard Championship from November 12-20 (the racing will be in the second half of the week). Stay tuned to SUP Racer for all the results plus behind the scenes insights and updates from Fiji. We'll also have the ISA Fiji live webcast streaming here on the site each and every day of competition.
You can follow Tanvi's adventures in Fiji and beyond via @indiansupergirl, and you can support her quest to represent her country with a donation via Generosity.
https://www.instagram.com/p/BJIOZAUDnJT/