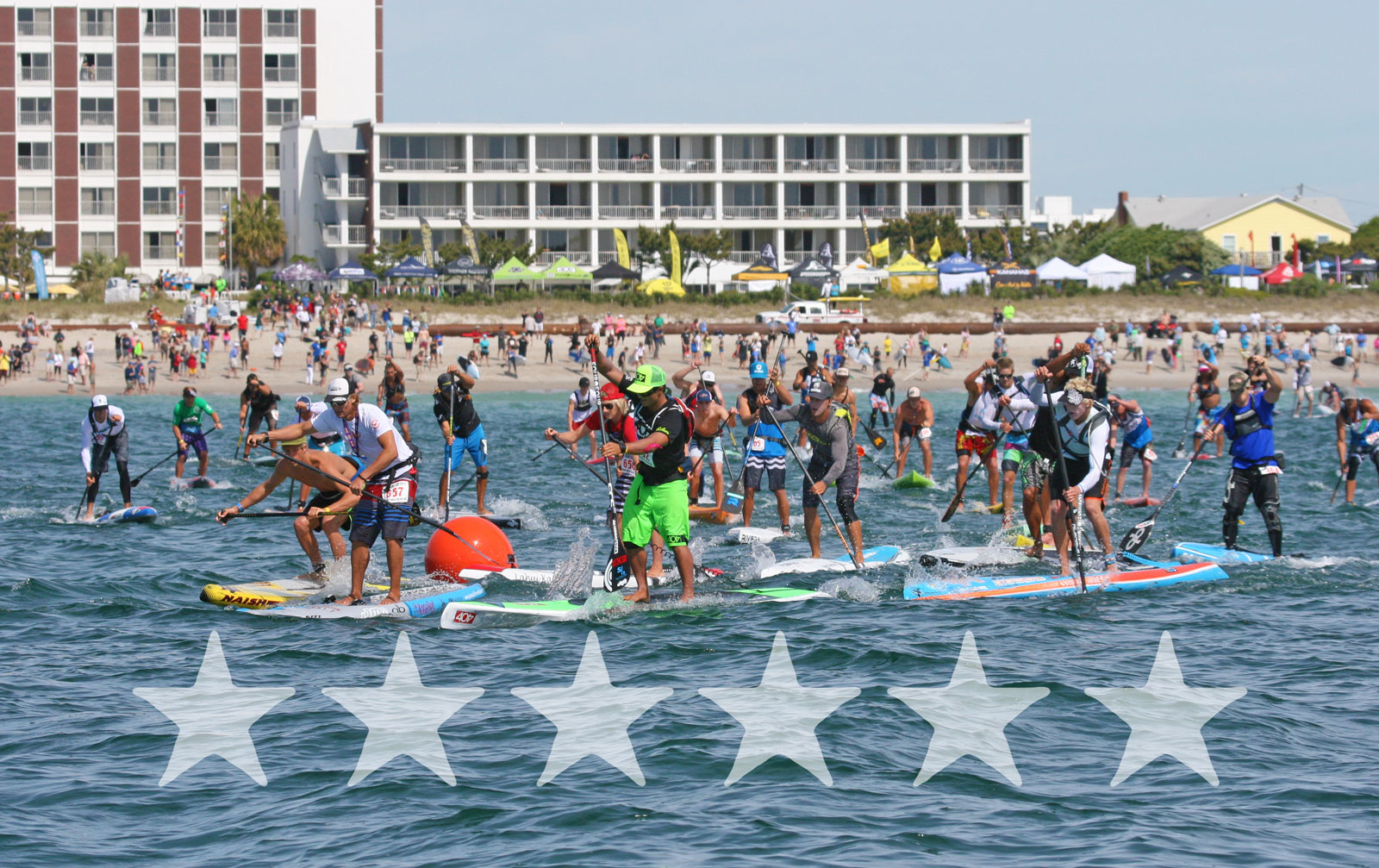 January 22, 2016
by Christopher Parker (@wheresbossman)
2016 Race Calendar: Changes to the ★Star★ Rating System
If you've visited the Rogue Race Calendar in the past few days you probably noticed a few changes. Firstly, there's a very cool new photo/ad from Rogue covering the whole background (if you're viewing on desktop). But secondly, and most importantly, there's a big difference in the calendar's sixth and final column: The star ratings.
The race calendar is as old as SUP Racer itself, and it's one of the reasons this little blog first took off when it launched four years ago. But I've gotten a little lazy over the years…
I've been giving away stars too easily, which has made the calendar less useful while also watering down the status of the most significant events. For example, in four whole years, I've never given out a single 'one star' rating — what's the point of having six stars if you're only using five of them?
This wouldn't even be an issue worth talking about if the calendar hadn't taken on a life of its own. But it kinda has. It's now used by many top athletes, brands and team managers to plan their seasons, while standalone events use it to avoid clashes (and see how they compare with other races). After chatting with several of the worlds top paddlers about their plans for 2016, I realised I probably should take these star ratings more seriously.
So with that in mind, there's been a bit of a cull.
Over the past week, I've gone through and re-evaluated the star rating of every single event, with the vast majority of races (almost 80%) getting bumped down a star.
Has your event's rating been changed? Don't worry, you're definitely not the only one. This doesn't mean your race is any better or worse, it just means the calendar wasn't as accurate as it should have been in the past.
We're currently sitting at over 200 listings on the Rogue Race Calendar, and I doubt I've tapped even half the total events around the world. I'll keep adding dozens of new events every week, while there are plenty of big race announcements dropping next week (the Euro Tour, for example). I'm hoping to list 500 events total this year (so let us know if we're missing any), and with that many races floating around it's important to keep calendar well balanced.
SUP Racer's star ratings are based on a combination of factors, with an event's prestige and level of elite competition the most important, while other criteria such as past history and current level of prize money also come into play. In other words, the more significant a race is to the sport, the higher its star rating will be.
Overall, the average star rating has moved from 3.2 to 2.3 stars. More than 80% of races are now three stars or below, which makes the four, five and six star club rather exclusive. Here's a breakdown of the 214 stand up paddle races we've currently got on the calendar.
★★★★★★ [4 races]
★★★★★ [13 races]
★★★★ [24 races]
★★★ [53 races]
★★ [86 races]
★ [34 races]
The only six star events are now the four 'Majors' — Carolina Cup (April 23), Molokai 2 Oahu (July 31), Gorge Paddle Challenge (August 21/22) and the Pacific Paddle Games (October 1/2). These are the big events that give the whole race season a solid foundation.
Then we've got the 'Regional Majors' (OluKai, Lost Mills, Japan Cup, King of the Cut) set to five stars, and they're joined by most of the 'Classics' (Hanohano, Race the Lake, 11 Cities, Paris Crossing), the Euro Tour headliners (the SUP Race Cup, Lost Mills, Bilbao), the ISA Worlds (most likely November), and the World Series (if it actually goes ahead this year).
These star ratings are just a guide, not an official rating of how good a race is. Also keep in mind that 'fun' isn't one of the criteria, so a one star local race could be just as good as a six star major in that regard. Are these ratings perfect? No. Unless I introduce fractional stars, there will always be some events that are rated either half a star too high or too low. I'll also keep adjusting races throughout the year, in case an event suddenly improves.
Hopefully these new ratings give the season some more balance, while making it easier for some of the athletes and brands to plan their seasons. So keep checking the Rogue Race Calendar over the next week — we'll be adding hundreds more events between now and the end of January, including several four and five star races (again, please let us know if we're missing any).
Also keep an eye out in the next couple of weeks for a big announcement about the SUP Racer World Rankings, which this star rating shake up is kind of a prelude to…