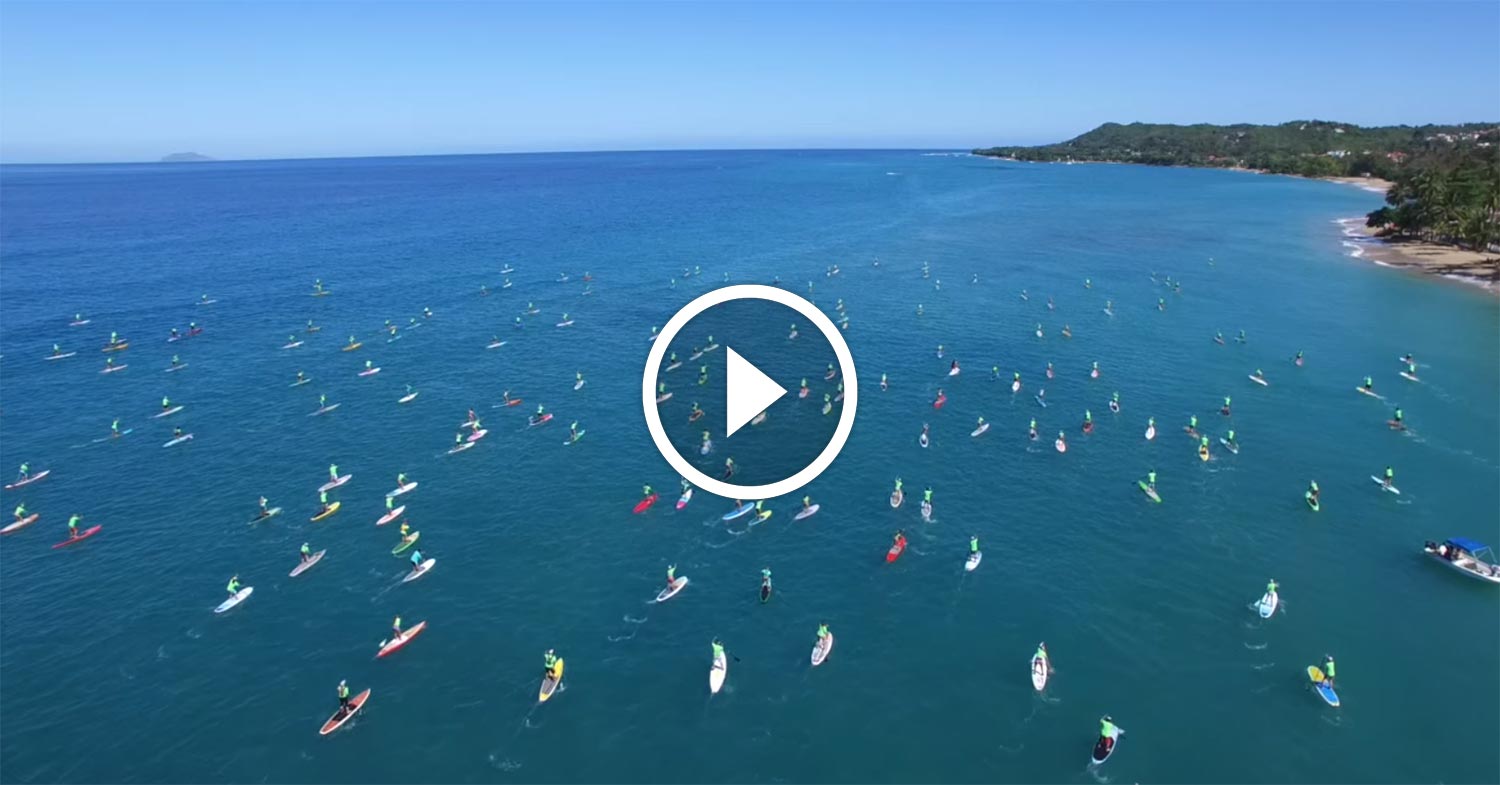 April 9, 2016
by Christopher Parker (@wheresbossman)
Results/Video from the Rincon Beachboy as Ryan Helm Wins Again in the Caribbean
https://www.youtube.com/watch?v=3es-92dQlMk
In brief: Ryan Helm has taken out the 8th Annual Rincon Beachboy stand up paddleboard race in Puerto Rico, narrowly edging out Josh Riccio for the second week in a row to make it a clean sweep in the Caribbean; The 1-2 finish mirrows the result at last week's Coconut Cup in the U.S. Virgin Islands.
I chatted with Josh after the race and he said it was a great event with a great turnout of stoked paddlers. He had a close battle with Ryan the whole way, switching the lead a couple of times before Helm picked up a bump and paddled clear in the closing stages.
Quintin Chiapperino rounded out the top three, just a minute behind Josh, while Victoria Burgess took the women's victory ahead of veteran racer Heather Baus.
The Rincon Beachboy always attracts a great crowd and this year was no exception, with around 300 paddlers turning out for a fun day on the water. This looks like another one of those "bucket list" events that's just as much a holiday as it a race.
The Rincon Beach Boy also attracts paddlers of all ages: The youngest paddler was just 4 years old; the oldest was 74.
Results below. You can also find a hundred odd photos of the race over on Facebook.
2016 Rincon Beachboy SUP Race – Men's Top 10
Boards: 14′
1th: Ryan Helm (1:07:07)
2th: Joshua Riccio (1:07:55)
3th: Quintin Chiapperino (1:08:58)
4th: Kieran Grant (1:09:24)
5th: Jack Sauve (1:10:08)
6th: Greg Jaudon (1:10:23)
7th: Bill Kraft (1:11:49)
8th: Christopher Norman (1:11:49)
9th: Jeramie Vaine (1:12:40) *12'6
10th: Elvin Maldonado (1:12:54)
2016 Rincon Beachboy SUP Race – Women's Top 10
Boards: 12'6
1st: Victoria Burgess (1:19:41)
2nd: Heather Baus (1:21:49)
3rd: Mariecarmen Rivera (1:22:50)
4th: Isabelle Picard (1:23:16)
5th: Evelyn Odoherty (1:25:53)
6th: Juliana Perez Laspiur (1:26:16)
7th: Dawn Ehman (1:31:17)
8th: Desiree Hernandez (1:31:44)
9th: Vicky Lowe (1:32:47)
10th: Geraldine Vargas (1:34:42)
Click here for full results
https://www.instagram.com/p/BD_0CkvGDtm/