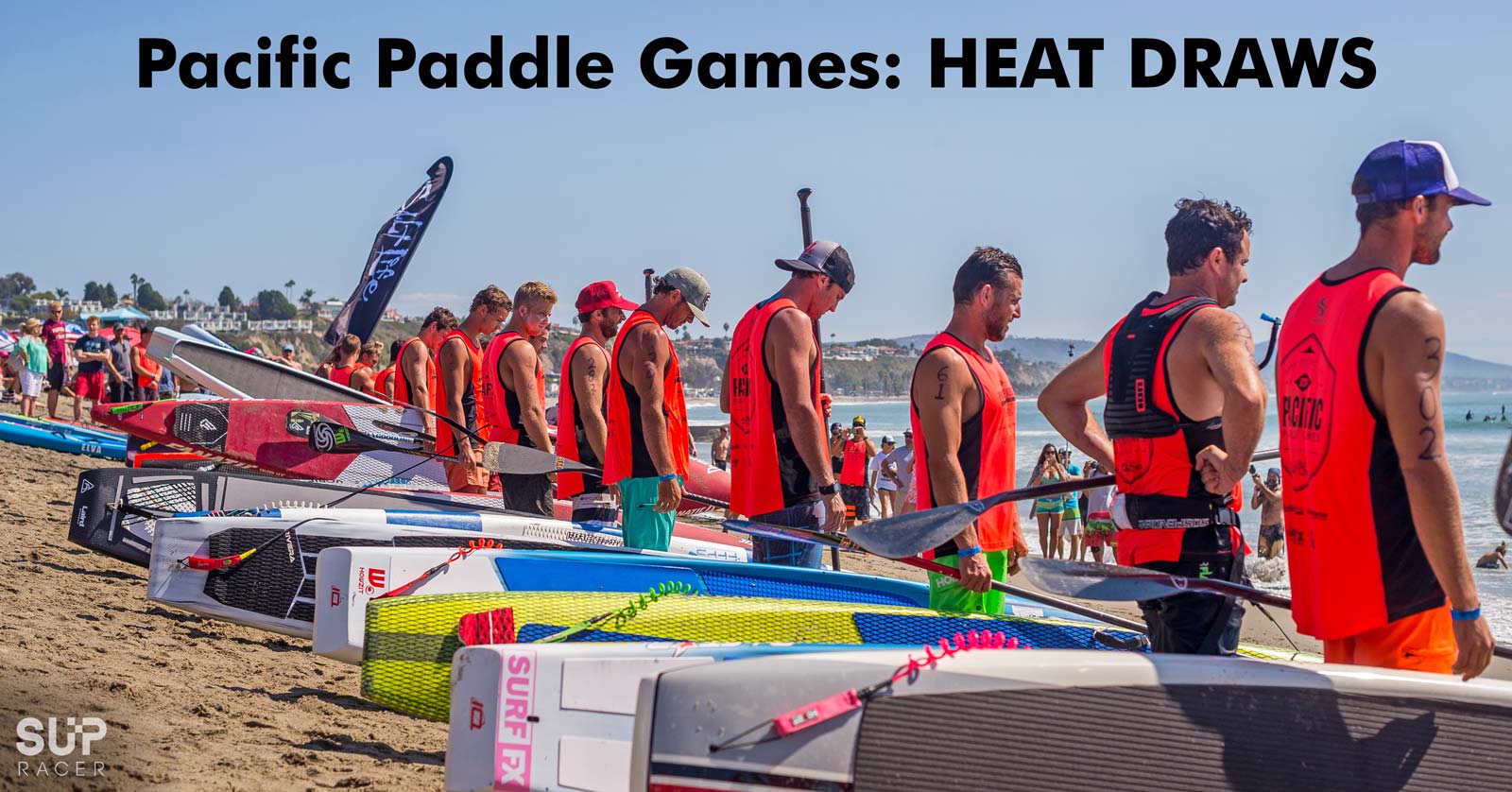 September 29, 2016
by Christopher Parker (@wheresbossman)
Pacific Paddle Games: HEAT DRAWS for the Men's Pro Surf Race on Friday Morning
We're just minutes away from the start of the biggest race of the year, the 2016 Pacific Paddle Games presented by Salt Life, and with virtually every single top ranked paddler on the planet here on the beach in Dana Point, California, we're in for a big show starting at 10:30am today (Friday).
The boards are stickered up, the paddles are primed, and the fins are sharp and ready. The only thing left now is to study the heat draws and find out who is battling whom in the sudden death qualifying heats.
Unlike last year's Pacific Paddle Games, which was a two-day event with a second-chance repechage round, the 2016 PPGs are a three-day event with sudden-death elimination in the elite surf race.
On the men's side, we'll see 8x heats of 14 paddlers on Friday morning, starting at 10:30am (which we'll be bringing to you via our VMG Blades Facebook Live stream). The top 8x finishers from each heat go through to the quarter-finals on Saturday morning, while the rest go home.
It's the same progression all the way through, with the top 8 from each of the quarters going into 2x 16-man semi-finals, then the top 8x from there heading into a 16-man grand finale on Sunday afternoon.
Below are the heat draws for the guys. I believe the heat draws were based on a combination of last year's PPGs results and the current SUP Racer World Rankings. We've only got the men's heat draws for now; the women aren't racing until Saturday afternoon (where it's just 2x semi-finals before Sunday's final), so I assume we'll have those on Friday evening.
Just a look at all those big names (and dark horses) in the field… these heats are STACKED. I guarantee at least half a dozen big names will be knocked out before the weekend even begins (though they've still got the long distance race on Sunday morning; the PPGs are a combined/overall results event).
Oh and we've got a nice little south swell hitting Doheny right now, so there's going to be plenty of waves coming into play to keep things interesting.
If you want to see how it all goes down, remember to tune in and catch all the action with our VMG Blades Facebook Live Stream, which will be running over on the SUP Racer Facebook page just after 10am local time in California.
The first heat is 10:30am and I plan to be streaming ~10 minutes or so before the first horn blows.
The very slickly-produced webcast will be running Saturday and Sunday, but tomorrow it'll just be me and my phone doing a EuroTour-live-stream-style session, so don't expect ESPN-quality on Friday morning, but hopefully it'll give you a fun little window into the festivities.
10:30am Friday in California
= 7:30am Friday in Hawaii
= 1:30pm Friday on the East Coast (Florida, etc)
= 7:30pm Friday in Central Europe (France, Spain, etc)
= 3:30am Saturday in Australia (East Coast)
= 6:30am Saturday in New Zealand
---
2016 Pacific Paddle Games Heat Draws

HEAT 1
Jorge Quintana
Enzo Bennett
Caio Vaz
Tommy Buday Jr
Leonard Nika
Josh Riccio
Connor Baxter
Kai Lenny
Ryan Helm
Belar Diaz
Rob Rojas
Kaihe Chong
Daniel Parres-Puerto
HEAT 2
Carlos Gomez
Brian Meyer
Jeramie Vaine
Bruno Hasulyo
Noa Ginella
Martin Letourneur
Arthur Arutkin
Matt Nottage
Manatea Bopp du Pont
Dave Boehne
Ryan Knysh
Norm Hann
HEAT 3
Andrew Dima
Mike Tavares
Chance Fielder
Noa Hopper
Bullet Obra
Danny Ching
Titouan Puyo
Jayden Jensen
Dylan Frick
Paolo Marconi
George Plsek
Yann Lauletta
HEAT 4
Callan Dick
Rodney Ellis
Taylor Rambo
James Casey
Georges Cronsteadt
Travis Grant
Zane Schweitzer
Guy Barel
Byron Kurt
Zibi Wadzynski
Patrick Vero
HEAT 5
Brenden Clark
Jeremie Mandin
Ryan Funk
Trevor Tunnington
Vinnicius Martins
Mo Freitas
Giorgio Gomez
Thomas King
Kieran Grant
Daniel Russell
Spencer Lacy
Eric Leou-On
HEAT 6
Jeffrey SPencer
Nick Scheel
L. Docamo Belchior
Niuhiti Buillard
Kenny Kaneko
Kody Kerbox
Jake Jensen
Brennan Rose
Riggs Napoleon
Tomoyasu Murabayashi
Gui Batista de Souza
Matt Hartnett
HEAT 7
Damien Girault
Claudio Nika
Garrett Fletcher
Bernd Roediger
Lincoln Dews
Chuck Glynn
Michael Booth
Slater Trout
Daniel Hasulyo
Greg Closier
Vincent Verhoeven
HEAT 8
Ricardo Chiari
Sean Poynter
Connor Bonham
Toby Cracknell
Beau O'Brian
Casper Steinfath
Kelly Margetts
Chase Kosterlitz
Cyril Burguiere
Colin McPhillips
Martino Rogai
Kyle O'Kelly
---