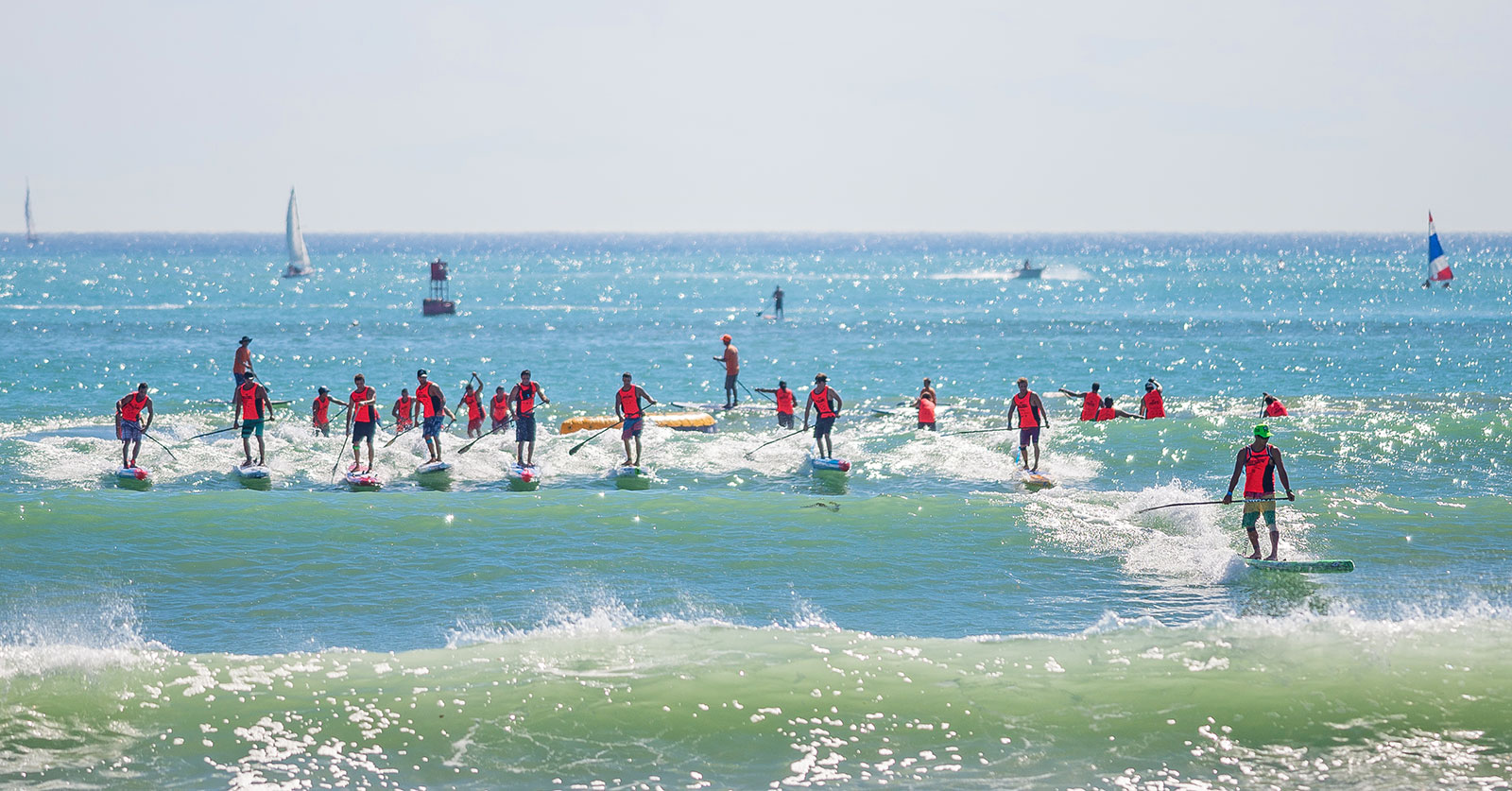 June 13, 2016
by Christopher Parker (@wheresbossman)
Pacific Paddle Games Organisers Listen, Reconsider, and Agree to Remain "Anything up to 14" for Men (12'6 for Women)
After initially deciding to downsize this year's elite race to 12'6, the organising team behind the 6-star Pacific Paddle Games (PPGs) has reconsidered and will now remain an "Anything up to 14 ft" race for men (12'6 for women), restoring some balance to the wider sport and perhaps bringing us a step closer to finally resolving the distracting saga that is the "board class debate".
Following years of division and confusion about which board class was going to become the universal standard, 12'6 or 14, the PPGs helped set the momentum firmly in favour of "Anything up to 14" when they embraced the slightly longer boards at their inaugural event last year.
But with safety a key concern, last week they decided to switch back to the 12'6 boards for both the surf race and long distance event (for both men and women). And that decision set off a mild little firestorm.
Apart from our widely-shared "Facepalm" article, the PPGs team heard comments from all corners of the community, including top paddlers, event organisers, the media, and industry stakeholders, with the vast majority agreeing it would be a "step backwards" to switch back.
So after discussing it again internally, the PPGs team decided to stick with the standards they used last year: Up to 14′ for men and up to 12'6 for women, for both the elite surf race and the elite distance event (the event FAQ has been updated to make the news official).
Being an event organiser has surely gotta be one of the most thankless jobs in this sport of ours, and no doubt it was a stressful few days for the PPGs team. Here they are, organising a world class event that has a record prize purse (among many other positive aspects), but instead the focus was on one single decision involving no more than a foot and a half of foam and carbon.
However, running the sport's marquee event also brings with it a lot of influence, which in turn means a lot of responsibility to get things right. So well done to the PPGs team for closely listening to the community feedback, admitting it was a mistake to go backwards in board size, and promptly correcting it.
So, finally, the Pacific Paddle Games will now officially be an "Anything up to 14" event.
At least for the men… They're still doing that weird thing where it's separate board classes for men and women. But that's not just the Pacific Paddle Games, that's virtually every SUP race in the United States (and is a debate for another day).
For now, let's move on and focus all of our PPGs attention on what will surely be one of the premiere SUP races of the year, with a record prize purse of $60,000 and probably the most competitive field of elite paddlers we'll get to watch all season, not to mention the great open races, grom races, and the entire show that goes along with this big event.
---
[notdevice]
2016 Pacific Paddle Games presented by Salt Life
[tminus t="2016-09-30 09:00:00″ style="hoth" omitweeks="true" /][/notdevice]
---
But where does that leave the "debate"?
With the PPGs back on 14, and with 12'6 holdouts the Waterman League "considering" making most of their Stand Up World Series events "Anything up to 14" in 2017, it seems like we're on the verge of finally resolving this messy board class saga once and for all.
As I wrote in my original PPGs article last week; This isn't about boards, it's about unifying the sport.
Nothing has been more symbolically divisive in this humble little sport of ours than the endless "board class debate". It's created a lot of confusion and made things difficult for the athletes, events, brands, designers, team managers, retail shops, distributors, and perhaps most importantly, consumers.
Nobody is to blame, it's just what happens in a young and rapidly growing sport.
We'll never all agree on which board should be standard between 12'6 and 14 (and in reality, I doubt either is the optimal standard — they're both just arbitrary numbers chosen years ago with very little foresight), however almost everyone seems to agree it's kinda pointless having both of them, and that we should just pick one or the other for the vast majority of races and then move on to more important issues.
And these days, all the momentum is shifting towards the 14 footer.
With the big three "Majors" in the U.S. (Carolina, Gorge, PPGs) now embracing "Anything up to 14" for men, and with the EuroTour helping unify Europe onto the 14ft standard (and it's the same story in Australia), all we really need now is for the final 12'6 holdout, the ISA, to announce they're switching to the 14 footers and we'd be done with it.
Perhaps the ISA could make a long-range call and say right now that they'll implement 14′ from 2017 onward. And perhaps then we'd be able to settle this silly little debate once and for all.
(Though it would be kind of ironic if the "governing body" of our sport ended up being the very last ones to take any action on this hotly-debated issue, but again, that's a whoooole nother debate.)
Once this distracting and trivial board class debate is finally resolved, we can focus all of our energy on real issues, such as increasing the grassroots participation and making the elite side of the sport more exciting and appealing to mainstream audiences and sponsors.
And those are all critical issues.
In particular how to engage more mainstream audiences. I don't think adopting either the 12'6 or 14′ as standard is necessarily going to make our sport any more or less exciting – in fact I think we could experiment with shorter, custom boards in a handful of elite-only "BMX style" specialty events, especially in the heavier surf races (10'6 boards at Huntington, anyone?) – but I do think 14s will help unify the wider sport in general, and for that, the humble 14 footer could prove invaluable.
But anyway, let's move along for now, and let's officially start getting excited about the 2016 Pacific Paddle Games at Doheny State Beach in Dana Point, California, which is happening from Friday September 30th to Sunday October 2nd, and which looks set to be the most significant race on the international calendar yet again.