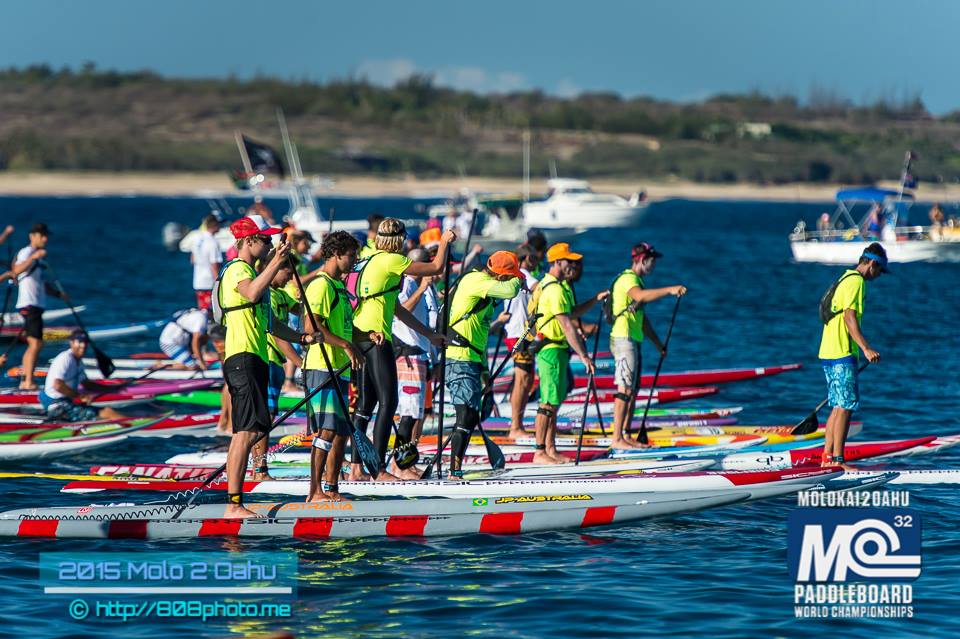 March 10, 2016
by Christopher Parker (@wheresbossman)
2016 Molokai 2 Oahu Start List Revealed, Set to Be Most Competitive Channel Crossing Ever
The start list for the 2016 Molokai 2 Oahu Paddleboard World Championships has just been revealed, with the men's solo stand up paddle division attracting the most competitive field in the event's 20 year history.
Top ranked athletes including three-time champ and world number one Connor Baxter, two-time champ and world number two Travis Grant, number three Danny Ching, and number four Kai Lenny will be racing across the Ka'iwi Channel (aka the "Channel of Bones") on Sunday, July 31st.
Other world class athletes in the men's solo division include Kelly Margetts, Matt Nottage, Vinni Martins, Kody Kerbox, Kenny Kaneko, stock class superhero Travis Baptiste, Niuhiti Buillard, Chuck Glynn, James Casey, Lincoln Dews (3rd over the line in 2015), Josh Riccio, Toby Cracknell, Noa Hopper, Andrew Logreco, Ethan Koopmans, Riggs Napoleon, Luiz Guida, Belar Diaz, Armie Armstrong, Kaihe Chong, Kaeo Abbey, Livio Menelau and Tomoyasu Murabayashi.
Stacked.
Meanwhile it'll be Sonni Hönscheid going for a third straight title in the women's solo, with the German world number four set to start as the favourite. However a trio of past champions – Jenny Kalmbach, Andrea Moller and Terrene Black – will be hoping to give her some close checking.
Also returning is Annabel Anderson, the world number one and defending Molokai stock class champ. Annabel famously finished runner-up overall on her 14 footer last year, so if the conditions are as flat and tough as they were in 2015, Annabel will fancy her chances at the line honours victory (as will Danny Ching in the men's race, after he and Kaihe Chong took line honours as a 2-man 14′ relay team last year). Last year's third-place finisher and top 10 athlete, Penelope Strickland, is also returning and will fancy her chances of scoring a third-straight podium finish.
The uber-prestigious M2O, which celebrates its 20th anniversary this year, is the SUP and paddleboarding world's equivalent of summiting Everest, with the winners destined to be immortalised in the pages of the sport's proverbial history books. After starting out as a traditional prone race in 1997, Molokai officially added a stand up paddle division in 2005, making this the world's longest-running SUP race.
This is the strongest field we've ever seen for Molokai; If the race was held tomorrow it'd score 42.0% on the men's Race Index, which tracks the "level of competition" at every race in the world.
(Although Molokai is technically two races in one, with an unlimited and a 14′ stock division, the event is counted as a "line honours" race on the world rankings, meaning whichever place you cross the line, that's your finishing position no matter what board class you're in. While not perfect, this compromise is designed to give credit to the amazing stock class performers, such as Travis Baptiste who regularly finishes top five overall despite always choosing to race a shorter board. This is the same method that we've been using for the Molokai rankings over the past two years, and is also used at other races such as Maui 2 Molokai and the OluKai Ho.)
But while it would score over 40% on its own, Molokai 2 Oahu will actually be locked in as a 50% race this year. That's because we'll be introducing a few changes to the SUP Racer World Rankings in order to make the whole system easier to follow, including "guaranteed minimum points" for the biggest races in the world. Over the past few days, I've been chatting one-on-one and listening to feedback from many of the world's top athletes, and while these changes won't be announced until next week, right now it looks like Molokai will slot in as a five star, 50% race, alongside a trio of six-star, 60% "majors" (Carolina, the Gorge and the PPGs).
Until then, here's the official start line for Molokai 2 Oahu 2016. Note: This is only the preliminary list, we usually see a few people pull out before race day, which means a few lucky paddlers on the wait list will get a shot.
MOLOKAI 2 OAHU: MEN'S SOLO
| Athlete | Division | World Ranking |
| --- | --- | --- |
| Kaeo Abbey | unlimited | - |
| John Alexiou | unlimited | - |
| Will Anido | unlimited | - |
| Takuji Araki | unlimited | - |
| Armie Armstrong | unlimited | 65 |
| Bob Arnot | unlimited | - |
| Travis Baptiste | stock | 37 |
| Connor Baxter | unlimited | 1 |
| Michael Bennett | unlimited | - |
| Patrick Broemmel | unlimited | - |
| Niuhiti Buillard | stock | 22 |
| James Casey | unlimited | 30 |
| Danny Ching | stock | 3 |
| Kaihe Chong | stock | - |
| Joel Comer | stock | - |
| Toby Cracknell | unlimited | 34 |
| Lincoln Dews | unlimited | 33 |
| Belar Diaz | stock | 52 |
| Brad Feldman | unlimited | - |
| Jimmy Fitt | unlimited | - |
| Noah Garfield | unlimited | - |
| Chuck Glynn | stock | 25 |
| Travis Grant | unlimited | 2 |
| Noa Hopper | stock | 40 |
| Kevin Horgan | unlimited | - |
| Kenny Kaneko | unlimited | 21 |
| Kody Kerbox | stock | 19 |
| Luiz Carlos Guida | unlimited | - |
| Buzzy Kerbox | unlimited | - |
| Ethan Koopmans | stock | 49 |
| Harry Lee | stock | - |
| Didier Leneil | stock | - |
| Kai Lenny | unlimited | 4 |
| Andrew Logreco | stock | - |
| Vince Longo | stock | - |
| Roberto Lopes | stock | - |
| Kelly Margetts | unlimited | 8 |
| James Martindale | unlimited | - |
| Vinnicius Martins | unlimited | 18 |
| Scott McPhail | unlimited | - |
| Heath Meldrum | unlimited | - |
| Livio Menelau | unlimited | 66 |
| Tomoyasu Murabayashi | unlimited | 46 |
| Yoshiaki Nagamatsu | stock | - |
| Riggs Napoleon | stock | 77 |
| Matt Nottage | unlimited | 13 |
| Josh Riccio | unlimited | 39 |
| Billy Robello | unlimited | - |
| Will Schmidt | unlimited | - |
| Russ Scully | stock | - |
| Jimmy Spithill | unlimited | - |
| Robert Stehlik | stock | - |
| Jason Stephens | stock | - |
| Terry Stevens | stock | - |
| Chikara Tsumura | unlimited | - |
| John Walsh | stock | - |
| Craig Winnett | stock | - |
MOLOKAI 2 OAHU: WOMEN'S SOLO
| Athlete | Division | World Ranking |
| --- | --- | --- |
| Annabel Anderson | stock | 1 |
| Terrene Black | unlimited | 6 |
| Devin Blish | unlimited | 32 |
| Lena Guimaraes Ribeiro | unlimited | 33 |
| Sonni Hönscheid | unlimited | 4 |
| Jenny Kalmbach | unlimited | 43 |
| Amy Lawson Woodward | unlimited | - |
| Andrea Moller | unlimited | 14 |
| Kerstin Ouellet | stock | - |
| Siri Schubert | unlimited | - |
| Penelope Strickland | unlimited | 9 |
| Ruth Vesler | unlimited | - |
Head over to the official M2O site for the full start list, including 2- and 3-person teams and the prone paddleboard divisions