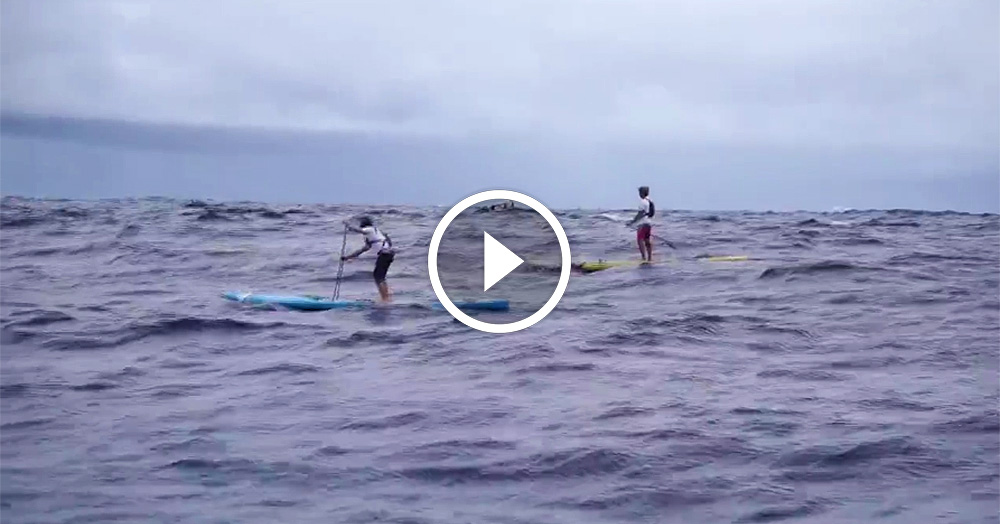 August 2, 2016
by Christopher Parker (@wheresbossman)
Molokai: Watch Kai Lenny and Travis Grant Battling Side-by-Side in the Middle of the Ka'iwi Channel
[notdevice][fbvideo link="https://www.facebook.com/supracerr/videos/1072250872858963/" width="645″ height="363″ onlyvideo="1″][/notdevice][device][fbvideo link="https://www.facebook.com/supracerr/videos/1072250872858963/" width="322″ height="181″ onlyvideo="1″][/device]
Check out this interesting little clip from Sunday's epic Molokai 2 Oahu race. This was filmed about two thirds of the way across the Channel of Bones, when Kai Lenny and Travis Grant were locked in an epic duel for the title.
It's quite amazing to see the two leaders literally side-by-side in such a big open ocean…
At this point, the lead duo had dropped all the other contenders, turning the most prestigious event of the year into a two-horse race. Connor Baxter was still within shouting distance, however Kai and Trav powered home at an incredible pace to put a big gap on the rest of the field by the time they hit Oahu.
Kai famously took a well deserved win, something he's been chasing his entire career, however Trav proved once again that he's one of the true kings of the Ka'iwi Channel with his fourth straight top two finish.
Watch above and enjoy, and take special note of how Trav manages to keep moving even when he stops for some water and a gel.
Thanks to NSP board designer Alain Teurquetil (the creator of Travis' famous blue beast of an unlimited) for sharing this footage.
MORE: 2016 Molokai 2 Oahu Results