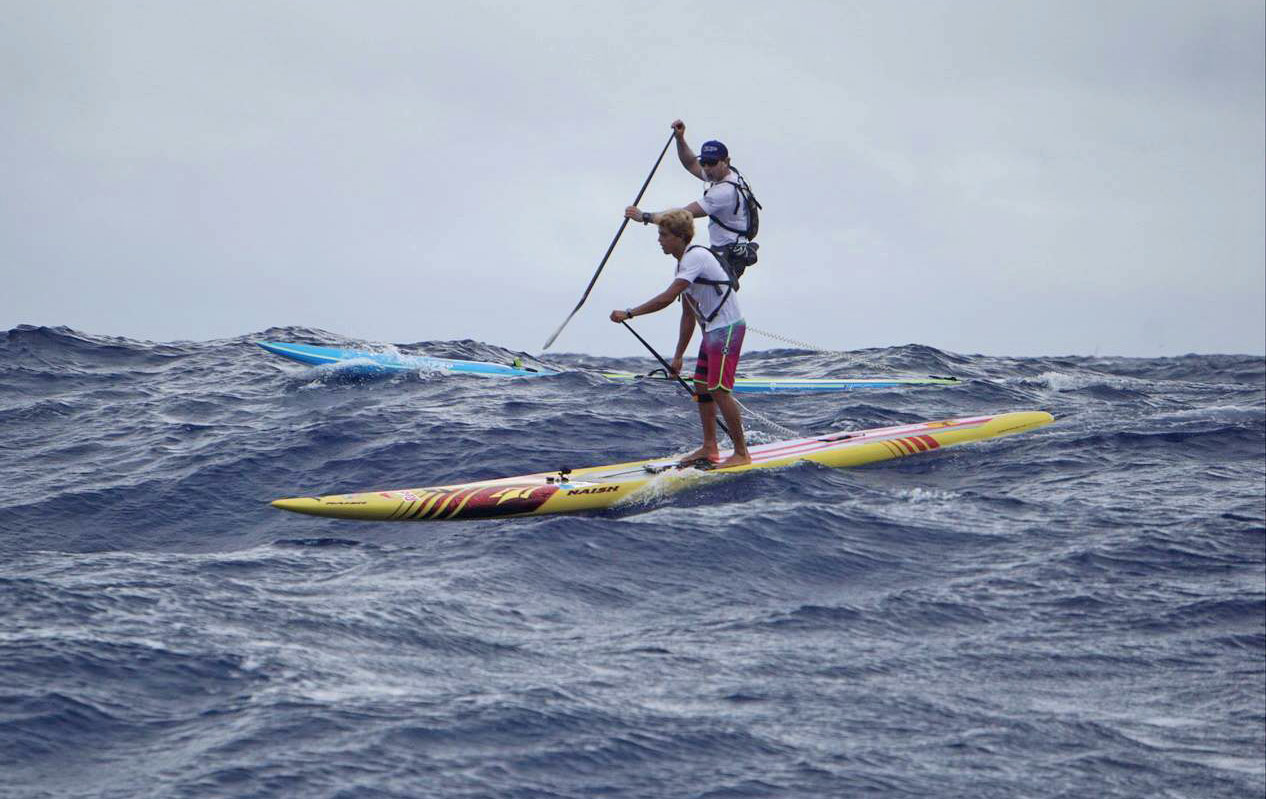 August 3, 2016
by Christopher Parker (@wheresbossman)
#M2O: Post-Molokai Reflections (and Photos) from 38 of the World's Best Paddlers
The boards are back on the rack, the boats are back in the harbour and the trophies are up on the mantelpiece. Molokai-2-Oahu is done for another season, however the memories from this year's epic will live on forever.
The most prestigious race in the world certainly lived up to its hype this year, with the 20th annual crossing of the Ka'iwi Channel proving to be the fastest, most competitive and most exciting edition yet.
I could wax lyrical about this storied event, however nobody says it better than the paddlers themselves, the ones who were actually out there battling in the Channel of Bones for pride and glory.
So to give you a better insight into what M2O really means, here's a selection of post-Molokai reflections from the world's best paddlers…
---
Kai Lenny
[notdevice] [/notdevice]
https://www.instagram.com/p/BIjcR3xAumK/
---
Travis Grant
[notdevice] [/notdevice]
[notdevice][/notdevice][device][/device]
---
Sonni Hönscheid
[notdevice] [/notdevice]
https://www.instagram.com/p/BIrIKMNhRE6/
---
Annabel Anderson
[notdevice] [/notdevice]
https://www.instagram.com/p/BIjSFaFB-DL/
---
Terrene Black
[notdevice] [/notdevice]
https://www.instagram.com/p/BIjWQwKjcaL/
---
James Casey
[notdevice] [/notdevice]
https://www.instagram.com/p/BIjPpmQAowD/
---
Toby Cracknell
[notdevice] [/notdevice]
https://www.instagram.com/p/BIorNAbj_WU/
---
Vinnicius Martins
[notdevice] [/notdevice]
https://www.instagram.com/p/BIlGhwHgkCo/
---
Kenny Kaneko
[notdevice] [/notdevice]
https://www.instagram.com/p/BIjTU4Gj9Jx/
---
Josh Riccio
Posted via Facebook: So stoked to have completed another 32 mile solo crossing from Molokai 2 Oahu. We were blessed with some great conditions for racing and some nice open ocean bumps in the channels his year. I'm really psyched to have finished inside the top 10 this year, but even more stoked on how was able to push myself the whole 32 miles without ever "crashing" or "hitting the wall"Huge thanks to my support boat and Captain Loren Eib for keeping me fired up the whole way and for putting me on a fast line. Also like to thank everyone else for sending me positive thoughts and encouragement pre and post event. Aloha Josh Riccio
[notdevice][fbvideo link="https://www.facebook.com/molokai2oahu/videos/10157265584130525/" width="645″ height="363″ onlyvideo="1″][/notdevice][device][fbvideo link="https://www.facebook.com/molokai2oahu/videos/10157265584130525/" width="322″ height="181″ onlyvideo="1″][/device]

https://www.instagram.com/p/BIvkMb3A7Th/
---
Jonas Letieri
[notdevice] [/notdevice]
https://www.instagram.com/p/BInbmYPBqqf/
---
Travis Baptiste
[notdevice] [/notdevice]
https://www.instagram.com/p/BIrXOnpBu-P/
---
Andrew Logreco
[notdevice] [/notdevice]
https://www.instagram.com/p/BIp7wd6AcTS/
---
Lena Ribeiro
[notdevice] [/notdevice]
https://www.instagram.com/p/BIk6vZAA2EP/
---
Chuck Patterson
[notdevice] [/notdevice]
https://www.instagram.com/p/BImG_iJAqXV/
---
Tomoyasu Murabayashi
[notdevice] [/notdevice]
https://www.instagram.com/p/BIj41-zhJOd/
---
Lara Claydon
[notdevice] [/notdevice]
https://www.instagram.com/p/BIjYei1BLBq/
---
Kali'a Alexiou
[notdevice] [/notdevice]
https://www.instagram.com/p/BIlpDBcDrpk/
---
Kaihe Chong
[notdevice] [/notdevice]
https://www.instagram.com/p/BIkwJUXgpvz/
---
Noa Hopper
[notdevice] [/notdevice]
https://www.instagram.com/p/BIlYsVEDjSg/
---
Ryland Hart
[notdevice] [/notdevice]
https://www.instagram.com/p/BIkwZyZjlMn/
---
Annie Reickert
[notdevice] [/notdevice]
https://www.instagram.com/p/BIjpDuyg8Tq/
---
Jeffrey Spencer
[notdevice] [/notdevice]
https://www.instagram.com/p/BImGXJQB8Yx/
---
Takuji Araki
[notdevice] [/notdevice]
[notdevice][/notdevice][device][/device]
---
Heath Meldrum
[notdevice] [/notdevice]
https://www.instagram.com/p/BIja1kRjNVe/
---
Kieran O'Riordan
[notdevice] [/notdevice]
Posted via Facebook: Well now the dust has settled on the 2016 M2O all of us are left with fond memories and the aches & pains earned from such a huge undertaking. In the lead up there were times where I questioned myself if I deserved to be there on the same start line as so many amazing athletes but the positive attitudes and encouragement that you get from everyone is unbelievable. You kind of feel like you are part of a family such is the atmosphere. I can honestly say it was the hardest and most rewarding thing I have ever done and I loved every minute of it. I have never been so physically and mentally drained as I was crossing that finish line. I can't wait to start training harder for next year. 🙂
Huge thanks to everyone that helped me out along the way with training, advice and positive words, Scott Hardiman, Jimmy Casey, Brad Gaul, Dave Kissane, Sam Parker, and all the friends and family around the world with the positive words and messages in the day – I've read all of them and you guys rock!!!! My awesome support crew on the day, my girlfriend Suze, good mate Paul "shark bait" Matthews, excellent escort boat captain Colin Steinberger & Ariel, Sonni Hönscheid for kindly sorting out my board back on Maui. Lets do it all again in 2017. 🙂 // photo: Mike Abbott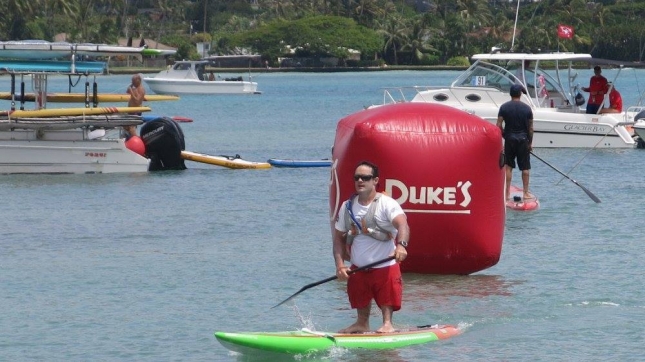 ---
Ethan Koopmans
[notdevice] [/notdevice]
https://www.instagram.com/p/BIjy5YRgJhX/
---
Harry Lee
[notdevice] [/notdevice]
https://www.instagram.com/p/BIjWLCnjycW/
---
Belar Diaz
[notdevice] [/notdevice]
https://www.instagram.com/p/BIkr6U2he6h
---
Michi Schweiger
[notdevice] [/notdevice]
https://www.instagram.com/p/BIomGPNAWdx/
---
Marcus Tardrew
[notdevice] [/notdevice]
(Marcus, a highly talented downwind paddler himself, created the bold new board designs that Matt Nottage, Jimmy Casey and Toby Cracknell were riding)
https://www.instagram.com/p/BIo2SmEAZ9h/
---
And let's not forget the prone paddleboarders, who not only pioneered this race back in the 90s but continue to push the limits and inspire everyone in the ocean paddling world…
---
Jordan Mercer
[notdevice] [/notdevice]
Women's prone champion for a sixth year in a row
https://www.instagram.com/p/BIjUWc1jEM8/
---
Matt Bevilacqua
[notdevice] [/notdevice]
Men's prone champion and new course record holder
https://www.instagram.com/p/BIlHbbXj3LG/
---
Stewart McLachlan
[notdevice] [/notdevice]
Men's prone stock champion (new course record)
https://www.instagram.com/p/BIkyxKWhdXh/
---
Lachie Lansdown
[notdevice] [/notdevice]
https://www.instagram.com/p/BIo6CT_B2nQ/
---
Jack Bark
[notdevice] [/notdevice]
https://www.instagram.com/p/BInxlIsA9qU/
---
Brad Gaul
[notdevice] [/notdevice]
https://www.instagram.com/p/BIjHlMrDFom/
---
Abby Brown
Women's prone stock champion
https://www.instagram.com/p/BIlRLg4hoQ8/
---
Carter Graves
[notdevice] [/notdevice]
https://www.instagram.com/p/BIjV-ocAjGS/
---