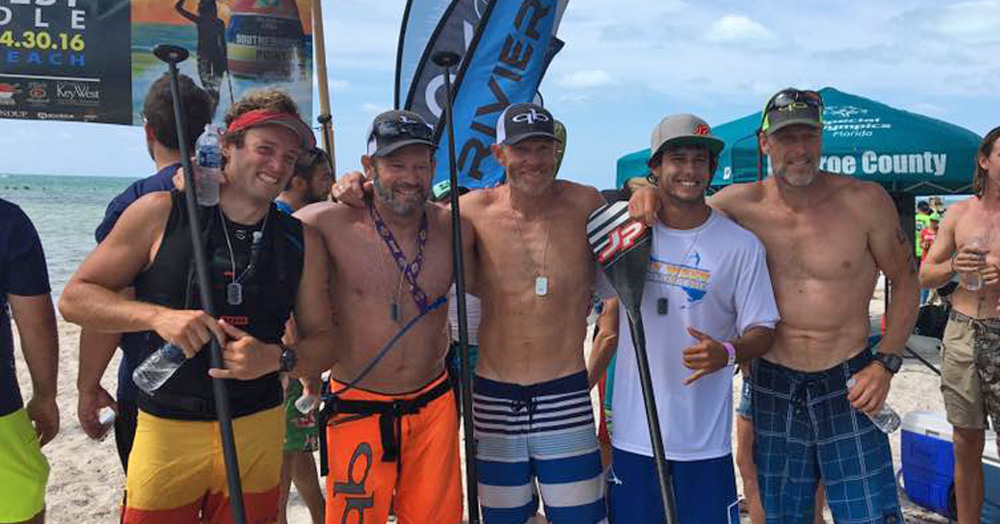 April 30, 2016
by Christopher Parker (@wheresbossman)
RESULTS: Vinnicius Martins, April Zilg Win Florida's Key West Classic
Vinnicius Martins from Brazil has taken out the 19th Annual Key West Classic in Florida today, conquering the grueling 12 mile course to defeat Kelly Margetts and Larry Cain.
The JP Australia team rider rebounded from a disappointing finish at Carolina last week to triumph today, crossing the line about 30 metres ahead of Kelly (Lahui Kai/Quickblade), who finished top five at Carolina and who was our pre-race Key West favourite, while Larry (Starboard/Quickblade), who was the two-time defending champion at this event, wasn't far behind in third.
While the top three was an all-international affair, Florida boys Kieran Grant (Hovie), Garrett Fletcher (YOLO) and Connor Bonham (BIC) took the next three spots for the home team.
In the women's 12 miler, Wrightsville Beach local April Zilg (Hobie) backed up her strong performance last weekend with victory in today's elite women's race, edging out local favourite Seychelle Hattingh (Mistal) while another Carolina top 10 finisher, Kim Barnes (Riviera), rounded out the podium.
The Key West Classic, now almost two decades old, has grown from a small kayak and paddleboard race into Florida's premiere stand up paddle race, attracting hundreds of paddlers from across the state, the country and, this year, around the world.
The race has only just wrapped up, so check back tomorrow for a full recap, photos and video. In the meantime head on over to the official Facebook page for a stream of race day pics.
2016 Key West Classic RESULTS
Men's 12 Mile SUP Race

| # | Name | Time | Board | Age | Points |
| --- | --- | --- | --- | --- | --- |
| 1 | Vinnicius Martins | 2:04:46 | 14' | 20-29 | 20.00 |
| 2 | Kelly Margetts | 2:05:06 | 14' | 40-49 | 15.00 |
| 3 | Larry Cain | 2:07:34 | 14' | 50-59 | 12.00 |
| 4 | Kieran Grant | 2:10:00 | 14' | 20-29 | 10.00 |
| 5 | Garrett Fletcher | 2:11:01 | 14' | 20-29 | 8.50 |
| 6 | Connor Bonham | 2:11:41 | 14' | 20-29 | 7.00 |
| 7 | Robert Hess | 2:16:12 | 14' | 20-29 | 6.00 |
| 8 | Belar Diaz | 2:16:22 | 14' | 30-39 | 5.00 |
| 9 | Billy Swezey Jr | 2:18:34 | 14' | 20-29 | 4.50 |
| 10 | Joey Huempfner | 2:22:05 | 12'6" | U19 | 4.00 |
| 11 | James Douglass | 2:23:00 | 14' | 30-39 | 3.60 |
| 12 | Steve Miller | 2:23:04 | 12'6" | 40-49 | 3.20 |
| 13 | Jake Portwood | 2:23:18 | 12'6" | 20-29 | 3.00 |
| 14 | Sam English | 2:24:55 | 14' | 20-29 | 2.80 |
| 15 | Jacob Graham | 2:25:53 | 14' | 20-29 | 2.60 |
| 16 | Darian Hildreth | 2:26:02 | Unlim | 40-49 | 2.40 |
| 17 | Jim Terrell | 2:26:47 | 14' | 50-59 | 2.20 |
| 18 | Christian Goerloff | 2:27:34 | 14' | 40-49 | 2.00 |
| 19 | Jamie Twigg | 2:28:15 | 12'6" | 40-49 | 1.80 |
| 20 | Rev Thom | 2:29:49 | 14' | 40-49 | 1.60 |
| 21 | Corey Curtis | 2:30:43 | 14' | 30-39 | 1.50 |
| 22 | Ej Johnson | 2:35:17 | 14' | 50-59 | 1.40 |
| 23 | Joey Kolisch | 2:38:46 | 14' | 60+ | 1.30 |
| 24 | Zach Rounsaville | 2:40:04 | 14' | 20-29 | 1.20 |
| 25 | Brian Hovnanian | 2:40:06 | 14' | 50-59 | 1.10 |
| 26 | Travis Kindt | 2:40:29 | 12'6" | 20-29 | 1.04 |
| 27 | David Dean | 2:41:34 | 14' | 50-59 | 0.98 |
| 28 | John Meskauskas | 2:41:35 | 12'6" | 40-49 | 0.92 |
| 29 | Neil Uden | 2:44:53 | 12'6" | 30-39 | 0.86 |
| 30 | Chip Bock | 2:47:43 | Unlim | 40-49 | 0.00 |
| 31 | Camilo Marmol | 2:49:20 | 12'6" | 40-49 | 0.80 |
| 32 | Jose Antonio | 2:50:35 | 14' | 50-59 | 0.76 |
| 33 | Matt Kearney | 2:51:09 | 14' | 20-29 | 0.72 |
| 34 | Jeff Berry | 2:51:57 | 14' | 40-49 | 0.68 |
| 35 | Stephen Chase | 2:55:11 | 14' | 30-39 | 0.64 |
| 36 | Chris Lightbound | 2:58:41 | 14' | 60+ | 0.60 |
| 37 | Al Simmons | 2:59:38 | Inflatable 12'6" | 60+ | 0.56 |
| 38 | Dan Smith | 3:01:54 | 14' | 50-59 | 0.52 |
| 39 | Robert Hubsch | 3:03:36 | Surfboard | 50-59 | 0.48 |
| 40 | Gander Tawaststjerna | 3:04:18 | 14' | 50-59 | 0.44 |
| 41 | Brad Devin Turetzkin | 3:04:43 | 12'6" | 50-59 | 0.40 |
| 42 | Marius Venter | 3:04:46 | Surfboard | 40-49 | 0.38 |
| 43 | Ryan Pena | 3:08:11 | 12'6" | 30-39 | 0.36 |
| 44 | Murray Hunkin | 3:10:23 | 14' | 40-49 | 0.34 |
| 45 | Henry Hidy | 3:11:55 | 12'6" | 50-59 | 0.32 |
| 46 | Gareth Sheppard | 3:12:09 | 12'6" | 30-39 | 0.30 |
| 47 | Adam Pollock | 3:12:42 | Unlim | 40-49 | 0.00 |
| 48 | Mike Kenna | 3:18:01 | 14' | 40-49 | 0.28 |
| 49 | Jorge Navarro | 3:18:36 | 12'6" | 40-49 | 0.26 |
| 50 | Mark Coleman | 3:19:33 | Surfboard | 40-49 | 0.24 |
| 51 | Sonny Perry | 3:26:03 | Surfboard | 50-59 | 0.22 |
| 52 | Will Compton | 3:28:59 | 12'6" | 60+ | 0.20 |
| 53 | Karl Eugster | 3:33:30 | Inflatable 12'6" | 50-59 | 0.00 |
| 54 | Alex Pelkey | 3:33:46 | Inflatable 12'6" | 30-39 | 0.00 |
| 55 | John Shepard | 3:34:38 | 12'6" | 30-39 | 0.00 |
| 56 | Mark Sumner | 3:39:15 | 14' | 30-39 | 0.00 |
| 57 | Greg Kerns | 3:42:42 | 14' | 40-49 | 0.00 |
| 58 | Jamie Moger | 3:42:46 | 12'6" | 40-49 | 0.00 |
| 59 | David Meadors | 3:43:34 | 12'6" | 40-49 | 0.00 |
| 60 | Stephen Artusi | 3:44:29 | 12'6" | 40-49 | 0.00 |
| 61 | Gregory Lynch | 3:45:38 | 12'6" | 60+ | 0.00 |
| 62 | Joseph Mcmaster | 3:46:03 | 14' | 50-59 | 0.00 |
| 63 | Conrad Charles | 3:47:23 | Surfboard | 50-59 | 0.00 |
| 64 | Ed Gribben Jr | 3:49:15 | 12'6" | 40-49 | 0.00 |
| 65 | Brad Mitchell | 3:49:29 | 14' | 40-49 | 0.00 |
| 66 | Vincent Harrison | 3:55:53 | Surfboard | 40-49 | 0.00 |
| 67 | Ron Jones | 4:04:12 | 14' | 40-49 | 0.00 |
| 68 | Christopher Nunez | 4:05:06 | 12'6" | 30-39 | 0.00 |
| 69 | Richard Rodriguez | 4:09:36 | 12'6" | 50-59 | 0.00 |
| 70 | Bill Horn | 4:11:01 | 14' | 50-59 | 0.00 |
| 71 | Christopher Ray | 4:12:26 | Surfboard | 40-49 | 0.00 |
| 72 | Mark Devall | 4:28:50 | 14' | 40-49 | 0.00 |
| 73 | Clinton Johnson | 4:31:01 | 14' | 30-39 | 0.00 |
| 74 | Dave Hamlin | 4:34:21 | 12'6" | 40-49 | 0.00 |
| 75 | Gary Stanyer | 4:38:05 | 12'6" | 40-49 | 0.00 |
| 76 | Chris Maceachern | 4:40:41 | 12'6" | 50-59 | 0.00 |
| 77 | Kurt Simpson | 4:41:06 | 12'6" | 60+ | 0.00 |
| 78 | Paul Griffin | 5:03:41 | 12'6" | 40-49 | 0.00 |
| 79 | Gary Strom | 5:24:37 | Surfboard | 40-49 | 0.00 |
| 80 | Giovanni Picione | 5:32:06 | Surfboard | 40-49 | 0.00 |
| 81 | Ben Yetman | 5:41:02 | Inflatable 12'6" | 30-39 | 0.00 |
| 82 | Chris Baker | 5:43:17 | 14' | 50-59 | 0.00 |
| 83 | Rudy Baker | 5:43:18 | 14' | U19 | 0.00 |
Women's 12 Mile SUP Race

| # | Name | Time | Board | Age | Points |
| --- | --- | --- | --- | --- | --- |
| 1 | April Zilg | 2:23:32 | 12'6" | 20-29 | 20.00 |
| 2 | Seychelle Hattingh | 2:24:43 | 12'6" | 20-29 | 15.00 |
| 3 | Kimberly Barnes | 2:24:45 | 12'6" | 30-39 | 12.00 |
| 4 | Victoria Burgess | 2:28:55 | 12'6" | 30-39 | 10.00 |
| 5 | Mab Mab | 2:45:35 | 14' | 50-59 | 0.00 |
| 6 | Maddie Miller | 2:46:25 | 12'6" | U19 | 8.50 |
| 7 | Mini Crash | 2:48:03 | 14' | 40-49 | 0.00 |
| 8 | Catherine Uden | 2:52:52 | 12'6" | 40-49 | 7.00 |
| 9 | Sierra Groth | 3:06:26 | 12'6" | 20-29 | 6.00 |
| 10 | Tracey Finlay | 3:09:57 | 12'6" | 50-59 | 5.00 |
| 11 | Sydney Sessoms | 3:13:19 | 12'6" | 40-49 | 4.50 |
| 12 | Milla Navarro | 3:23:34 | 12'6" | U19 | 4.00 |
| 13 | Josette Lata | 3:39:38 | 12'6" | 40-49 | 3.60 |
| 14 | Bethany Tietz | 3:45:31 | Surfboard | 30-39 | 3.20 |
| 15 | Rachel Ferguson | 3:48:57 | 12'6" | 20-29 | 3.00 |
| 16 | Nannette Prevost | 3:54:07 | 12'6" | 40-49 | 2.80 |
| 17 | Nancy Curran | 4:00:30 | 12'6" | 60+ | 2.60 |
| 18 | Alex Cotleur | 4:06:50 | Surfboard | 40-49 | 2.40 |
| 19 | Maryann Jackowski | 4:16:38 | 12'6" | 40-49 | 2.20 |
| 20 | Jennifer Whiteley | 4:21:23 | Surfboard | 40-49 | 2.00 |
| 21 | Tammy Brinkmann | 4:37:26 | 12'6" | 40-49 | 1.80 |
| 22 | Amy Gage | 4:37:42 | Surfboard | 40-49 | 1.60 |
| 23 | Kristin Yunger | 4:43:43 | 12'6" | 40-49 | 1.50 |
| 24 | Dorothy Campbell | 4:51:29 | 12'6" | 50-59 | 1.40 |
| 25 | Nessa Brunton | 4:58:53 | 12'6" | 50-59 | 1.30 |
| 26 | Colleen Dunne | 5:12:21 | Surfboard | 40-49 | 1.20 |
| 27 | Heather Whitehead | 5:14:41 | Surfboard | 30-39 | 1.10 |
| 28 | Kimberly Depasquale | 5:14:55 | Surfboard | 40-49 | 1.04 |
| 29 | Janice Nott | 5:20:00 | Surfboard | 50-59 | 0.98 |
| 30 | Wendi Christensen | 5:20:37 | Surfboard | 40-49 | 0.92 |
| 31 | Naomi Gutnik | 5:22:05 | 14' | 40-49 | 0.00 |
| 32 | Caitlin Miller | 5:24:02 | 14' | 20-29 | 0.00 |
| 33 | Laura Iossi | 5:28:18 | 12'6" | 40-49 | 0.86 |
Raw results plus the surfski/prone/outrigger divisions are up on Paddle Guru