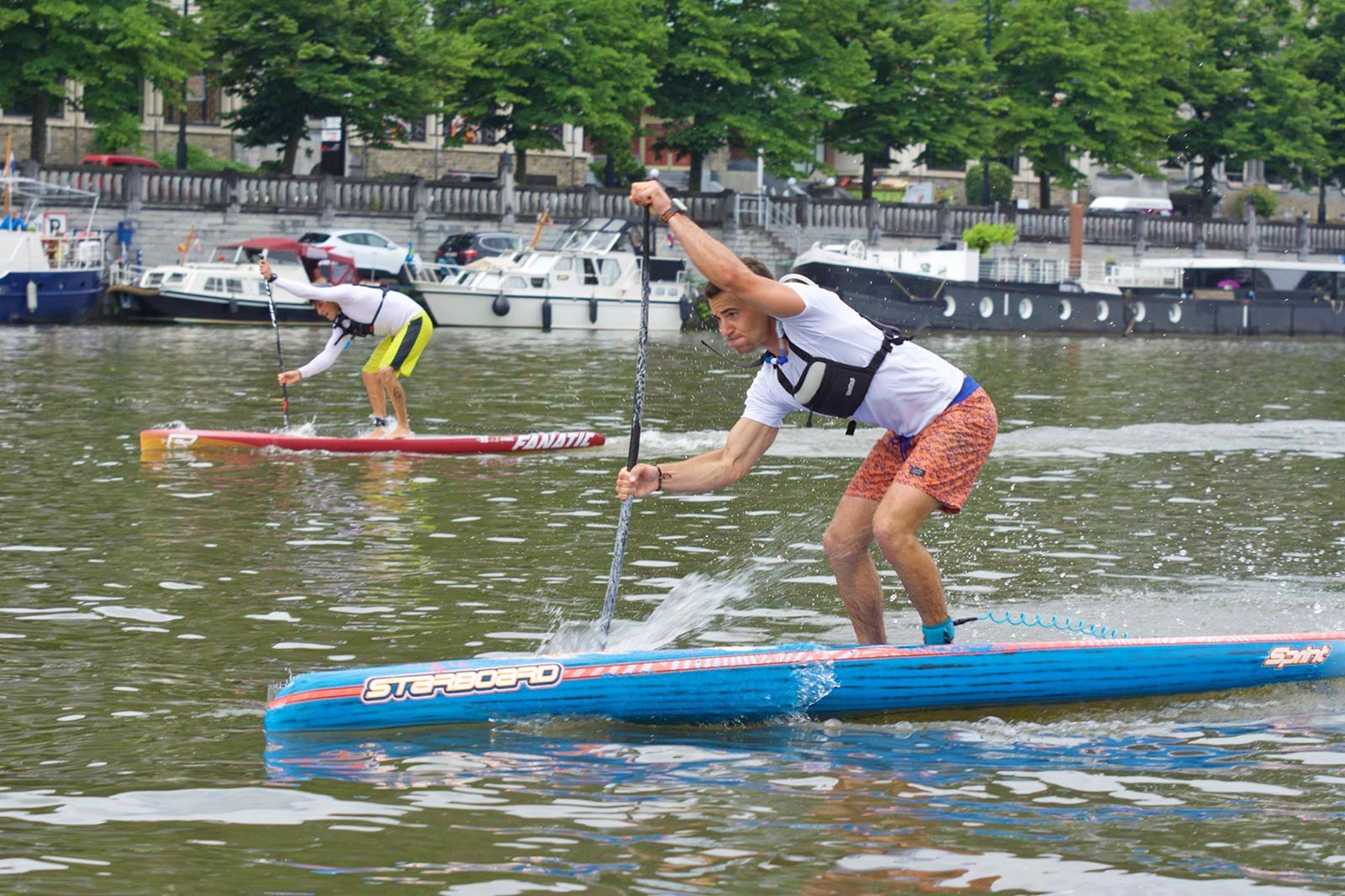 June 25, 2016
by Christopher Parker (@wheresbossman)
EuroTour Week 8: Frenchman Jeremy Teulade Narrowly Wins the 'Happy Summer' Race in Namur
In brief: Frenchman Jeremy Teulade has claimed Week 8 of the EuroTour for Team Starboard, out-sprinting Norm Weber (Siren), Davide Ionico (Fanatic), Martin Letourneur (Hobie) team mate Boris Jinvresse, compatriot Joseph Gueguen (Nah Skwell) and home country hero Joep van Bakel (Fanatic) after almost an hour and a half of tight, flat water racing in the Belgian city of Namur to win the Happy Summer SUP Race.
Dutchwoman Petronella van Malsen (Fanatic) proved too strong for rising French star Amandine Chazot (Starboard), crossing the line one minute clear in a time of 1:31:44.
The marathon EuroTour continues on next week to Greece, before hitting Finland, Italy, the Azores and wrapping up at St Ives in the UK.
More coverage from Namur over on the official EuroTour Facebook page.
Check out the full EuroTour Leaderboard to see who else has been on fire this summer
ELITE MEN

| # | Athlete | Time | Points | Brand | Nation |
| --- | --- | --- | --- | --- | --- |
| 1 | Jeremy Teulade | 1:21:09 | 5.00 | Starboard | France |
| 2 | Norm Weber | 1:21:11 | 3.75 | Siren | Germany |
| 3 | Davide Ionico | 1:21:12 | 3.00 | Fanatic | Italy |
| 4 | Martin Letourneur | 1:21:16 | 2.50 | Hobie | France |
| 5 | Boris Jinvresse | 1:21:21 | 2.13 | Starboard | France |
| 6 | Joseph Gueguen | 1:21:26 | 1.75 | Nah Skwell | France |
| 7 | Joep van Bakel | 1:21:29 | 1.50 | Fanatic | Belgium |
| 8 | Peter Bartl | 1:23:05 | 1.25 | JP Australia | Austria |
| 9 | Peter Weidert | 1:23:09 | 1.13 | JP Australia | Germany |
| 10 | Martijn van Deth | 1:23:22 | 1.00 | Starboard | Netherlands |
| 11 | Ricardo Haverschmidt | 1:26:17 | 0.90 | Fanatic | Netherlands |
| 12 | Belar Diaz | 1:27:12 | 0.80 | ECS | Spain |
| 13 | Vincent Sultana | 1:27:22 | 0.75 | F-One | France |
| 14 | Vincent Thomas | 1:30:11 | 0.70 | ? | France |
| 15 | Pascal Bleys | 1:33:27 | 0.65 | Fanatic | Belgium |
| 16 | Andreas Svensson | 1:33:52 | 0.60 | Naish | Sweden |
| 17 | Frank Gondek | 1:34:24 | 0.55 | BIC | ? |
| 18 | Dirk de Beuf | 1:37:15 | 0.50 | JP Australia | Belgium |
ELITE WOMEN

| # | Athlete | Time | Points | Brand | Nation |
| --- | --- | --- | --- | --- | --- |
| 1 | Petronella van Malsen | 1:31:44 | 5.00 | Fanatic | Netherlands |
| 2 | Amandine Chazot | 1:32:42 | 3.75 | Starboard | France |
| 3 | Janneke Smits | 1:35:48 | 3.00 | Mistral | Netherlands |
| 4 | Laura Bartl | 1:36:53 | 2.50 | JP Australia | Austria |
| 5 | Maya Persson | 1:44:36 | 2.13 | Fanatic | Sweden |
| 6 | Betty Mooi | 2:00:52 | 1.75 | Naish | Netherlands |