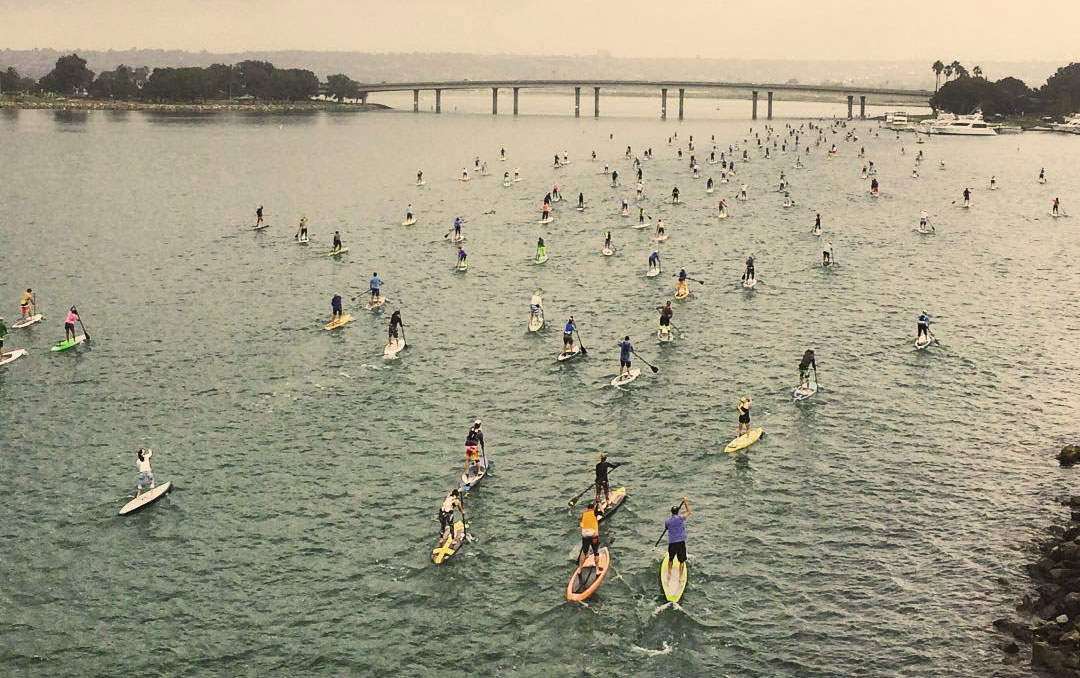 January 23, 2016
by Christopher Parker (@wheresbossman)
Danny Ching, Erika Benitez Win the 500-Strong 'Hanohano' Race in San Diego
https://www.instagram.com/p/BA4-dZWIFCj/
[notdevice] [/notdevice]
[notdevice] [/notdevice]
Danny Ching and Erika Benitez have taken out the 2016 Hanohano Huki Ocean Challenge in San Diego's Mission Bay, with 500 paddlers showing up on a crisp morning for this classic, early season race.
The Infinity speed freaks Dave Boehne & Slater Trout took line honours on their tandem SUP, while Rob Rojas snuck across for second over the line on his unlimited. But in the main battle of the 14 footers, Danny narrowly edged out his new team mate Noa Hopper, with Chase Kosterlitz, Chuck Glynn, Chance Fielder and Gabriel Beauchesne Sevigny all just seconds behind.
It was actually a double victory for Danny, who won the OC-1 long course race earlier in the day (defeating all of the OC-2 and most of the surfski competitors in the process). It was a also a great day for young Noa, who, just like his team boss, also competed in the 9 mile OC-1 long course (finishing top 10) before backing up strongly in the 4.5 mile SUP short course.
Sounds like the top six or seven 14′ guys were in a draft train for most of the race, with Danny pulling away towards the finish. The 404 front man crossed in 53 minutes 56 seconds (which makes me think the course was a little longer than 4.5 miles), just eight seconds ahead of Noa. Chase and Chuck both crossed a few seconds later, while Chance (on his new Infinity team board) and Gabriel were less than half a minute off Danny's pace.
Brennan Rose and Garrett Fletcher finished a couple of minutes later in 7th and 8th place respectively, while Anthony Vela was next over the line as the fastest guy on a 12'6.
Below: Dave Boehne and Slater Trout on their custom, 19′ Infinity tandem SUP
https://www.instagram.com/p/BA5hsCRPAKH
The Hanohano is a great race because it almost always sees a dark horse or two stand up, and this year it was Gabriel Beauchesne Sevigny (aka 'Gab' or 'GBS' as I like to call him). GBS isn't a familiar name in the SUP world, however he's definitely one to watch in the future. The Canadian dark horse/Olympic canoe prospect is currently trained by Larry Cain, and has his sights set on the Rio Olympics later this year. Gab turned heads at the Surf to Sound race late last year, where he topped the podium with Larry and their fellow Olympic canoeist Tommy Buday Jr. According to Larry, his protégé may turn his attention to SUP racing full time after this year's Olympic campaign.
On the women's side it was a battle of the young guns and a preview of what's to come in the next few years, with Erika Benitez showing why she's a star of the future to finish a minute clear of her friendly rivals. Erika, who represented Team Mexico at the 2015 Worlds but now resides in California, defeated her fellow youngsters to salute in a time of 1:03:09. A minute later, Alexandria Higginson edged out Jade Howson by just six seconds to claim the second step on the podium.
Amazingly, Erika, Alex and Jade are all under 16 competitors (in fact Alex and Jade are under 14). Great to see the stars of tomorrow stepping it up in the women's sport, with groups such as the Paddle Academy and Performance Paddling leading the way (Alex, Jade and Shae are also all part of the Riviera team).
To highlight just how strong the girls are becoming these days, top 10 world ranked athlete Shae Foudy didn't even crack the podium, having to settle for 4th place behind her training partners. Bailey Rosen was close behind in 5th, while SoCal SUP stalwart Kristin Thomas came home 6th.
Below: Short vid of the race start via OnIt Pro (yep, some guy was on a double blade)
https://www.instagram.com/p/BA48YjNMT0l/
Though surely the most inspirational performance of the day came from Jonas Letieri from Brazil. Jonas, who shot to fame at last year's Payette River Games, lost both his forearms in an electrical accident (while volunteering at his church, no less) but hasn't let that get in the way of his surfing and paddling lifestyle (watch Quickblade's great recap of the PRGs for more inspirational stuff). Jonas crossed the line right beside Quickblade's Jim Terrell, who designed Jonas' special paddle and has been training the young guy at QB HQ all this week.
Below: Jonas and his new custom paddles crafted by Quickblade's Jim Terrell
https://www.instagram.com/p/BA3vP61hRVM/
It's almost a cliché to suggest that any sportsperson with a serious injury or disability is an 'inspiration,' however with Jonas that word is an understatement. I was lucky enough to spend some time with Jonas at the BOP Brazil in 2014 (and in Idaho last year) and I can say from first hand experience that even just five minutes with this kid will make you a better person. His positivity is purely infectious.
After the race I chatted briefly with Jimmy Terrell, who told me it was another great year for the Hanohano. He also said Jonas was really enjoying the atmosphere and paddled very strong in his first race in California (though he suffered a tight back in the latter stages and had to ease it home).
A truly inspirational performance from an amazing young man.
Below, Jonas being interviewed by SUP Connect post-race
https://www.instagram.com/p/BA5PpFjsT0v/
Celebrating its 20th anniversary this year, the Hanohano has become a staple of the SoCal Winter Series. What started out as an outrigger race ('Hanohano' is an OC-1 maker), the event now also attracts prone, canoe, kayak and surfski paddlers in addition to the stand ups. In fact SUP has become the single largest class, with 260 of the 500 odd competitors on SUPs this year. In another positive sign for the event, there were over 65 women competing in the SUP divisions alone, along with almost 30 juniors in the grom race (it was great to see many of the pro athletes helping out during the kids race).
Here are the full results from the Hanohano SUP race, with raw results (including OC-1, prone, etc) available over on PaddleGuru.
Also check back later for more pics and videos of the race. I know the OnIt Pro team were down there with their cameras, so expect their usual 1,000 photos to drop on Facebook tonight or tomorrow.
UPDATE: Yep, OnIt Pro has hundreds of photos up already. Mike Muir from Riviera also has a very nice collection
2016 Hanohano Huki Ocean Challenge SUP Race Results
Course: 4.5 miles (though it was probably a little longer)
Conditions: Flat water, light winds, a little chilly
Click "M/F" to switch between men's and women's results
Click "Board" or "Age" to sort by board class/age division
Click "Time" to reset the results

| # | M/F | # | Name | Time | Board | # | Age | # |
| --- | --- | --- | --- | --- | --- | --- | --- | --- |
| 1 | M | 1 | Dave Boehne, Slater Trout | 0:52:08 | M Tandem | 1 | Men's 19-39 | 1 |
| 2 | M | 2 | Rob Rojas | 0:53:49 | M Unlimited | 1 | Men's 40-49 | 1 |
| 3 | M | 3 | Danny Ching | 0:53:56 | M 14' | 1 | Men's 19-39 | 1 |
| 4 | M | 4 | Noa Hopper | 0:54:04 | M 14' | 2 | Men's U19 | 1 |
| 5 | M | 5 | Chase Kosterlitz | 0:54:07 | M 14' | 3 | Men's 19-39 | 2 |
| 6 | M | 6 | Scott Shoemaker | 0:54:07 | M Unlimited | 2 | Men's 40-49 | 2 |
| 7 | M | 7 | Chuck Glynn | 0:54:08 | M 14' | 4 | Men's 19-39 | 3 |
| 8 | M | 8 | Chance Fielder | 0:54:23 | M 14' | 5 | Men's 40-49 | 1 |
| 9 | M | 9 | Gab Beauchesne Sevigny | 0:54:25 | M 14' | 6 | Men's 19-39 | 4 |
| 10 | M | 10 | Brennan Rose | 0:56:03 | M 14' | 7 | Men's 19-39 | 5 |
| 11 | M | 11 | Garrett Fletcher | 0:56:18 | M 14' | 8 | Men's 19-39 | 6 |
| 12 | M | 12 | Anthony Vela | 0:57:21 | M 12'6 | 1 | Men's 40-49 | 1 |
| 13 | M | 13 | Travis Cunningham | 0:58:09 | M Unlimited | 3 | Men's 19-39 | 1 |
| 14 | M | 14 | Taylor Rambo | 0:58:28 | M 14' | 9 | Men's 19-39 | 7 |
| 15 | M | 15 | Jack Wygal | 0:58:29 | M 14' | 10 | Men's 40-49 | 2 |
| 16 | M | 16 | Nick Scheel | 0:59:27 | M 12'6 | 2 | Men's U19 | 4 |
| 17 | M | 17 | Brandon Rambo | 0:59:47 | M 12'6 | 3 | Men's 19-39 | 1 |
| 18 | M | 18 | Tim Warner | 0:59:55 | M 14' | 11 | Men's 19-39 | 8 |
| 19 | M | 19 | Eric Starnes | 1:00:04 | M 14' | 12 | Men's 50-59 | 1 |
| 20 | M | 20 | Sean Pangelinan | 1:00:10 | M 14' | 13 | Men's 19-39 | 9 |
| 21 | M | 21 | Daniel Russell | 1:00:16 | M 14' | 14 | Men's 19-39 | 10 |
| 22 | M | 22 | Zibi Wadzynski | 1:00:19 | M 12'6 | 4 | Men's 40-49 | 2 |
| 23 | M | 23 | Ej Johnson | 1:00:30 | M 14' | 15 | Men's 50-59 | 2 |
| 24 | M | 24 | Ryland Hart | 1:00:38 | M 12'6 | 5 | Men's U16 | 1 |
| 25 | M | 25 | Tyler Bashor | 1:00:40 | M 12'6 | 6 | Men's U14 | 1 |
| 26 | M | 26 | Ikaika Pidot | 1:00:43 | M 12'6 | 7 | Men's 19-39 | 2 |
| 27 | M | 27 | Patrick Cleveland | 1:00:46 | M 12'6 | 8 | Men's U16 | 2 |
| 28 | M | 28 | Steve Dullack | 1:00:50 | M 14' | 16 | Men's 40-49 | 3 |
| 29 | M | 29 | Brent Campbell | 1:00:52 | M 14' | 17 | Men's 19-39 | 11 |
| 30 | M | 30 | Michael Kelley | 1:00:55 | M 14' | 18 | Men's 50-59 | 3 |
| 31 | M | 31 | Paul Pianowski | 1:00:59 | M 14' | 19 | Men's 19-39 | 12 |
| 32 | M | 32 | Tyler Schmuckle | 1:01:02 | M 14' | 20 | Men's 19-39 | 13 |
| 33 | M | 33 | Stephen Sinkus | 1:01:07 | M 14' | 21 | Men's 40-49 | 4 |
| 34 | M | 34 | Jordan Mckee | 1:01:13 | M Unlimited | 4 | Men's 19-39 | 2 |
| 35 | M | 35 | Jeremiah Murphy | 1:01:19 | M 14' | 22 | Men's 40-49 | 5 |
| 36 | M | 36 | Scott Rose | 1:01:21 | M 14' | 23 | Men's 50-59 | 4 |
| 37 | M | 37 | Dale Marnati | 1:01:28 | M 14' | 24 | Men's 60+ | 1 |
| 38 | M | 38 | David Meyler | 1:01:29 | M 14' | 25 | Men's 40-49 | 6 |
| 39 | M | 39 | Stephen Baker | 1:01:51 | M 12'6 | 9 | Men's U14 | 2 |
| 40 | M | 40 | Karl Treiberg | 1:01:54 | M 14' | 26 | Men's 50-59 | 5 |
| 41 | M | 41 | Alan Chalom | 1:02:15 | M 14' | 27 | Men's 50-59 | 6 |
| 42 | M | 42 | Braly Joy | 1:02:20 | M 14' | 28 | Men's 40-49 | 7 |
| 43 | M | 43 | Elijah Schoenig | 1:02:23 | M 12'6 | 10 | Men's U14 | 3 |
| 44 | M | 44 | Thomas Nilsen | 1:02:28 | M 12'6 | 11 | Men's U14 | 4 |
| 45 | M | 45 | David Dean | 1:02:30 | M 14' | 29 | Men's 50-59 | 7 |
| 46 | M | 46 | Paul Cribb | 1:02:32 | M 14' | 30 | Men's 40-49 | 8 |
| 47 | M | 47 | Jedd Hasay | 1:02:45 | M 14' | 31 | Men's 19-39 | 14 |
| 48 | F | 1 | Erika Benitez | 1:03:09 | F 12'6 | 1 | Women's U16 | 1 |
| 49 | M | 48 | Chris Hammond | 1:03:13 | M 14' | 32 | Men's 40-49 | 9 |
| 50 | M | 49 | Derek Turner | 1:03:35 | M 14' | 33 | Men's 50-59 | 8 |
| 51 | M | 50 | Manny Vargas | 1:03:57 | M 12'6 | 12 | Men's 40-49 | 3 |
| 52 | F | 2 | Alexandria Higginson | 1:04:11 | F 12'6 | 2 | Women's U14 | 1 |
| 53 | F | 3 | Jade Howson | 1:04:17 | F 12'6 | 3 | Women's U14 | 2 |
| 54 | M | 51 | Robert Howson | 1:04:23 | M 12'6 | 13 | Men's 50-59 | 1 |
| 55 | M | 52 | Eric Diggins | 1:04:26 | M 12'6 | 14 | Men's 40-49 | 4 |
| 56 | M | 53 | Rick Ranjo | 1:04:29 | M 14' | 34 | Men's 40-49 | 10 |
| 57 | M | 54 | Andew Mencinsky | 1:04:32 | M 14' | 35 | Men's 40-49 | 11 |
| 58 | M | 55 | Justin Van Dyck | 1:04:40 | M 12'6 | 15 | Men's 40-49 | 5 |
| 59 | M | 56 | Keaton Rose | 1:04:42 | M 12'6 | 16 | Men's U14 | 5 |
| 60 | M | 57 | John Schalka | 1:04:45 | M 14' | 36 | Men's 60+ | 2 |
| 61 | F | 4 | Shae Foudy | 1:04:57 | F 12'6 | 4 | U19 | 1 |
| 62 | M | 58 | Chris Murphy | 1:05:03 | M 14' | 37 | Men's 19-39 | 15 |
| 63 | M | 59 | Kevin Wakashige | 1:05:06 | M 14' | 38 | Men's 50-59 | 9 |
| 64 | F | 5 | Bailey Rosen | 1:05:12 | F 12'6 | 5 | Women's 19-39 | 1 |
| 65 | M | 60 | Ben Gareiss | 1:05:20 | M 12'6 | 17 | Men's 19-39 | 3 |
| 66 | M | 61 | John Bland | 1:05:32 | M 14' | 39 | Men's 60+ | 3 |
| 67 | M | 62 | Carlos Perez | 1:05:37 | M 14' | 40 | Men's 19-39 | 16 |
| 68 | M | 63 | Brandon Sauls | 1:05:42 | M 14' | 41 | Men's 19-39 | 17 |
| 69 | M | 64 | Jeff Warner | 1:05:54 | M 12'6 | 18 | Men's 40-49 | 6 |
| 70 | M | 65 | Brett Simpson | 1:06:03 | M 14' | 42 | Men's 19-39 | 18 |
| 71 | M | 66 | Jon Anderson | 1:06:14 | M 14' | 43 | Men's 50-59 | 10 |
| 72 | M | 67 | Sean Sullivan | 1:06:17 | M 14' | 44 | Men's 50-59 | 11 |
| 73 | M | 68 | Ron Remeyer | 1:06:25 | M 14' | 45 | Men's 50-59 | 12 |
| 74 | M | 69 | Mick Vollmer | 1:06:35 | M 12'6 | 19 | Men's 40-49 | 7 |
| 75 | M | 70 | Dwayne Bora | 1:06:40 | M 14' | 46 | Men's 50-59 | 13 |
| 76 | M | 71 | Matt Macarewich | 1:06:42 | M Unlimited | 5 | Men's 50-59 | 1 |
| 77 | M | 72 | Ryan Ekedal | 1:06:49 | M 14' | 47 | Men's 19-39 | 19 |
| 78 | M | 73 | Hanson Siverts | 1:06:57 | M 12'6 | 20 | Men's U14 | 6 |
| 79 | M | 74 | Chris Sinatra | 1:07:02 | M 14' | 48 | Men's 40-49 | 12 |
| 80 | M | 75 | Jason Meffe | 1:07:03 | M 14' | 49 | Men's 40-49 | 13 |
| 81 | M | 76 | Stephen Rodi | 1:07:23 | M 14' | 50 | Men's 40-49 | 14 |
| 82 | F | 6 | Kristin Thomas | 1:07:36 | F 12'6 | 6 | Women's 50-59 | 1 |
| 83 | M | 77 | Jason Kierein | 1:07:59 | M 12'6 | 21 | Men's 40-49 | 8 |
| 84 | M | 78 | Scott Cuda | 1:08:10 | M 14' | 51 | Men's 40-49 | 15 |
| 85 | M | 79 | Craig Callender | 1:08:20 | M 14' | 52 | Men's 40-49 | 16 |
| 86 | M | 80 | Alex Mauer | 1:08:23 | M 12'6 | 22 | Men's 19-39 | 4 |
| 87 | F | 7 | Kelsa Gabehart | 1:08:39 | F 12'6 | 7 | Women's 19-39 | 2 |
| 88 | M | 81 | Karl Eugster | 1:08:53 | M 12'6 | 23 | Men's 50-59 | 2 |
| 89 | M | 82 | Todd Drake, Josh Drake | 1:08:55 | M Tandem | 2 | Men's 19-39 | 2 |
| 90 | M | 83 | Danny Marron | 1:08:58 | M 12'6 | 24 | Men's 19-39 | 5 |
| 91 | F | 8 | Jaime Donnelly | 1:09:06 | F 12'6 | 8 | Women's 19-39 | 3 |
| 92 | M | 84 | Mark Pighini | 1:09:08 | M 14' | 53 | Men's 50-59 | 14 |
| 93 | F | 9 | Valeria Salustri | 1:09:09 | F 12'6 | 9 | Women's U16 | 2 |
| 94 | M | 85 | Kurt Benson | 1:09:11 | M 14' | 54 | Men's 50-59 | 15 |
| 95 | M | 86 | Eric Thompson | 1:09:13 | M 14' | 55 | Men's 60+ | 4 |
| 96 | M | 87 | Zach Bartenstein | 1:09:34 | M 12'6 | 25 | Men's 19-39 | 6 |
| 97 | M | 88 | Bill Randoll | 1:09:38 | M 12'6 | 26 | Men's 60+ | 1 |
| 98 | M | 89 | Chris Connelly | 1:09:40 | M 14' | 56 | Men's 40-49 | 17 |
| 99 | M | 90 | Mike Becker | 1:09:43 | M 14' | 57 | Men's 19-39 | 20 |
| 100 | F | 10 | Jennie Sandvig | 1:09:58 | F 12'6 | 10 | Women's 19-39 | 4 |
| 101 | F | 11 | Terri Plunkett | 1:10:04 | F 12'6 | 11 | Women's 40-49 | 1 |
| 102 | M | 91 | Tony Fajardo | 1:10:07 | M 12'6 | 27 | Men's 40-49 | 9 |
| 103 | F | 12 | Shar Sault | 1:10:10 | F 12'6 | 12 | Women's 40-49 | 2 |
| 104 | M | 92 | David Mitchimoto | 1:10:15 | M 14' | 58 | Men's 40-49 | 18 |
| 105 | M | 93 | Raden Baldogo | 1:10:22 | M 14' | 59 | Men's 40-49 | 19 |
| 106 | M | 94 | John Nordin | 1:10:24 | M 14' | 60 | Men's 40-49 | 20 |
| 107 | F | 13 | Susie Kiley | 1:10:31 | F 12'6 | 13 | Women's 40-49 | 3 |
| 108 | F | 14 | Gretchen Benedetto | 1:10:32 | F 12'6 | 14 | Women's 50-59 | 2 |
| 109 | M | 95 | Gavin Mencinsky | 1:10:38 | M 12'6 | 28 | Men's U14 | 7 |
| 110 | M | 96 | Conrad Rojas | 1:10:47 | M 12'6 | 29 | Men's U14 | 8 |
| 111 | M | 97 | Kai Lenny | 1:10:50 | M 12'6 | 30 | Men's 19-39 | 7 |
| 112 | M | 98 | Matt Fletcher | 1:10:52 | M 14' | 61 | Men's 40-49 | 21 |
| 113 | M | 99 | Ryan Cooper | 1:10:55 | M 14' | 62 | Men's 19-39 | 21 |
| 114 | M | 100 | David Mallari | 1:10:59 | M 14' | 63 | Men's 50-59 | 16 |
| 115 | M | 101 | Noam Elroi | 1:11:01 | M 12'6 | 31 | Men's U16 | 3 |
| 116 | F | 15 | Jennifer Polcer | 1:11:13 | F 12'6 | 15 | Women's 19-39 | 5 |
| 117 | M | 102 | Michael Copley | 1:11:15 | M Surfboard | 1 | Men's 60+ | 1 |
| 118 | F | 16 | Maggie Adams | 1:11:28 | F 12'6 | 16 | Women's 50-59 | 3 |
| 119 | M | 103 | John Stallone | 1:11:33 | M Unlimited | 6 | Men's 50-59 | 2 |
| 120 | M | 104 | Juerg Geser | 1:11:37 | M 14' | 64 | Men's 40-49 | 22 |
| 121 | M | 105 | John Acosta | 1:11:42 | M 14' | 65 | Men's 40-49 | 23 |
| 122 | M | 106 | Rene Bruz | 1:11:46 | M 14' | 66 | Men's 40-49 | 24 |
| 123 | M | 107 | Orry Ingram | 1:11:48 | M 12'6 | 32 | Men's 19-39 | 8 |
| 124 | M | 108 | Michael Skelly | 1:11:55 | M 12'6 | 33 | Men's 50-59 | 3 |
| 125 | F | 17 | Jenny Kingsley | 1:11:59 | F 12'6 | 17 | Women's 40-49 | 4 |
| 126 | M | 109 | Grant Heinz | 1:12:06 | M 14' | 67 | Men's 50-59 | 17 |
| 127 | M | 110 | Norm Scheel | 1:12:10 | M 14' | 68 | Men's 50-59 | 18 |
| 128 | M | 111 | Gerry Lopez | 1:12:22 | M 14' | 69 | Men's 60+ | 5 |
| 129 | M | 112 | Omar Smith | 1:12:25 | M 12'6 | 34 | Men's 19-39 | 9 |
| 130 | M | 113 | Bob Allen | 1:12:30 | M 14' | 70 | Men's 60+ | 6 |
| 131 | M | 114 | Harold Goodman | 1:12:35 | M Unlimited | 7 | Men's 40-49 | 3 |
| 132 | F | 18 | Mel Wygal | 1:12:42 | F 12'6 | 18 | Women's 19-39 | 6 |
| 133 | M | 115 | Kai Dano | 1:12:50 | M 14' | 71 | Men's 50-59 | 19 |
| 134 | M | 116 | Burke Hammond | 1:12:53 | M 12'6 | 35 | Men's U14 | 9 |
| 135 | M | 117 | Kaliko Kahoonei | 1:12:59 | M 14' | 72 | Men's 19-39 | 22 |
| 136 | M | 118 | Ernie Villanueva | 1:13:07 | M 14' | 73 | Men's 50-59 | 20 |
| 137 | M | 119 | Scott Amos | 1:13:11 | M 14' | 74 | Men's 40-49 | 25 |
| 138 | M | 120 | Dee Mann | 1:13:15 | M 14' | 75 | Men's 50-59 | 21 |
| 139 | M | 121 | David Hansch | 1:13:23 | M 12'6 | 36 | Men's 60+ | 2 |
| 140 | F | 19 | Abby Baker | 1:13:25 | F 12'6 | 19 | Women's U14 | 3 |
| 141 | F | 20 | Kitsy Nipper | 1:13:33 | F 12'6 | 20 | Women's U14 | 4 |
| 142 | F | 21 | Helen Taylor | 1:13:35 | F 14' | 1 | Women's 50-59 | 1 |
| 143 | M | 122 | Thomas Stephenson | 1:13:36 | M 14' | 76 | Men's 50-59 | 22 |
| 144 | M | 123 | Lance Shaw | 1:13:39 | M 14' | 77 | Men's 50-59 | 23 |
| 145 | F | 22 | Lisa Hazelton | 1:13:42 | F 12'6 | 21 | Women's 60+ | 1 |
| 146 | M | 124 | Anthony Parra | 1:13:47 | M 14' | 78 | Men's 19-39 | 23 |
| 147 | M | 125 | Scott Monge | 1:13:48 | M 14' | 79 | Men's 40-49 | 26 |
| 148 | M | 126 | Jim Brumm | 1:13:52 | M 12'6 | 37 | Men's 50-59 | 4 |
| 149 | M | 127 | Mark Stavron | 1:13:56 | M 14' | 80 | Men's 60+ | 7 |
| 150 | M | 128 | Craig Meader | 1:14:24 | M 14' | 81 | Men's 50-59 | 24 |
| 151 | F | 23 | Shonna Litton Brown | 1:14:26 | F 14' | 2 | Women's 19-39 | 1 |
| 152 | F | 24 | Valerie Ells | 1:14:35 | F 12'6 | 22 | Women's 50-59 | 4 |
| 153 | M | 129 | Christopher Davidson | 1:14:41 | M 14' | 82 | Men's 19-39 | 24 |
| 154 | M | 130 | Corey Carlin | 1:14:45 | M 14' | 83 | Men's 40-49 | 27 |
| 155 | M | 131 | Peter Doody | 1:14:50 | M 14' | 84 | Men's 50-59 | 25 |
| 156 | M | 132 | John Gates | 1:14:52 | M 14' | 85 | Men's 40-49 | 28 |
| 157 | M | 133 | Terry Kipper | 1:15:07 | M 12'6 | 38 | Men's 60+ | 3 |
| 158 | F | 25 | Kathy Lynch | 1:15:13 | F 12'6 | 23 | Women's 50-59 | 5 |
| 159 | F | 26 | Jeanne Trimm | 1:15:29 | F 12'6 | 24 | Women's 50-59 | 6 |
| 160 | M | 134 | Andy Hope | 1:15:40 | M 14' | 86 | Men's 40-49 | 29 |
| 161 | M | 135 | Milo Hama | 1:15:45 | M 14' | 87 | Men's 50-59 | 26 |
| 162 | F | 27 | Marzena Wadzynska | 1:15:52 | F 12'6 | 25 | Women's 40-49 | 5 |
| 163 | M | 136 | Mark Guthaus | 1:16:01 | M 14' | 88 | Men's 50-59 | 27 |
| 164 | M | 137 | Don Goss | 1:16:05 | M 14' | 89 | Men's 60+ | 8 |
| 165 | M | 138 | Paul Gallo | 1:16:18 | M 14' | 90 | Men's 50-59 | 28 |
| 166 | F | 28 | Laurie Armer | 1:16:32 | F 14' | 3 | Women's 60+ | 1 |
| 167 | M | 139 | Sasha Unruh | 1:16:35 | M Surfboard | 2 | Men's 40-49 | 1 |
| 168 | F | 29 | Johanna Way | 1:16:39 | F 14' | 4 | Women's 19-39 | 2 |
| 169 | M | 140 | Clete Dadian | 1:16:43 | M 14' | 91 | Men's 50-59 | 29 |
| 170 | F | 30 | Teri Carlin | 1:16:46 | F 12'6 | 26 | Women's 40-49 | 6 |
| 171 | M | 141 | Wayne Limm | 1:16:53 | M Unlimited | 8 | Men's 50-59 | 3 |
| 172 | M | 142 | Gary Leong | 1:17:03 | M 14' | 92 | Men's 60+ | 9 |
| 173 | M | 143 | Tom Mccormack | 1:17:09 | M Surfboard | 3 | Men's 19-39 | 1 |
| 174 | M | 144 | Bill Carey | 1:17:26 | M 14' | 93 | Men's 40-49 | 30 |
| 175 | M | 145 | Mark Geraghty | 1:17:35 | M 14' | 94 | Men's 60+ | 10 |
| 176 | M | 146 | Randy Strunk | 1:17:39 | M 14' | 95 | Men's 50-59 | 30 |
| 177 | M | 147 | Samson Grunwald | 1:17:43 | M 14' | 96 | Men's U19 | 2 |
| 178 | F | 31 | Tiffany Grunwald | 1:17:49 | F 12'6 | 27 | Women's 40-49 | 7 |
| 179 | M | 148 | Harry Petersen | 1:17:50 | M 14' | 97 | Men's 60+ | 11 |
| 180 | F | 32 | Josette Lata | 1:17:53 | F 12'6 | 28 | Women's 40-49 | 8 |
| 181 | F | 33 | Suzie Yeo | 1:17:56 | F 12'6 | 29 | Women's 50-59 | 7 |
| 182 | M | 149 | Adam Malan | 1:18:00 | M 14' | 98 | Men's 19-39 | 25 |
| 183 | M | 150 | Jon Tronowsky | 1:18:17 | M 14' | 99 | Men's 60+ | 12 |
| 184 | M | 151 | Zeke Rose | 1:18:29 | M 12'6 | 39 | Men's U14 | 10 |
| 185 | M | 152 | Wayne Kuba | 1:18:40 | M 14' | 100 | Men's 50-59 | 31 |
| 186 | F | 34 | Belah Ellis | 1:18:44 | F 12'6 | 30 | Women's U14 | 5 |
| 187 | M | 153 | Max Dugan | 1:18:54 | M Surfboard | 4 | Men's 19-39 | 2 |
| 188 | M | 154 | Peter Durdaller | 1:18:56 | M 14' | 101 | Men's 60+ | 13 |
| 189 | M | 155 | Danny Marucut | 1:19:03 | M 12'6 | 40 | Men's 40-49 | 10 |
| 190 | F | 35 | Karin Sakul | 1:19:24 | F 12'6 | 31 | Women's 50-59 | 8 |
| 191 | M | 156 | Jeff Bennett | 1:19:34 | M 14' | 102 | Men's 60+ | 14 |
| 192 | M | 157 | Layton Petersen | 1:19:54 | M 14' | 103 | Men's 19-39 | 26 |
| 193 | F | 36 | Gina De Los Reyes | 1:19:57 | F 14' | 5 | Women's 19-39 | 3 |
| 194 | M | 158 | Jared Bonnot | 1:20:04 | M 12'6 | 41 | Men's 19-39 | 10 |
| 195 | F | 37 | Margaret Neiman | 1:20:13 | F 12'6 | 32 | Women's 60+ | 2 |
| 196 | M | 159 | Carl Arreola | 1:20:18 | M 12'6 | 42 | Men's 40-49 | 11 |
| 197 | F | 38 | Paige Shores | 1:20:32 | F 14' | 6 | Women's 50-59 | 2 |
| 198 | F | 39 | Tonia Williamson | 1:20:40 | F 12'6 | 33 | Women's 40-49 | 9 |
| 199 | F | 40 | Janet Gavaldon | 1:20:44 | F 12'6 | 34 | Women's 40-49 | 10 |
| 200 | M | 160 | Kyle Kipper | 1:20:52 | M 12'6 | 43 | Men's 19-39 | 11 |
| 201 | F | 41 | Abbey Sangmeister | 1:21:01 | F 12'6 | 35 | Women's 19-39 | 7 |
| 202 | M | 161 | Charles Wright | 1:21:14 | M 14' | 104 | Men's 19-39 | 27 |
| 203 | M | 162 | Rosendo Deynata | 1:22:07 | M 14' | 105 | Men's 40-49 | 31 |
| 204 | M | 163 | Joe Scaturro | 1:22:10 | M 14' | 106 | Men's 19-39 | 28 |
| 205 | M | 164 | Ron Adelhelm | 1:22:29 | M 14' | 107 | Men's 50-59 | 32 |
| 206 | M | 165 | Akoni Tenorio | 1:22:51 | M 14' | 108 | Men's 19-39 | 29 |
| 207 | M | 166 | Chris Koerner | 1:23:04 | M Surfboard | 5 | Men's 50-59 | 1 |
| 208 | M | 167 | Chris Wells | 1:23:06 | M 14' | 109 | Men's 50-59 | 33 |
| 209 | M | 168 | Jonas Letieri | 1:23:09 | M 14' | 110 | Men's 19-39 | 30 |
| 210 | M | 169 | Jim Terrell | 1:23:13 | M 14' | 111 | Men's 50-59 | 34 |
| 211 | F | 42 | Sarah Eishen | 1:23:16 | F 12'6 | 36 | Women's 40-49 | 11 |
| 212 | M | 170 | Fred Lindsey | 1:23:21 | M 14' | 112 | Men's 50-59 | 35 |
| 213 | F | 43 | Anne Prestridge | 1:23:59 | F 12'6 | 37 | Women's 50-59 | 9 |
| 214 | M | 171 | Brian Wahlbrink | 1:24:03 | M Surfboard | 6 | Men's 19-39 | 3 |
| 215 | M | 172 | Steve Romeo | 1:24:06 | M 12'6 | 44 | Men's 40-49 | 12 |
| 216 | M | 173 | James Yanoschik | 1:24:38 | M 12'6 | 45 | Men's 60+ | 4 |
| 217 | M | 174 | Dominique Smith | 1:24:49 | M 12'6 | 46 | Men's 19-39 | 12 |
| 218 | M | 175 | Richard Ells | 1:25:16 | M 12'6 | 47 | Men's 50-59 | 5 |
| 219 | F | 44 | Lori Pighini | 1:25:27 | F 12'6 | 38 | Women's 50-59 | 10 |
| 220 | M | 176 | Bob Long | 1:25:31 | M 14' | 113 | Men's 60+ | 15 |
| 221 | F | 45 | Kelly Hildebrand | 1:25:38 | F 12'6 | 39 | Women's 19-39 | 8 |
| 222 | M | 177 | Chet Carney Ii | 1:25:53 | M 14' | 114 | Men's 60+ | 16 |
| 223 | F | 46 | Judith Walaszczyk | 1:26:07 | F 14' | 7 | Women's 60+ | 2 |
| 224 | M | 178 | Lance Roberts | 1:26:13 | M 14' | 115 | Men's 50-59 | 36 |
| 225 | F | 47 | Veronica Wold | 1:27:07 | F 12'6 | 40 | Women's 50-59 | 11 |
| 226 | F | 48 | Lauryn Duffee | 1:27:34 | F 12'6 | 41 | Women's U14 | 6 |
| 227 | M | 179 | Peter Simpson | 1:27:36 | M 12'6 | 48 | Men's 60+ | 5 |
| 228 | F | 49 | Patricia Ochenduszko | 1:27:43 | F 12'6 | 42 | Women's 60+ | 3 |
| 229 | M | 180 | Wayne Berge | 1:27:57 | M 12'6 | 49 | Men's 50-59 | 6 |
| 230 | M | 181 | Thomas Kaiser | 1:28:25 | M 14' | 116 | Men's 19-39 | 31 |
| 231 | M | 182 | Nathan Thompson | 1:28:31 | M 14' | 117 | Men's 19-39 | 32 |
| 232 | F | 50 | Brenda Yanoschik | 1:28:45 | F 12'6 | 43 | Women's 50-59 | 12 |
| 233 | M | 183 | Mark Meierhoefer | 1:29:05 | M Surfboard | 7 | Men's 40-49 | 2 |
| 234 | M | 184 | Kurt Baker | 1:29:08 | M Surfboard | 8 | Men's 50-59 | 2 |
| 235 | F | 51 | Anne Skinner | 1:29:11 | F 14' | 8 | Women's 50-59 | 3 |
| 236 | F | 52 | Jane Culp | 1:29:20 | F Unlimited | 1 | Women's 50-59 | 1 |
| 237 | M | 185 | Thomas Arnold | 1:29:23 | M Surfboard | 9 | Men's 60+ | 2 |
| 238 | F | 53 | Alexis Lujan | 1:30:00 | F 12'6 | 44 | Women's 19-39 | 9 |
| 239 | F | 54 | Ashlyn Duffee | 1:30:38 | F 12'6 | 45 | Women's U14 | 7 |
| 240 | F | 55 | Kendra Hargens | 1:33:00 | F 12'6 | 46 | Women's 19-39 | 10 |
| 241 | M | 186 | Donald Preston | 1:33:02 | M 12'6 | 50 | Men's 19-39 | 13 |
| 242 | M | 187 | Tony Montero | 1:33:55 | M 14' | 118 | Men's 60+ | 17 |
| 243 | F | 56 | Sylvia Almaguer-miller | 1:35:19 | F 12'6 | 47 | Women's 50-59 | 13 |
| 244 | M | 188 | Nate Gabehart | 1:35:28 | M Surfboard | 10 | Men's 40-49 | 3 |
| 245 | F | 57 | Elaine Peat-Foster | 1:35:37 | F 12'6 | 48 | Women's 60+ | 4 |
| 246 | M | 189 | Roy Thorne | 1:36:54 | M 12'6 | 51 | Men's 40-49 | 13 |
| 247 | F | 58 | Norma Ramirez | 1:37:14 | F 12'6 | 49 | Women's 40-49 | 12 |
| 248 | M | 190 | Tim Casey | 1:39:01 | M Surfboard | 11 | Men's 19-39 | 4 |
| 249 | M | 191 | Christophe Chevallier | 1:39:10 | M 12'6 | 52 | Men's 50-59 | 7 |
| 250 | F | 59 | Viviana Pinilla | 1:41:09 | F 12'6 | 50 | Women's 50-59 | 14 |
| 251 | F | 60 | Julie Garrido | 1:41:39 | F 14' | 9 | Women's 40-49 | 1 |
| 252 | F | 61 | Sherry Bravo | 1:41:47 | F 12'6 | 51 | Women's 50-59 | 15 |
| 253 | M | 192 | Ari Elden | 1:42:42 | M 12'6 | 53 | Men's 19-39 | 14 |
| 254 | F | 62 | Amy Ostrowski | 1:43:23 | F 12'6 | 52 | Women's 19-39 | 11 |
| 255 | M | 193 | Oliver Calcetas | 1:45:20 | M 14' | 119 | Men's 40-49 | 32 |
| 256 | M | 194 | Orlan Calcetas | 1:45:24 | M 12'6 | 54 | Men's 40-49 | 14 |
| 257 | F | 63 | Diane Guerena | 1:47:43 | F 12'6 | 53 | Women's 50-59 | 16 |
| 258 | F | 64 | Leticia Barragan | 1:48:46 | F 12'6 | 54 | Women's 40-49 | 13 |
| 259 | F | 65 | Havy Lanier | 1:49:33 | F Surfboard | 1 | Women's 19-39 | 1 |
| 260 | F | 66 | Sheena Frizzell | 1:51:22 | F Surfboard | 2 | Women's 19-39 | 2 |
Kids SUP Race Results
1st: Keaton Rose — Guy U14 — 00:04:51.89
2nd: Thomas Nilsen — Guy U14 — 00:04:53.08
3rd: Jade Howson — Girl U14 — 00:04:55.60
4th: Alex Higginson — Girl U12 — 00:04:55.90
5th: Gavin Mencinsky — Guy U12 — 00:05:00.45
6th: Zeke Rose — Guy U12 — 00:05:12.77
7th: Johnny Lapointe — Guy U16 00:05:13.95
8th: Conrad Rojas — Guy U12 — 00:05:23.91
9th: Kitsy Nipper — Girl U12 — 00:05:26.70
10th: Burke Hammond — Guy U12 — 00:05:28.00
11th: Belah Ellis — Girl U12 — 00:05:45.70
12th: Skye Fielder — Guy — U12 — 00:05:48.67
13th: Abby Baker — Girl U12 — 00:05:50.30
14th: Lily Schryer — Girl U14 — 00:05:59.30
15th: Kristofer Kirkpatrick — Guy U14 — 00:06:08.65
16th: Trevor Mencinsky — Guy U8 — 00:06:22.90
17th: Ashlyn Duffee — Girl U12 — 00:06:39.50
18th: Sidney Grunwald — Girl U12 — 00:06:41.60
19th: Lucien Escarguel — Guy U12 — 00:07:02.80
20th: Anne Behrens Girl U10 — 00:07:30.30
21th: Aidan Cleveland — Guy U10 — 00:08:29.52
22nd: Soryn Preston — Girl U8 — 00:08:56.60
23rd: Mikayla Spellwag — Girl U12 — 00:09:19.90
24th: Carla Perez — Girl U8 — 00:09:37.10
25th: Sienna Joy — Girl U10 — 00:09:50.90
26th: Kirin — Guy U8 — 00:10:56.00