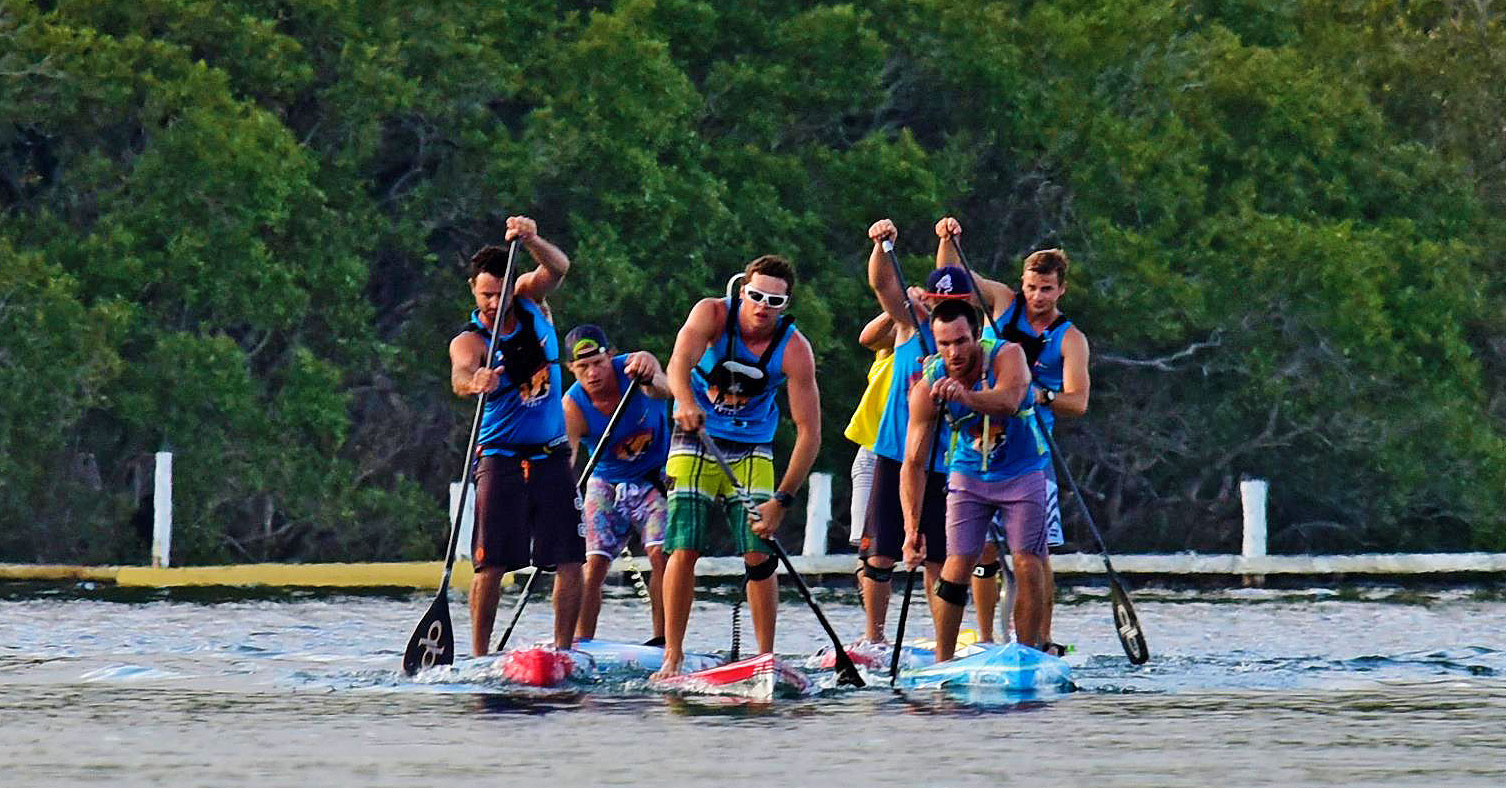 February 8, 2016
by Christopher Parker (@wheresbossman)
Contender: Michael Booth Wins the Forster Island Paddle Festival
In brief: Michael Booth has taken out the Forster Island Paddle Festival in Australia, beating a quality field and proving once again he'll be a top 10 contender on the world rankings leaderboard this year.
Boothy won both the 10km distance event and the BOP-style surf, with top 20 world ranked athletes Matt Nottage, Jake Jensen and Beau O'Brian sharing the minor placings.
As the photo above (and the times below) suggest, there was a tight pack in the men's distance race, with Nottage finishing behind his Starboard team mate to give the Tiki a one-two finish (and three of the top four after Beau O'Brian's 4th place). NSP's Ben Tardrew came home 5th as the pack splintered in the second half of the race.
Former BOP top 10 finisher Sondra Purser dominated the women's field, as over 150 paddlers hit Forster for the 2nd annual event.
Click here for full results; more photos on the official Facebook page.
MEN'S 10K
1st: MICHAEL BOOTH 00:57:31
2nd: MATT NOTTAGE 00:58:47
3rd: JAKE JENSON 00:58:54
4th: BEAU O'BRIAN 00:59:12
5th: BEN TARDREW 00:59:46
6th: CALLAN DICK 01:00:52
7th: ANDY DAVIES 01:01:03
8th: STEVE WALKER 01:01:48
9th: NATHAN CROSS 01:01:57
10th: EVAN GREEN 01:02:04
MEN'S BOP
1st: MICHAEL BOOTH 0:23:48
2nd: JAKE JENSEN 0:24:30
3rd: BEAU O'BRIAN 0:24:47
4th: MATT NOTTAGE 0:24:56
5th: ANDY DAVIES 0:26:16
WOMEN'S 10K
1st: SONDRA PURSER 1:09:28
2nd: CLAIRE BROWNE 1:13:45
3rd: VANESSA CALEY 1:14:16
WOMEN'S BOP
1st: SONDRA PURSER 0:09:52
2nd: TAMMY MONTGOMERY 0:10:25
3rd: MELISSA CEDELLAND 0:11:16