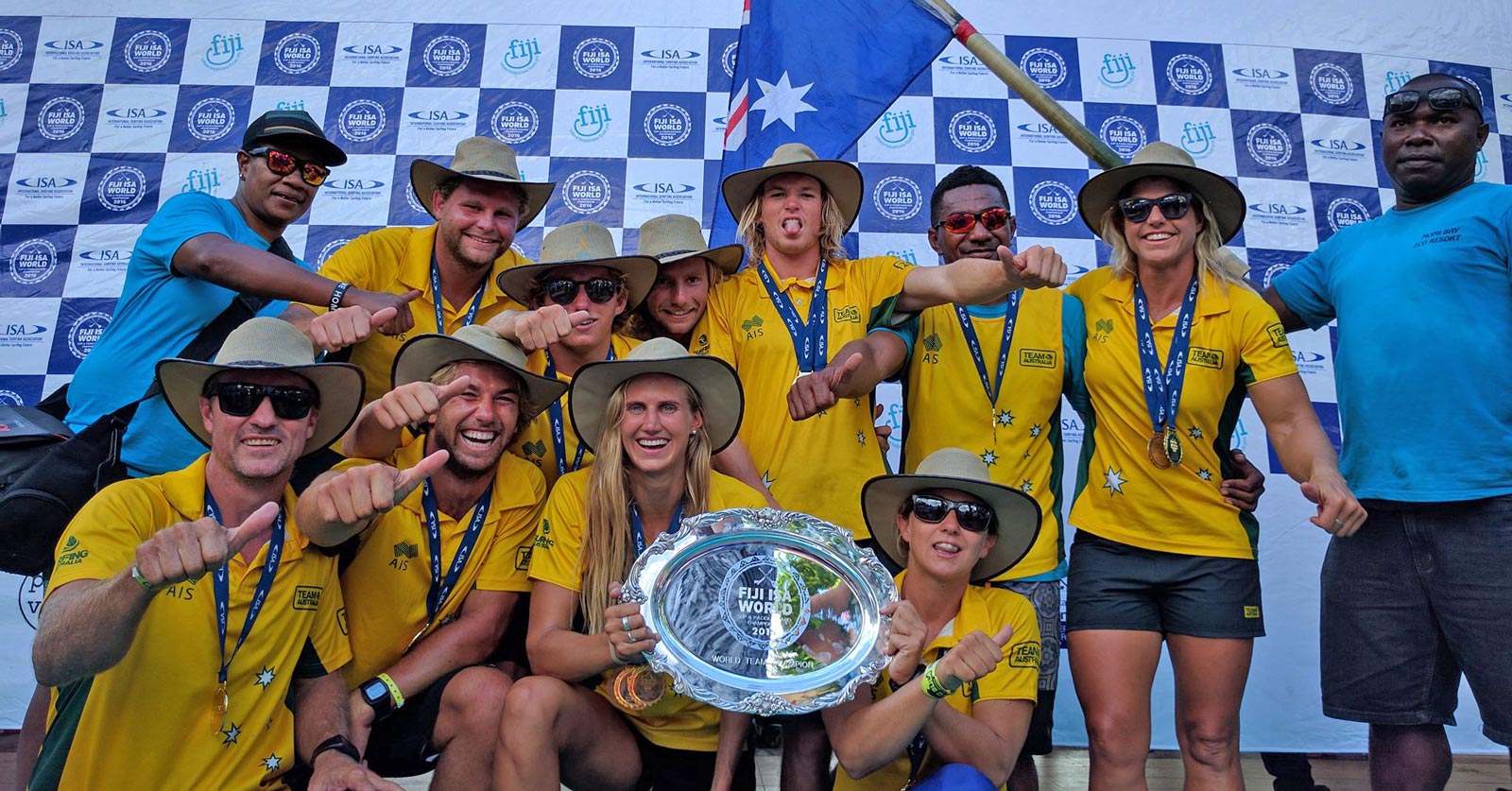 November 20, 2016
by Christopher Parker (@wheresbossman)
Australia Reclaims ISA Team Champions Title Ahead of France, New Zealand and Hawaii in Fiji (Updated)
https://www.instagram.com/p/BNBOnwGDk_b/
Australia has reclaimed the ISA Team Champions trophy, taking back the silverware they lost to the Americans last year to make it four championship titles in the five year history of this event.
Led by dual gold medalist Harriet Brown, the Aussies took 5x gold and ten 10x medals, comfortably finishing ahead of the French, with New Zealand and Hawaii almost dead even in the tight battle for third. Surprisingly, defending champs Team USA didn't even make the top four podium, finishing 5th after a mixed bag of results this week in Fiji.
More analysis coming in the next few days, but in the meantime here are all the results from a memorable week in Fiji. Thanks to the ISA and our local hosts for bringing us to this magic slice of paradise in the South Pacific. But right now it's time to go for another surf at Cloudbreak…
---
Final Team Standings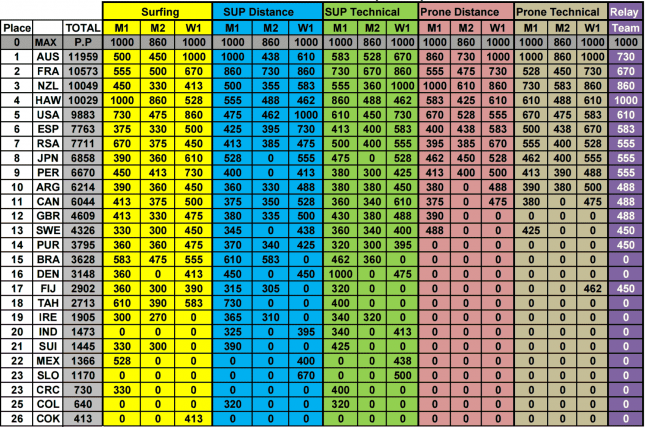 If those three letter country names are confusing, here's the full list of nations:
1st: AUSTRALIA
2nd: FRANCE
3rd: NEW ZEALAND
4th: HAWAII
5th: United States
6th: Spain
7th: South Africa
8th: Japan
9th: Peru
10th: Argentina
11th: Canada
12th: Great Britain
13th: Sweden
14th: Puerto Rico
15th: Brazil
16th: Denmark
17th: Fiji
18th: Tahiti
19th: Ireland
20th: India
21st: Switzerland
22nd: Mexico
23rd: Slovenia
23rd: Costa Rica
25th: Colombia
26th: Cook Islands
Click here for the full results on the official site.
---
Men's Surf Race
| # | Athlete | Nation | Time | ISA Points | World Rankings |
| --- | --- | --- | --- | --- | --- |
| 1 | Casper Steinfath | Denmark | 0:19:18 | 1000 | 40.00 |
| 2 | Kai Lenny | Hawaii | 0:19:28 | 860 | 30.00 |
| 3 | Arthur Arutkin | France | 0:19:30 | 730 | 24.00 |
| 4 | Titouan Puyo | France | 0:19:34 | 670 | 20.00 |
| 5 | Slater Trout | USA | 0:19:42 | 610 | 17.00 |
| 6 | Toby Cracknell | Australia | 0:19:48 | 583 | 14.00 |
| 7 | Marcus Hansen | New Zealand | 0:19:55 | 555 | 12.00 |
| 8 | Lincoln Dews | Australia | 0:20:01 | 528 | 10.00 |
| 9 | Dylan Frick | South Africa | 0:20:20 | 500 | 9.00 |
| 10 | Zane Schweitzer | Hawaii | 0:20:28 | 488 | 8.00 |
| 11 | Kenny Kaneko | Japan | 0:20:32 | 475 | 7.20 |
| 12 | Guilherme Reis | Brazil | 0:20:39 | 462 | 6.40 |
| 13 | Chuck Glynn | USA | 0:21:28 | 450 | 6.00 |
| 14 | Glenn Eldridge | Great Britain | 0:22:37 | 438 | 5.60 |
| 15 | Nico Schenk | Switzerland | 0:22:50 | 425 | 5.20 |
| 16 | Jurgi Zulaika | Spain | 0:23:12 | 413 | 4.80 |
| 17 | Chris Couve | South Africa | DNQ | 400 | 4.40 |
| 17 | Pepe Oltra | Spain | DNQ | 400 | 4.00 |
| 17 | Georges Cronsteadt | Tahiti | DNQ | 400 | 3.60 |
| 17 | Joseph Cerdas | Costa Rica | DNQ | 400 | 3.20 |
| 21 | Sebastian Barbero | Argentina | DNQ | 380 | 3.00 |
| 21 | Damian Warner | Great Britain | DNQ | 380 | 2.80 |
| 21 | Mariano de Cabo | Argentina | DNQ | 380 | 2.60 |
| 21 | Itzel Delgado | Peru | DNQ | 380 | 2.40 |
| 25 | Cormac McCullough | New Zealand | DNQ | 360 | 2.20 |
| 25 | Mike Darbyshire | Canada | DNQ | 360 | 2.08 |
| 25 | Jon Hjerstrom | Sweden | DNQ | 360 | 1.96 |
| 25 | Vinnicius Martins | Brazil | DNQ | 360 | 1.84 |
| 29 | Ryan Knysh | Canada | DNQ | 340 | 1.72 |
| 29 | Pete Kosinski | Ireland | DNQ | 340 | 1.60 |
| 29 | Sekar Patchai | India | DNQ | 340 | 1.52 |
| 29 | Andreas Svensson | Sweden | DNQ | 340 | 1.44 |
| 33 | Johnny O'Hara | Ireland | DNQ | 320 | 1.36 |
| 33 | Camilo Marmol | Colombia | DNQ | 320 | 1.28 |
| 33 | Eroni Fotofili | Fiji | DNQ | 320 | 1.20 |
| 33 | Luis Lopez | Puerto Rico | DNQ | 320 | 1.12 |
| 37 | Kiko Bustamante | Peru | DNQ | 300 | 1.04 |
| 37 | Sergio Rosa | Puerto Rico | DNQ | 300 | 0.96 |
| DNF | Lesi Navuwai | Fiji | DNF | 0 | 0 |
DNQ = Did Not Qualify (i.e. knocked out in the heats)
Click here for qualifying heat times
---
Women's Surf Race
| # | Athlete | Nation | Time | ISA Points | World Rankings |
| --- | --- | --- | --- | --- | --- |
| 1 | Penelope Armstrong | New Zealand | 0:21:30 | 1000 | 40.00 |
| 2 | Olivia Piana | France | 0:21:37 | 860 | 30.00 |
| 3 | Candice Appleby | USA | 0:21:53 | 730 | 24.00 |
| 4 | Karla Gilbert | Australia | 0:22:16 | 670 | 20.00 |
| 5 | Lina Augaitis | Canada | 0:22:25 | 610 | 17.00 |
| 6 | Laura Quetglas | Spain | 0:23:04 | 583 | 14.00 |
| 7 | Tarryn King | South Africa | 0:23:22 | 555 | 12.00 |
| 8 | Takayo Yokoyama | Japan | 0:23:35 | 528 | 10.00 |
| 9 | Manca Notar | Slovenia | 0:23:50 | 500 | 9.00 |
| 10 | Marie Buchanan | Great Britain | 0:23:52 | 488 | 8.00 |
| 11 | Nicoline Rasmussen | Denmark | 0:24:21 | 475 | 7.20 |
| 12 | Annie Reickert | Hawaii | 0:24:35 | 462 | 6.40 |
| 13 | Juliana Gonzalez | Argentina | 0:24:46 | 450 | 6.00 |
| 14 | Alejandra Brito | Mexico | 0:29:11 | 438 | 5.60 |
| 15 | Brissa Malaga | Peru | 0:35:18 | 425 | 5.20 |
| 16 | Tanvi Jagadish | India | 0:36:17 | 413 | 4.80 |
| 17 | Maya Persson | Sweden | DNQ | 400 | 4.40 |
| 18 | Nimsay Garcia | Puerto Rico | DNQ | 395 | 4.00 |
| 19 | Arieta Lalabalavu | Fiji | DNF | 0 | 0.00 |
DNQ = Did Not Qualify (i.e. knocked out in the heats)
Click here for qualifying heat times
---
Men's Marathon
| # | Athlete | Nation | Time | ISA Points | World Rankings |
| --- | --- | --- | --- | --- | --- |
| 1 | Michael Booth | Australia | 2:00:18 | 1000 | 40.00 |
| 2 | Titouan Puyo | France | 2:00:47 | 860 | 30.00 |
| 3 | Georges Cronsteadt | Tahiti | 2:00:50 | 730 | 24.00 |
| 3 | Arthur Arutkin | France | 2:01:02 | 730 | 24.00 |
| 5 | Vinnicius Martins | Brazil | 2:01:30 | 610 | 17.00 |
| 6 | Guilherme Reis | Brazil | 2:01:33 | 583 | 14.00 |
| 7 | Kai Lenny | Hawaii | 2:02:05 | 555 | 12.00 |
| 8 | Kenny Kaneko | Japan | 2:04:38 | 528 | 10.00 |
| 9 | Marcus Hansen | New Zealand | 2:04:39 | 500 | 9.00 |
| 10 | Zane Schweitzer | Hawaii | 2:05:02 | 488 | 8.00 |
| 11 | Giorgio Gomez | USA | 2:06:56 | 475 | 7.20 |
| 12 | Chuck Glynn | USA | 2:08:13 | 462 | 6.40 |
| 13 | Casper Steinfath | Denmark | 2:08:23 | 450 | 6.00 |
| 14 | James Casey | Australia | 2:09:06 | 438 | 5.60 |
| 15 | Pepe Oltra | Spain | 2:09:30 | 425 | 5.20 |
| 16 | Dylan Frick | South Africa | 2:11:22 | 413 | 4.80 |
| 17 | Itzel Delgado | Peru | 2:14:40 | 400 | 4.40 |
| 18 | Pau Ybarra | Spain | 2:14:42 | 395 | 4.00 |
| 19 | Nico Schenk | Switzerland | 2:14:44 | 390 | 3.60 |
| 20 | Chris Couve | South Africa | 2:15:48 | 385 | 3.20 |
| 21 | Damian Warner | Great Britain | 2:18:11 | 380 | 3.00 |
| 22 | Mike Darbyshire | Canada | 2:19:48 | 375 | 2.80 |
| 23 | Ricardo Avila | Puerto Rico | 2:20:03 | 370 | 2.60 |
| 24 | Pete Kosinski | Ireland | 2:20:19 | 365 | 2.40 |
| 25 | Francisco Giusti | Argentina | 2:20:39 | 360 | 2.20 |
| 26 | Michael Hastie | New Zealand | 2:21:58 | 355 | 2.08 |
| 27 | Jason Bennett | Canada | 2:22:46 | 350 | 1.96 |
| 28 | Andreas Svensson | Sweden | 2:25:55 | 345 | 1.84 |
| 29 | Jorge Quintana | Puerto Rico | 2:27:37 | 340 | 1.72 |
| 30 | Paul Simmons | Great Britain | 2:28:17 | 335 | 1.60 |
| 31 | Sebastian Barbero | Argentina | 2:30:15 | 330 | 1.52 |
| 32 | Sekar Patchai | India | 2:32:03 | 325 | 1.44 |
| 33 | Camilo Marmol | Colombia | 2:35:07 | 320 | 1.36 |
| 34 | Avisai Tibinaliva | Fiji | 2:35:08 | 315 | 1.28 |
| 35 | Johnny O'Hara | Ireland | 2:51:50 | 310 | 1.20 |
| 36 | Niko Waqaliva | Fiji | 3:07:54 | 305 | 1.12 |
| DNF | Raul Delgado | Peru | DNF | 0 | 0.00 |
---
Women's Marathon
| # | Athlete | Nation | Time | ISA Points | World Rankings |
| --- | --- | --- | --- | --- | --- |
| 1 | Candice Appleby | USA | 2:02:54 | 1000 | 40.00 |
| 2 | Olivia Piana | France | 2:04:32 | 860 | 30.00 |
| 3 | Laura Quetglas | Spain | 2:07:02 | 730 | 24.00 |
| 4 | Manca Notar | Slovenia | 2:09:14 | 670 | 20.00 |
| 5 | Terrene Black | Australia | 2:09:50 | 610 | 17.00 |
| 6 | Penelope Armstrong | New Zealand | 2:10:58 | 583 | 14.00 |
| 7 | Takayo Yokoyama | Japan | 2:12:02 | 555 | 12.00 |
| 8 | Lina Augaitis | Canada | 2:13:19 | 528 | 10.00 |
| 9 | Marie Buchannan | Great Britain | 2:16:01 | 500 | 9.00 |
| 10 | Juliana Gonzalez | Argentina | 2:16:17 | 488 | 8.00 |
| 11 | Jackie de Billot | South Africa | 2:16:24 | 475 | 7.20 |
| 12 | Talia Decoite | Hawaii | 2:19:49 | 462 | 6.40 |
| 13 | Nicoline Rasmussen | Denmark | 2:20:12 | 450 | 6.00 |
| 14 | Maya Persson | Sweden | 2:29:17 | 438 | 5.60 |
| 15 | Desiree Hernandez | Puerto Rico | 2:31:34 | 425 | 5.20 |
| 16 | Giannissa Vecco | Peru | 2:33:48 | 413 | 4.80 |
| 17 | Alejandra Brito | Mexico | 2:44:30 | 400 | 4.40 |
| 18 | Tanvi Jagadish | India | 3:02:21 | 395 | 4.00 |
| 19 | Egi Dodd | Fiji | DNF | 0 | 0 |
---
Team Relay – Final
GOLD: Team Hawaii
Silver: Team New Zealand
Bronze: Team Australia
Copper: Team France
5th: Team USA
6th: Team Spain
Click here for the full results and times
---
Men's Prone Surf Race
GOLD: Matt Poole (Australia
Silver: Lachie Lansdown (Australia)
Bronze: Scott Cowdrey (New Zealand)
Copper: Jack Bark (USA)
Click here for the full results and times
---
Women's Prone Surf Race
GOLD: Harriet Brown (Australia)
Silver: Dannielle McKenzie (New Zealand)
3rd: Flora Manciet (France)
4th: Itzial Abascal (Spain)
Click here for the full results and times
---
Men's Prone Marathon
GOLD: Sam Shergold (New Zealand)
Silver: Matt Poole (Australia)
Bronze: Lachie Lansdown (Australia)
Copper: Jack Bark (USA)
Click here for the full results and times
---
Women's Prone Marathon
GOLD: Harriet Brown (Australia)
Silver: Dannielle McKenzie (New Zealand)
Bronze: Flora Manciet (France)
Copper: Anna Notten (South Africa)
Click here for the full results and times
---
Men's 200m Sprints
GOLD: Casper Steinfath (Denmark)
Silver: Slater Trout (USA)
Bronze: Kenny Kaneko (Japan)
Copper: Arthur Arutkin (France)
This was an exhibition race that counted for medals but not points
---
Women's 200m Sprints
GOLD: Lina Augaitis (Canada)
Silver: Candice Appleby (USA)
Bronze: Manca Notar (Slovenia)
Copper Tarryn King (South Africa)
This was an exhibition race that counted for medals but not points
---