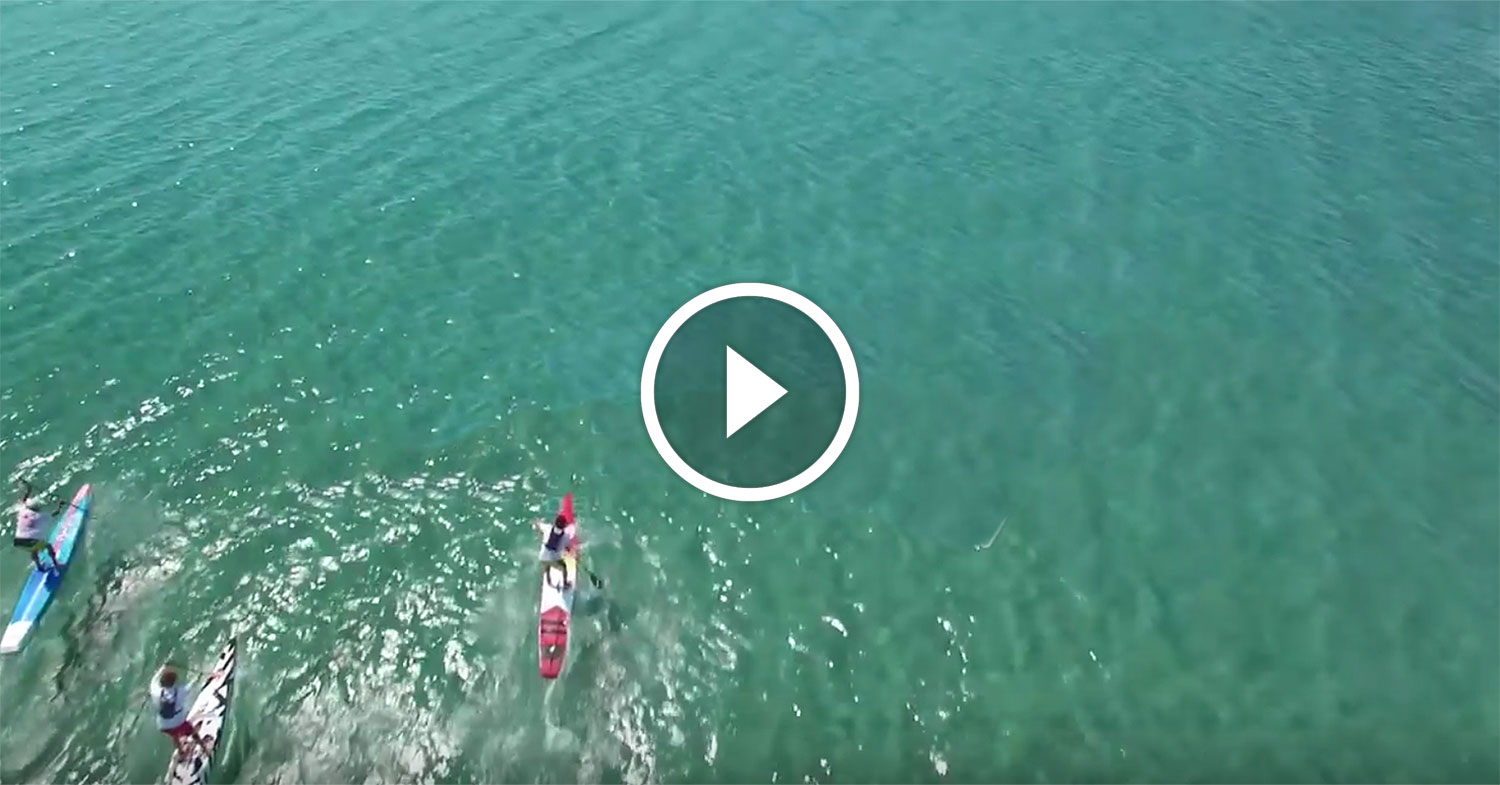 July 3, 2016
by Christopher Parker (@wheresbossman)
Great Highlights from Greece as Leo Nika and Susak Molinero Win Week 9 of the EuroTour
Check out this great highlights reel from the Greece's On Board Festival, held last weekend in the historic city of Marathon as Week 9 of the 2016 EuroTour presented by Starboard.
The main action begins around the 2:18 mark with some cool drone footage of the elite race start
Italy's Leonard Nika and Spaniard-turned-Italian-local Susak Molinero took out the wins, with Eric Terrien continuing his strong return to form and dark horse Paolo Marconi rounding out the men's podium.
Leo was too good over 18km distance, pushing hard on the first of two 9km laps to open up a gap over most of the field. Only the Frenchman could go with him, but in the end Leo paddled clear to win by a minute.
https://www.instagram.com/p/BHfn4EZBnZz/
The victory is Leo's second on the EuroTour – he also won the inaugural event in his adopted home of Portugal – and caps off a strong summer in which he also enjoyed great results at St. Maxime, Lost Mills, Bilbao and San Sebastian. The Starboard team rider currently sits 4th on the EuroTour, behind only Connor, Boothy and Titou.
View the updated EuroTour Leaderboard
This was Susak's first win of the Tour, with the emerging star and RRD team rider now sitting in 7th place on the women's leaderboard. While the women's field was tiny in Greece, Susak has showed over the past couple of months that she's one of the strongest paddlers in Europe. To highlight this fact, Susak and her boyfriend Paolo recently scored a spot in the upcoming Italian TV version of Ninja Warrior, which is basically "Crossfit meets American Gladiators".
From all reports the Greece stop of the EuroTour was a great event, with the local organisers eager to take it next level in 2017.
Following Greece, the EuroTour continues on to week 10 in Finland, before finishing off with two events in Italy, a stop in the Azores Islands, and the final stop at St. Ives in the UK.
---
Elite Men (18km)
1. Leo Nika 01:58:18
2. Eric Terrien 1:59:25
3. Paolo Marconi 02:00:37
4. Davide Ionico 02:02:02
5. George Ferbus 02:04:36
6. Giorgis Konstantis 02:05:42
7. Leonardo Toso 02: 10:26
8. Belar Diaz 02:11:21
9. Alexandros Prapas 02:12:23
10. Konstantinos Geralexis 02:12:55
11. Giorgos Abreopoulos 02:15:07
12. Giannis Tountas 02:16:39
13. Konsatntinos Konstantinou 02:17:13
14. Tasos Galanis 02:21:36
15. Nikos Mafounis 02:24:47
16. Nikos Kalatzakis 02:28:26
17. Giorgos Samniotis 02:32:48
18. Alexandros Theocharis 02:36:43
19. Nikolas Kontaratos 03:06:33
Elite Women (18km)
1. Susak Molinero 02:20:14
2. Lliana Lakafosi 02:50:21
https://www.instagram.com/p/BHZYdNhhvBM/
Amateur Men (9km)
1. Kapetan Garidas 01:14:55
2. Giorgos Loukianos 01:22:49
3. Vangelis Lliakis 01:36:14
4. Nikolaos Vergos 01:43::04
5. Michalis Dimitriou 01:44:29
6. Athanasios Kyriazis 01:57:52
7. Alexandros Agapakis 02:13:51
8. Andreas Vasiliadis 02:13:55
Amateur Women (9km)
1. Artemis Vartholomeou 01:31:36
2. Vanessa Athanassiadou 02:08:33
3. Irene Vourlia 02:25:18