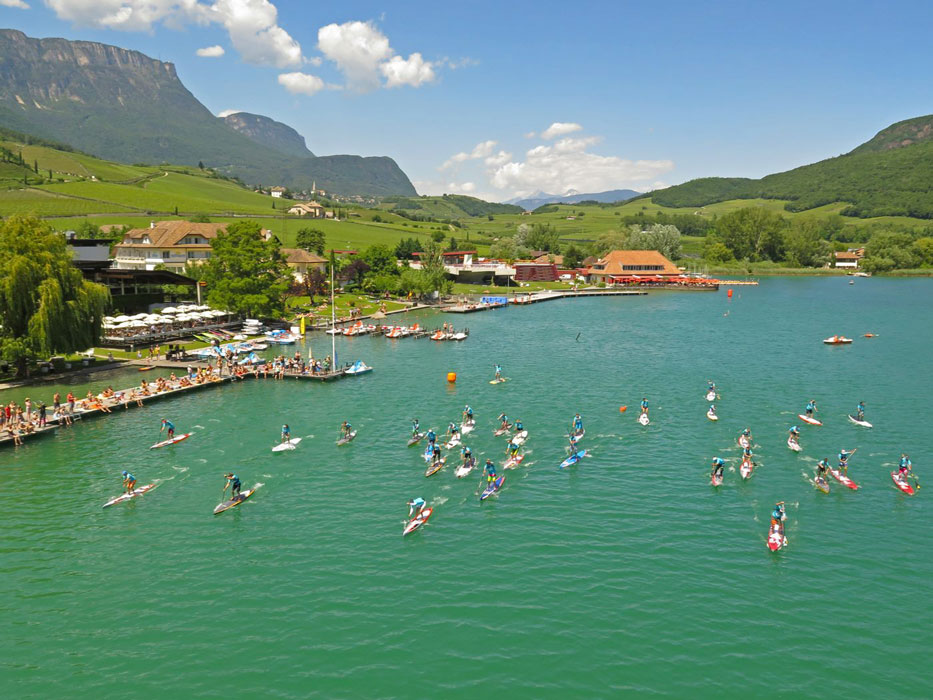 May 26, 2014
by Christopher Parker (@wheresbossman)
Beautiful Images From The Alps…
So we've completed two weeks of the 2014 NSP Euro Tour and already there's been some very nice action. However it's not just about the headline international acts, the Euro Tour is all about SUP racing in Europe, period. We wanna showcase the slightly less elite, but no less awesome races happening around the continent. Because there are a lot of them.
So this year there's a new race series in Europe called the "SUP Alps Trophy" and it looks pretty awesome. No, it's not going to attract the biggest names in the world, it won't have the largest field nor will it offer the most lucrative prize purse. However if you want to paddle in some insanely beautiful locations, the SUP Alps Trophy can definitely help you there…
As the name suggests, the SUP Alps Trophy series is all about racing at altitude in the gorgeous Alps region. The four-race tour stops in Italy, Germany, Austria and Switzerland over the next few months.
On Saturday it was Italy's turn to host the opening race, with a solid field making the trek to "Lago di Caldaro" (or Kalterer See, depending on which side of the border you came from) in the far north of the country.
Stephan Gölnitz from the German SUP Mag was on hand to capture the race and shared these epic photos on Facebook.
You can view the full gallery on SUP Mag's Facebook page or we've embedded a few of the best below. It's like Sound of Music meets Stand Up Paddling…
Oh and the race was won by Peter Bartl:
MEN'S 14′
1st: Peter Bartl (1:07:06) – Austria
2nd: Paolo Marconi (1:09:38) – Italy
3rd: Martino Rogai (1:09:40) – Italy
4th: Peter Weidert (1:09:50) – Germany
5th: Kai-Nicolas Steimer (1:09:53) – Germany
6th: Friedrich Köchl (1:11:06) – Austria
7th: Dirk Bickert (1:11:37) – Germany
8th: Michael Brauch (1:14:15) – Germany
9th: Leonardo Toso (1:14:17) – Italy [1st 12'6]
10th: Rok Puvar (1:14:30) – Slovenia
11th: Roman Fruhwald (1:14:45) – Austria
12th: Gianmatteo Cau (1:14:47) – Germany
13th: Kurt Bodenwinkler (1:14:50) – Switzerland
14th: Roland Blaschek (1:16:07) – Germany
15th: Giorgio Mogi (1:16:09) – Italy
16th: Christian Moutsakos (1:17:27) – Austria
17th: Filippo Mingrelli (1:17:40) – Italy [2nd 12'6]
18th: Flavio Vendramin (1:17:46) – Italy
19th: Klaus Dedial (1:17:56) – Germany
20th: Valentin Illichmann (1:19:00) – Germany
21st: Burkhard Kuhn (1:19:25) – Germany
22nd: Hartmut Schroll (1:20:11) – Germany
23rd: Georg Schöpf (1:21:40) – Germany
24th: Markus Jehl (1:21:45) – Germany
25th: Andreas Muller (1:21:50) – Switzerland
26th: Philipp Schchten (1:22:12) – Germany
27th: Kurt Ruoß (1:24:38) – Germany
28th: Francesco Muscolino (1:26:40) – Italy
29th: Bernhard Ziegler (1:27:52) – Austria
30th: Rainer Stolpmann (1:51:03) – Germany [3rd 12'6]
31st: Fabian Hedegger (2 laps) – Italy [4th 12'6]
WOMEN'S 14′
1st: Carol Scheunemann (1:18:20) – USA
2nd: Susak Molinero (1:19:18) – Spain [1st 12'6]
3rd: Erna Stangl (1:19:34) – Germany
4th: Geli Kientzl (1:22:02) – Austria
5th: Sina Entzminger (1:22:06) – Germany
6th: Marion Rappl (1:22:35) – Germany
7th: Sonja Duschek (1:24:42) – Germany
8th: Kimi Zupancic (1:26:30) – Slovenia
9th: Chiara Nordio (1:34:00) – Italy [2nd 12'6]
10th: Sigrid Baumgartner (2 laps) – Austria [3rd 12'6]
---