February 17, 2015
by Christopher Parker (@wheresbossman)
Entries Open For World's Most Unique And Special Race – The SUP 11 City Tour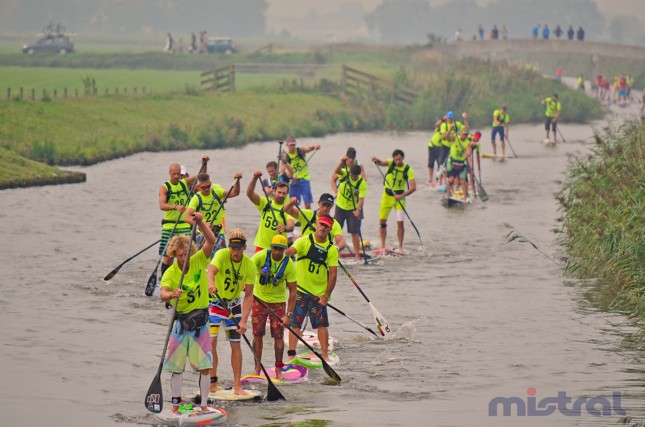 One of the most unique and special events on the racing calendar has just opened for registration. The SUP 11 City Tour, the single longest, and also one of the hardest SUP races on the planet will be happening again from September 2nd-6th, 2015.
Held in the Dutch province of Friesland, this five-day, Tour de France-style stage race is like no other stand up paddling event. Meandering its way through the canals between beautiful countryside and quaint little towns, the 11 Cities is a grueling but strangely addictive mental and physical challenge.
This year will be the 7th edition of the SUP 11 City Tour and, based on the comments I've received from around the world, will most likely be the biggest and best year yet. I was lucky enough to compete in this crazy race last year, which you may remember from my "SUP 11 City Torture" live blog. And I can't wait to go back.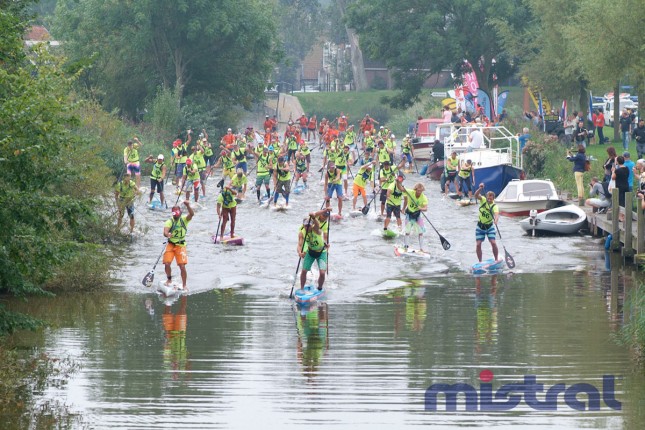 For me, the 2014 race was a rollercoaster: I simply hated the first day while the second day was downright depressing. However something clicked on day three and by the fourth stage I was totally hooked on the drug that is the 11 Cities. By the time we crossed the finish line at the end of day five, I didn't wanna stop and was already counting down to 2015.
I'll be back in Frieland for the 2015 edition and it sounds like there will be plenty of paddlers making the pilgrimage from across Europe and around the world.
If you're keen to experience this epic adventure for yourself, here's the registration form (and here's the official release that came out yesterday with all the details).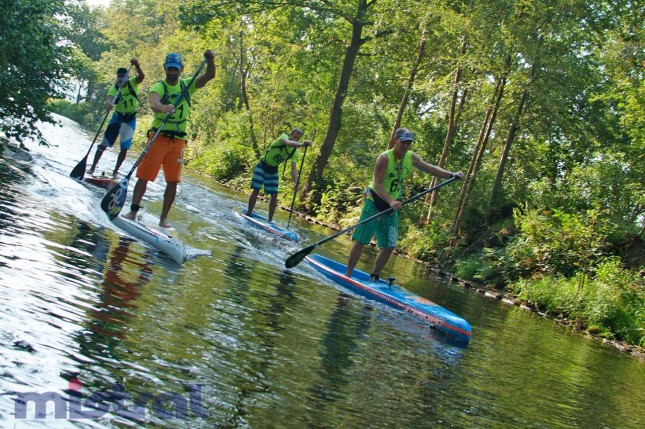 The SUP 11 City Tour covers 40-45km each day for five days straight. It's like one of the classic cycling tours of Europe, where competitors start in a big group each day and then slowly splinter as they race for between five and eight hours from one town to another. Times from each stage are combined to produce the overall standings, with the winners typically sitting somewhere between 22 and 25 hours (depending on conditions) by the end of the week.
The '11 cities' references the number of cities (more like towns or even just large villages) that you pass through in the race. Each day you'll start in one town, race to another and pass one or two other more villages on your way through. All up you'll hit 11 of these little cities/towns/villages, each with a bizarre-sounding name such as "Sneek" or "Hindeloopen" (this is the Netherlands remember).
The SUP 11 City Tour is special for many reasons. For one it's a very unique race format, offering elite and amateur competitors an experience that no other stand up paddling event provides. But there's far more to it than just the race itself.
For one, the entire event is steeped in a rich and fascinating history. Despite being just seven years old, the SUP 11 City Tour is a loose spin-off from the original "11 City Tour" (or Elfstedentocht), which is a legendary ice skating race that's been running sporadically (it's only held when the ice is thick enough) for over 100 years.
In the SUP 11 City Tour you'll experience a unique camaraderie that typifies this entire sport of ours. You'll be racing alongside the same guys and girls for five days straight. You'll get to know them very well, chatting with them in the draft trains (when you've still got the energy to talk, that is) and discussing strategy at the mandatory mid-stage rest stop. It's like being on a life boat, at least up until the final hour of each day, where things get a little bit hectic and the fitter competitors start to make their breaks.
If you're smart you'll also be staying alongside your fellow competitors in the official accommodation: The oldschool wooden boats that act as a floating hostel, where each night you get to dissect your race and talk tactics ahead of the next stage. You'll eat breakfast, and lunch, and dinner with this band of hardcore paddling fanatics. In short: You're really gonna get to know your fellow paddlers…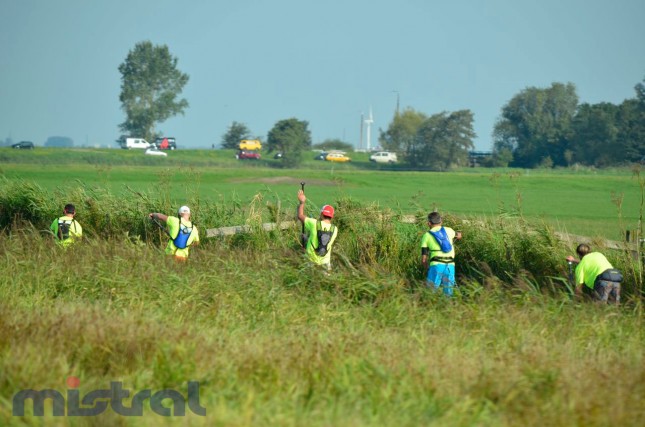 You'll pass fields. Lots and lots and lots of green, wide open fields, with cows starring at you blankly as they munch away, blissfully unaware of just how much pain you're in right now. You'll paddle through beautiful old towns, where the locals will come out to wave and wonder what the hell you're doing.
You'll learn the beautiful intricacies of drafting. If you can't draft, start training it now. It's rather fundamental to this race. You'll quickly understand how a train works, and how you can punch above your weight with a good start and some tenacious hanging-on. You'll see how the pecking order works, as the stronger paddlers control the tempo and decide when to make a move. Every stage is like a game of stand up paddling chess.
But it's not all slow: The cruelest thing about the SUP 11 City Tour is that, despite each day being 5-8 hours on the water, every stage starts with a mad crazy sprint. The contenders are all jockeying for position and trying to make a break in the first kilometre while the rest of us are desperately trying to keep in touch, which means that you're usually puffing and out of breath with 98% of stage still in front of you. Or you will be out of breath if you have a total lack training & preparation as I did last year… it's probably wise to start putting in the miles now!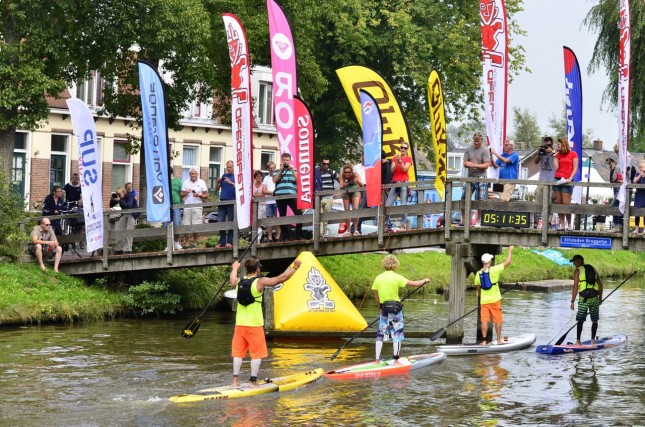 You'll gain an an even deeper respect for guys like Bart de Zwart, who seemingly paddle like a metronome, holding the same, fast pace all day every day on their way to a glorious victory while you're just trying to survive.
And even if you're a mile off the pace, you'll still be locked in a competitive battle right down the order: Top 5, Top 10, Top 20, beating this guy, finishing ahead of that girl, etc. It's great to see the friendly, personal rivalries play out through the week.
You'll also learn a lot about your own mind, because you're going to have a lot of time to think each day. You're going to have to focus and figure out how to overcome that little voice in your head that begs you to give up. It's like a military bootcamp where they break you down and build you back up. But instead of a drill sergeant yelling in your face, you're going to be dishing out this punishment to yourself, of your own free will. It's quite bizarre when you think about it.
This is of course assuming you do it competitively. There's also the option to do the SUP 11 City Tour as just a "tour" and not worry about the crazy guys and girls sprinting off the line each day. You can even do a team relay, where you swap out competitors each stage, or you can simply choose to do one or two of the five stages.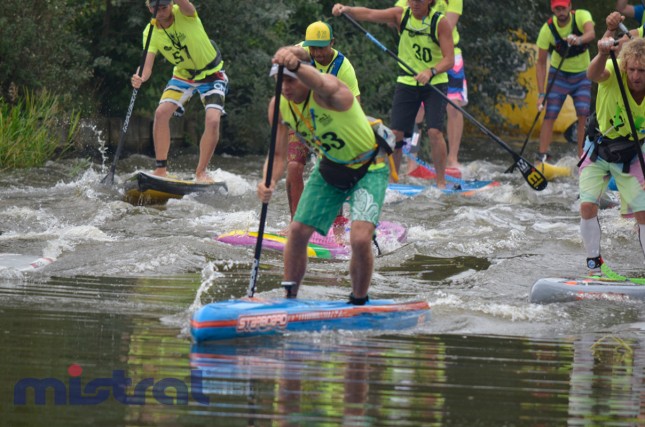 Finally, the SUP 11 City Tour is very special because it's organised by a small army of volunteers. There are dozens of locals that take a week out of their year just to make this race happen. They don't compete, they spend all their time working tirelessly behind the scenes every day. Actually many of them work tirelessly for months, organising the event in the lead up to the opening stage. So when you're standing on your board at the start line in Leeuwarden, with 200+ kilometres staring down in front of you, pause for a moment and appreciate the selfless contributions that make this whole crazy race possible.
The SUP 11 City Tour is a race like no other. You'll either love it or hate it, and I'm willing to bet you'll land on the former. So if you want a unique and very special experience, and if you also want to test your physical and mental boundaries while standing on a race board for a week, then the SUP 11 City Tour is for you.
MORE SUP 11 City Tour coverage:
– Relive the 2014 SUP 11 City Tour Live Blog
– 219 Awesome Photos That Tell The Story Of The SUP 11 City Tour
– SUP 11 City Tour official video highlights
– Official site
– Official Facebook
– Entry Form and Registration Announcement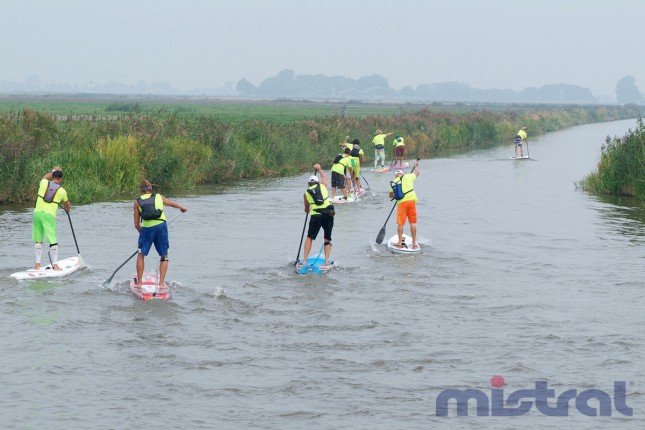 All photos by Steve West for Mistral