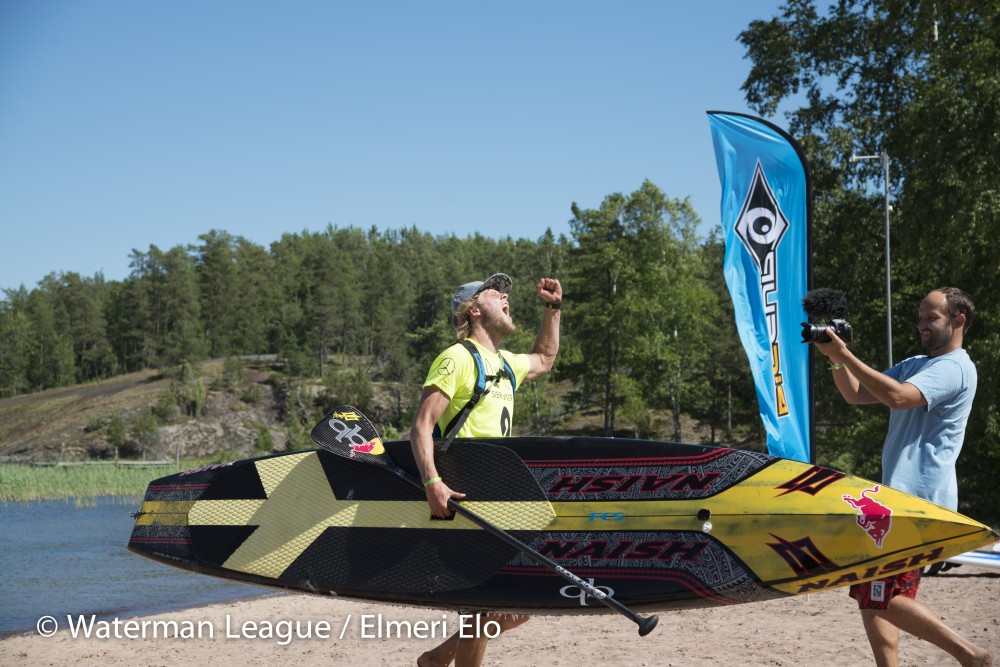 July 13, 2015
by Christopher Parker (@wheresbossman)
What You Missed In… Finland: Casper Wins In The North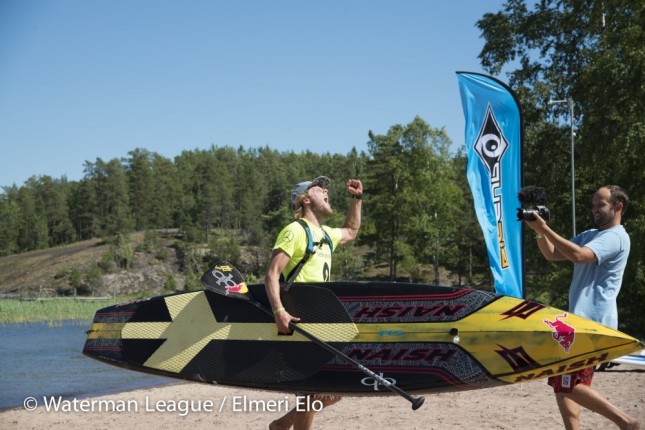 This is part of our "What You Missed In…" series that we'll be running today, where we update a bunch of races that we failed to cover over the past few weeks.
After the Stand Up World Series finally got started in Barcelona last week, the franchise leapt straight over to Finland for event number two(*) on July 3rd & 4th, the Sieravuori SUP Masters.
With one of the most serene, picturesque locations you could possibly imagine for a SUP race, a very small but fairly elite crowd battled it out in the standard distance/sprint format around one of Finland's countless lakes (the country is known as the "Land of a Thousand Lakes" though in reality it's got closer to 200,000 of them… there's certainly no shortage of good SUP'ing spots in this place).
Coming out on top was everyone's favourite Danish Viking, Casper Steinfath, who took the overall win ahead of world #11 Zane Schweitzer and one of the new heroes of the Euro racing scene, world #17 Leonard Nika from Italy.
Unfortunately the race didn't quite count for the a href="https://supracer.com/rankings/">SUP Racer World Rankings, scoring 13.5% on the Race Index to narrowly miss qualification (15.0% is the cut off).
In the women's it was Celine Guesdon all the way, with the French #1 triumphing over a very small field of ladies. Unfortunately that's been the theme at pretty much every race in Europe this summer (and virtually every elite race around the world for that matter) – where are the women? It's a serious problem in our sport one that needs to be addressed, but how exactly we should address it is anyone's guess. The top women often complain about the lack of equal prize money and media coverage, however the problem begins on the start line. There just aren't many elite female SUP racers…
Anyway full results from Finland are below. Sieravuori is kind of totally out of the way, however it looks like an absolutely beautiful part of the world. And either way it's cool to see the sport getting pushed to the outer reaches of Euro land.
1st: Casper Steinfath
2nd: Leonard Nika
3rd: Zane Schweitzer
4th: Eric Terrien
5th: Dylan Frick
6th: Davide Codotto
7th: Roman Frejo
8th: Jurgi Zulaika
9th: Pete Kosinski
10th: Andreas Svensson
11th: Christian Sandoval
12th: Tomas Lelovits
13th: Peter Vale
14th: Ville Vihmari
15th: Jussi Pekkarinen
16th: Dimitry Sviridov
17th: Jarmo Rantala
18th: Janne Laine
19th: Juha Miika Paavola
1st: Celine Guesdon
2nd: Ane Zulaika
3rd: Joanne Hamilton-Vale
4th: Maya Persson
5th: Laura Pokela
* Technically Finland isn't part of the World Series proper, it's a second-string "Challenger Series" event, which may or may not count for the overall World Series rankings (the World Series gets confusing sometimes).