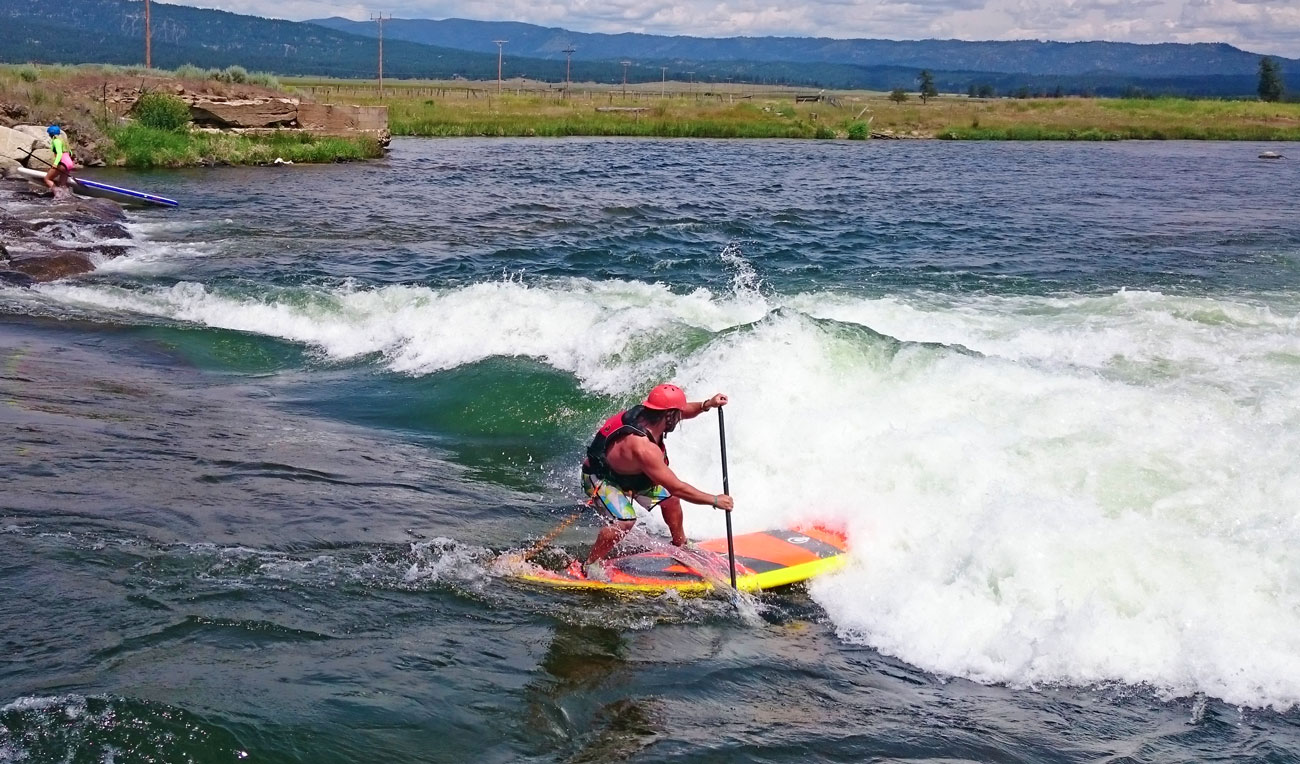 June 18, 2015
by Christopher Parker (@wheresbossman)
Payette River Games Preview: Who's Going To Conquer The River And Claim The Bounty? (24 Hours To Go…)
We're just 24 hours away from one of the biggest, richest and funnest races of the year: The Payette River Games.
Part race, part festival, part party on the river in the Idaho countryside, the PRGs are a unique and highly entertaining spectacle. The main attraction is the stand up paddling (with its record $50,000 prize purse), however there are plenty of other highlights on the schedule: The axe throw, log rolling and beach flag events are my personal favourites.
But back to the SUP racing: A good chunk of the world's best paddlers have been arriving in sleepy little Cascade, Idaho over over the past few days. From Friday to Sunday they'll battle it out, with the best overall guy and girl taking home $10,000 each.
Whoever claims the bounty will have thoroughly deserved it. This is not an easy race. The host venue, Kelly's Whitewater Park, isn't too extreme as far as whitewater paddling goes (there's actually quite a lot of flat water here), but it's still more than enough to humble even the best ocean athletes.
The PRGs SUP race is actually two events in one: The Giant Slalom, where paddlers race against the clock in an individual time trial, and the SUP Cross, where we all get to bash into each other going around the buoys in a short, sharp, chaotic course race held directly in and around the main whitewater feature of the park.
With it's knockout heat format and tight, technical course, the SUP Cross will be the most entertaining of the two races, however paddlers will need to master both if they want to be standing on the podium. The top 20 finishers in each of the two races receive leaderboard points: 20 for first place, 19 for second, down to 1 point for 20th place. The highest points on Sunday afternoon wins, with cash being paid out down to 10th place for both men and women (the $50k prize purse is gender equal right down the line).
We're not entirely sure what to expect from the Slalom and Cross race courses, partly due to the fact race director Dan Gavere will only be revealing the course layout on the morning of the race (and the SUP Cross course will change after each round to make it that little bit more challenging).
Last year it was Candice Appleby and Fernando Stalla saluting, with the latter upsetting at least a dozen guys who were probably more fancied coming into the event. But Fernando proved one very important point last year, something that's become even more apparent at PRG15: You've gotta practice.
If you expect to rock up last minute and know what you're doing, expect to have your ego sorely bruised. I've been keenly watching the warm-up runs over the past few days, and some of the strongest paddlers in our sport have had to learn a whole new discipline of stand up.
This is a three day event, however the PRGs are really a six or seven day affair. If you want to have a chance, you need to arrive in Idaho early and do run after run after run, practicing the course and trying to understand the subtle nuances of the river as best you can. That's what Fernando did last year, and it paid off to tune of $10,000. This year we've seen a lot more paddlers arrive a lot earlier (a few guys rocked up last week), getting in plenty of practice sessions as they attempt to conquer the river.
So who are the contenders? We've got a solid lineup of world ranked paddlers this week – the top five women in the world are all racing for the first time since the BOP and plenty of top ranked men are here too – however it's probably the dark horse river specialists that we should keep an eye on.
I'm not going to bother trying to pick the winners – this race is as harder to predict than any – however two paddlers that really stood out in yesterday's practice sessions were Mike Tavares, a well known river shredder, and Mo Freitas, who's a long way from home in Idaho but seems to excel in any conditions.
Others to watch out for include Spencer Lacy, Slater Trout, Giorgio Gomez, Toby Cracknell, Josh Riccio, Fernando Stalla, Eric Giddens, Dane Jackson, Zane Schweitzer, Yaku from Japan, all of whom have impressed me over the past few days.
[device]>> VIDEO: Mike Tavares showing us all how it's done[/device][notdevice]
[/notdevice]
But really, anyone could win this race. And that's why I love it. One slight mistake could send you down the rapids and end your race in an instant. For this reason the PRGs are highly unpredictable. The PRGs are not a purely athletic contest like what we see at Carolina or Molokai. It's not the strongest/fastest that will win. You've gotta show your technical skills to master this event.
To make a Winter Olympics analogy: The Payette River Games are like Ski Cross: Short, sharp and mildly unpredictable. First can go to last (and vice versa) in a matter of seconds. Whereas the big SUP races like Molokai/Carolina are the classic 50km cross country race: Long, hard and uber-prestigious, but a little too predictable and not so entertaining to watch, particularly for the average sports fan.
We need both types of races in our sport. The classics to showcase the amazing athletic abilities of our top paddlers, and the entertaining/mildly chaotic races to showcase a whole different set of skills (in this case: whitewater prowess) as well as to draw in more mainstream spectators and sponsors.
And there are few races more entertaining than the Payette River Games.
It's not just me that has this line of thinking: CBS Sports Network apparently agrees. The cable network will be here this weekend, filming the action of PRG15 and packaging it together for a one hour special that'll air July 11th.
Who will get their face on the TV podium? It's impossible to predict, but one thing is for sure: This weekend is going to be a fun ride…