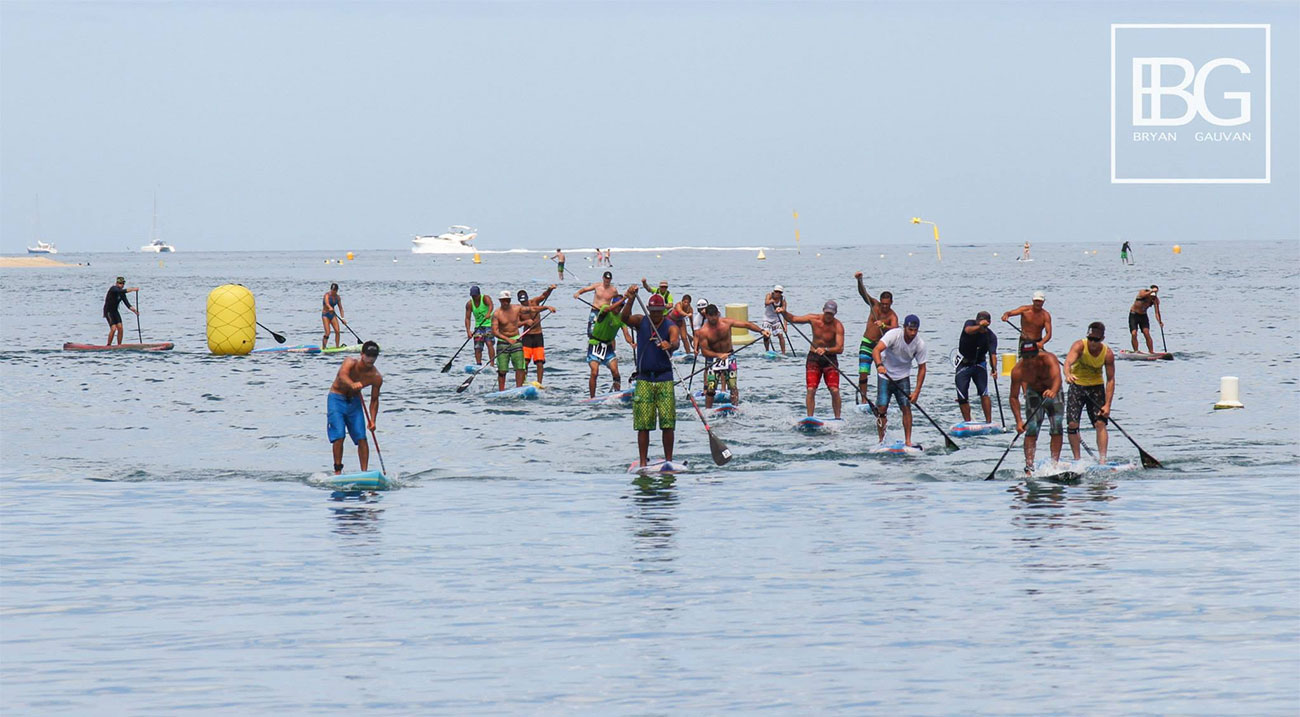 March 1, 2015
by Christopher Parker (@wheresbossman)
Titouan Puyo, Celine Guesdon Win The 'NRJ Pro Cup' In Paradisaical New Caledonia

Everyone's favourite dark horse (though I think he's long since outgrown that label), Titouan Puyo, has won another couple of trophies at home in New Caledonia. The NRJ Pro Cup, held in New Caledonia's famous turquoise coral reef lagoon, offered paddlers both a downwinder and course race in paradise.
Titou surprised nobody by claiming the downwinder on Saturday (which unfortunately didn't get all time conditions), before backing up in Sunday's Beach Race to claim the double. New Cal is home to some frighteningly quick dark horse paddlers while a few internationals were on the island as well (such as Tomo from Japan and Livio from Maui), however it's always going to be hard to beat one of the world's top ranked paddlers.
The Beach Race, which is what the French call a Battle of the Paddle-style course race, was a much tighter and closer affair. Franck Muller was impressive in taking the line honours on his 14 footer, however in the battle of the 12'6 boards it was Titou once again.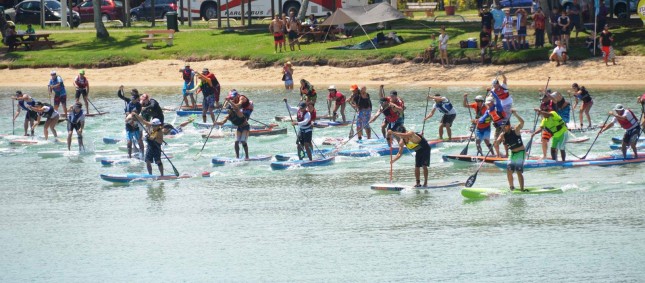 David Anewy was runner-up in the 12'6 field while 14-year-old and a definite future-name-to-watch, Clement Colmas, rounded out the podium. Clement is the son of local windsurfing legend (and early SUP race board pioneer) JL Colmas, so he's definitely got some pedigree behind him.
Taking out the women's race was France's Celine Guesdon from the BIC racing stable. Despite being thousands of miles from home, Celine would have felt quite comfortable in New Cal, which is a semi-autonomous, "special collectivity" of mainland France. Celine has been in Australia training the past month and so New Cal was an easy 2.5 hour flight from Brisbane.
Great to see some large numbers racing in this outpost of the paddling world (69 in the downwinder and 73 in the Beach Race), and good to see Titou continue his solid early season form. This guy was the revelation on the international stage last year and will no doubt be looking to climb even higher on the rankings during season 2015. Titou will attempt to defend his distance race gold medal at the Worlds in Mexico (May 10-17) and will be a contender at pretty much all the big races this year.
New Caledonia is an absolute paradise for stand up paddling. I was lucky enough to attend the 2014 NRJ Pro Cup and saw first hand a) How insanely nice the water is and b) how incredibly talented the locals are. With his strong va'a background (rudderless outrigger canoe racing) Titou is leading the charge on the international stage, however there are a few up-and-coming kids that may just give him a push in the next few years (such as young Clement Colmas).
Anyway full results from both races are below. More pics on Facebook thanks to photogs Tom Claverotte and Bryan Gauvan.