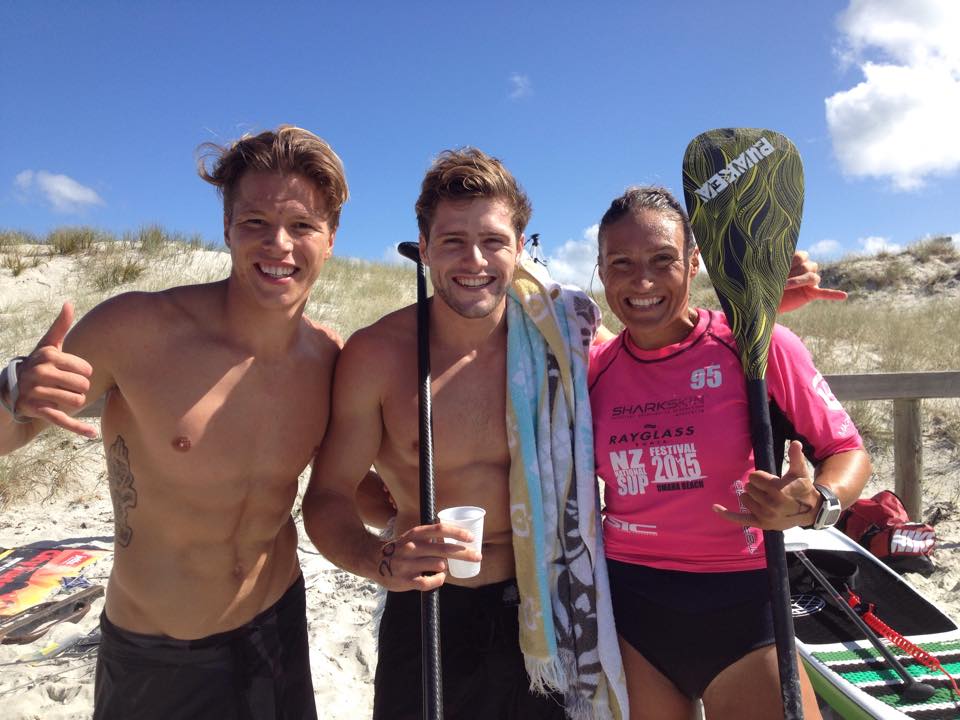 March 30, 2015
by Christopher Parker (@wheresbossman)
Annabel Anderson, Daniel Hasulyo Win The New Zealand Nationals
Results and pics from New Zealand's 2015 National SUP Championship, which was held on the weekend at Omaha Beach just north of the capital Auckland.
The main event was won by world #1 and new SUP ATX/Lahui Kai team rider, Annabel Anderson, while Daniel Hasulyo took out the men's ahead of Annabel's Lahui Kai teammate, Jayden Jensen.
Armie Armstrong was the highest placed "local" paddler, taking out the national title after crossing the line in third beyond Daniel and Jayden. Penelope Strickland was the quickest of the women after Annabel.
I've only got one set of results so far, which I believe are for the BOP-style surf race on Sunday. There was also a downwind race on Saturday, which we'll try and rustle up final times for asap.
Annabel seems to be in fine early season form, comfortably taking out the women's and keeping pace with most of the men as well. The big test comes next month in North Carolina however, where Annabel will be seeking a third straight title at the massive Carolina Cup. That event looks set to attract an intensely competitive lineup never before seen outside of the BOP.

While Annabel needs no introduction, one paddler that does is Daniel Hasulyo. The 23-year-old was born in Hungary and has been on the Starboard pro windsurfing team since he was a little grom. These days he seems more focused on stand up paddling and, if this result is anything to go by, the kid clearly has a future.
The Australian-based runner-up Jayden, who is also listed as an "International" (this event counts towards the ISA Worlds NZ team selection so the nationals and internationals were separated in the results, however they did race together) is another young name to watch. Jayden is currently ranked #37 in the world but that position belies his true potential. Jayden is the older brother of world #4 Jake Jensen, and both of the Jensen boys have the potential to be at the very top of the SUP racing world.
Jayden will be in Carolina alongside Annabel next month, as will his mentor and fellow Lahui Kai member Kelly Margetts. Jake will also be there, so there could be an interesting little family rivalry going on at Wrightsville.
Anyway the top finishers and a few choice pics from the weekend are below. Plenty more over on the official NZ SUP Champs Facebook page.

12'6 Women
1st: Annabel Anderson
2nd: Penelope Strickland
3rd: Tara Hope
4th: Stacey Huston
5th: Victoria Stuart
12'6 Men – New Zealanders
1st: Armie Armstrong (3rd over the line)
2nd: JP Tobin
3rd: Tupu King
4th: Matt Craig
5th: Trent Jones
12'6 Men – Internationals
1st: Daniel Hasulyo (1st over the line)
2nd: Jayden Jensen (2nd over the line)
3rd: Bruno Hasulyo
4th: Felipe Dos Santos
5th: Hans Wannemacher
14′ Men
1st: Graeme Sutherland
2nd: Jeremy Stephenson
3rd: Josh Nixon
4th: Troy Huston
5th: Aaron Candy