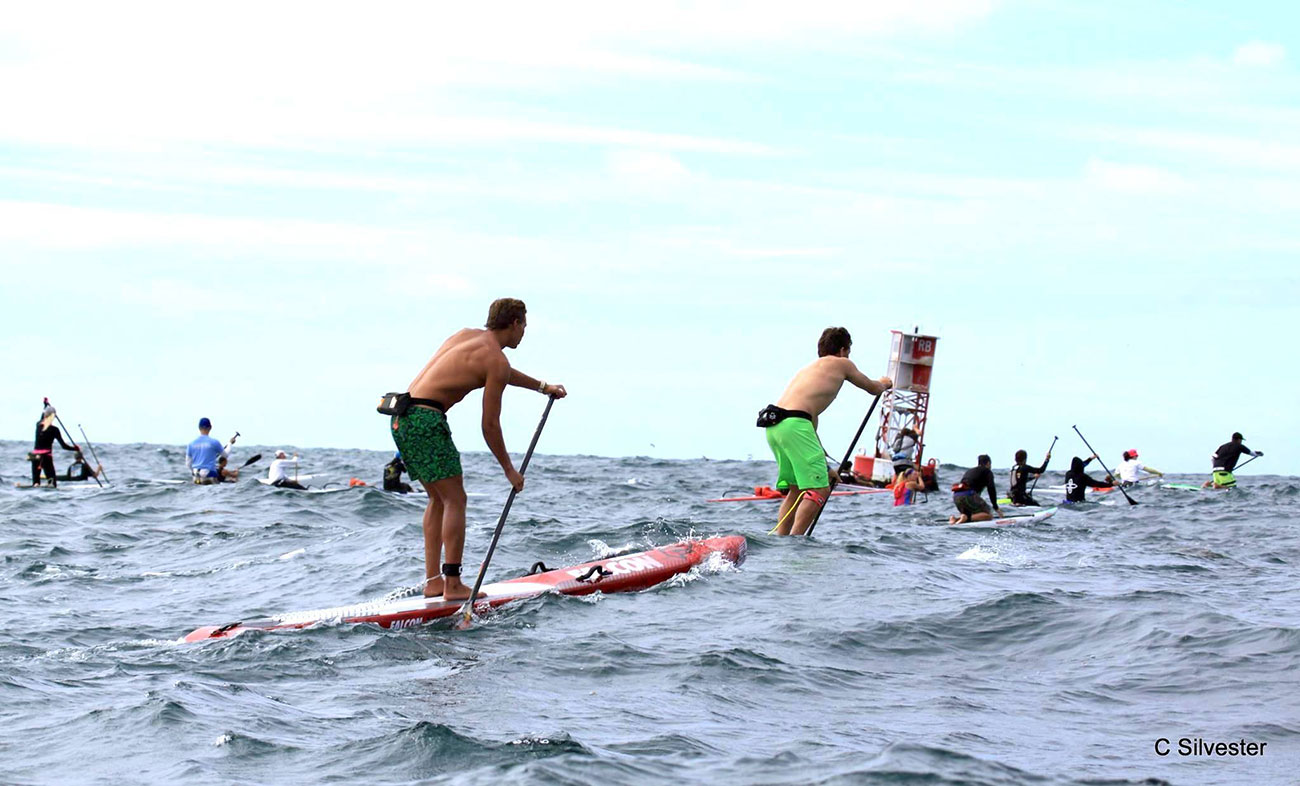 February 28, 2015
by Christopher Parker (@wheresbossman)
RESULTS: Arthur Arutkin, Krisztina Zur Win The Lanakila Classic In Redondo Beach

One of Europe's leading paddlers, Arthur Arutkin, has taken out the annual Lanakila Classic in Redondo Beach today.
Arthur – currently ranked #29 in the world but with the real potential to go top 10 in the near future – is in California this month to train and prepare for the international race season, which kicks off in April. The Fanatic team rider is staying with fellow Frenchman Greg Closier, who finished runner-up to his apprentice today.
The SUP race was only 3 miles (5kms), however that didn't stop Arthur opening up a solid gap, finishing a minute and a half ahead of Greg and four minutes clear of third-place Daniel Russell. On the women's side it was new-mom and Olympic gold medalist Krisztina Zur, just under a minute ahead of rising star Shae Foudy.

That was on the "outside" course at least; on the "inside course" (which I assume means they didn't leave safe confines of Redondo Harbor), Tyler Bashor took the win on his 12'6 while Antoinette Cocco was the leading lady.
One of those most recognisable names in the sport, Danny Ching, was also on show at the Lanakila Classic. However instead of stand up, Danny opted for the OC-1 race (which he won rather comfortably, to the surprise of no one). Also good to see that over one-fifth of the SUP field were under 16s.
Full results below (courtesy of Paddle Guru). The OnIt Pro crew were at the event, which means their signature batch of 10 million race photos are already up on Facebook.
2015 Lanakila Classic SUP Race – "Outside" Short Course
| # | Name | Time | Class | # | Division | # |
| --- | --- | --- | --- | --- | --- | --- |
| 1 | Arthur Arutkin | 0:30:30 | Men's 14' | 1 | 20-39 | 1 |
| 2 | Greg Closier | 0:32:06 | Men's 14' | 2 | 20-39 | 2 |
| 3 | Daniel Russell | 0:34:44 | Men's 14' | 3 | 20-39 | 3 |
| 4 | Mark Miyamoto | 0:34:48 | Men's 14' | 4 | 20-39 | 4 |
| 5 | Krisztina Zur | 0:34:52 | Women's 12'6 | 1 | 20-39 | 1 |
| 6 | Shae Foudy | 0:35:42 | Women's 12'6 | 2 | 20-39 | 2 |
| 7 | Mike Vaughan | 0:35:59 | Men's 12'6 | 1 | 40-49 | 1 |
| 8 | Bailey Rosen | 0:36:09 | Women's 12'6 | 3 | U19 | 1 |
| 9 | Shawn Tierney | 0:37:39 | Men's 14' | 5 | 40-49 | 1 |
| 10 | Daniel Richmond | 0:41:44 | Men's 14' | 6 | 20-39 | 5 |
| 11 | Brandon Sauls | 0:43:59 | Men's 12'6 | 2 | 20-39 | 1 |
| 12 | Jay Butki | 0:45:56 | Men's 14' | 7 | 50+ | 1 |
| 13 | Jeremy Godokiss | 0:46:04 | Men's 12'6 | 3 | 40-49 | 2 |
| 14 | Redy Baisa | 0:48:08 | Men's 12'6 | 4 | 50+ | 1 |
| 15 | Justin Van Dyck | 0:48:14 | Men's 12'6 | 5 | 40-49 | 3 |
| 16 | Andrea Conrad | 0:49:00 | Women's 12'6 | 4 | 40-49 | 1 |
| 17 | Ryan Knysh | 0:49:02 | Men's 14' | 8 | 20-39 | 6 |
| 18 | Peter Lakos | 0:49:10 | Men's 14' | 9 | 40-49 | 2 |
| 19 | Kerry Mcmanemy | 0:50:34 | Women's 12'6 | 5 | 40-49 | 2 |
| 20 | Jodie Greger | 0:50:46 | Women's unlim | 1 | 50+ | 1 |
| 21 | Kristin Thomas | 0:50:59 | Women's 12'6 | 6 | 50+ | 1 |
2015 Lanakila Classic SUP Race – "Inside" Short Course
| # | Name | Time | Class | # | Division | # |
| --- | --- | --- | --- | --- | --- | --- |
| 14 | Vincent Dumoulin | 0:40:34 | Men's 12'6 | 7 | 20-39 | 1 |
| 4 | Patrick O'hea | 0:37:56 | Men's 14' | 3 | 20-39 | 1 |
| 18 | Brian Jacobson | 0:43:26 | Men's 14' | 7 | 20-39 | 2 |
| 13 | Antoinette Cocco | 0:40:32 | Women's 12'6 | 2 | 20-39 | 1 |
| 19 | Chelsea Wilder | 0:43:26 | Women's 12'6 | 4 | 20-39 | 2 |
| 22 | John Nordin | 0:44:44 | Men's 12'6 | 9 | 40-49 | 1 |
| 23 | Craig Stiff | 0:45:20 | Men's 12'6 | 10 | 40-49 | 2 |
| 39 | Nigel Kershaw | 0:58:26 | Men's 12'6 | 15 | 40-49 | 3 |
| 2 | Zibi Wadzynski | 0:36:43 | Men's 14' | 1 | 40-49 | 1 |
| 3 | Michael Kelley | 0:36:46 | Men's 14' | 2 | 40-49 | 2 |
| 6 | Mace Camhe | 0:38:42 | Men's 14' | 4 | 40-49 | 3 |
| 7 | Matt Chebatoris | 0:38:55 | Men's 14' | 5 | 40-49 | 4 |
| 21 | Andy Hope | 0:44:20 | Men's 14' | 8 | 40-49 | 5 |
| 26 | Scotte Gadsby | 0:46:30 | Men's 14' | 9 | 40-49 | 6 |
| 20 | Rosemary Vasquez | 0:43:26 | Women's 12'6 | 5 | 40-49 | 1 |
| 25 | Claudette Baker | 0:46:12 | Women's 12'6 | 6 | 40-49 | 2 |
| 35 | Jennifer Lakos | 0:51:52 | Women's 12'6 | 10 | 40-49 | 3 |
| 40 | Michele Kershaw | 0:59:08 | Women's 12'6 | 13 | 40-49 | 4 |
| 33 | Glenn Zeleznick | 0:51:16 | Men's 12'6 | 13 | 50-59 | 1 |
| 36 | Russ Reisner | 0:53:02 | Men's 12'6 | 14 | 50-59 | 2 |
| 30 | Patrick Higginson | 0:48:58 | Men's 14' | 11 | 50-59 | 1 |
| 37 | Rose Calski | 0:54:36 | Women's 12'6 | 11 | 50-59 | 1 |
| 38 | Audrey Stempel | 0:57:31 | Women's 12'6 | 12 | 50-59 | 2 |
| 32 | Jane Culp | 0:50:02 | Women's 14' | 1 | 50-59 | 1 |
| 16 | Pat Ryan | 0:42:44 | Men's 14' | 6 | 60+ | 1 |
| 27 | Gene Kusion | 0:46:54 | Men's 14' | 10 | 60+ | 2 |
| 1 | Tyler Bashor | 0:36:41 | Men's 12'6 | 1 | U16 | 1 |
| 5 | Myles Blazer | 0:38:01 | Men's 12'6 | 2 | U16 | 2 |
| 8 | Trevor Bashor | 0:38:58 | Men's 12'6 | 3 | U16 | 3 |
| 10 | Stephen Baker | 0:39:34 | Men's 12'6 | 4 | U16 | 4 |
| 11 | Patrick Cleveland | 0:39:49 | Men's 12'6 | 5 | U16 | 5 |
| 12 | Cole Vander Broek | 0:39:50 | Men's 12'6 | 6 | U16 | 6 |
| 15 | Elijah Schoenig | 0:42:03 | Men's 12'6 | 8 | U16 | 7 |
| 24 | Keagan Lamar | 0:46:09 | Men's 12'6 | 11 | U16 | 8 |
| 29 | Noam Elroi | 0:48:55 | Men's 12'6 | 12 | U16 | 9 |
| 9 | Erika Benitez | 0:39:07 | Women's 12'6 | 1 | U16 | 1 |
| 17 | Alexandra Higginson | 0:43:02 | Women's 12'6 | 3 | U16 | 2 |
| 31 | Belah Ellis | 0:49:55 | Women's 12'6 | 8 | U16 | 3 |
| 34 | Abby Baker | 0:51:43 | Women's 12'6 | 9 | U16 | 4 |
| 41 | Reagan Willey | 0:59:32 | Women's 12'6 | 14 | U16 | 5 |
| 28 | Kylie Lakos | 0:47:42 | Women's 12'6 | 7 | U19 | 1 |