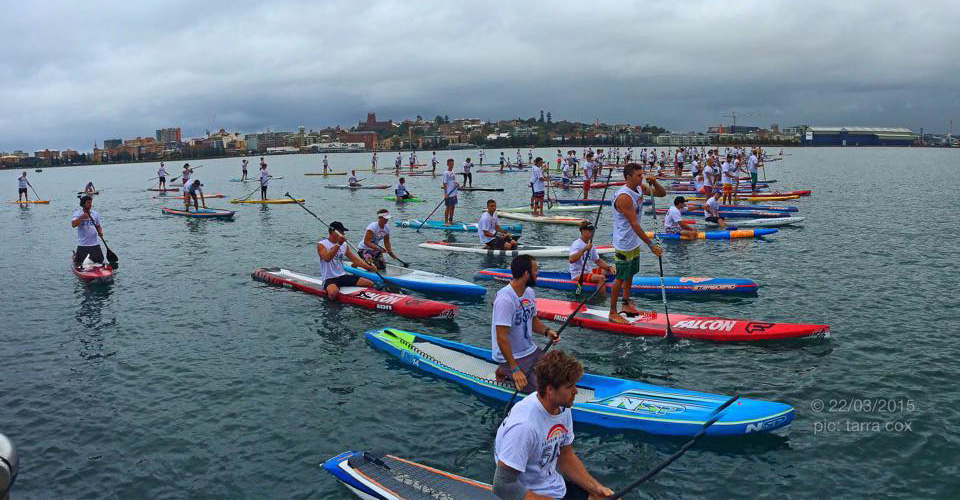 March 24, 2015
by Christopher Parker (@wheresbossman)
The Aussies Unite To Support Harry's Paddle (And Boost The SUP Racer World Rankings)

Comprehensive results, recap, photos and video from Harry's Paddle, a major charity race that took place in Stockton, New South Wales on the weekend. It looks like it was a fantastic event that will go down as one of the biggest and best in Australia's SUP racing history.
The picturesque venue of Stockton, a couple of hours north of Sydney, attracted not only a huge field of paddlers in general – over 200 competitors signed up to race – it also showcased one of the most elite lineups ever seen in Australia. From all reports the event was extremely well organised (how good are those jerseys?!), plus everybody was there for a good cause, with the event benefiting the Harry Meyn Foundation.
Harry's Paddle 2015 featured more than a dozen guys ranked inside the world's Top 100. Kelly Margetts and Trevor Tunnington walked away with victories in the surf race and distance race respectively, while there were strong showings from James Casey, Paul Jackson, Beau O'Brian, Jake Jensen and a host of others. In the women's the field was also strong, with Angie Jackson and Karla Gilbert trading wins while former Molokai champ Terrene Black snagged a pair of thirds.
Both the BOP and distance events scored 15% on the men's Race Index, which was just enough for them to qualify for the SUP Racer World Rankings. This is the first race in the world to qualify for the rankings so far this year, which is a further sign that Harry's Paddle has a very bright future.
Several paddlers took advantage of the points on offer in Stockton, with many competitors jumping well up the men's leaderboard.

The very impressive distance race winner Trevor Tunnington jumped seven places to world #21 and now sits just a few points outside the Top 20. Courtesy of a podium finish in Saturday's BOP race, Team Australia representative Toby Cracknell leapfrogged 12 paddlers on his way to world #35 – the leaderboard is tight in the middle order so even one solid result is enough for a solid gain.
Sitting just four spots below Toby right now is the new world #39 James Casey, definitely a name to watch after his confident runner-up finish in the grueling surf race on Saturday. The winner of that race, Kelly Margetts, also boosted, up three places from #19 to #16. Kelly, a regular on the BOP California podium despite being in his 40s, is still only holding onto a handful of results, meaning a big finish at the massive Carolina Cup next month (where there will be a lot of points on offer) could see him give the world's Top 10 a run for their money.
Matt Nottage – yet another member of the growing band of Aussie dark horses – sneaks into the world's Top 50. Matt's pair of top 10 finishes on the weekend, combined with the fact he was carrying several 0 point results in his total points score before the weekend (i.e. he hadn't yet completed the minimum of five big races in the past 12 months), saw him instantly jump 13 places to world #49. Matt still has one doughnut left in his total (he's only counting 4 results out of a possible 5) so he'll almost certainly rank a lot higher after the next big race.
Other movers included Tomo from Japan, now ranked #64 in the world, Sam Parker, up seven places to #68, and Ben Tardrew, who moves up 10 spots to world #70. Jayden Jensen didn't have his best ever result on the weekend (not helped by losing a bet to his mentor, Kelly, and having to race the distance on a 12'6) but still climbed three spots higher to now sit 37th in the world.
Making his long-awaited debut inside the Top 100 this week is Ryan Keck, who's been knocking on the door for some time now. Ryan's performance on the weekend sees him sitting at #87 in the world, though like many other guys in the lower regions of the Top 100 he's got multiple doughnuts in his tally. That means Ryan (and several other lower-ranked paddlers) are poised to instantly jump up the leaderboard with a decent result at one of the bigger, international races this season.
Though the single biggest mover of the week is Steve "Wild Man" Walker, who jumped a massive 57 places to appear in the Top 100 for the first time. The hard-training stalwart of the Gold Coast paddling scene, Steveo's intense summer has paid off and sees him now occupying position #78 in the world rankings.

Last but not least is Paul Jackson, quite possibly the unluckiest paddler in the latest SUP Racer World Rankings shakeup. Despite a couple of great performances at Harry's – 5th in the tough surf race and a very impressive 3rd place in the distance – Jacko actually dropped one spot on the Top 100 leaderboard.
The reason is quite logical, although rather cruel: Jacko was already holding onto five mid-range results from the past twelve months, so his 3rd place in the distance race only marginally improved his overall tally (moving from 42.39 to 43.99 points). That slight increase wasn't enough for Jacko to overtake the guy ranked right above him, and so when Trevor Tunnington leapfrogged almost everyone ranked in the 20s, Jacko ended up sliding down one spot despite giving one of his best performances.
Jacko will get the chance to redeem himself next month though – he and his in-form wife Angie Jackson have already booked tickets to the Carolina Cup. That's a race that I'm predicting will score upwards of 70% on the Race Index, something only the Battle of the Paddle has been able to achieve in the past.
This quirk of slipping in the rankings after a good result just goes to show that when you get higher up in the SUP Racer World Rankings, you generally have to do better and better at bigger and bigger races to increase (or even just maintain) your ranking. For example: Beau O'Brian (world #8) and Jake Jensen (world #4) both had strong results on the weekend, however their respective rankings didn't change at all as they're already holding onto five very major results from the past twelve months (only a paddler's five biggest results count, no matter how many races they compete in).
Unfortunately the women's races at Harry's Paddle didn't qualify for the World Rankings, but hopefully Angie, Karla, Terrene and all of Australia's world class female paddlers will have a chance to improve their World Rankings at the big international races coming up.
So that's the latest from the SUP Racer World Rankings leaderboard.
But back to the action at Harry's: Below we've got an excellent recap from roving reporter Matt Burgess (who also whipped together the great video below) while down below are the full results and SUP Racer World Rankings points.
Well done to everyone that supported such a great event, it really is a good sign for the future of SUP racing in Aussie land. And congratulations to Pete Cox and the whole organising/volunteer team for pulling off one of the biggest and most competitive events the country has ever seen.
Also a special mention to the sponsors including Rainbow Sandals, Virus and Starboard, who helped make it all possible. Now how do I get myself one of those race jerseys…
Harry's Paddle 2015
on-the-spot reporting by Matt Burgess
As 201 competitors converged on the Stockton Peninsula in Newcastle, NSW, Australia, even the grey clouds that loomed above would not dampen the excitement of this the 3rd Annual Harry's Paddle.
The location and venue places competitors, families and friends on a peninsula that is the opening to one of the worlds busiest coal transit ports to the west & an amazing stretch of sand dunes for 34kms to the North East lapped by the Pacific Ocean and creating the ideal opportunity to deliver a two day event consisting of a BOP challenge on the Saturday followed by a 8.5km flat water race on the Sunday.
The event was originally created by Pete Cox to raise awareness toward the Harry Meyn Foundation and offer donations toward the foundation from race registrations and activities across the event. As the event continues to grow it has allowed itself to expand its support in to the local community by donating to the Stockton Surf Club and Stockton Bowling Club as well as numerous local business that all come together for this great weekend.
The Foundation was founded in loving memory of Harry Meyn and Harry's House was built as a family retreat for those with cancer, or families who have just lost a loved one to the disease.
"From our experience with Harry being diagnosed with cancer [and subsequent death] … it turns the family upside down," David Meyn, Harry's father and CEO of the Harry Meyn foundation said. "The family literally gets torn apart and doesn't have that chance to be together. Harry's House allows them to get away from everything, albeit only a week at a time, but allows the family to reconnect… and recharge for the journey ahead."
As the National and International competitors gathered, predictions were being made as to who would win the classic battles the Australian stand-up paddling community has come to know and love.
With the return of title holders and event ambassadors Sondra Purser, Beau O'Brian and Toby Cracknell challenges amongst the field were well written before the first event began.

Newcomer James Casey versus Jake Jensen in the BOP and Beau O;Brian, Trevor Tunnington and Paul Jackson duking it out in the distance were feasts for spectators. In the women, it's always Karla Gilbert versus Angela Jackson in any space they race.
"She usually gets me in the BOP stuff," Mrs Jackson, the current SUPRacer world number six said. "Hopefully in the flat-water and distance stuff, I'll have her number."
Angela Jackson says yesterday's action in the BOP was the "gnarliest" conditions she's raced in.
"[It was] a tough little shorie, heaps of side wind and head wind and chop.. but it was good to see everyone give it a go," she said.
In the RACE to the bridge and back on Sunday, there was a lot redemption needed from some of the better-known paddlers.
Queensland's Kelly Margetts took the BOP crown, with James Casey and Toby Cracknell in second and third respectively.
"I just had no energy in the tank [in the BOP] so hopefully I can pull it out," current SUPracer.com world number four Jake Jensen said prior to the Bridge and Back on Sunday. "It's flat-water, it's hard to pull away from anyone in flat-water."
Even more glory to Margetts was winning the side bet he had with his Lahui Kai teammate Jaden Jensen. As a result, Margetts was fortunate to race the gruelling 8.5klm Flat Water event to the Bridge and Back on a 14 foot board. His younger minion was forced to grind it out on a 12'6.

It was a battle of wits, line and pace to see who would fall away first to the half way mark for the elite competitors, paddling the first four kilometres in just under 20 minutes.
James Casey, who led the pack to the first turn, said he and Trevor Tunnington pushed a wider line, hoping to gap the field to the bottom mark.
"I was in the wash and probably coming 18th from the start. I wanted clean water so I rolled the dice," he said. "I looked at the tide charts before the race, so I knew it was running."
Unfortunately for James, the chase pack caught up just before the turn. Coupled with a fall, the task proved too difficult to try and grab the win on the second leg.
Last year's third place finisher Grant Hardiman said there was so much movement between the lead packs, it was hard to navigate and have tactics.
"One guy would take off and a few guys would stick to him and realise he wasn't going fast enough so they'd run back," he said.
Some dicey moves and spills on the second half of the race had some bitter rivalries surface. Word back in the finish line, there was some pushing and shoving reminiscent of the 2014 Bilbao challenger. However, as one of the world's elite paddlers put it, "there's so many positives in this event, it doesn't even need mentioning… it's all part of racing."
In the end, the Sunny Coast's Trevor Tunnington took the top spot on a over defending champion Beau O'Brian and Paul Jackson who finished second and third respectively.
Tunnington said it while being fun, was a super hard race for him to win. "We had a bit of a wash ride train going amongst the guys," he said. "I went sort of medium pace, but then towards the end, I sprinted the last few kilometres."
In the ladies, Angela Jackson got off to an amazing start, leading the girls essentially from start to finish. Rounding the bottom mark, Angela had a roughly 150 metre lead over Karla Gilbert, with Terrene Black trailing behind. Those positions didn't change for the rest of the race. Angela took the win, with Karla and Terrene second and third respectively.

Overall, the event was a huge success attracting all levels of paddlers. Some even deciding to race in fancy dress.
"It's been a great fun event, great people to hang out with, it doesn't matter who they are, they are all pretty good people," said Greg Hearn, who decided to race in a tutu. "For a weekend away, it's probably one of the best."
"Pete Cox has done an awesome job," Iron Mum, and second placed Karla Gilbert said. "It's probably been the most professional run SUP race that I've been to so far, so hat's off to Pete and the crew, it's been great."
Peter Antoniou, the director of Virus Actions Sports Performance and major sponsor of the event, said they want to continue the relationship with the event and encourage their international paddlers to compete next year.
Rainbow Sandals USA director of marketing Melissa Neo commented "a fantastic event and we cannot wait until next year, being fresh into Australia with our product, and having this opportunity to be involved in such a well organised Stand Up Paddle boarding event was a pleasure."
Caren Forbes, International Branding Manager for Starboard who is the official Stand Up Paddle Board sponsor commented "it was an opportunity to continue Starboards support of this event into its 03rd year and we were extremely pleased with the results that our team riders came away with and the level of competition at the event."
Congratulations NSW, you now have two SUP weekend events that are attracting over 200 competitors from around the globe. The depth of racing talent on offer and the growth of events clearly shows the strength of the sport in Australia.
Pete Cox the event organiser in summing up acknowledged his amazing army of volunteers in the event green shirts that allowed the weekend to be delivered despite this years tough weather conditions, and Pete has already begun planning for a bigger and better event in 2016 as the invitation goes out to all international paddlers to come and be a part of this event to take on the best Australia has to offer in an amazing location.
Until we meet again in March 2016, may we all enjoy getting our toes wet and paddles in the water.
– reporting by Matt Burgess
More pics on Facebook: BOP Race | Race To The Bridge & Back
NEXT >> Check out the updated Men's Top 100 leaderboard on the SUP Racer World Rankings
---
Harry's Paddle 2015: Results
Men's Distance Race

| # | Name | Time | Class | Points |
| --- | --- | --- | --- | --- |
| 1 | Trevor Tunnington | 0:47:49 | 14' | 15.00 |
| 2 | Beau O'Brian | 0:47:52 | 14' | 11.25 |
| 3 | Paul Jackson | 0:47:57 | 14' | 9.00 |
| 4 | Jake Jensen | 0:48:08 | 14' | 7.50 |
| 5 | Kelly Margetts | 0:48:52 | 14' | 6.38 |
| 6 | James Casey | 0:49:10 | 14' | 5.25 |
| 7 | Matt Nottage | 0:50:20 | 14' | 4.50 |
| 8 | Ben Tardrew | 0:50:23 | 14' | 3.75 |
| 9 | Steve Walker | 0:50:33 | 14' | 3.38 |
| 10 | Ryan Keck | 0:50:46 | 14' | 3.00 |
| 11 | Sam Parker | 0:50:55 | 14' | 2.70 |
| 12 | Jayden Jensen | 0:51:01 | 12'6 | 2.40 |
| 13 | Tomoyasu Murabayashi | 0:51:04 | 14' | 2.25 |
| 14 | Harry Maskell | 0:51:25 | 14' | 2.10 |
| 15 | Brendan Clark | 0:51:56 | 14' | 1.95 |
| 16 | Mathew Vandervoort | 0:52:06 | 14' | 1.80 |
| 17 | John Rowlatt | 0:52:11 | 14' | 1.65 |
| 18 | Sean Bicknell | 0:52:44 | 14' | 1.50 |
| 19 | Kieran O'Riordan | 0:52:53 | 14' | 1.35 |
| 20 | Toby Cracknell | 0:52:57 | 14' | 1.20 |
| 21 | Paul Mackie | 0:53:01 | 14' | 1.13 |
| 22 | Mark Catanzariti | 0:53:24 | 14' | 1.05 |
| 23 | Mike Hayes | 0:53:30 | 14' | 0.98 |
| 24 | Rob Walton | 0:53:37 | 14' | 0.90 |
| 25 | John Engel | 0:53:39 | 14' | 0.83 |
| 26 | Pete Garbutt | 0:53:48 | 14' | 0.78 |
| 27 | Grant Hardiman | 0:54:12 | 14' | 0.74 |
| 28 | Evan Green | 0:54:14 | 14' | 0.69 |
| 29 | Kevin Paull | 0:54:22 | 14' | 0.65 |
| 30 | Paul Catanzariti | 0:54:28 | 14' | 0.60 |
| 31 | Ben Surrest | 0:54:44 | 14' | 0.57 |
| 32 | Chris Cross | 0:54:49 | 14' | 0.54 |
| 33 | John Townsend | 0:54:56 | 12'6 | 0.51 |
| 34 | Craig Swadel | 0:55:04 | 14' | 0.48 |
| 35 | Callan Dick | 0:55:20 | 14' | 0.45 |
| 36 | Jason Rantall | 0:55:59 | 14' | 0.42 |
| 37 | Will Anido | 0:56:18 | 14' | 0.39 |
| 38 | Jonno Walker | 0:56:44 | 12'6 | 0.36 |
| 39 | Adam Pallister | 0:56:48 | 14' | 0.33 |
| 40 | Kevin Germon | 0:56:56 | 14' | 0.30 |
| 41 | Andy Fermo | 0:57:01 | 14' | 0.29 |
| 42 | Matthew Scott | 0:57:06 | 14' | 0.27 |
| 43 | Luke Vandenberg | 0:57:07 | 14' | 0.26 |
| 44 | David Sorenson | 0:57:22 | 14' | 0.24 |
| 45 | Malcolm Sawers | 0:57:31 | 14' | 0.23 |
| 46 | Mark Garthon | 0:57:55 | 14' | 0.21 |
| 47 | Karl Herman | 0:57:59 | 14' | 0.20 |
| 48 | Mark Chandler | 0:58:14 | 14' | 0.18 |
| 49 | Steve Cawley | 0:58:21 | 14' | 0.17 |
| 50 | Shane Lund | 0:58:32 | 14' | 0.15 |
| 51 | Mike O'Farrell | 0:58:40 | 14' | 0 |
| 52 | Tony Sycamore | 0:58:44 | 14' | 0 |
| 53 | Eric Jooste | 0:58:51 | 12'6 | 0 |
| 54 | Chris Ting | 0:58:54 | 14' | 0 |
| 55 | Rohan Evans | 0:58:57 | 14' | 0 |
| 56 | Ross Lindsay | 0:59:11 | 14' | 0 |
| 57 | Geoff Waterhouse | 0:59:19 | 14' | 0 |
| 58 | Peter Whipps | 0:59:36 | 14' | 0 |
| 59 | Shaun Christensen | 0:59:48 | 14' | 0 |
| 60 | Lincoln Gibson | 1:00:23 | 14' | 0 |
| 61 | Pete Hopkins | 1:00:37 | 14' | 0 |
| 62 | Greg Hoare | 1:00:45 | 14' | 0 |
| 63 | Scott Garthon | 1:02:39 | 14' | 0 |
| 64 | Robert Margetts | 1:02:43 | 12'6 | 0 |
| 65 | Harrison Kane | 1:03:07 | 12'6 | 0 |
| 66 | Trent Shaw | 1:03:37 | 14' | 0 |
| 67 | David Watson | 1:04:02 | 14' | 0 |
| 68 | Andrew Bendle | 1:04:51 | 14' | 0 |
| 69 | Matthew Smith | 1:04:53 | 14' | 0 |
| 70 | Roderick Scott | 1:05:58 | 14' | 0 |
| 71 | Martin Rees | 1:06:12 | 14' | 0 |
| 72 | Clayton Kane | 1:07:40 | 12'6 | 0 |
| 73 | Justin Paull | 1:07:53 | 12'6 | 0 |
| 74 | Ross Eckersley | 1:08:06 | 14' | 0 |
| 75 | Mark Noakes | 1:08:54 | 14' | 0 |
| 76 | Neale Martin | 1:09:00 | 14' | 0 |
| 77 | Charlie Dunkley | 1:09:03 | 14' | 0 |
| 78 | Tony Nunn | 1:10:41 | 14' | 0 |
| 79 | Ronald Cropper | 1:11:06 | 14' | 0 |
| 80 | Greg Hearn | 1:11:08 | 14' | 0 |
| 81 | Grant Kruger | 1:11:30 | 12'6 | 0 |
| 82 | Guy Fiddes | 1:12:46 | 14' | 0 |
Women's Distance Race

| # | Name | Time | Class |
| --- | --- | --- | --- |
| 1 | Angie Jackson | 0:52:02 | 14' |
| 2 | Karla Gilbert | 0:52:49 | 14' |
| 3 | Terene Black | 0:54:01 | 14' |
| 4 | Celine Guesdon | 0:54:35 | 14' |
| 5 | Nichole Klink | 0:57:41 | 14' |
| 6 | Emma Davies | 0:58:36 | 14' |
| 7 | Jenny Cosgrove | 0:59:31 | 12'6 |
| 8 | Stella Edwards | 1:00:08 | 14' |
| 9 | Angela Sawers | 1:00:58 | 14' |
| 10 | Pauline Walker | 1:03:10 | 12'6 |
| 11 | Michelle Sollar | 1:03:16 | 14' |
| 12 | Karen Masson | 1:03:20 | 12'6 |
| 13 | Rebecca Graham | 1:03:34 | 14' |
| 14 | Claire Browne | 1:03:52 | 14' |
| 15 | Angela Crawford | 1:04:09 | 14' |
| 16 | Fiona Gretchen | 1:04:22 | 12'6 |
| 17 | Denise Kane | 1:04:26 | 14' |
| 18 | Lana Hardiman | 1:06:24 | 14' |
| 19 | Bernadette Serone | 1:06:35 | 14' |
| 20 | Mel Cedelland | 1:06:59 | 14' |
| 21 | Tracey Preston | 1:07:04 | 14' |
| 22 | Nerida Bicknell. | 1:07:10 | 14' |
| 23 | Fionna Guy | 1:07:14 | 14' |
| 24 | Janine Paull | 1:07:18 | 14' |
| 25 | Kellie Chandler | 1:08:19 | 14' |
| 26 | Kate Miller | 1:08:31 | 14' |
| 27 | Trish Mackie | 1:08:36 | 14' |
| 28 | Sussanah Teng | 1:08:45 | 14' |
| 29 | Stephanie Smart | 1:09:06 | 14' |
| 30 | Joanna Nelson | 1:09:55 | 14' |
| 31 | Karen Howell | 1:10:57 | 14' |
| 32 | Vicki Berglinden | 1:13:12 | 14' |
| 33 | Renee Sycamore | 1:13:13 | 14' |
| 34 | Karren Palmer | 1:13:39 | 14' |
| 35 | Patchara Songpraset | 1:15:00 | 14' |
| 36 | Meg Myers | 1:17:57 | 14' |
| 37 | Merryl Eastgate | 1:30:27 | surf |
| 38 | Teresa Blick | 1:30:30 | surf |
Men's BOP Race

| # | Name | Time | Points |
| --- | --- | --- | --- |
| 1 | Kelly Margetts | 0:38:18 | 15.00 |
| 2 | James Casey | 0:38:50 | 11.25 |
| 3 | Toby Cracknell | 0:39:12 | 9.00 |
| 4 | Jake Jensen | 0:41:13 | 7.50 |
| 5 | Paul Jackson | 0:41:36 | 6.38 |
| 6 | Andy Davies | 0:41:57 | 5.25 |
| 7 | Trevor Tunnington | 0:42:52 | 4.50 |
| 8 | Jayden Jensen | 0:43:00 | 3.75 |
| 9 | Matt Nottage | 0:43:35 | 3.38 |
| 10 | Harry Maskell | 0:44:53 | 3.00 |
| 11 | Steve Walker | 0:45:25 | 2.70 |
| 12 | Ben Tardrew | 0:46:14 | 2.40 |
| 13 | Callan Dick | 0:46:17 | 2.25 |
| 14 | James Melhuish | 0:46:26 | 2.10 |
| 15 | Tomoyasu Murabayashi | 0:46:39 | 1.95 |
| 16 | Evan Green | 0:48:41 | 1.80 |
| 17 | Paul Mackie | 0:50:08 | 1.65 |
| 18 | Mathew Vandervoort | 0:51:08 | 1.50 |
| 19 | Brendan Clark | 0:51:22 | 1.35 |
| 20 | Sean Bicknell | 0:54:15 | 1.20 |
| 21 | Rob Walton | 0:55:40 | 1.13 |
| 22 | David Sorenson | 0:57:28 | 1.05 |
| 23 | Jonno Walker | 0:57:34 | 0.98 |
| 24 | Jason Rantall | 0:59:10 | 0.90 |
| 25 | Warwick Gamble | 1:01:26 | 0.83 |
| 26 | Tony Sycamore | 1:01:54 | 0.78 |
| 27 | Pete Garbutt | 1:03:00 | 0.74 |
| 28 | Shane Lund | 1:03:02 | 0.69 |
| 29 | Luke Vandenberg | 1:07:00 | 0.65 |
| 30 | Kieran O'Riordan | 1:08:27 | 0.60 |
| 31 | Trent Shaw | 1:24:47 | 0.57 |
Women's BOP Race

| # | Name | Time |
| --- | --- | --- |
| 1 | Karla Gilbert | 0:46:33 |
| 2 | Angie Jackson | 0:48:19 |
| 3 | Terrene Black | 0:49:27 |
| 4 | Nicole Klink | 0:53:44 |
| 5 | Vanessa Smith | 1:08:28 |
| 6 | Angela Crawford | 1:19:44 |
| 7 | Jill Wong | 1:23:31 |
| 8 | Joanna Nelson | 1:27:19 |